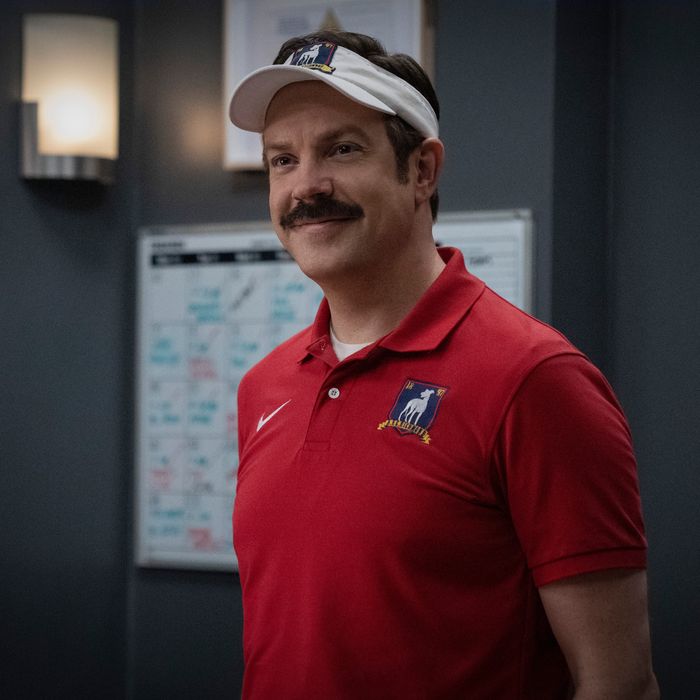 No, you didn't miss an episode. Sometime between "La Locker Room Aux Folles" and "International Break," the tenth episode of Ted Lasso's third season, Nate left his coaching job at West Ham. That seems like a pretty dramatic event for the series not to depict, but it also sets the episode up to take its time revealing the circumstances of Nate's departure. The Soccer Saturday pundits (and Jane and Beard) all assume that he was pushed out for reasons they can't explain, given how well the season is going. But that's not the story at all.
When we last saw Nate, he'd returned to Jade after walking away from Rupert's (not entirely all) boys' night out. Though leaving for a trip to visit her family in Poland, Jade's still very much in the picture and supportive of her boyfriend's choice to quit his job, assuring him (for what's clearly not the first time) to trust his heart, which is telling him he did the right thing.
That doesn't mean he won't indulge in a long sulk, however. With Jade gone, Nate retreats to his parent's house where he confines himself to his room, seemingly opening the door only to retrieve the meals his mother brings him. This eventually gives way to sorting through mementoes and rediscovering his violin skills. (Yes, that's really Nick Mohammed playing.) He's interrupted by his father, who laments that he didn't know how to raise a genius — apparently Nate has always been a "Wonder Kid," even outside his football endeavors — prompting Nate to reflect on the wrong he's done to others, as evidenced by the note of apology he leaves for Will.
As others have noted, Nate's been on a weird journey this year. Where the second season carefully set up his heel turn one rude moment at a time, this one has whisked him out of the darkness before he even really spent much time there. This episode seems, in some respects, to dramatize Nate's long overdue realization that he's gone astray, but it might have had more impact if we didn't already get the sunny, likable Nate back several episodes ago.
Nate's not the only one hitting (a softly cushioned) bottom in this episode. When Keeley arrives at work, she discovers that KJPR is no more, the VC firm backing it having pulled funding unexpectedly. Keeley suspects this is Jack doing (a belated text attempting to cover her ass doesn't really change this), and the realization that her dream is over sends her on a polite little bender. She stops answering texts and starts drinking at May's pub, where May offers some sage (if cryptic) advice involving mountains and lightning. Keeley hits the streets and heads back to her now nearly empty office where she exchanges some pleasantries with Barbara, who seems a little surprised that she's not going to be working with Keeley anymore. Happily, by the episode's end, that's become a non-issue; thanks to Rebecca's deep pockets, KJPR lives again and Keeley's able to hire Barbara, Barbara having grown frustrated and left Jack behind.
However dramatic Barbara's refusal might have been, it's nothing compared to what happens when Rebecca, at Rupert's invitation, joins a bunch of club owners curious about Ghanaian billionaire Edwin Akufo's (Sam Richardson) plans to form a Super League of football's biggest teams. At first, Rebecca's not even sure she wants to go. The invitation comes from Rupert, after all, a man she has in her phone as "The Devil." But she's fought hard to have a seat at the table and, as a woman team owner in a realm dominated by rich old men, it's symbolically important that she be there.
Would she have bothered if she knew just how rude Edwin had been to Sam, however? While teammates Jamie, Dani, Colin, and Van Damme head off to play for their respective countries, Sam sits out the international games, having mysteriously not been selected by Nigeria. When Sam finds Edwin dining at his mysteriously empty restaurant, the mystery is solved. Edwin paid off the government of Nigeria. What's more, he's so mad at Sam he plans to open a competing restaurant just down the road, one that will serve West African food and Chicago-style hot dogs, his favorite food. Edwin is not a nice guy.
Rebecca finds that out soon enough. The meeting is just as she feared. Rupert's nice enough at first (and too nice at the meeting's end, when he leans in to kiss her, a gesture she rebuffs), but she encounters sexual harassment within seconds of walking in the door. That's a challenge she's used to. Talking a bunch of extremely rich people out of a scheme that will make them even richer is not. Yet, she does this by drawing from an anecdote from Rupert's youth.
It works on them, but does it work for the episode? Rebecca's speech is well-played, as always, by Hannah Waddingham and nicely staged against the soundtrack of Nate's violin. But Ted Lasso has been leaning into sanctimoniousness all season, and this moment feels like another of oversimplifying what ought to be treated with more complexity. Of course she's right, just as Sam was right about immigration and the clubhouse was right about homophobia being bad. But why spoon-feed these sentiments?
While Nate spends the whole episode exploring his regrets, Roy fast-tracks his. After a fun scene in which Roy and his "best friend" Jamie celebrate Happy Uncle Day — a celebration that includes a surprisingly thoughtful, if profane, gift from Jamie — Roy finds himself stuck with a tie-dye made by Phoebe in colors whose names spell out his name: red, orange, and yellow. This makes Roy the butt of everyone's jokes, but he loyally wears it anyway. He's still wearing it when he bumps into Phoebe's teacher, Ms. Bowen, and the memory of their past flirtation sparks the urge to apologize to Keeley.
Roy writes her a thoughtful note and then delivers it in person, only to be forced to read it when Keeley shows up as he's attempting to deliver it. Their reunion goes better than Roy could have expected — he's still there, wearing a robe, when Rebecca shows up. But is this a good idea? Are they the real thing or is Keeley just on the rebound? If we're going to get the answer this season, it will have to be within the next two episodes. We're close to the end.
Biscuits
• In fact, we're very close to the end. This raises some questions, mostly about Ted. Our eponymous character has largely been on the margins of the action these past two outings, but that doesn't mean the drama in his life has receded. What of his family and the drinking problem that seemed like it would be a thing? And where's Doc while all this is going on?
• The episode's funniest subplot is also one of its shortest: Dani versus Van Damme. It's fun seeing Dani, the show's sunniest character (and he's not without competition), turn mean, then turn back again.
Speaking of nice-to-mean transformations, it's nice to have Sam Richardson, an actor specializing in nice, clueless characters, back as the conniving and mean Edwin, even if the shock of discovering Edwin's true colors can't be replicated.
• Higgins spilling his tea: That's some A+ physical comedy from Jeremy Swift.
• The Akufo League is, of course, inspired by the European Super League, which effectively collapsed before launch in 2021 due to a backlash rooted in the problems laid out by Rebecca and Higgins in this episode.
• Not since the kids of the Enterprise staged Captain Picard Day has a TV character looked as uncomfortable as Roy at his Happy Uncle Day celebration.