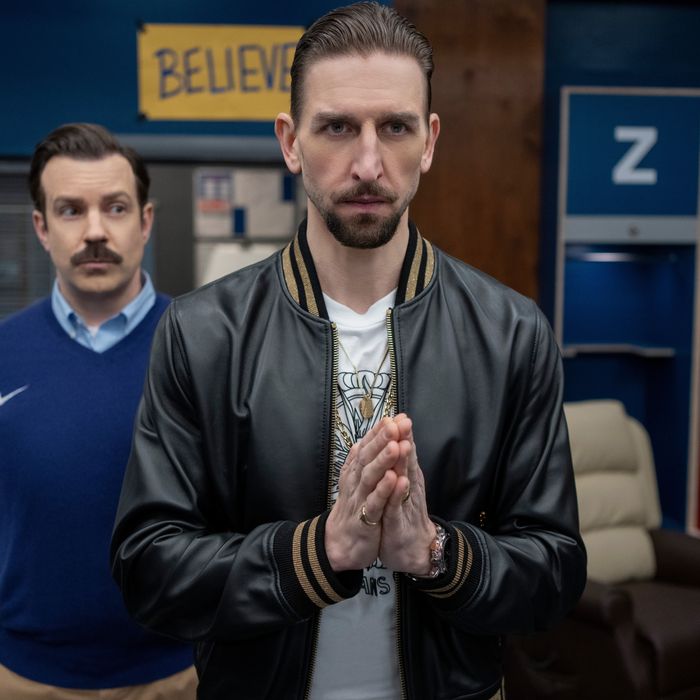 Photo: Colin Hutton/Apple TV
Things we knew about Colin before this episode: That he was from Wales, that he drove a Lamborghini (badly), that he was once in thrall to Jamie Tartt during Jamie's meanest stretch but got over it, and that when the tables turned and Nate got the chance to bully him as Colin had once bullied Nate, it hurt Colin to the core. Colin has mostly been a Ted Lasso background character who occasionally floated to the fore. But, like a lot of supporting characters, Colin's been so well-written and well-played (by Billy Harris) that he felt as well-developed as characters with more screen time. And, as when Sam and Isaac have stepped up to the center stage, it feels natural when the spotlight falls on him in this episode.
What we did not know about Colin before this episode: He's gay. Or, maybe more accurately, what we didn't know for sure. Sharp-eyed viewers have raised the possibility that Colin might be gay since he made an offhand reference to knowing the correct spelling of Grindr back in the second season, and it turns out they were right. And now we know a bit more about Colin, specifically that he's regularly seeing a man named Michael (Luke Ashton). But not openly. The world of men's professional football in the U.K. remains as inhospitable to gay athletes as the worlds of just about every professional sport in the U.S. There is currently only one openly gay active player in professional English football, Jake Daniels of Blackpool. Daniels is the first player to come out while playing since 1990. In other words, news of Colin's private life would be a pretty big deal.
For now, however, it remains under wraps, and all the attention is focused on Zava. As the episode begins, a crowd has gathered to welcome the superstar to the team as Ted, Beard, and Roy talk strategy while Trent looks on. The addition of Zava is a big deal, maybe even bigger than last week's episode suggested. It requires Colin to drop back to a utility role (not, by Roy's estimation, a problem) and Dani to fall back to a different position because he'll take the change better than Jamie. (Also, he worships Zava.) But it's Roy's reverence for Zava that puts things in perspective: Roy was a great player, but even he considers Zava in another league.
Believing Roy is necessary to buy into what happens in "4-5-1," the third episode of Ted Lasso's third and (maybe) final season. Early on Ted talks about making Zava "part of the team" because "coaching a superstar can't be all 'How Do You Solve a Problem Like Maria?'" That lays the groundwork for a discussion of favorite Julie Andrews performances but not, it turns out, a plan that will smoothly integrate Zava into the team. Instead, the team comes to Zava. Keeley nails it with her Daniel Day-Lewis comparison: "Everyone else adapts to him."
That might have been unavoidable. Without Roy dragging up the median age, Richmond's now a young team made up of a generation that grew up worshiping Zava. (Their devotion is so strong they can even joke about being attracted to him even though that's, you know, gay. Colin plays along.) The only Greyhound not swooning over Zava is Jamie, the team's until-that-moment reigning star. But, as he'll point out later, the reasons might go deeper than that.
Outside the locker room, Greyhound management, the press, and assorted fans gather to wait for Zava's arrival. And wait. And wait. And the longer they wait, the more management begins to worry he won't show it all, especially after they learn he signed his contract, "You're welcome." Fortunately, Zava does show up, albeit two hours late, much to Rebecca's annoyance. Her attempts to chew out her new star don't go very far as Zava sets about wooing everyone else in the room. He tells Ted, "I am your rock. Mold me." And Ted is too overwhelmed to notice or care about the mixed metaphor. With that out of the way, he moves on to Keeley, Higgins, and Shandy, who's there helping Keeley (sort of).
Then the charm offensive moves to the locker room, starting with Will Kitman (the Kit Man) and working his way up to the rest of the team. Per Zava, they're not teammates, though. They're brothers. And as he leads them in a breathing exercise that will bond them, only Jamie strikes a skeptical pose. From there he has only to rearrange Ted's strategy board and call it a day. Zava has spoken.
Meanwhile, Rebecca has decided to see Tish (Emma Davies), the psychic her mother mentioned in the previous episode (with an emphasis on the strings she had to pull to score Rebecca an appointment). And while that seemed like something Rebecca would normally brush off, it turns out she's overcome her skepticism enough to pay Tish a visit.
That might be the extent of her open-mindedness. Rebecca spends much of the meeting pushing back and mocking Tish's alleged abilities, even after she moves from bland generalities to conversations with spirits to some extremely specific predictions: Rebecca will be holding a green matchbook, which will be very special. The phrase "Shite in nine-ing armor" should mean something to her. She'll find herself drenched, upside down, and surrounded by thunder and lightning (but she'll be safe). And she'll be a mother. This last one pushes Rebecca beyond annoyance into anger. As Rebecca leaves, she announces she's changed her assessment of Tish from "harmless" to "fucking cruel."
Sometime later, Jamie's skepticism spills out in a meeting with Ted and Beard. Zava, Jamie believes, is "a self-absorbed glory hound." They're dismissive of Jamie's concerns, and based on what happens next, they're right to be. Ted has built a Zava-focused game plan, and though Zava almost short circuits the pep talk with his meditation, the game that follows kicks off a "miracle streak" that begins with the first moment Zava's cleat touches the ball. Richmond begins climbing the ranks. The team (sans Jamie) joins Zava in meditation. Zava merch sells out. The luck even spills over on some of the fans. It's a great time to root for the Greyhounds.
For Ted, there's a shadow over all this winning. After calling Michelle before Zava's first game, Ted hears someone doing a (bad) Donald Trump impression, only to learn it's Dr. Jacob (Jason Hillhouse), the therapist who began dating Michelle after the breakup. This doesn't land well and has long-lasting effects despite Ted's insistence that it's "all good." The same montage depicting the team's reversed fortunes reveals Ted's habit of drinking and stalking Dr. Jacob on Instagram. His telehealth sessions with Doc could go into overtime if she'd let them.
Ted's not the only one feeling mixed emotions even as the team achieves wildly beyond expectations. Nate and Rupert, of course, do not care for this development. Rebecca remains unexpectedly haunted by her talk with Tish. And Roy watches as Keeley passes him, maybe not even noticing him as she talks to the Roy-hostile Shandy. It's not all bad news, however. Colin smiles as he texts Michael, as does Sam as he tastes tests a dish for his yet-to-open restaurant. (He seems tight with the chef, too.)
Sensing that Richmond could benefit from playing up Zava's arrival as much as possible, Keeley is on the job with Shandy by her side. She's making the team available for interviews, so long as they're about Zava, though Keeley suggests that a player could go viral if he made a shocking confession like, for instance, an admission that he eats his own hair. Shandy knows this from experience, as an annoyed Roy points out after expressing his willingness to talk to the press for Keeley's sake. Still, it also seems like it could be laying the groundwork for Colin to have a different sort of viral moment down the line.
Sam's restaurant provides the setting for the episode's closing scenes as the team gathers to celebrate their good fortune. The mood is festive but has some strange undercurrents. Jane shows up and resumes her highly demonstrative love/hate relationship with Beard. ("Damn," Ted observes. "Y'all's baggage just matches right up, don't it?") Sassy shows up with Ted on her mind, but Ted seems too distracted to give her his full attention (or at least shut up about his ex for once). Colin introduces Michael as his pal and "the world's greatest wingman." Rebecca's thrown by receiving a green matchbook. Shandy focuses her attention first on Zava (like everyone else) before moving on to Jamie. Jamie has spent much of the evening sulking at being displaced as Richmond's best player, but by the time Shandy strikes up a conversation with him, he's begun to see his way out of a funk. Roy has promised that, with his guidance and a lot of hard work, he can outshine even Zava. (He'll have to stop being such a "pre-Madonna," however.)
Trent just seems to enjoy the food, but as he leaves, he sees something he's not supposed to see: Colin and Michael making out against a nearby wall. Trent notes it and moves on. He's a journalist, and this is obviously a story. But will he touch it? That remains unclear. What is clear: Colin's secrecy won't last forever. "I am a strong and confident man," he tells himself, a mantra he adopted after talking to Doc. What happens will likely put that to the test.
Biscuits
• Here's another question: What do we know about Trent Crimm? We know he's smart and, despite appearances, does not ride a bicycle. But is he the sort of man who would pursue this story even if it meant hurting Colin? He might consider it unethical to out someone against his will, but alternately, he might feel it unethical not to report a story with such potentially far-reaching implications. (Or use that as an excuse to sell a sleazy bombshell to the tabloids.) Ted seems to like him, and Ted seems to be a good judge of character (though the jury's still out on Zava). At this point, Trent is an X factor. We simply don't know enough about him to know what he'll do, and the expression on his face at the end of the episode doesn't reveal much.
• Speaking of X factors and mysterious characters, Shandy is stirring things up with every scene, isn't she? She'll say anything to anyone and even take her shirt off (if duty requires it). Could she end up being even more chaotic than the chaos we've been told Zava brings wherever he goes?
• There's a lot going on in these episodes, isn't there? They're long and packed with plot, but moments like the winning montage suggest they're not just thrown together randomly. It's a nice sequence, contrasting a shared (and triumphant) experience with the turbulent private lives of those involved.
• The song accompanying that montage has an interesting history. It's "Prisencolinensinainciusol," an early-'70s European hit for Italian singer Adriano Celentano. You might know him for his appearance in La Dolce Vita or you might just know the song, which has had a Boing Boing–fueled resurgence in recent years and has also been featured in episodes of Fargo and Trust. If you can't identify the language, there's a reason. It was Calentano's attempt to create nonsense words that sounded like American English. You can learn more about the song, and hear Celentano discuss it, in a 2012 All Things Considered segment.