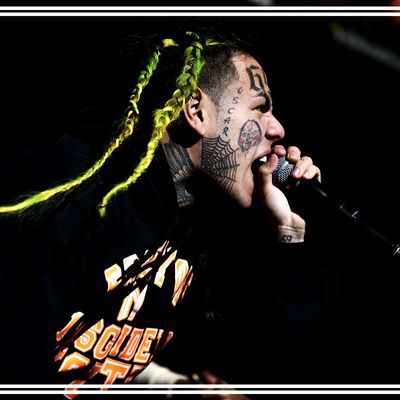 6ix9ine is the dead-eyed, self-promotional insouciance of this period made flesh.
Photo-Illustration: Vulture and Steve Ferdman/Shutterstock
Tekashi 6ix9ine has nothing to say. He never has, from the days when his shtick was transgressive street style to his unlikely tenure as a gang-affiliated chart sensation to his unprecedented attempt to bounce back from testifying against the crew he had sought out for protection when he got wind of a plot to take him out of the picture. 6ix9ine's entire bit is to offend and then laugh when it ruffles feathers. It's a serviceable bit but a very old one. It works for media shock jocks. It works for stand-up comics who feed off outrage. It works for shameless political pundits who pretend to treasure free speech but vouch only for speech they agree with. It works for the president, who is nourished by the cheap thrill of annoying his detractors and the sympathy he gets for acting aggrieved in public. People pawning off legitimate criticism as baseless hate are the circulatory system powering this peculiar moment in American history. The 2016 election tore a hole in reality; Teflon Don showed us there's no bad press you can't escape by working a victim angle and changing the subject a day later. People take you at your word if they like you enough, and dirtbags high and low have adopted the playbook. 6ix9ine is the dead-eyed, self-promotional insouciance of this period made flesh. No other era could produce this character. No other era would stomach him.
6ix9ine took root because he's naturally quick-witted and funny, and he wanted to show fans that some of rap's gangster façade is posturing by picking fights with artists like Chief Keef to gain a measure of respect, as one might challenge the schoolyard alpha to keep the betas in check. His theory panned out but not in the way he expected; during last year's scandalous racketeering trial, his lawyer insisted Tekashi was just a character, that 22-year-old Daniel Hernandez from Bushwick was a caring philanthropist playing a hardened criminal for the cameras. The portrayal didn't line up with the reality. Prior to the trial, Hernandez admitted to committing domestic violence for the better part of the past decade. The year before, he'd received four years' probation for an incident in which he filmed a young girl engaging in sexual acts and posted it on Facebook; he maintained he didn't know she was a minor. Snitching hurt 6ix9ine's reputation more than this dalliance with a 13-year-old because a lot of people simply didn't care. The internet is populated by a certain kind of bro who sticks his head in the sand when he hears damaging information about people he takes up for and who would rather muddy the waters with whataboutism and conjecture than face the possibility that he might be vouching for a piece of shit, because it reflects poorly on his judgment to admit he might have made a mistake. This person is especially susceptible to the suggestion that the reason his fave is embattled is jealousy or personal vendettas, not some easily avoidable, self-inflicted public-relations nightmare. This has been 6ix9ine's go-to line through his being barred from performing at Hot 97's Summer Jam in 2018 to his complaints of unfair treatment in the music industry despite the early success of his comeback singles.
His latest singles, "Gooba" and "Trollz," both reveal the ways mainstream music can be a finicky attention economy. "Gooba" debuted high on the Billboard Hot 100 and roped in almost 40 million Youtube views in its first 24 hours, but the song slipped out of the Top 40 over the next four weeks. This placement was the subject of great controversy, as 6ix9ine accused Ariana Grande and Justin Bieber of manipulating streams to push their duet, "Stuck With You," to No. 1 that week, a charge that Billboard and both singers have denied. (Recently asked if he ever tries to inflate his own streams, 6ix9ine replied, "Who doesn't?") "Trollz" debuted atop the Hot 100, giving guest Nicki Minaj her long-overdue first No. 1, but it made history in its second week of sales when it plummeted to No. 34, the biggest fall for a chart-topper in Hot 100 history. The single maintained this pace; a month after launch, it was gone from the running. This contradicts 6ix9ine's claims that he doesn't need to participate in industry politics to stay relevant, that radio needs him more than he needs it. But those songs didn't brick after a few weeks because 6ix9ine thinks he's above a traditional rollout — and he's not, as was proved in audio released by Gillie Da King, the rapper and host of the Barstool Sports podcast Million Dollaz Worth of Game, which catches 6ix9ine pitching him profusely for a no-holds-barred interview that was rejected. The new music isn't sticking because 6ix9ine was never a good writer, and without the shroud of authenticity offered by his gang affiliations, without any noteworthy beef, despite what Chicago's Lil Durk and Bronx newcomer Lil Tjay have alleged are desperate attempts to drum up a high-profile feud, his bark lacks bite.
Well, tread through TattleTales, 6ix9ine's recently released post-jail opus, and you'll hear a different kind of biting. TattleTales opens with "Locked Up 2," a remake of Akon's 2004 breakout hit, where 6ix9ine tries to explain himself but implodes in the second verse on repetitive, uninspired lines: "Little baby boy, please don't die no / And I might no no no no no." "Hearing voices in my head saying, 'Fuck these n- - - - -' / My n- - - - -, my n- - - - -, these ain't my n- - - - -." TattleTales sees a rapper who never could finish a project without repeating himself flame out completely. His flows on "Trollz" mimic Future's "Magic" and Juvenile's "Back That Azz Up," while "Tutu" cannibalizes "Trollz." "Punani" gives an EDM sheen to a knockoff crunk beat as 6ix9ine flakes on the horned-up theme halfway in and starts barking out threats. "Yaya" is a meat-and-potatoes urbano track that references the reggaeton classics "Frikitona" and "Rakata," Shakira's World Cup anthem "Waka Waka (This Time for Africa)," and dembow chants, but it serves none of the cheerful nostalgia Bad Bunny brought to the throwback megamix "Safaera." "Leah" has Akon interpolate Bryan Adams's cloying ballad "Heaven" as 6ix9ine dryly pesters a strip-club employee during her shift: "What I'm saying, bitch: My money is right / I can treat you right, I can change your life." (This isn't the dustiest pickup line; on "Charlie," he offers to "make that pussy pop like it's a shove-it.") "GTL" repeats the shaky verse from "Locked Up 2" through what sounds like a jail phone, inviting the question of why we need to hear the same lyrics twice on a half-hour-long album where the main artist is averaging only one verse per song and getting steamrolled by every guest rapper or singer, known or unknown.
Tekashi 6ix9ine played a gangster so long that the public never got to know who Danny is, and now he feels like he has to keep serving the same product — as he said in a recent New York Times interview, "You don't go to McDonald's and get filet mignon" — when what everyone really wants to know is how and why he faked his bona fides and what it felt like to learn that people he saw as friends were not his friends, and to worry about dying in the street or in a prison cell. He thinks his audience craves party rap over emotional candor, and maybe he's right. But it's rote binary thinking to suggest you can't do both in an era when Future, Gunna, Lil Baby, and Young Thug run the charts with music conversant in the sound of the strip club and the struggle outside. A more likely story is that 6ix9ine excels only at one craft — making people angry— and intends to ride it out as long as there's a willing audience. The thing about shock, though, is that, as with drugs or alcohol, after a while, people develop a tolerance. It's a game of diminishing returns. 6ix9ine surprised the world by avoiding death and prison and then daring to return to rap as a known snitch making jokes about the fact that he told. Realistically, there's no topping that. He can shock us all again selling something of substance, or he can keep pushing the same buttons and praying someone cares.