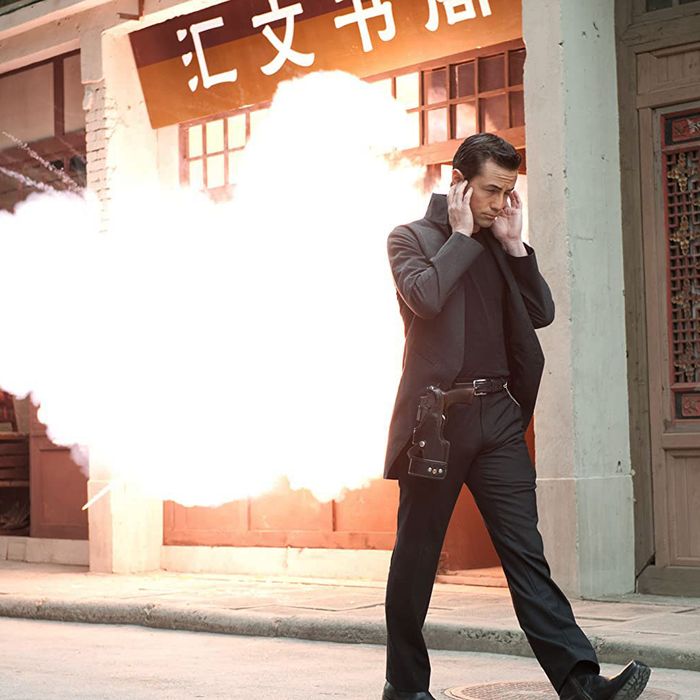 Looper
.
Photo: TriStar Pictures
This article originally ran on July 17 and is being republished in light of Tenet's international release.
If not for the pandemic, we'd be in the midst of Hollywood's epic summer season, enjoying the nearly weekly unveiling of major films, whether it's the latest Wes Anderson opus (The French Dispatch) or Tom Cruise's return to his most iconic 1980s role (Top Gun: Maverick). Instead, you're cooped up trying to figure out what to watch while not going stir-crazy.
This is where we come in. On a regular basis, we'll be presenting "The Replacements": a list of five alternative choices for every big tentpole you were excited to see before COVID-19 changed our lives. We'll select movies that are thematically or narratively similar to the postponed blockbuster, offering picks that range from certifiable classics to forgotten gems. For the time being, event movies are on hold. But hopefully our alternatives will scratch that cinematic itch.
This week, it's Christopher Nolan's Tenet, which has long been considered the make-or-break movie in determining whether we'd even have a summer movie season this year. The film's American release date has long been in limbo (though it is currently opening in Europe). As you don't need us to tell you, Nolan is as passionate an advocate for the theatrical experience as any filmmaker around. His determination to figure out a way to safely get Tenet into multiplexes this summer amid a pandemic has been both rousing and amusing. On the one hand, his dedication to this objective comes across as somewhat silly. (The world won't end if we can't see a high-tech spy thriller this month, sir.) But in the grander scheme of things, that seriousness is precisely why so many people love Nolan: He has not given up on the idea that movies matter — and that sharing them together in a communal experience adds to their greatness. It was hard not to root for him simply because his success would mean that, in some small way, normalcy had returned to our lives and we could go back to movie theaters. The film's delay pushes back that moment.
Not that any of us really knows anything about Tenet anyway. Nolan loves keeping his projects hush-hush, but we do know that John David Washington, Robert Pattinson, and Elizabeth Debicki star in this thriller in which the characters are trying to prevent World War III. (The process by which they attempt to do that sounds like time travel, but apparently it is not time travel.) Regardless, anyone with Nolan's track record of remarkable summer-event movies has earned the right to keep us in the dark. Whenever — or however — this film opens, we will be there.
In the meantime, here are five streamable replacements to tide you over — including a similarly twisty sci-fi mind-bender and an underrated John David Washington cop drama.
Of all the Christopher Nolan movies since he broke through with Memento, this one, his immediate follow-up, has to be the one people talk about the least. That's not entirely unreasonable: Insomnia is the one film of his he didn't write or co-write, and thus it feels less personal, more an example of a talented filmmaker getting his first chance at a bigger budget and making sure to show off a little. Even with all that, this remake is still excellent, with a perfectly modulated Robin Williams performance, an Al Pacino who paradoxically shows more life than he's had in years by draining all the Pacino-ness out of him, and a cold Alaskan perpetual sunlight that Nolan makes feel like the scariest place on the planet. Insomnia is not top-shelf Nolan, but it's still among the zenith of big-budget studio entertainment.
Tenet, by all accounts, looks like what you get when you give Christopher Nolan a massive budget and all the freedom to make a time-travel (or whatever) epic as expansive and action-set-piece-heavy as possible. Shane Carruth's Primer is what happens when you do the total opposite of that. Famously shot for $7,000, and starring Carruth and his friends and family, Primer is a masterpiece of imagination, a movie that takes place in small rooms but spreads out infinitely through the human mind. There's an old rule of movie comedy that says the bigger the budget of a comedic film, the more the jokes die in the vast air. Tenet has a massive canvas that Primer lacked … but can it fill the space like Carruth did?
Brick was the movie that announced Rian Johnson's arrival, but in many ways, the movie that got him the gig directing The Last Jedi (along with his brilliant episodes of Breaking Bad) was this time-travel crime thriller. Looper showed off the director's unique skill to deconstruct a genre while boiling that same genre to its most purely enjoyable qualities. It is both meta film-nerd funny — witness Bruce Willis's shrugging at people and their "bending straws" ways of figuring out time-travel narratives — and also resonant and emotional about how we both try to run from our pasts and still embrace them. The movie isn't as head-trippy as Nolan would've made it, but watching it makes us believe that maybe every great filmmaker should do their own take on the time-travel genre.
John David Washington enjoyed a breakout role in the Oscar-winning BlacKkKlansman, but for our money, his best 2018 performance came in this small-scale but explosive ensemble piece. Sadly, Monsters and Men is particularly timely this summer, as it focuses on a white policeman killing an innocent Black man, a tragedy that affects several characters' lives — including that of Dennis (Washington), a good cop who's torn between his belief in the value of his job and the racism he faces both in the world and in his precinct (not to mention the anger he provokes in his community as a Black man in law enforcement). Making his feature debut, writer-director Reinaldo Marcus Green offers a nuanced perspective on crime, injustice, and racial inequality, and Washington is the movie's soulful center, struggling to serve different masters and constantly feeling unequal to the task.
Director Steve McQueen followed up his Oscar-winning drama 12 Years a Slave with this politically astute, terrifically exciting crime-thriller … which not enough people went to see. That's a shame because everyone in it is terrific — including Viola Davis, Michelle Rodriguez, Cynthia Erivo, Colin Farrell, Brian Tyree Henry, and Daniel Kaluuya — but since we're staying in the context of Tenet, let's focus on Elizabeth Debicki, who very nearly stole the movie from her co-stars. She's Alice, one of the widows, who has always relied on her looks to get what she wants. But taking part in the film's central heist ignites something within her, and Debicki is marvelous at illustrating how an underestimated young woman finds herself in the most unexpected of ways, going from weak to savvy over the course of the film. But Debicki never lets us forget the character's grief: She's crucial to Widows' emotional final scene. We can't wait to see what she brings to Tenet.
Grierson & Leitch write about the movies regularly and host a podcast on film. Follow them on Twitter or visit their site.