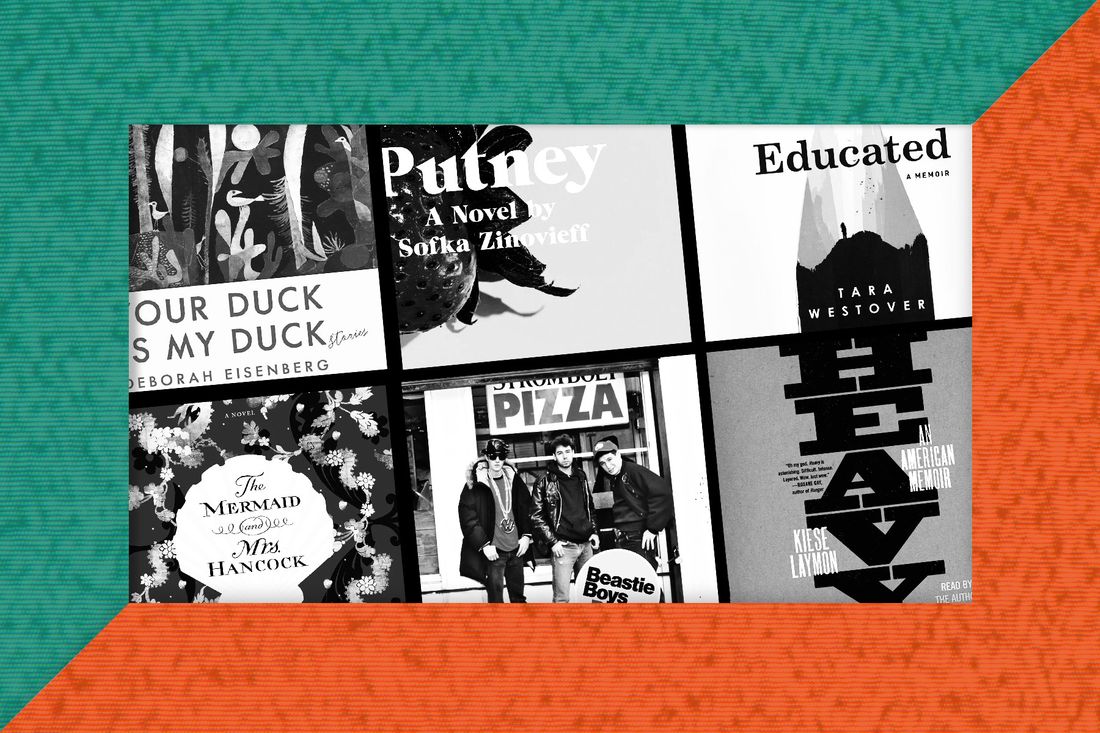 Photo-Illustration: Maya Robinson/Vulture
The continuing double-digit growth of audiobooks has lately elevated the format from stepchild of print to a sibling medium worthy of respect — and its own robust top-ten list. But making that list requires creating new criteria. Long before I have a clear thought about a story, I have to decide if I can tolerate the reader's voice for 6, 8, 16 hours. It might be a great book, but a bad reading condemns it. Sometimes you love the material but can't easily tell who's speaking (a new translation of The Odyssey, narrated by Claire Danes). Or you fall in love with the narrator's voice but find the story thin (Little, by Edward Carey, narrated by Jayne Entwistle). Some books are so meaty and complex, they need to be savored in print (David Quammen's The Tangled Tree, narrated by Jacques Roy).
But when an audiobook is good — when a rich story and cast of characters join up with inventive writing and an insightful, subtle narrator — there is nothing else like it. Those ingredients came together over and over again in 2018. Here are my ten favorites.
10. Love Is Blind, by William Boyd, narrated by Roy McMillan (Random House Audio); 11 hrs, 58 min.
Boyd scatters clever allusions to his favorite author across the landscape of his 15th novel, the story of Scottish piano tuner Brodie Moncur, who falls in love with an opera singer named Lika. That's just one of the several homages to Anton Chekhov, who also loved an opera singer named Lika and, like Brodie, suffered from tuberculosis, and who wrote nearly the same admonitory letter to his brother that Brodie sends to his. So when a little derringer falls out of Lika's handbag, listeners know they'll see it again. Narrator Roy McMillan's performance is a bubbling United Nations of accents, each sensitively voiced.
9. The Mermaid and Mrs. Hancock, by Imogen Hermes Gowar, narrated by Juliet Stevenson (Harper Audio); 17 hrs, 19 min.
I imagine the inside of Stevenson's head to be a chamber teeming with chattering personalities, guests at the proverbial perfect dinner party. Such characters bat around dialogue like a nuclear shuttlecock in Gowar's imaginative and elegant debut novel. Set in 18th-century England, this mixture of sharp, detailed historical fiction and magical realism centers on merchant Jonah Hancock and courtesan Angelica Neal, brought together first as Hancock is making a fortune showing a "mermaid" — a dead baby monster, "desiccated and furious" — bought for the price of one of his ships. But it's the second mermaid, "a great voluptuous sorrow," that brings the courtesan and the merchant to the edge of despair.
8. Beastie Boys Book, by Michael Diamond and Adam Horovitz, narrated by the authors and 42 others, including Elvis Costello, Snoop Dogg, Bette Midler, Spike Jonze, Rosie Perez, LL Cool J, Will Ferrell, Jon Stewart, and Rachel Maddow (Random House Audio); 12 hrs, 41 min.
Authors and publishers are only beginning to explore what audiobooks can do. George Saunders was among the first to move beyond the typical single-narrator format when Random House drafted 166 performers to voice Lincoln in the Bardo (2017). On the Beastie Boys Book, Michael Diamond and Adam Horovitz make do with a cast only a quarter the size of Bardo's, but their irreverent playfulness moves recorded books another step forward. Steve Buscemi, Chuck D, Amy Poehler, Wanda Sykes: The performers are not just numerous but astonishingly eclectic. The result is a pastiche of Beastie Boy lore and history, a re-creation of 1980s New York City and a tribute to the late Adam Yauch (MCA), who died in 2012.
7. Leadership, by Doris Kearns Goodwin, narrated by Beau Bridges, David Morse, Jay O. Sanders, Richard Thomas, and the author (Simon & Schuster Audio); 18 hrs, 5 min.
Actor David Morse could give lessons in being presidential. He was George Washington in the HBO mini-series John Adams and the voice of Abraham Lincoln in another, Abraham and Mary Lincoln: A House Divided. In Goodwin's timely examination of four American presidents, Morris again portrays the 16th. Goodwin's histories always build vivid and engrossing portraits, but Morse's Lincoln adds an unforgettable, sometimes heart-rending layer, especially during Lincoln's most trying periods — a deep depression at age 32 and then the torments of the Civil War. Also memorable is Beau Bridges as LBJ, almost out-Lyndoning Lyndon. Rounding out this excellent cast are Jay O. Sanders as Franklin D. Roosevelt and Richard Thomas as Teddy.
6. Paris Echo, by Sebastian Faulks, narrated by Elham Ehsas and Deborah McBride (Dreamscape Media); 9 hrs, 9 mins.
"I was taking a pee in the bathroom when I caught sight of myself in the mirror. My face looked so beautiful that I turned to look more closely." From the opening line of Paris Echo, 19-year-old Tariq, voiced by Elham Ehsas (a child actor in The Kite Runner), is as attractive to the listener as Tariq is to himself — if for different reasons. The character's charming combination of naïvety and knowingness, along with a blind confidence found only in teenagers, snaps to warm life in Ehsas's low, musical voice. Tariq runs away from his middle-class home in Tangier and sneaks into Paris, ostensibly to find out more about his mother, who died when he was 10. He is befriended there by an American scholar as the two delve into the city's troubled history — and their own.
5. Educated: A Memoir, by Tara Westover, narrated by Julia Whelan (Random House Audio); 12 hrs, 10 min.
Tolstoy may have been right about the variety of unhappy families, but few of them have been as inventive in their unhappiness as the author's. Tara Westover was the youngest of seven children growing up on an Idaho mountainside with a capriciously religious father (after one of his milder revelations, he banishes milk from the household). Even young Tara worked in his scrap yard, where horrific accidents were common, often the result of her father's reckless confidence. Still worse, no one went to the doctor, instead relying on their mother's faith healing and herbs. Eventually, Tara manages to break away, earning a doctorate at Cambridge University. Julia Whelan's restrained and sensitive reading lets the strong, compelling material shine through.
4. Heavy, by Kiese Laymon, narrated by the author (Simon & Schuster Audio); 6 hrs, 17 min.
Laymon's incantatory reading of his often-disturbing memoir tells an unforgettable story about the weight of American culture for a young black man. Written as a letter to his mother, he vacillates between deep appreciation for what she tried to do and sadness about where she went wrong in her determination to keep him safe from white people. She gave him daily writing assignments, filled their home with books — and she beat him. "I knew you didn't want white folks to judge you if I came to school with visible welts, so you beat me on my back, my ass, my thick thighs instead of my arms, my neck, my hands … I knew if my white classmates were getting beaten at home, they were not getting beaten at home because of what any black person on Earth thought of them."
3. Harry Clarke, by David Cale, narrated by Billy Crudup and David Cale (Audible Studios); 3 hrs, 13 min.
Philip Brugglestein has never been to London, never met Sade, and certainly isn't married to a Frenchwoman named Sabine. But when he turns into Harry Clarke in this one-man play by David Cale, he's all of those things and more. "I notice my walk has changed. My posture is different … I seem to have a whole new internal life," Philip says. Billy Crudup mesmerizes as Harry, Philip, Philip's abusive father, and everyone Harry Clarke ever meets in this masterpiece of shape-shifting, recorded as part of Audible.com's new theater project. It's the fastest 75 minutes in audio, followed by Cale doing his Obie-winning play, Lillian, and a conversation among the two narrators, director Leigh Silverman, and Vineyard Theatre's Sarah Stern.
2. Your Duck Is My Duck, by Deborah Eisenberg, narrated by the author, Wallace Shawn, Julianne Moore, Josh Hamilton (HarperAudio); 6 hrs, 55 min.
Award-winning author Deborah Eisenberg is some kind of sorceress. The six pieces in her fifth short-story collection dance with ingenuity and magical description: "Her pointy face seemed distantly concentrated, as though she were counting, trying to keep track of little rolling objects while she spoke." And, "His point reverberated through my head like a slammed door." And, "Her voice was a harsh silver ribbon, glinting in the fleecy dark." She is also one hell of a narrator, creating a marvelous intimacy and often sounding as surprised by where the stories take her as we are.
1. Putney, by Sofka Zinovieff, narrated by Michelle Ford (HarperAudio); 11 hrs, 49 min.
Ford's narration skips effortlessly among voices in Zinovieff's wise and alluring second novel, the story of an affair between composer Ralph Boyle and a young girl, Daphne Greenslay. Twenty-seven-year-old Ralph is besotted from the first moment he sees the 9-year-old Daphne flicker by, "moving like mercury." He pronounces the feeling "beautiful and pure and powerful," even while hiding his erection from Daphne's father. The story toggles between the freewheeling 1970s and the present, in which, undergoing chemotherapy, Ralph consoles himself with thoughts of Daphne: "I've loved." Daphne, now an artist in her 50s, has finally found stability after disastrous decades she thinks of as her own "Dark Ages," and is working on a work of art that fondly recalls her affair with Ralph. When a girlhood friend reappears, Daphne is forced to reconsider her sunny recollections. The difficult story is enriched by Ford's narration, which gives each character a distinct dimension — Daphne's parents' indifference, Ralph's beguiling confidence, and the bright youth of his child love.