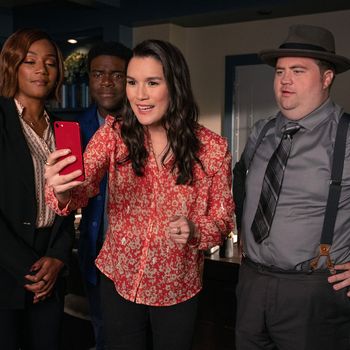 Photo: Aaron Epstein/Apple TV+
Maybe it's because Feng's story is linked to Ulysses's in many ways, but this episode feels a bit like a continuation in tone — a blend of heartfelt emotion and silly lolz — of last week's, doesn't it? Whatever the reason, the show has hit a nice stride with digging a little deeper into the goings-on of not just Grace and Edgar's wedding weekend, but the stories of all the suspects in Edgar's murder. I love to see it!
Ken Jeong's scenes in The Afterparty to date haven't really landed most of the season, for me (I did love when he suggested he and Vivian flush the centerpieces down the toilet, though). But last week, when he showed Feng's sincere, sweet side in Ulysses's retelling of Feng gifting an Oscars-worthy necklace to Vivian, Jeong's balance of comedic obliviousness and sweet sincerity did land and immediately got me on Feng's side in the whole affair. And he built on that scene this week with his "mind movie," mostly told via social-media intern extraordinaire/sk8er boi Kyler's cell-phone footage of the weekend, which he was recording for the King of Bing social media.
The underlying tension of Feng's weekend, it turns out, is that his business is in financial trouble and he came into the wedding weekend really hoping to get an investment from Edgar. Luckily, he has his new King of Bing truck (until it's repossessed during the rehearsal dinner) and is planning to serve baobing at the wedding and wow everyone, Edgar included. He's also really happy for Grace, he adds as an afterthought a few times — and though this is played as a joke, Feng is actually really happy for Grace (he weeps openly as he walks her down the aisle) and he's so, so devoted to his family. All he wants is for his wife and daughters to be happy and proud of him. The happiness in his voice when he says "Grace will be happy, that's all I care about" after Kyler reports that the wedding guests are loving the baobing? Reader, it brought a tear to my eye. I was also a bit misty-eyed when Feng realized while watching the videos that he ruined Zoe's speech with the noise from his ice-shaver — he was so sad and you could really feel it.
That devotion to his family is only one-half of the emotional side of Feng's story — the other half comes from his tension with Ulysses. We already knew Feng wasn't happy to see Ulysses arrive at the rehearsal dinner (though the real reason he stormed out was because of the truck being towed), but in this episode we learn that Ulysses also (unknowingly) crashed Feng's poolside investment pitch to Edgar and stole the spotlight; that Feng was about to step in and dance with Grace just before Ulysses swooped in; and that Feng, as he tells Aniq, does everything for Vivian, including starting the baobing business: "My wife is my life," he says. "I wanted her to see me as more than the safe bet. I wanted her to see me as adventurous, like him." Crushing, you guys. Just crushing. And Ken Jeong nails it.
Unfortunately, Aniq and Danner see a motive in his story: killing Edgar (via the baobing Feng made him and Roxana try at the after-party) to get his money, since Grace hadn't yet signed the prenup. Feng protests, showing them a video from that morning wherein he's pitching ideas to Kyler over FaceTime, claiming that those ideas are not the ideas of a man whose money troubles are solved. Danner isn't so convinced, but Aniq takes pity on his hopefully soon-to-be father-in-law and tells him to be honest with his family — about everything.
While Feng is screening Kyler's videos with Danner and Aniq, Vivian is taking Aniq's advice from last week and also embracing familial honesty. She gathers her daughters and prepares to come clean: not about the murder, as Zoe and Grace momentarily suspect, but about her affair with their Funcle Ulysses. (Listen, I'm just leaning into "funcle," okay?) It leads to even more emotional moments, as Vivian tells her daughters that the adventure she had with Ulysses wasn't love — and she knows because what she has with Feng is love; she loves who she is when she's with her husband. Vivian, tell Feng this! Please! All I want, as of this episode, is for the Zhu parents to run into each other's arms and profess their love by the end of this show! Her confession leads Grace to confess that she thinks she's in love with Hannah, and Zoe to reaffirm her love for Aniq, and then the Zhu women hug and it is really sweet. It's also funny, because Vivian says, "you're in love with the girl in the tent!" and Grace corrects her mother that it's actually a yurt. Get it right, Mom!
It seems like we're on track for lots of romantic declarations over the remaining two episodes of the season … but also definitely some murderous mayhem. While all this is going on, we see Isabel flush a bunch of blue pills (Grace's Adderall? Something else?) down the toilet. Then, after one of Kyler's videos reveals a menacing conversation between Edgar and his mother, Aniq and Danner decide Isabel is up next to tell her story. Rather than protest, as you might expect from Gin Mommy, she's at ease, claiming that she knows who killed Edgar and it wasn't Grace. What?! Then why have you been saying it was Grace, Isabel?!
Aside from all the potential evidence, there are many highlights to be found in Kyler's videos: the reveal that Aniq's car merely tapped the King of Bing truck, not totaled it, as we'd been led to believe; the wedding baobing reviews video being set to Xavier's "Imma Live Forever"; Jaxson being amazing at ribboning the ice for baobing on his first try; and, of course, Kyler's enthusiasm for his boss and his ventures.
Clues Clues Clues
• Suspect Watch: Do I believe that Isabel knows who killed her son? No, I don't. But you know what, maybe she — and the show — will surprise me!
• Kyler may be a clueless, goofy skateboarding bro who knows how to edit an Instagram Reel/TikTok video with precision, but he is also Feng and King of Bing's absolute number-one fan and I was unexpectedly touched by their relationship. Kyler really believes in Feng and his business! But does he believe so much he killed Edgar? This is becoming my favorite unserious murderer theory.
• Why did Edgar refuse the baobing at the wedding? Did he not want Kyler sniffing around his conversation with his mother? Had he been bullshitting Feng when he said he'd try it and maybe invest? Once again, we see another side of the murdered man.