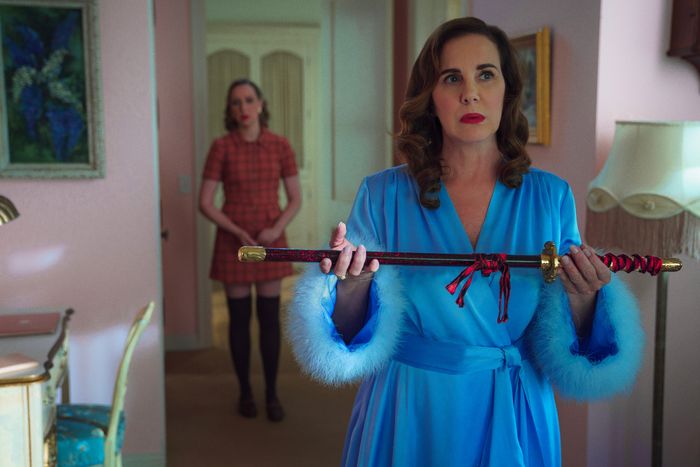 In last week's episode, Edgar's mother, Isabel, made a bold claim: that she knows who murdered her son (and it wasn't Grace, who Isabel's been saying did it for the duration of the show so far). She has also been known to pop mystery pills and chug martinis (as she does in the opening shot of this episode while everyone watches with amazement and disgust), so I had my doubts as to whether she was telling the truth. However, it makes sense to head into the penultimate episode of the season dangling that truth carrot in front of the audience.
Does the truth carrot materialize? Short answer: no, not in terms of who killed Edgar. Long answer: well … buckle up.
Isabel's story — which she tells to everyone, not just Aniq and Danner, because obviously they all want to hear it after her claim that she knows the truth — takes the form of a Hitchcockian psychological thriller, complete with a Hitchcock-doppelgänger cameo by Dr. Shulkind at the rehearsal dinner.
But let's rewind and recount what we learned about Isabel's "difficult year" from its start: After her husband Alexander's funeral, Hannah and Edgar invite their sad mother to live with them so they can process their grief together. Isabel can't sleep due to her grief, and the sleeping pills Edgar got her from their family doctor aren't helping. The grief and lack of sleep and fondness for alcohol and continuous popping of pills all add up to Isabel hearing music when Edgar says none is playing, making strange purchases online that she forgets by the time they arrive, swearing Edgar told her Grace's name was Gail, and more (including claiming she doesn't like gin when she's practically made of the stuff). In a nutshell: Isabel is unraveling. She tries to hide it from her kids, but they clearly notice something is up.
Isabel decides to lean into the madness, but when Edgar finds her joylessly jumping on her trampoline (which she pronounces "trampolinn"), he brings up a "fate worse than death": a conservatorship. As the wedding weekend approaches, she knows she has to seem right as rain in order to dissuade Dr. Shulkind from signing off on such a fate. It's not going great, and after she slaps Travis, she realizes that Edgar is after her money for his crypto business. Even with this clarity, she spirals, now thinking everyone is part of his scheme, including Sebastian seducing her and probing for Alexander's horse's name.
Two wedding-day events cement her distrust in her son: (1) When she goes to give the hair comb to Grace, she spies the Adderall pills and tries to bond with her future daughter-in-law by pointing out that they take the same sleep aid, and when Grace and Zoe tell her what the pills actually are, she realizes that Edgar gave her Adderall and told her they were sleeping pills — that he's been gaslighting her into thinking she's been going mad this whole time (the music, the online shopping, all of it!)! I did not see this coming!; (2) Having confronted Edgar about the pills only to have him continue to lie and also bring up her wedding toast, Isabel realizes that he wants her to crash and burn during her toast so she seems crazy in public. She doodles on her speech as a tactic to prove that Edgar will switch it out for a nonsensical one (which he does). Faced with no good options (give the new speech or claim Edgar switched it out publicly; neither is a good look), Isabel gives the speech as written … and it is the lyrics to Hanson's "MMMBop"! A song that the late Alexander apparently loved (Vivian also loves Hanson, it turns out).
Anyway, when Edgar later brings wedding cake over to his mother — and then turns away to tell Kyler and his Baobing to buzz off — Isabel switches the pieces of cake, sure that Edgar put something nefarious in hers. They eat. And later, Edgar dies.
So, you see, Isabel is sure she killed Edgar by way of him trying to kill her. And she says she only blamed Grace all day long because she was scared and also unsure if she was imagining it all … until she found the correct name napkins in a box in Edgar's closet. Now she knows he was messing with her.
Satisfied? Zoë is! She's ready to lock this case up, but Aniq is like, "Umm, no." The timeline of cake eating to hallucination to death doesn't add up, plus Roxana didn't eat any cake (as Feng recalls, Edgar said Roxana hated cake). So the murder remains unsolved. Sebastian has finished up his business (the business of selling off Bucephalus before it gets out that Edgar is dead, as Travis correctly ascertains and confronts Sebastian about outside while Isabel is telling everyone her story, only for Sebastian to be like, yeah, that's what I'm doing, and it doesn't matter, YOU HAVE TO BECOME THE HOUSE, TRAVIS) and called the cops, who arrive at the episode's end. Danner and Aniq only have so long to solve this thing — will they pull it off? Here's hoping!
Clues Clues Clues
• Suspect Watch: It's time to make our final guesses as to whodunnit before next week's season finale. So what do you think? My antennae are up re: Sebastian and Travis. There has to be a reason we got that little side confrontation between the two in this episode. And Sebastian's shrug when he reenters the house and hears that Isabel killed Edgar? It's suspicious. He also hated Roxana for reasons we still don't know. My official guess is that Sebastian did it. Motive? To, as he's so fond of saying, "become the house." How'd he do it? No clue!
• Alexander Minnows's headstone reads, "Died as he lived: successfully," which is hilarious. By the way, he died in his sleep/in a plane crash, meaning he fell asleep while flying his plane and crashed it in the Adirondacks, killing himself and all the other passengers. Yikes!
• Hannah unwittingly answers the query I've had all season long about why both Minnows children and their mother and Grace live at the Minnows Vineyard, where the wedding takes place, when she invites Isabel to come "stay with us" after the funeral so they can "grieve as a family" (Edgar's contribution). So just the adult siblings lived at the same house at first then? Still weird!
• Travis is clearly rubbing off on me because I was looking for a secret message in Isabel and Edgar's Scrabble game. (Isabel's tiles read "CRAZY AF," but the board words didn't jump out as particularly murdery or funny to me.)
• Hannah pushing back on Edgar's crypto fever by telling him that "Bucephalus is just digital dollars," combined with her heartbreaking delight at hearing that her mother trusts her opinion above anyone else's, makes her a front-runner for my favorite character of this season two bunch.
• Sleep deprived and gaslit or not, Isabel's attitude toward Grace remains confusing. She gives her the antique hair comb and urges her to sign the prenup as a form of helping her, as we learn from her story, but she's also aghast that Grace kept the Zhu name and still, at the end of the episode, tells her sheriff bestie that "the bride did it." Will this ever make sense?