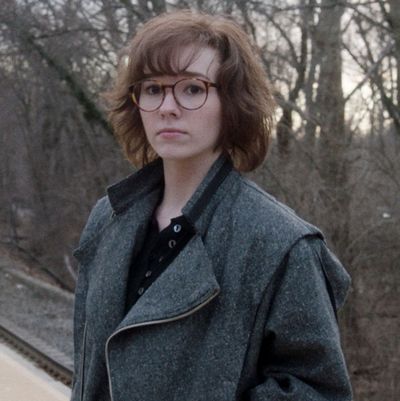 Photo: Jeffrey Neira/Copyright 2018, FX Networks. All rights reserved.
Don't dream it's over. The Americans concluded its gut-wrenching run on Wednesday night, but as that Crowded House standout from the season-six premiere illustrated, the FX drama used pop music the way Philip and Elizabeth Jennings used wigs: frequently, and to powerful effect. Over the course of six seasons, showrunners Joe Weisberg and Joel Fields and music supervisors P.J. Bloom and Amanda Krieg Thomas created a blend of huge hits and deep cuts, deployed them with both irony and sincerity, and used them with equal skill in everything from suspense sequences to slice-of-life montages. In an era when many shows feel like televised playlists, The Americans was more like an old-fashioned mixtape you might find in Paige's Walkman. Below, you'll find the best of the best. Turn it up loud.
10. Phil Collins, "In the Air Tonight" (Season 1, Episode 1)
Explicit sexuality. Unflinching brutality. Emotionally charged moments in parked cars at night. Thoughtful use of Big '80s music, doubling as references to Big '80s dramas. Gated reverb. Virtually all of The Americans' signature sonic and subject-matter staples are present in the pilot episode's use of Phil Collins's immortal air-drumming smash. True, the execution is comparatively broad in light of the show's later subtlety and austerity; it's hard to imagine a "sex and death, am I right, people?" musical montage in season six. But the chemistry between future IRL couple Keri Russell and Matthew Rhys, the bravado behind repurposing a soundtrack standout from Risky Business and Miami Vice (the pilot episode of Miami Vice, no less!), and, of course, the sheer sparse strength of the song itself made this sequence a well-deserved talking point in the series' early, buzzworthy days.
9. Yaz, "Only You" (Season 3, Episode 4) / Pink Floyd, unspecified (Season 3, Episode 6)
The Ballad(s) of Jim and Kimmy. Along with Peter Gabriel, Fleetwood Mac, and Roxy Music (don't touch that dial, music fans!), Vince Clarke and Alison Moyet's synth-soul duo Yaz — that's Yazoo to us Yanks — were one of The Americans' go-to artists. They were never employed better than when poor infatuated teenager Kimmy Breland played the group's gorgeous love song "Only You" to "Jim," the hipster weed-dealer alter ego Philip employs to gain access to her CIA father's house. Sweet but never saccharine, it suits the dancing-in-the-moonlight ambience of the scene perfectly.
"Jim" returns the favor a few episodes later, with a truly brilliant non-music cue: Placing headphones on the ears of a very stoned Kimmy, he plays her an unnamed song by Pink Floyd, the mind-expanding beauty of which we're left to imagine through watching the blissed-out expressions on the face of actor Julia Garner, then 21 and already a formidable talent. The heart of Kimmy and Jim's relationship was a dark one, and it only got darker when she returned for the final season. But in these two scenes, Kimmy's need to be acknowledged and understood, Philip's desire to do right by a teenage girl while failing his own, and the power of music to transport and delight shine through anyway.
8. Bauhaus, "Slice of Life" (Season 5, Episode 10)
From the Cure to Echo and the Bunnymen to Fad Gadget (!), The Americans was never afraid to goth it up. The creatures of the night really got their moment with this eerie, arpeggiated nightmare of a song from the genre's vampiric progenitors, Bauhaus. The horror-movie atmosphere so beloved by the band is a dead-on match for the tone of the scene itself, set in the red-black darkroom where Philip, Elizabeth, and Paige develop the photos of her mentor Pastor Tim's diary, and read together as he describes the parents' use of their daughter to maintain their life of lies as a form of abuse. You won't hear this song on any "Sounds of the '80" radio stations; The Americans exhumed it like a secret, or a grave.
7. Eddie Rabbitt, "Drivin' My Life Away" (Season 6, Episode 4)
Throughout its six-season run, The Americans frequently depicted the passage of time — or its failure to pass quickly enough — with what I came to think of as "same shit, different day" musical montages. These sequences tended to employ songs that were a bit nostalgic, a bit twangy, or both: Roxy Music's "End of the Line," say, or Elton John's "Goodbye Yellow Brick Road." Eddie Rabbitt's 1980 country-pop crossover is the best of that bunch, sliding so smoothly into a montage that juxtaposes Elizabeth's spycraft, Paige's experiment with a honey-trap-esque sexual encounter, and Philip's gleefully goofy line-dancing outing with the folks from his travel agency. Unlike the song's narrator, a roadie who's sick of the touring life, Philip managed to get out of his grueling career, at least for a while. But as his wife and daughter continue their psychically damaging subterfuge, and as his own travel agency business fails, the song becomes the sound of Philip fiddling while Rome (or Nashville) burns.
6. Roxy Music, "More Than This" (Season 5, Episode 3)
Sometimes The Americans used pop music to comment or complement, but this time it used pop music to mock. Kicked off by Phil Manzanera's breezily confident guitar and launched into the rhapsodic, romantic stratosphere by Bryan Ferry's crooning vocals, this ultraluxe Roxy Music hit first appears … over the sound system at a bowling alley, adding to the phony good cheer of the Jennings' fraudulent family outing with a Soviet defector. It returns with a vengeance the moment after one of the series' most vicious murders, when Elizabeth helps Philip snap the spine of a lab technician they blame for involvement in an insect-bioweapon project that turns out to be bogus. The juxtaposition of the shimmering sound and the horrific action echoes the lyrics of the song itself, which could be either a declaration of all-consuming love or a cry of existential despair, depending on your mood. Playing Soft Cell's "Tainted Love" as Philip murks a guy on a bus got way more attention, but this is the series' definitive murder-ballad moment.
5. Peter Schilling, "Major Tom (Coming Home)" (Season 4, Episode 9)
With "In the Air Tonight," The Americans had already repurposed one of the most famous TV needle drops of all time before its first episode ended. With "Major Tom," the show set its sights on a much more recent musical moment: the goofball pathos of poor Gale Boetticher, Breaking Bad's karaoke-loving chemist. But like the song itself — a sort of unauthorized musical fanfic for David Bowie's "Space Oddity" and "Ashes to Ashes" — the gutsy play paid off. The soaring song accompanies one of the lowest moments in Elizabeth's espionage career as she drugs and pretends to have slept with the husband of her friend Young-Hee, with Paige taking her first flight behind the wheel of the family car. It's a layered, lovely, and utterly heartbreaking choice.
4. U2, "With or Without You" (Season 6, Episode 10)
If you're gonna go home, you might as well go big. For its equivalent of The Sopranos' "Don't Stop Believin'" sendoff, The Americans selected an even bigger anthem, and one with a much better critical pedigree than Journey's tune had at the time. (The past ten years or so have dimmed U2's star, but for God's sake don't let that ruin The Joshua Tree for you.) I'll be honest: This song means a lot to me, more than almost any television show can bear. Plus, using a song with this big a preexisting cultural footprint is always a creatively risky proposition; The Americans already shot for the moon and missed when it played "Under Pressure" in order to demonstrate that the show's characters were, you guessed it, under pressure. All that, plus the slightly wonky elongation of the song's running time, prevents me from getting behind it as much as I otherwise might.
But when producer Brian Eno's synthesized drum beat and twinkling keyboards first kick in? When when Bono's tear-down-the-sky "ohhhhhhhh" kicks in, as Philip and Elizabeth see Paige standing on the platform as their train pulls away, never to see her again? What am I, made of stone? Keri Russell's shock-widened eyes in that single moment alone merit music this massive. The song will always be its own thing for me, but after six seasons as strong as this show delivered, it's okay for it to be The Americans' thing too.
3. Fleetwood Mac, "The Chain" (Season 3, Episode 7: "Walter Taffet")
The Americans used the Mac both before (stay tuned!) and after this astonishing suspense sequence, but it's the way they used it here that's so striking. Inside one of the notoriously tempestuous band's most aggressive songs about its interpersonal romantic catastrophes — ironically, the only Mac song written by all five core members — was a James Bond or Peter Gunn theme waiting to get out, and this episode set it free. As Philip and Elizabeth lead a mission to abduct an agent of apartheid South Africa, Mick Fleetwood's drum beat becomes a ticking time bomb. Lindsey Buckingham's guitar sounds like a coded signal. And the vocal duel between former lovers Buckingham and Stevie Nicks, with Christine McVie riding shotgun, erupts like a triggered alarm. It all fits the white-knuckle action so perfectly that it makes one of the biggest classic-rock radio hits of all time sound like it was written with this sequence in mind.
2. Peter Gabriel, "We Do What We're Told (Milgram's 37)" (Season 6, Episode 1)
His former Genesis bandmate Phil Collins got a brighter spotlight, but no artist did more to establish the sound and overall emotional tone of The Americans than Peter Gabriel. His songs — "Games Without Frontiers," "Here Comes the Flood," and "Lay Your Hands on Me" among them — appeared more frequently on the show than anyone else's, and the selections emphasized his austere art-rock side rather than pop colossi like "Sledgehammer" or "In Your Eyes." As the show itself grew colder and harsher, it seemed to age into the template Gabriel established when he first went solo decades earlier. By the time it used "We Do What We're Told" in the premiere of its final season, it had gnawed its characters down to the bone.
In this particular case, the person being subjected to a live emotional autopsy is Elizabeth. She's just received instructions from a rogue wing of the KGB to thwart the arms-reduction negotiations taking place between the Reagan regime and Mikhail Gorbachev's reformists — and to kill herself by swallowing a poison pill if she gets caught. The song that follows her journey home from this rendezvous is an excruciating tone poem about the grim mock-electrocution experiment conducted by Yale psychologist Stanley Milgram: Participants applied what appeared to be lethal shocks to agonized victims, demonstrating that Americans would use the "just following orders" excuse to commit atrocities as readily as any Nazi would. This is Elizabeth's Milgram moment, long overdue. The gray swoosh and scrape of Gabriel's grim song — which receives a response of sorts when Tears for Fears' sonically similar "Ideas As Opiates" accompanies Philip's first moves against his own wife later in the season — is her moral morass in musical form.
1. Fleetwood Mac - "Tusk" (Season 1, Episode 1)
Number one, without question, full stop. "Tusk" was more than just a music cue: It was everyone's introduction to The Americans, by way of an audacious eight-minute remix that ran throughout the pilot's jaw-dropping opening espionage sequence. And what a first impression it made. I'll go to my grave insisting that critics saying, "Wow, I don't care what it did to Fleetwood Mac's sales' figures, 'Tusk' is a really good song!" upon watching this rep-making mini-thriller, played as much of a role in the show's early acclaim as any single other factor. Hell, I'll go even further: By taking one of the Mac's most maligned numbers — treated as a punch line even by people who like the song — and using it to fuel filmmaking this self-confident, The Americans helped secure the band's place in the critical firmament once and for all. It's a virtuous feedback loop, in which the ragged glory of Lindsey Buckingham's percussive and menacing experiment makes the action feel unpredictable and exciting, and the intensity of the suspense makes the song feel like an absolute juggernaut. The song shapes how you view the show, which shapes how you hear the song, and on and on and on. Simultaneously transformative of the original song and in perfect harmony with its fractious energy, it's the Platonic ideal of how live-action drama and preexisting pop work together — a team effort worthy of Elizabeth and Philip themselves.