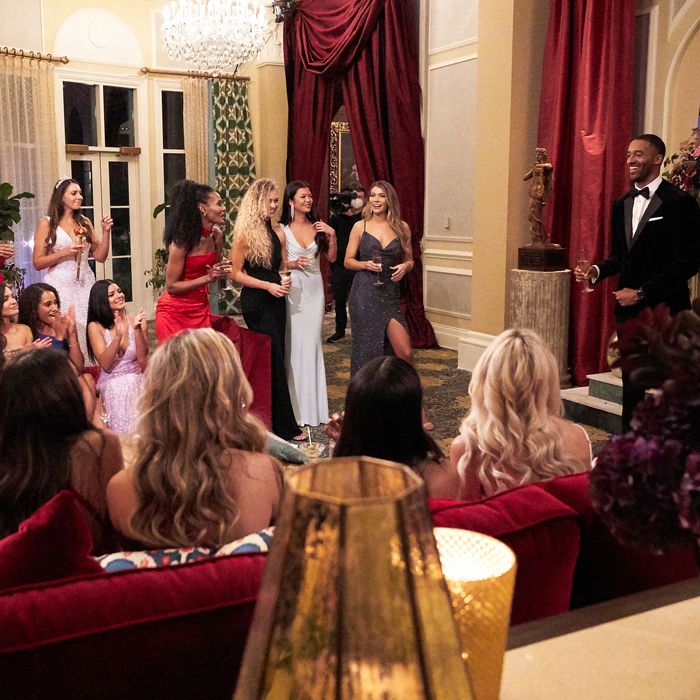 From season 13 onward, over half of all
Bachelor
contestants have entered the mansion wearing either black, red, or blue, and that doesn't look to change much with tonight's premiere of Matt James's
Bachelor
season.
Photo: Craig Sjodin/ABC
Watching The Bachelor is as much of an American pastime as watching baseball. But when it comes to the ABC reality series, the most anticipated event isn't the conclusion of the season but the beginning. From first-impression roses to first kisses, Bachelor premieres are filled with anticipated moments and milestones. But the show's tried-and-true formula doesn't mean The Bachelor debuts are boring — far from it. By looking back at Bachelor premieres of the past, it's easy to identify trends that can provide insights into how future seasons may play out … and provide easy rules for drinking games and other watch party fun. (Pro tip: Do not make a rule to drink every time someone says "journey," you will be knocked off your feet before the limo arrivals wrap.)
Ahead of tonight's premiere of The Bachelor's landmark 25th season, when Matt James will step into the leading role, we're looking back at some key numbers in Bachelor premiere history — or at least every streaming premiere. As Bachelor Nation well knows, the first 12 seasons of The Bachelor have been lost to the sands of time and are shockingly difficult to find online (even through less than up-and-up means). But like six-time Bachelor Nation alum Chris Bukowski, we're not to be deterred. So join us on this journey of a lifetime, looking back on the biggest trends and critical statistics in Bachelor history, from season 13 on.
🌹 A total of 335 contestants have entered the Bachelor mansion, and 29 percent of them were sent home the first night. Of the 98 women eliminated during premieres, only one (season 19's Kimberly Sherbach) ever challenged the Bachelor's decision, successfully securing herself a place back in the competition.
🌹 Chris Harrison has said the word "Bachelor" 171 times during premieres. In both the season 19 and season 23 premieres, he said it a whopping 43 times, which averages out to once every three minutes.
🌹 The average age for a Bachelor contestant is 26, with the youngest ever competitor being 21 (season 19's Mackenzie Deonigi) and the oldest being 36 (season 13's Renee Simlak).
🌹 Comparatively, the average age for a Bachelor is 31. Ben Higgins and Colton Underwood are tied as the youngest Bachelors at 26, while Brad Womack earned the title of oldest Bachelor when he returned for season 15 at age 38.
🌹 The men selected to be the Bachelor include four sports veterans (Sean Lowe, Juan Pablo Galavis, Arie Luyendyk Jr., Colton Underwood), two pilots (Jake Pavelka, Peter Weber), two winemakers (Brad Womack, Ben Flajnik), and one farmer (Chris Soules). The most popular industries for Bachelor contestants to work in are: sales (19 contestants), nursing (16 contestants), teaching (16 contestants), marketing (15 contestants), beauty (15 contestants), and real estate (15 contestants).
🌹 Some of the least common "jobs" for Bachelor contestants include: chicken enthusiast (season 20's Tiara Soleim), never been kissed (season 23's Heather Martin), sloth (season 23's Alex Dillon), aspiring dolphin trainer (season 21's Alexis Waters), and Cinderella (season 23's Erin Landry). Unsurprisingly, these job titles have each only appeared once on the series.
🌹 Twenty percent of all Bachelor contestants are from California, with 68 women hailing from the Golden State. The other most common places contestants come from are Texas (31 contestants), Florida (28 contestants), Illinois (21 contestants), and New York (20 contestants).
🌹 Fifteen Laurens have competed on The Bachelor, with four of them competing against each other on season 22. (Note: Chris Harrison's girlfriend is also named Lauren. As he is also a white male from Texas who lives in California, Chris Harrison truly appears to be the ultimate Bachelor stereotype, for better or for worse.)
🌹The other most common names for Bachelor contestants, including popular variations and nicknames, are: Ashley (11), Britney/Britt (8), Christine/Kristy (8), Nicole/Nikki (7), and Alex/Lexi (7).
🌹 "Here for the right reasons" has been uttered 11 times during season premieres — 12 times if you count Eunice Cho's pilot pun about being "here for the flight reasons" on Peter's season.
🌹 When meeting the Bachelor for the first time, 62 women have brought at least one prop to help them make a memorable first impression. This has often led to a unique bonding activity, like when Josephine Tutman made Nick Viall "Lady and the Tramp" a raw hot dog with her.
🌹 Eleven women have skipped the limo in favor of arriving through more memorable means, such as riding a camel (season 21's Lacey Mark), gliding on a hover-board (season 20's Rachel Tchen), or popping out of a suitcase (season 24's Kiarra Norman).
🌹 Seventeen women have showed up at the mansion wearing a costume, including contestants sporting everything from a wedding dress (season 17's Lindsay Yenter) to a fake pregnancy belly (season 18's Clare Crawley) to even dressing up as a windmill to remind Peter Weber of his explicit activities with Hannah Brown (season 24's Deandra Kanu).
🌹 Zero contestants have arrived at the Bachelor Mansion dressed as a dolphin. Season 21's Alexis Waters, however, did arrive dressed as a shark.
🌹 If a contestant really wants to stand out from the first-night crowd, though, all she has to do is wear orange. Only one contestant (season 13's Nicole Mah) has ever worn orange.
🌹 Meanwhile, over half of all Bachelor contestants have entered the mansion wearing either black (22 percent), red (20 percent), or blue (16 percent). Of the 66 women who showed up in red, 20 percent of them were from season 21, and two of them were even wearing the same dress.
🌹 Women who have the first one-on-one chat with the Bachelor statistically have very little to worry about going into the first rose ceremony. Thirty-three percent of them receive first impression roses, 42 percent are among the first three names called out in the rose ceremony, and zero have ever been sent home on the first night.
🌹 Nineteen contestants have kissed the Bachelor in a season premiere, with Peter Weber holding the record for kissing the most women (seven), followed by Colton Underwood (three). Of the kisses, 26 percent occurred during the limo introductions when the pair had just met.
🌹 Four women have declared that other girls were either jealous or intimidated by them. But, shockingly, only one woman actually uttered the reality show catchphrase "I'm not here to make friends" (season 15's Michelle Money).
🌹 The Bachelor has been stolen for chats 50 times during premieres, with season 23's Catherine Agro holding the record for most steals in one night, orchestrating four one-on-one chats with Colton Underwood.
🌹 Contestants have cried 47 times during Bachelor premieres. The most common reasons contestants cry are: being upset about their elimination (51 percent), being nervous about not getting enough one-on-one time with the Bachelor (18 percent), or while sharing a painful story about their past during the intro package (17 percent).
🌹 Unsurprisingly, Peter Weber's season debut featured the most tears, with women crying on 11 separate occasions, including former Bachelorette Hannah Brown's emotional breakdown during a group date.
🌹 One hundred percent of the first women out of the limos — a position which, if we believe the wisdom of UnREAL, demarks them as "wifey material" — received a rose on the first night.
🌹 Of the 60 women who were one of the first five introduced to the Bachelor (which is approximately the number of women in the first limo), only three have been eliminated on the first night, while five would go on to be chosen by the Bachelor in the series finale … even if one of those decisions (Jason Mesnick choosing Melissa Rycroft) was later reversed in After the Final Rose.
🌹 Twenty-three first-impression roses have been given out on the first night, including 12 by Sean Lowe, who even gave a contestant a rose during her limo introduction — a Bachelor first and a move that hasn't been repeated since.
🌹 Of the 23 contestants who received a first impression rose, 47 percent have lasted until at least week seven of the competition, 22 percent have made it to the finale, and two recipients (season 17's Catherine Giudici and season 24's Hannah Ann Sluss) ended the season engaged.
🌹 Thirty-one gifts have been given to Bachelors during the premieres. These presents have ranged from the bold (a save-the-date for their future wedding) to the heartfelt (a bracelet for the Bachelor's daughter) to the bizarre (a handful of dirt). Two contestants even gave Bachelors live animals: Jenna Serrano gave Peter Weber an "emotional-support cow" named Ashley P. and Catherine Agro gave Colton Underwood her actual dog. (Don't worry, the adorable Pomeranian was returned to Catherine after she was sent home in week three.)
🌹 Other than Chris Harrison, Sean Lowe has appeared in more Bachelor premieres than anyone else (six). Outside of his own turn as the Bachelor in season 17, he also popped up to give advice to Juan Pablo Galavis, Ben Higgins, Nick Viall, and Arie Luyendyk Jr., as well as appearing on season 19's disastrous live red-carpet event.
🌹 Four women have become drunk enough in premieres to be called out by other contestants, three have tripped, and two have shown up barefoot, but only one has ever mistakenly thought the Bachelor called their name during the rose ceremony and stepped forward when it wasn't their turn (season 18's Kylie Lewis). She did not receive a rose and was sent home shortly after.