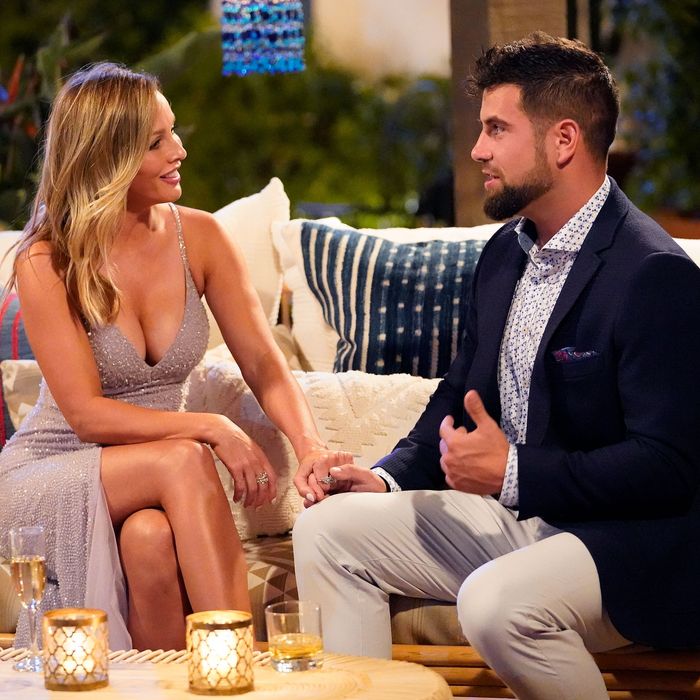 I don't ask for much in this life. I'm a humble and simple woman, who enjoys simple pleasures. A loaf of crusty bread hot out of the oven with a thick pat of butter. A beam of sunlight as it filters through the trees to hit my window as I stir in the morning. The soft crunch of the first snow under my feet. So when I ask you this, The Bachelor franchise, please know that I do so on my knees because receiving it will bring me the deepest and most powerful joy that can ever fill one woman's spirit:
How many of these men can Clare break? How many of them can she crack open like they're an Alaskan King crab and pick out the soft, pillowy innards? How many men can she drag kicking and screaming into emotional maturity and mental wellness? Because all I want now is to see Clare Crawley force marketing managers to discover that they are a person with thoughts and feelings who is worthy of love. Clare has obviously spent a fair amount of time in therapy, and like Glossier or Warby Parker before her, she's removing the middleman, passing the savings onto the consumer, and tricking these men into going to therapy just by dating her.
Honestly, she's an inspiration. How many of us have explained our boyfriend's job to our therapist so she can tell us just what the fuck is up with him? If you haven't tried to subtly get your boyfriend to complete an OCD diagnostic questionnaire by slipping the questions into casual conversation, you haven't been in love. But does Clare do any of that? No! She's proud! She's asking men to write letters to their past selves on a first date! On most of my first dates, I was busy pretending that I've never had a negative feeling, was always horny but somehow also still a sexually informed virgin. Please, even after she allegedly blows up The Bachelorette, let her stick around and design labyrinths that make you heal your relationship with your father and in turn, your relationship with yourself. Let's get to it.
The episode starts and Clare is floating in the hotel pool completely obsessed with Dale. Y'all. Are we even going to pretend at this point? How can we get through this acting like we're going to end up with any other outcome? Is anyone sitting here like, "Oh, maybe she'll end up with Zach J." The guys are all waking up in the resort, and this has to be the cleanest and most comfortable housing of any season. Each guy has enough space to line up his 15 pairs of shoes, right Bennett? Bennett puts on his bathrobe and makes a martini. It's time for the first date card!
Riley, Jordan, Yosef, Ivan, Ben, Bennet, Zach C, Zach J, and Dale are heading out on the first group date of the season and because they can't leave the premises, they follow a trail of hearts on the ground to what I can only assume is the Fiesta Ballroom. It's been outfitted as a love languages treasure hunt-slash-high school production of Romeo & Juliet. The first step in the love languages treasure hunt is that Clare goes up to a balcony and the men have to stand below her and shower her with compliments. Fuck. This bitch is a genius! We've done variations of this kind of group date before, but let's cut out all the poems and raps and talent show demonstrations. Just stand a safe distance away from me and tell me I'm beautiful in front of everyone else.
Everyone basically says, "It was always you, Clare" and other vague metaphors about long journeys. It's time for Dale to step up and he says, "When I saw your energy and your spirit, you made me feel comfortable committing to that, committed to giving you everything I have. I trust you, I'm here for every bit of it. I am who I am and I'm here." That's nothing. Nothing Dale has said to Clare so far has been a specific about his life or how he feels. So of course Clare has to be carried down the stairs from the balcony because her legs have turned to jelly. She also says she's so amazed by a group of men using this kind of language. Clare is going to destroy the concept of toxic masculinity if it's the last thing she does.
It's time for the next challenge in the love language-a-thon. The men have to sprint back to their hotel rooms and find something to give to Clare. I just saw the episode of Ted Lasso where they do this as part of a séance, so it wasn't as effective, and we're really just trying to get to the next love language: physical touch. One at a time, the contesticles approach Clare, they both put a blindfold on and they just stroke each other. I mean. She's operating on another level. And apparently, being able to vibrate with the universe at a higher frequency than other mortals means she has a heightened sense of smell. When each man approaches her, she just moans and goes, "Ooh, I know that smell."
The last part of the evening is "Quality Time," aka the cocktail party. Clare arrives in a bangin' dress and sits down with the fellas, raises her glass and then… nothing. Everyone just stares at her. What is happening? Have they seen this show? How did they all collectively fuck this up? They must have all made some agreement to "respect" each other and not play games and throw each other under the bus and just overcorrected to extreme politeness. And it was amazing to watch everyone realize they had fucked up in real time coupled with Clare's anxiety rising. Finally someone takes her aside, I dunno, Benne-chass-van? Someone, it doesn't matter, because Clare cannot focus on what they're saying and they're not Dale! So she marches back to the group and makes direct eye contact with Dale telling them all to hurry up and snag her! Yosef attempts to speak for the group and says that she's, "crazy to think they didn't come here for her." You can see Riley and Dale flip out and Dale drags Clare away. That leaves Riley to tell Yosef to shut the fuck up and mind his business. This doesn't warrant this exact reaction from Riley but you can tell Yosef is a piece of work so this is probably about something else.
Later, Riley takes Clare aside and slow-dances with her and tells her that at his prom, they were dancing to Boyz II Men. Riley is 30 so that makes him slightly younger than me and we were not slow dancing to Boyz II Men. They didn't have a single out when I was in high school, Riley! We were grinding to "Promiscuous" by Nelly Furtado! But all of that gets him the group date rose.
The one-on-one date is Jason. Clare takes him to the desert and makes him confront his demons. She is an unrelenting storm of emotional availability and self-awareness. First, they write all the things they've been labeled that they hate on tiles and smash them against some rocks. Clare's list includes "Needy, hard to love, and I'm a bitch" and Jason's list is "Manipulative, selfish, and cold and mean." My god. Clare, tell me your secrets. Then they each read letters to their younger selves. While Jason is reading his, Clare stares directly into his eyes and tells him that he must conquer his demons to find inner peace. She then pulls a flaming sword from the fire and cuts a tree in half. Jason had a difficult childhood. He tries to leave details out but it's not hard to read between the lines when it comes to the things he's witnessed in his parents' marriage and what he had to do to get through it with his brother. She gives him the rose and makes out with him to validate the experience of being emotionally vulnerable. I can't wait for Jason's next girlfriend to receive him as slightly more emotionally capable.
It's time for the last group date of the week. It's strip dodgeball. That's it. Perfection. In one episode, Clare has made the men explore their love languages, confront childhood trauma, and show her their dicks. I know she doesn't get many more episodes. She doesn't fucking need any. She's done all there is to do. The twist of this date is that the losing team has to walk home naked (through an empty hotel) and they skip the cocktail party. The teams are irrelevant. The men are interchangeable. There's only flesh.
But Blake Moynes, the man she rewarded for breaking the rules, can't handle that he doesn't get more alone time with Clare so he's going to break the rules. He heads to the cocktail party even though he's not invited. When he arrives, the other contesticles give him about four minutes of time and then approach as a united front in ankle-length pants to tell him to leave. Clare tells him how much she appreciates him and he goes in for a kiss and she rejects him in a way you rarely see on these shows. It was… hard to watch. It was like leaving the club with a guy but realizing that in the light he's got a weird tooth and you've gotta dodge that fucking tooth. Blake walks home with his tail between his legs.
Clare tries to get the date back on track by chatting with Brandon and he's unable to name something about her other than she's beautiful and the only thing he wants to know about her is if she grew up in Sacramento or if she moved there. Imagine thinking that someone's relationsnhip to Sacramento is the most interesting thing about them. When Clare tells him that everyone else is at least able to fake a conversation with her or identify one non-visual based quality, Brandon mutters "can we…not?" Clare walks him out and it's the right move. Chassen gets the group date rose, whoever that is.
Heading into the cocktail party, Yosef has been stewing about how Clare is classless and tasteless because she mildly embarrassed men who chose to go on a reality show. He says he's noticing some red flags when it comes to Clare and he has too much respect for his daughter for Clare to see his ass on TV. People don't ask men this enough, but where is your daughter? If you were really worried about your daughter's respect for you and your behavior on a television program, you wouldn't go on a television program. Shouldn't you be at home helping her set up Zoom school or whatever the fuck? Spare me the macho bullshit about being humiliated because a woman in her late 30s wanted to see some ass. Yosef has the jawline to tell me that if he was the Bachelor, he would have absolutely opted for the "strip beach volleyball date." If we've been wondering who has been yelling at Clare in the previews for the season, it's this Joey Donner-after-taking-the-Bane-steroids asshole.
First things first at the rose ceremony, Clare takes Blake aside and rewards him AGAIN for breaking the rules and puts his mind at ease by giving him a rose. SHE CAN DO THAT? She can just hand out roses whenever she wants? I love her. She's doing this exactly right. This is going to backfire everywhere but oh man, this is a brilliant move. Eazy realizes that there's no rules of engagement as they all watch Dale walk away with Clare. She takes Dale to a dark corner, blindfolds him, and climbs him like a ropes course. Clare says what she feels with Dale is magical and her dreams are coming true! Please, Clare. Ruin these men. Ruin this franchise. Destroy it all and rebuild it in your image.