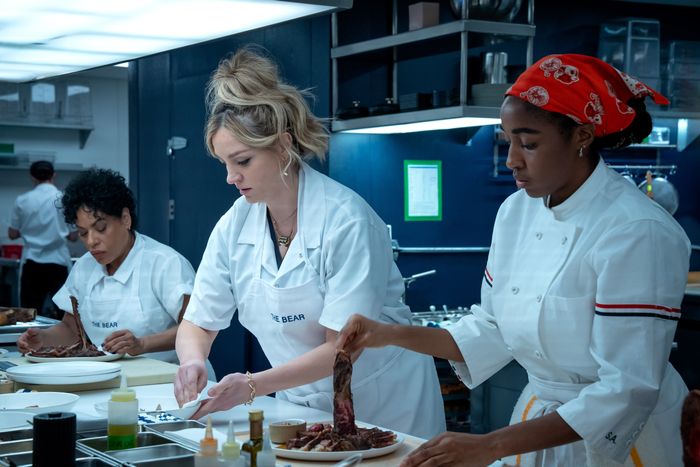 Courtney "Coco" Storer and Matty Matheson might be the most important culinary producers on TV since the people who made human flesh look gourmet on Hannibal. The job on season one of The Bear was to bring a messy working kitchen to life and make viewers everywhere crave Italian beef. But the show's second season ups its food game on every level, taking viewers from Chicago to Copenhagen, experimenting with full tasting menus, more artful desserts from Lionel Boyce's Marcus, and one disastrous holiday feast.
The last takes place in a flashback that finds Storer's brother, The Bear creator Chris Storer, drawing from his own family trauma; she calls it something like "art therapy." And Matheson, on top of helping Chris choreograph the elaborate dinner-service sequences, had way more screen time this season as handyman and honorary cousin Neil Fak. ("I think I'm just learning how to act. My nervousness is genuine," he says. "I remember my lines phonetically.") Walking us through some of the best food moments of the season, Storer and Matheson talked with Vulture about snacking on set, the art of failure, and how they channeled Sesame Street for Sydney's perfect pasta dish. 
How does it feel to have season two out there? 
Matty Matheson: I think people are resonating with it because we wanted to show trial and error. We wanted to show failure. It isn't, I thought of this dish, and it's perfect. Designing food doesn't work that way. Executing doesn't work that way.
How do you design failure?
Courtney Storer: Failing is what gets you to the place where you can succeed. In food, it's no different. You don't start as an incredible chef right out the gate. You have to work really hard, you have to be bad, and you have to suck it up for a while. That's no different than creating a dish and presenting it to a chef. This happens between Matty and I where I'm like, "I think this is great." And he's like, "I hate it." It's a collaborative effort, and some things just don't work, and you can't sugarcoat that experience. We definitely didn't want to leave it out, because in my personal journey I've gotten to know how to cook because of all the things I've done wrong over the years.
Are you consciously trying to do right by friends in the restaurant industry? Is that who you envision in the audience? 
MM: We want to make something that's real, but this show is about a small family business. It's about living life on one's terms. Name a hit show where in the first season, there isn't a kiss. It's very cool to me. I don't think of the show as an industry show. I think of it as a Richie-Carmy-Sydney show. It's only at a beef spot because of Chris. It could have been a shoe-cobbler family. It could have been millwork. It could have been fisherpeople.
And while Matty the chef is acting, you're responsible for making the actors look like chefs. 
CS: We have the most incredible cast that actually wants to learn, so a lot of them put in work training before we started filming, whether it was in another kitchen staging or here in Los Angeles in my kitchen with me, so we could actually get more comfortable without the pressure of the cameras. And on set, I'm there, and Matty is there, and we can pick up on things right away. The actors are all doing very different things, and it's all about giving them a narrow scope to focus on in a particular scene. If each person pulls their weight, it feels like a play. They are using real knives. They are sautéing, they are using heat. And they're acting on top of that. It's very difficult, and they kill it.
How did you build something like Sydney's dream pasta in episode three?
MM: Coco is doing magic. For that ravioli, we're in a pitch-black room.
CS: With no water.
MM: A shitty home oven, no pots and pans. We're talking about it for weeks, and on the day of, there's some folks she's never met before helping her. And it isn't perfect. We spend more time discussing what we're doing, and then on execution, it is what it is. And that's what makes it real and that's what makes it exciting. That's what makes it vigorous. Our crew is our crew, and it's small. Coco's plating food. The actors are plating food. I'm plating food. We don't have large teams. We have a couple of amazing chefs helping us at the end, which was an incredible experience. But I think that's all part of it. We're scrappy.
CS: Every person's creative process is totally different. So as a chef, there's no general road map that you take. I've noticed with Matty he's incredible on the fly. His magical brain can just visualize and execute. But for me, I'm analytical. I like to structure things differently. I like to see how I'm going to do each element. But both things are necessary in a kitchen. Both ways work. And for Sydney's character, that comes from Joanna Calo, who did that episode, and the team from Chef's Table that joined us. She was getting influenced by architecture and looking at things throughout her day that inspired what she wanted to make.
MM: Shapes, and sizes, and colors. We were talking in Joanna's office one day, and I was like, "I kind of see it like Sesame Street in my mind." When we were talking about: How do we make a dream? How do we make a thought? How do we articulate a vision?, my brain's place of origin is: What is an idea? What is the place? How do we make flavors? What are Sydney's flavors? Where is Sydney from? What are the things that she is proud of? What are the flavor profiles she would put into Italian food? How could she make something hers? And I think having a xylophone, that kind of [does a one-note-at-a-time xylophone noise] like on Sesame Street, as you're taking parts away, adding, subtracting … You know, I'm beyond ADHD. I'm constantly rifling things through my head at all times, about everything. Joanna was very adamant about this black void and then these colors and shapes. And then Coco brought that to life.
And after all that, the dish is a failure. 
CS: I think what's really interesting is that to someone's eye, you see it and you're like, That looks so beautiful. I would want to eat that. But chefs, we're all pretty hard on ourselves. I've done that before, where I'm like, "This looks incredible," and I hate it. You get sick of the stuff you make sometimes, or you're not inspired by it, or it's missing something. It's just the artistic process, I guess.
MM: Or your mood can make something taste bad. Your anxiety can make you tasteless. It really can. Opening restaurants is so annoying. I remember when I was opening up Prime Seafood Palace I was so stressed that I couldn't taste right. I wasn't thinking. You can taste something one day, and the next day it tastes different.
Really conceptual haute cuisine is often portrayed in movies and TV as something snooty or cold, but The Bear makes it soulful and shows the humanity behind it. Like the desserts in Copenhagen.
CS: The minty Snickers bar, and the stuff that you see in episode seven with Richie, we have to shout out the team at Ever Restaurant in Chicago for that. Curtis Duffy is a chef who has not only been through a lot in his personal life but also was a three-star Michelin chef, now is a two-star Michelin chef, very different from Matty and I. It was incredible to work with him and their strengths and develop these dishes and be like, "This is what we see. What can you make?" And they helped us significantly with bringing those dishes to life that you see in Copenhagen and episode seven.
How did you narrow down the restaurants and foods you wanted to feature in Sydney's research episode and the Copenhagen episode? 
CS: A lot of that is just growing up in Chicago. I knew all these places, and I reached out to a lot of my friends that are chefs in Chicago that I cooked with and grew up with in the hospitality world. I asked, "Where do you go on a day off?" I know Kasia's Deli has the best pierogies, and that's something close to me. And Lao Peng You has amazing broth and noodles. And Avec; Donnie Madia is like the godfather of Chicago. So that felt easy. Matty and I spent time in Copenhagen and got to go to [MAD] Symposium there together. But the writers' room also do their research and think about what they view as significant in Copenhagen visually, and what's well known, but also the little spots to grab a hot dog and take a walk on the canals.
Can you break down the Seven Fishes? Because in episode six, we don't actually get to see a lot of it. 
CS: Are you ready? We had shrimp cocktail. That'd be one. We had a smoked-fish dip on the table.
MM: You don't see it.
CS: You had the steamed lobsters with drawn butter. The crab claws. The Branzino. The baked clams. And then we had a marinated-mussels situation. I think we mixed some raw crab and prawns for the appetizers. So we had another one … Baked cod! That's what it was.
And then, of course, the tuna casserole makes eight fishes. Did you make that too? 
MM: There was something in there because we threw it. I love a tuna casserole, for the record.
CS: Me too. I would have never thrown that, just so you know.
Actors don't always actually eat in dining scenes, but this is real food, and it looked like Sarah Paulson, for example, was snacking on something the entire episode.
MM: Everyone was eating, and I think Paulson was just eating because she couldn't stop laughing. We were all having so much fun, genuinely. She just started. She was dining the whole time, like audibly. It was really funny to watch a superstar like her just sitting there eating a bowl of nuts the whole time. She's awesome.
And then for the final shot, how do you make a pile of cannoli look haunting?
CS: You live it.
MM: You have a dysfunctional family.
CS: This show is based around people and stories, and sense memory is so tied to your nostalgia and experiences. And sometimes that's a really beautiful thing. And then on the opposite side, with trauma, it can be really painful. And that can be a visual, it can be a scent. I definitely relate to having to own some of that and bring back some things that remind me of my family and not thinking about it in the same way.
And then toward the end, you have the savory cannoli as part of Marcus's four alternate dessert courses. And they all have to carry the themes and stories of the season. 
CS: There needs to be a connecting thread, so that was part of the direction. A long, long time ago, Chris sent me a dessert that he had seen, kind of a savory cannoli. I was like, "I've done that before with cannoli shells, Parmesan tuiles, things like that. So we made a Parmesan shell, which was so delicious. I just kept snacking on those, which was crazy because they take forever to make. And then we worked on making that more savory to be the bridge between the savory food and dessert. The doughnut with the fermented cherry on the bottom and the cherry powder on top was obviously a nod to season one and Sydney's donut, as Marcus calls it. The fior di latte ice cream with a melon reduction on the bottom and fresh caviar on top was his love and learning from Copenhagen; the Copenhagen Sundae is what we called it. And then the honey-bun dessert that you see in the takeaway cellophane wrapper that says "The Bear" is kind of his nod to his relationship with his mom, and also the snails, the sweet pastries they have in Copenhagen. He ties it all in and makes his version so it tells a story. And it's the same on the savory side too.
Speaking of which, what was in that refined Seven Fishes in the finale?
CS: You can kind of see it. We did a beautiful prawn, a Carabinero, which is red and really vibrant and kind of looked like the lobster in Seven Fishes, and we served it with a scallop and mussels, clams, calamari, a little bit of amberjack.
MM: Like a crudo.
CS: Exactly. And the fumet was its own character with saffron. That's the broth that the fishes are in.
What was the most difficult thing you worked on this season? 
CS: The Seven Fishes was really intense. We were doing it in three different houses, so we were carrying over a lot of food, and we rehearsed it. We had to do two big settings of it because we filmed it in the home and on a stage too.
MM: And "Friends and Family" was hard. There is a lot of choreography, and everyone has to calm down because we shoot fast. We were doing these long shots, capturing this kind of theater. We're not doing it a lot of times, but we practiced a lot.
Can you tell me about developing the chaos menu? It was intentionally outlandish, right? 
CS: Chaos menu is an inside joke for Matty and me. Both of us called each other when we read that in the script, and I was like, "So have you ever heard of a chaos menu?" And he was like, "What the fuck is a chaos menu?" I can't explain that.
MM: Thing is, it takes a long time to develop your true culinary voice. And I think young chefs spin a wheel of ingredient, ingredient, ingredient, and don't understand what really does go together. What we wanted to do was take the idea of Michelin, the idea of ego, chaos, all of those things, and debunk it. You don't want to shoot for the stars. What you want to do is go inward. Chaos menu is definitely a little nudge, a little "Fuck you," to young ego.