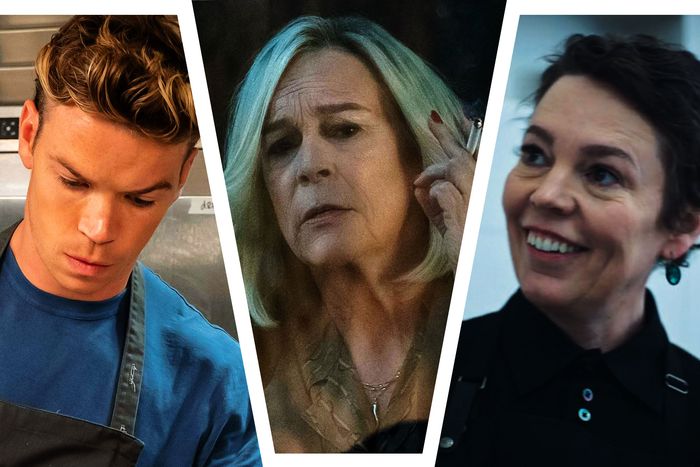 Photo-Illustration: Vulture. Photos: FX
After The Bear's first season became a major critical and popular success, its casting directors started to receive a lot of unsolicited auditions, including some from actors looking to show off their special qualifications.
"I had a young man send me a tape of himself making scrambled eggs," says Jennifer Rudnicke, one of the casting directors who is based in Chicago, where the series is primarily filmed. "It was literally just a video in his kitchen of him begging to be on the show. We kept getting submissions like that."
Amateur chefs weren't the only ones eager to show up on The Bear. If you've watched the second season, you know that numerous A-listers, including Oscar winners Olivia Colman and Jamie Lee Curtis, were just as psyched to let it rip alongside the principal cast. In fact, The Bear was such an enticing prospect that attempts to fill one recurring role turned into a bit of a feeding frenzy: When word got out that the casting team was looking for someone to play Claire, Carmy's former high-school acquaintance, there was immediate and massive interest despite the character's description being kept deliberately vague.
"No one even knew what the role was, that it was a potential love interest," says Jeanie Bacharach, a casting director who worked on the show and whose past credits include The Dropout, Station Eleven, and Ally McBeal. "It was just a new character on The Bear. I mean, agents and managers lost their minds. I literally have never had that many phone calls and emails on a recurring role in my life."
Having so many gifted actors attracted to the project was a blessing, but it also meant working through myriad scheduling issues and tough decisions about who made the most sense for each role and who seemed most likely to mesh with the intense, intimate process involved in making The Bear. During a conversation with Vulture, the four casting directors — Bacharach, who is based in Los Angeles, and the Chicago team of Rudnicke, Mickie Paskal, and AJ Links — discussed the process of building this all-star team of guest actors, ranging from award-winning performers to esteemed Chicago culinary figures, and dropped a couple of notable names who came close to becoming part of the Bear family.
Molly Gordon As Claire
Claire was the first role the team focused on casting in season two, and it was one of the trickier ones because of the mix of qualities it required. Showrunners Joanna Calo and Chris Storer told the casting team they did not want a super-recognizable actor in the role but hoped for someone established enough to hold their own in significant scenes, particularly opposite Jeremy Allen White's Carmy.
"We needed someone who probably wasn't going to be a discovery, but we also didn't want anyone who was going to pull you out of it by being too recognizable," says Bacharach.
While they read many actresses for the role, Storer had someone in mind from the beginning: Gordon, whom he had worked with previously in his capacity as an executive producer and director of the series Ramy. Gordon first connected with Storer after meeting his partner, Gillian Jacobs — a guest star in season two of The Bear! — when they worked together on the 2018 comedy Life of the Party.
As Bacharach puts it, Gordon was "the bar," and while the showrunners were open to other possibilities, no one else who auditioned managed to clear that bar. So they offered her the role, even though she didn't do a single chemistry read with White, which Bacharach admits made FX, the network that developed the series for Hulu, nervous.
"Chris knows these characters; he knows what he's writing; he knows this world," says Bacharach. "He just felt really strongly that it was not necessary. I think there was almost some magic to not seeing them until they were really together — he wanted that to all feel fresh."
Robert Townsend as Emmanuel
From the beginning, Townsend — the actor, comedian, writer and director behind the satirical classic Hollywood Shuffle, among other things — was on a short list of actors considered for the role of Sydney's supportive father. During discussions about who to cast, Townsend kept rising to the top of the list because of the combination of qualities he brought to the part.
"We needed to understand the strength of their familial bond and understand the ache they both feel for each other and the hole that the loss of Sydney's mother left in both of them," says Bacharach. "You really only need to take a look into Robert's eyes and you can feel all of that pain, angst and worry, but also a deep well of love, joy and caring."
When The Bear team reached out to Townsend — who is, appropriately, a Chicago native — they found out that not only was he a fan of the show, but also of the woman who plays his daughter.
"I believe he and Ayo had already been in communication as a result of his being a fan of not only the series but her work as well," says Bacharach. "Their chemistry on screen is magical and you immediately buy into their history and complex relationship."
Will Poulter As Luca
Poulter, whose credits include Midsommar, Dopesick, and, most recently, his MCU debut in Guardians of the Galaxy Vol. 3, was one of those actors who became a huge fan of The Bear's first season — so huge, in fact, that he contacted Storer to express his interest in a hypothetical future role.
"He had reached out to Chris after season one to just say how much he loved the show," says Bacharach. Poulter also mentioned that if there was ever a part that seemed right for him, he was game to play it: "So early on [in season two], those conversations about Will for the Luca role were happening."
The biggest hurdle to casting Poulter as the chef who mentors Marcus in episode four, "Honeydew," was working out the scheduling and logistics around having him travel to Chicago. (While much of that episode was shot in Copenhagen, the interior restaurant scenes were filmed in Chicago.) But "once we knew it was a possibility," says Bacharach, "we really didn't talk about anybody else."
Jon Bernthal As Michael Berzatto
In the second season's Christmas flashback episode, "Fishes," Bernthal returns as Carmy's late brother, Michael, a role that might have helped inspire other high-profile actors to come and play in the show's version of Chicago. Despite a relatively small amount of screen time in season one's "Ceres," Bernthal made a huge impact by bringing Michael's charismatic personality to life in a great example of that classic adage about there being no small parts, only small actors.
As Bacharach recalls, they almost were not able to get Bernthal because he was busy shooting Showtime's American Gigolo at the time: "The dates looked problematic, so we started talking about other people. They also had thought maybe he wasn't gonna do it for the money."
The difference-maker? A phone call from Ebon Moss-Bachrach, a friend of Bernthal's who co-starred with him in Netflix's The Punisher and convinced him that the modest part was worth his time.
"We actually ended up shooting [Bernthal's scenes] in Los Angeles in order to make it easier for him," Bacharach explains. Having established him as Michael, it was a no-brainer to bring Bernthal back — and give him some forks to throw — in season two.
Jamie Lee Curtis As Donna Berzatto
"Fishes" is certainly The Bear's second-season standout in terms of guest casting. It introduces members of the extended Berzatto family as they gather for a tumultuous meal, and the casting team knew it needed several heavy hitters to step into some key parts.
"It wasn't so much about wanting to go after big names as much as we just knew we needed people who could fill these roles in a significant, meaningful, and memorable way," says Bacharach.
The most significant role was Donna Berzatto, the erratic, emotionally overwhelming mother of Carmy, Natalie (Abby Elliott), and Michael who spends most of the episode freaking out about all the food she's making while swigging generous amounts of red wine.
"Jamie Lee was on the list from the beginning," Bacharach says of the Everything Everywhere All at Once star. "But it was during the whole lead-up to the Oscars, and it was sort of like, Yeah, yeah, sure. Let's keep talking about Jamie Lee, but, like, come on — she's going to win an Oscar."
Another formidable actress was actually approached first: Michelle Pfeiffer, who "was a huge fan of the show and really, really considered it," says Bacharach. "We went back and forth and back and forth, and ultimately her schedule didn't allow for it."
There were also conversations with Melanie Griffith about the role, but she ultimately passed. "I don't think that she was quite ready to take that on," says Bacharach. "Chris started talking about some other people that had been on the list and then I was like, 'Well, what about Jamie Lee? Like, why are we not?' And he was like, 'Do you really think?'"
As it turns out, landing Curtis was easier than they thought: "She was just a huge, huge fan," says Bacharach. "I think she said 'yes' before she even looked at the scripts, just based on the character description and getting to be part of the show."
Bob Odenkirk As Uncle Lee
Storer originally reached out to a well-known actor friend — Bacharach won't say who — to play the role of "Uncle" Lee, a friend of the Berzatto family who has a particularly contentious relationship with Michael. "Then I was like, 'What about Odenkirk?'" Bacharach recalls. "And he's like, 'Holy bleep. That's it. That's more right than this person I've been talking to.'"
The anchor of Better Call Saul and Illinois native immediately struck them as capable of summoning all the emotions and qualities that define Lee in this episode: arrogant and obnoxious but also funny. "You needed someone who was going to be able to hold his own with Bernthal," says Bacharach, referring to the centerpiece sequence of "Fishes," a fork-throwing standoff between Michael and Lee. Odenkirk certainly was able to do that.
"I touched base with Chris during that week of shooting episode six," Bacharach recalls, "and he was like, 'Everyone's just bringing their A game. No one's trying to make it about themselves.'"
Sarah Paulson As Michelle and John Mulaney As Stevie
Storer had his friend Paulson in mind to play Michelle, a cousin of the Berzatto siblings, "from the get-go," Bacharach says. For the roles of Michelle and, especially, her partner, Stevie, the key was finding actors who stuck out a little bit from the rest of the family. "Who is the little bit of a fish out of water?" Bacharach says. "The guy that Uncle Lee always forgets that he meets."
Other actors were approached to play Stevie, but the scheduling didn't quite work. Then the team turned to Mulaney, also a friend of Storer's and a fan of the first season, who had the mix of contradictory qualities they wanted for Stevie: He looks like a nice, unassuming guy on the surface, but underneath he's got a dark enough sense of humor to loan the Fak brothers $500 purely for the entertainment value of watching their baseball-card scam implode.
"It's just fun to put people who are unexpected in these parts," says Bacharach. "As Chris likes to say, 'What's going to make noise?'"
Gillian Jacobs As Tiff
In the first season of The Bear, Richie's ex-wife and the mother of their daughter is heard but not seen, appearing only on the other end of a phone call that Richie makes from jail. As a favor to Storer, Jacobs recorded Tiff's dialogue for that scene, so when it came time to cast the part for "Fishes," it made sense from a continuity perspective for Jacobs to fully inhabit the part. "Chris thought that would be really fun," says Bacharach.
Olivia Colman As Chef Terry
The role of Terry, the gifted chef who runs the high-end restaurant where Richie stages in "Forks," demanded an actor with some gravitas. The showrunners and Bacharach had a "dream list" of potential people to fill the role that included Colman and "a couple of other people that Joanna, Chris, and I all were talking about," says Bacharach.
Colman's U.S. agent was not sure that her client would want to do it, which suggested that maybe their dream list was dreaming too big. But that agent referred Bacharach to Colman's U.K. representative, who turned out to be a huge fan of The Bear, as was Colman, which more or less sealed the deal for Colman to come onboard.
"Once that was established, then it was just working out the details from there," says Bacharach.
The Restaurant Staffs
All of the scenes in The Bear that take place in Chicago restaurants — including Sydney's visits to multiple eateries in the third episode, "Sundae," as well as Marcus and Richie's stints in other kitchens in "Honeydew" and "Forks" — were shot in actual Chicago eateries with the casting directors pulling many of their background actors and supporting players from those establishments.
"We taped 25 staff members at Avec and at Ever and at Kasama," says Paskal, referring to the celebrated Chicago restaurants that make cameo appearances in the second season. "And it was amazing."
The casting team wanted to use as many actual staffers as possible because they already knew how to navigate the kitchens and dining rooms where production was taking place. Luckily, it turned out that a lot of them had natural acting talent, too.
"So many of these people, especially if they're a waiter, they're used to memorizing the menu and rememorizing it if the chef changes something," says Links. "Mickie was generously meeting with these people and negotiating some of the lines a little bit with them. I was so impressed — these people were pretty good."
Some of them are also considered stars in the Chicago dining scene, such as Donnie Madia, a partner at One Off Hospitality, the restaurant group that owns Avec, among other Chicago eateries, and the man who gives Sydney advice in episode three.
"We didn't have to audition him," says Paskal. "We just spoke to him on the phone a couple times and Chris knew, based on their location scouting and who he was, that he wanted him."
Not everyone was so eager to be featured on-camera, though. Claire McDonal, the general manager at Avec who leads a team meeting at the restaurant in the same episode, wasn't up for playing that part at first.
"She didn't want to audition," Paskal says. "I chased her down a staircase. We were like, 'Claire, it's a GM. It has to be you.' She was like, 'Absolutely not.' Hours later, she was like, 'Okay. Go ahead.'"
While some viewers may not immediately recognize all those Chicago culinary personalities and staffers, having them in The Bear adds to the sense of authenticity that is one of the show's signatures. The casting teams in both Chicago and L.A. always have that at the forefront of their minds.
"The mix of real people as themselves, real people not as themselves, famous people not as themselves — the mix is tricky," says Links. "But that balance, I feel, is totally right."
"Jeanie's work is the cannoli, right?" says Paskal, turning to a food analogy, as one inevitably does when discussing The Bear. "We're looking for the pistachio crema, and if it doesn't work together, then we're effed. She has created this amazing dish and then we've got these little garnishes — but they're so important, right? Because if the garnish is wrong or it looks suspect, all of a sudden the whole plate is blown."
This story has been updated with additional information.