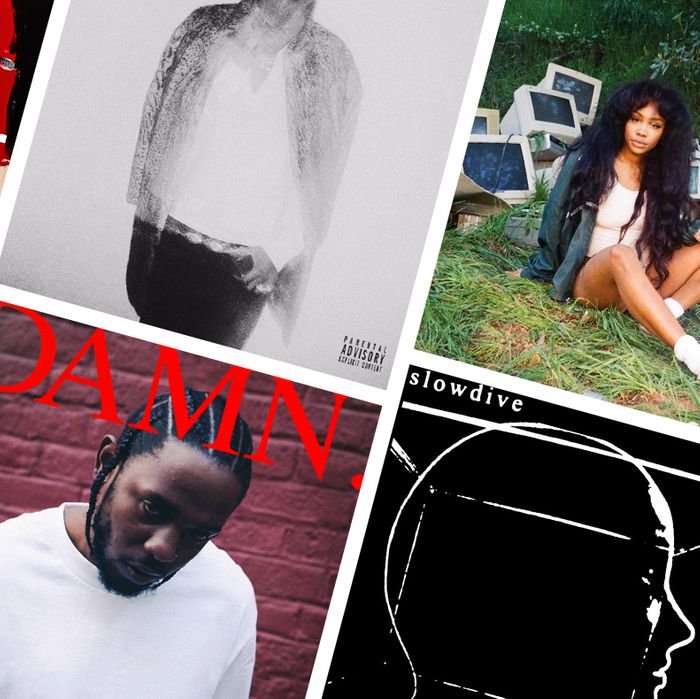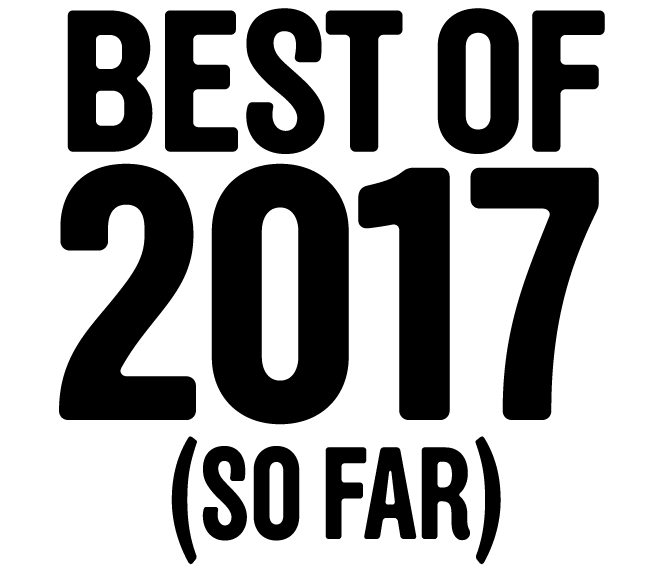 This list has been updated to include October releases.
The running threads of interest adjoining the music of 2017 are strange: indie rock is back in full force, young rappers seem hell-bent on reclaiming nü-metal, and our legends keep leaving us. Like Outkast said, "Nothing is for sure, nothing is for certain, nothing lasts forever." Music helps steady discomforting times. The quality that all of the albums below share is the artists' quest for peace and the ways that — although they may not necessarily find it for themselves — they transfer a little bit into us with each listen.
Angaleena Presley, Wrangled
For purposes of taxonomy, it is fair to call Kentucky singer-songwriter Angaleena Presley an outlaw country singer, but her sophomore solo album Wrangled challenges easy classification. "High School" sympathizes with a pregnant teenager over '60s girl-group pop, while "Country" ironically nods to punk rock, and "Groundswell" plays at moonlit soul. Presley's keen voice and sharp pen carry her in any given setting, drawing on a sterling group of collaborators that includes her erstwhile Pistol Annies bandmates Miranda Lambert and Ashley Monroe, country-radio sharpshooters like Chris Stapleton, and the legendary Wanda Jackson and Guy Clark, whose co-write on "Cheer Up Little Darling" would turn out to be his last.
Bell Witch, Mirror Reaper
The Seattle doom-metal duo Bell Witch copes with the tragic, unexpected loss of singer-drummer Adrian Guerra through music on this year's somber, ambitious Mirror Reaper. Less an album than a single 80-minute song, the new release retains the dark atmosphere and glacial pacing of earlier works, but something feels palpably missing. It scales back on punishing riffs and vocals, leaving chants and spectral bass notes draped over shimmering cymbals and stretches where the only sound is a single note fading into ambience, then silence. Like Sleep's hour-long epic Dopesmoker, Mirror Reaper presents and then expounds upon a recurring melodic theme, exploring it two ways in 40-minute sections titled "As Above" and "So Below." Mirror Reaper isn't some trenchant pothead opus, though. It's a struggle to move on when it feels like your heart is crushed.
Brand New, Science Fiction
As much as the wigged-out doomsday preppers and self-medicating druggies of Long Island art rockers Brand New's long-awaited Science Fiction feel like prescient character studies for America after the advent of Trumpism, the album's lush sonics and relaxed tempos feel like a respite from the very same. It's a delicate balance, mixing nerve-racked paranoia and tranquil balladry, but it suits the music's message, which, in short, seems to be to find help and peace before it's too late. If, as band members have suggested, this album is Brand New's last, then the band is bowing out on a rousing, vital high note.
Fleet Foxes, Crack-Up
Seattle folkies Fleet Foxes always arrive with a vision of rustic, perfect America in a moment when it is sorely missed — a right-place, right-time wind of justice like Clint Eastwood's nameless vigilante stranger in High Plains Drifter. The band's first two albums dreamed of simpler times during prickly election years, and this spring's Crack-Up feels like a full emotional retreat from the circus on our nightly news. The new songs up the ante of 2008's Fleet Foxes and 2011's Helplessness Blues, by offering up epic tracks with structural twists as breathtaking as the laconic vistas visited in the lyrics. It's progressive, full of quirky production flourishes, horns, synths, and string sections. Crack-Up sounds like the wistful past of early Fleet Foxes music grew into a weird, woolly future all its own.
Future, HNDRXX
Atlanta trap crooner Future released two albums back to back at the top of the year, and while FUTURE's "Mask Off" is the big hit of the batch, the follow-up album, HNDRXX, is the real treat. It's a return to the warm romanticism of hits like "Turn On the Lights" and an about-face from the scorched-earth heartlessness of releases like DS2 and Monster. HNDRXX sees Future regaling love interests with gifts and compliments and stacking harmonies like Jodeci over the lightest, sunniest batch of beats he's graced to date. He's not just a poet of pain. Maybe he never was.
IDK, IWASVERYBAD
Maryland rapper IDK busts up hip-hop's antiquated distinction between thinkers and gangsters, between watchers and doers, on this year's IWASVERYBAD. In theatrical detail, the LP recounts the rapper's struggle to resist the pull of the streets, using a limber flow that shifts between a haughty bark and deep, dexterous storytelling. Verses oscillate between detailed stories about breaking the law and pain when the rapper ponders the effects they had on his mother, who has since passed. IDK's likely the first artist since Gorillaz to court verses from MF Doom and Del tha Funkee Homosapien and actually get them, and he's certainly the only one crazy enough to slot appearances from Chief Keef, Yung Gleesh, and Swizz Beatz on the same album as the indie-rap legends and make it work. It's tempting to call out Kendrick Lamar as a signifier, but the comparison stops at the pair's intricate verbiage; where Lamar's stories detail narrowly escaping trouble, IDK's seem quietly thrilled by dabbling in it and successfully making it back in one piece.
Jay-Z, 4:44
4:44 might be Jay-Z's 13th solo full length, but in many ways, it is an album of firsts: It's the first time he cut a whole album with a single producer — respect soulful sample wizardry from Chicago's No ID — and, at lean 10 songs across 36 minutes, it's the shortest entry in a catalog packed with hour-long opuses. More importantly, 4:44 is the first close look at the inner workings of Jay's famously secretive marriage to Beyoncé, from their clandestine courtship to his infidelity to her hard-won forgiveness, and a rare admission of frailty and imperfection from a hustler rap superpower who hasn't fessed up to a fault since the time he lost 92 bricks.
Kendrick Lamar, DAMN.
DAMN. is, in short, the struggle of a man of faith to understand why tragedy and misfortune still happen to good people. The genius of Kendrick Lamar is his ability to frame questions of faith inside music that seems built just to rattle big speakers. A smart rapper knows his audience. There are people who will jam out to the beats and flows and never question the words. There are philosophers who will comb the lyrics and suss out the biblical references. DAMN. is striking both as big-ticket rap music and as a theological crisis, the kind of record that grabs you at ground level and keeps revealing layers every time you come back.
Lorde, Melodrama
Melodrama captures the gale-force emotion of being in love with someone you're cosmically not meant to end up with, the struggle to tell the body that it should not want what it wants. Lorde writes songs about remembering bygone moments, but they're deeper than the dull, nostalgic missives of acts like the Chainsmokers. She is revisiting experiences she never intends to experience again, documenting places where she, or a lover, behaved in a way neither should have allowed. She is bettering herself. The beats bang, but the ballads prove it's the feelings underneath that are really moving us.
The Magnetic Fields, 50 Song Memoir
Stephen Merritt, indie-rock bard and chief Magnetic Field, celebrated his recent 50th birthday by writing an autobiographical song for each year of his life. What arises out of these tales of hippie communes, shuttered New York discotheques, and neighborhood dive bars is a sense of a life lived brusquely and loudly. The sharpness of the imagery and the confident slide from psych to synth-driven New Wave to gorgeous orchestral pop point to a master at work.
Mount Eerie, A Crow Looked at Me
Anacortes, Washington–based singer-songwriter Phil Elverum's latest album, A Crow Looked at Me, doubles as the tear-stained diary of his attempt to piece his life back together after the loss of his wife and collaborator Geneviève Castrée to cancer last fall. Brokenness haunts Crow, twisting and mutating into ghastly forms over Elverum's hushed folk tunes. A simple supermarket "hello" can open up a canyon of grief. An old idyllic sunset is a portent of darkness yet to come. A mail-order delivery reveals a sick woman planning ahead for days she may never see. A Crow Looked at Me is a trek through the churning psychic pain of sudden loss and a testament to a love not bound by physical forms.
Ryan Adams, Prisoner
Ryan Adams has a staggering gift for rearranging personal adversity into exquisite, damaged country-rock. So for the sake of understanding the titular query at the center of "Do You Still Love Me?," the grief-wracked opener to his stunning 16th studio album, Prisoner, it maybe helps to know that it is shrapnel from a recent split from singer-actress Mandy Moore, his wife of six years. Prisoner funnels the bare brokenhearted mood of Adams's classic solo debut, Heartbreaker, through the Tom Petty–indebted classic-rock theatrics of 2014's Ryan Adams. The mood is dour but the arrangements are gorgeous. Prisoner imagines a world where the moroseness of the Smiths and the hard-charging Heartland rock of the E Street Band don't seem miles apart.
Slowdive, Slowdive
The most gratifying comeback in a year that's seen a flood of new music from bands once believed to be dead or defunct was also the longest in the making. The last album from the British shoegaze titans Slowdive was 1995's Pygmalion, whose jarring ambient detour from the guitar atmospherics of its beloved precursor, Souvlaki, caused the band to crumble when its label threw in the towel. A self-titled album over 20 years after your heyday is a brash gesture — hi, MBV — but this year's Slowdive is a massive return to form for bandleaders Rachel Goswell and Neil Halstead and the rest. Slowdive is the bath of eddying guitar squalls fans have held out hope for since the '90s, proof that talent and chemistry might wear, but they never truly fizzle.
Syd, Fin
As Odd Future's early engineer and the leader of the R&B splinter group the Internet, Syd Bennett is used to sharing the spotlight, but not necessarily hoarding it. On a lark, she used some recent downtime to workshop a solo album, but coyly talked it down as a one-off she didn't initially intend to tour around. The lustful, honest writing and keen ear for beats guiding Syd's solo debut should be familiar to anyone following her moves over the last few years, but for good measure, it scratches a certain itch for sinewy, space-age soul music left unattended since the Timbaland-Missy-Aaliyah trinity dissolved.
SZA, Ctrl
SZA makes it plain she's not one to toy with less than a minute into "Supermodel," the first song on her major-label debut. "Let me tell you a secret," she billows over a gently strummed guitar, "I've been secretly banging your homeboy. Why you in Vegas all up on Valentine's Day?" From there, she cycles through a full deck of relationship woes: feeling undervalued, feeling insecure, feeling like having a romp with someone who's already taken. The music sprawls out from gauzy R&B into strains of trap and folk, guided throughout by SZA's syrupy vocals and painstaking, self-effacing search for companionship.