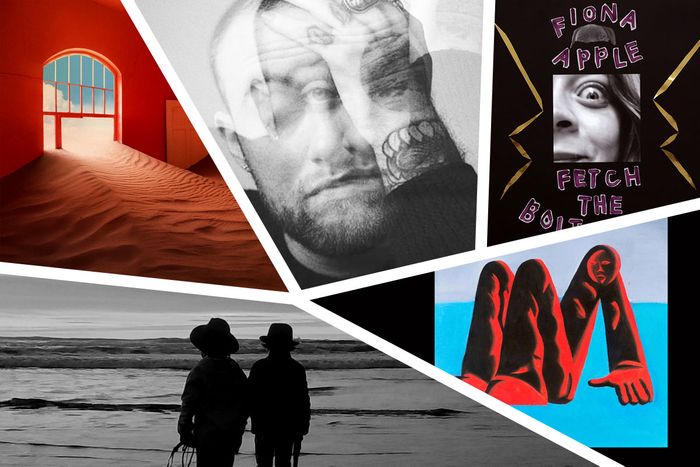 Photo-Illustration: Vulture
This list been updated with March and April releases.
The theme of 2020's albums — or at least the ones we'll get to hear barring any further coronavirus-related interruption — seems to be career comebacks and career liftoffs, with plenty of the big dogs closing long gaps between albums (Fiona Apple, Jay Electronica, Selena Gomez, Justin Bieber, Tame Impala, and, next up, Lady Gaga, and … eventually??? … Rihanna), while the newer and nascent continue to shake things up (Roddy Ricch, Soccer Mommy, King Krule, Lil Uzi Vert, Bad Bunny). Has 2020 already seen its best album well ahead of the typically busier spring and summer months? Below, New York music critic Craig Jenkins rounds up the standout albums the year has had to offer so far, to be updated monthly.
Fiona Apple, Fetch the Bolt Cutters
Fetch the Bolt Cutters is the album that most resembles 2020 so far. Like all the TikTok videos, Zoom meetings, and Facebook, YouTube, and Instagram livestreams filling up our afternoons and evenings of late, Bolt Cutters is a work-from-home endeavor where the home is an unwitting character. Fiona Apple's emotive vocals, intensive self-reflection, and lilting piano melodies are still center stage, but room noise and found percussion instruments give it a whiff of DIY. It's a good fit for this collection of stories about breaking free from peer pressure and the prescribed roles for women in America (and in the American entertainment industry). Apple comes out of it looking like a survivor, a voice no amount of negativity from elementary-school bullies, industry onlookers, and controlling men could quell, every bit the fighter she told us she was since "Shadowboxer."
Lil Uzi Vert, Eternal Atake
Lil Uzi Vert contains multitudes. To illustrate the point, he spends the whole of his second album, Eternal Atake, juggling three personas, each with distinct styles and quirks. Fans of Uzi's early mixtapes and SoundCloud loosies get showstopping rap performances like "POP" and "You Better Move"; if you joined the bandwagon on "XO Tour Llif3," there are big melodies in "Futsal Shuffle 2020" and "That Way." If you're looking for something you haven't heard from him before, there are borderline gospel songs like "Chrome Heart Tags" and "Bust Me." For extra credit, Atake's deluxe edition packs an even newer album, Luv vs. the World 2, full of effortless cuts like "Yessirkiii," "Strawberry Peels," "Wassup," and "Moon Relate" with guest spots from 21 Savage, Future, and Young Thug that add flavors without overpowering the base.
Thundercat, It Is What It Is
Thundercat albums are tiny planetary systems where funk, hip-hop, rock, disco, jazz, and comedy revolve around the bassist's soulful but playful songwriting. This year's It Is What It Is is a dispatch from the edge of worldwide disorder and a quest to find inner peace amid that which we can't control. It's also, by turns, a warm collection of odes to crushes and a string of killer collaborations with the likes of Ty Dolla $ign, Zack Fox, Steve Lacy, Steve Arrington, and more connected by wordless passages where Thundercat lets his bass do the talking. Between "Unrequited Love" and "Existential Dread," there's a tune for every feel.
Sam Hunt, Southside
People treat country and hip-hop like water and sodium metal, a mixture liable to reward your efforts to combine the two with a hot plume of fire to the face. Really, they're more like pretzels and chocolate, different flavors that complement each other in the hands of the right auteur. Sam Hunt is that guy. His debut album Montevallo, along with Lil Nas X's "Old Town Road," is one of the high-water marks of the dalliance between pop-country and rap music in the 2010s. This spring's Southside raises the stakes a little, introducing trap drums to "Let It Down" and "Hard to Forget," tightening up pure country foundations on "2016," and blending both sides beautifully on "Kinfolks," "Young Once," and "Drinking Too Much."
Jay Electronica, A Written Testimony
Over a decade after the first promise of a Jay Electronica studio album, it finally materialized, not with the big splash we envisioned a decade ago, but with a suitably biblical early February announcement that the man had holed up for 40 days and nights since December and finished his long-awaited debut. A Written Testimony is the best-case scenario for a work people have been waiting a decade to hear. The marquee artist's skills haven't rusted since "Exhibit C" first called its shot. He's aided by Jay-Z, who appears in the same capacity Ghostface Killah did on Raekwon's Only Built 4 Cuban Linx, as an elite lyricist who provides support and occasionally steals the show. Much has been made of the quality of Jay-Z's raps here, for good reason. He's back on the wise, bemused, conceited bars that helped put his Beyoncé collaboration Everything Is Love over the top, this time with a spiritual twist. You don't get him in philosopher mode without a push; Elec is the rare rap scribe and mystic sharp enough to get the Roc Nation titan out of his comfort zone.
The Weeknd, After Hours
After Hours is the album where the Weeknd finally figures out what to do with his dueling tastes for dance music and dour R&B. Instead of ping-ponging between obvious dance-floor fodder and dewy makeup-and-breakup songs, as he did on 2015's Beauty Behind the Madness and 2016's Starboy, After Hours follows up on the idea put forth in the 2018 mini album My Dear Melancholy and fuses both sounds. The median between Weeknd's Max Martin and Illangelo modes is gorgeous, glistening synths over trap drums, with delightful deviations like the New Wave cut "Save Your Tears" and the power ballad "Scared to Live." The writing's just as tight, and there's a cohesion of sound and vision we haven't seen since his mixtape days.
Bill Fay, Countless Branches
British singer-songwriter Bill Fay wrote a chillingly great but criminally underappreciated folk-rock concept album about the New Testament apocalypse in 1971's Time of the Last Persecution that summarily got him dropped from his label, ushering in a long period of recording music he didn't release until a critical reappraisal happened in the 21st century, thanks in part to famous admirers like Wilco's Jeff Tweedy. Bill Fay is still a force in his 70s. This year's Countless Branches is a selection of brief but breathtaking piano ballads and stark folk songs about appreciating small joys and remembering forgotten people, feelings he knows too well as a tremendous talent who waited 30 years for the rest of the world to catch up with him.
Tame Impala, The Slow Rush
In the five years following 2015's Currents, Tame Impala's Kevin Parker became a festival headliner and a husband. This year's The Slow Rush imparts wisdom learned in both endeavors. The music retools Tame's kitchen-sink psych-rock as booming dance music, leaning confidently into the sprightly step of Currents opener "Let It Happen" without coming off like an artist trying to bottle lightning in trippy tracks like "One More Year" and "Breathe Deep." On "Instant Destiny" and "It Might Be Time," Parker speaks to aging gracefully and shacking up, to knowing exactly when to duck out of the party and head home. It's the rare album about maturity that doesn't make it sound like giving up, the rare follow-up to a commercial breakthrough structured to bowl over stadium crowds at no cost to what made the band a blast before the masses came around.
Mac Miller, Circles
It's tempting to call the posthumous Circles Mac Miller's long-awaited rock album, but that undersells the extent to which the rapper, singer, producer, and multi-instrumentalist mixed genres throughout his back catalog. What the new album is, is the most cohesive amalgamation of the interests in rock, soul, rap, jazz, and folk the late Pittsburgh star pursued in his lifetime. With the help of the legendary producer, session player, and film score closer Jon Brion, Mac stepped out into his versatility as a writer and a musician and was rewarded, and rewarded us in turn, with a work that ranks among his personal finest. Songs like "Good News" and "I Can See" fuse the melancholic moods and promises of perseverance warring in Miller's music. What comes out is a ragged glory that makes losing him feel fresh, that makes the speed at which he got to this brutal self-awareness from the happy-go-lucky teen dreams of 2011's Blue Slide Park seem all the more impossible. What could he have done with another seven years?
Soccer Mommy, Color Theory
On her brilliant second studio full-length as Soccer Mommy, singer-songwriter Sophia Allison traverses stress and family illness, closely capturing the bleak hollowness of depression through weaponized slacker rock. Color Theory is both impossibly catchy and deceptively downcast. "Bloodstream" and "Circle the Drain" are summery tunes about the elusiveness of happiness and the knuckle-busting difficulty of putting up a strong front in the face of adversity. At 22, Allison is sort of like the alt-rock songbook made flesh. You hear shades of the neat, autumnal sadness of early Death Cab for Cutie, the rawness of peak Lou Barlow, and the fearless adventurousness of Blur, but even though the touchstones can feel familiar, the writing is always original, personal, and tuneful. This isn't rock and roll revivalism; it's proof the real thing can never die.
Drive-By Truckers, The Unraveling
Georgia country-rockers the Drive-By Truckers are poets of American disorder, from 2001's Southern Rock Opera, which used the rise and fall of Lynyrd Skynyrd in the '70s as a window into a difficult time in the history of the South, to 2016's American Band, which spoke similarly to modern ills. This year's The Unraveling catches us four years later, still trying to put the pieces back together. Scathing political commentary from chief songwriters Patterson Hood and Mike Cooley is whittled to a sharp point on the rock tunes and bolstered by emotive musicianship on the folk and blues tunes. "Heroin Again" is a rock historian's furious realization that the bad drugs that killed the legends are back in circulation. "Thoughts and Prayers" rages against the gun lobby, while "Babies in Cages" presents the nightmare at the nation's southern border as a betrayal of our stated ideals. This band was born ready for this moment in history.
King Krule, Man Alive!
As King Krule, British singer-songwriter, producer, and guitarist Archy Marshall makes songs about love and danger and the infinite possibilities of cities, where it's possible to walk down a street and find either death or lifetime companionship and not know which until it meets you. Man Alive!, the third Krule album, carries this duality in its title; it's an exclamation we use when we're mortified and a word about Marshall finding new joy in life as a father. The music lives along the same fault line. There's coarse punk rock and gritty sludge on one end and weightless songs about drifting and flying on the other. Life, it seems to say, is the time we spend between the gutter and the stars.