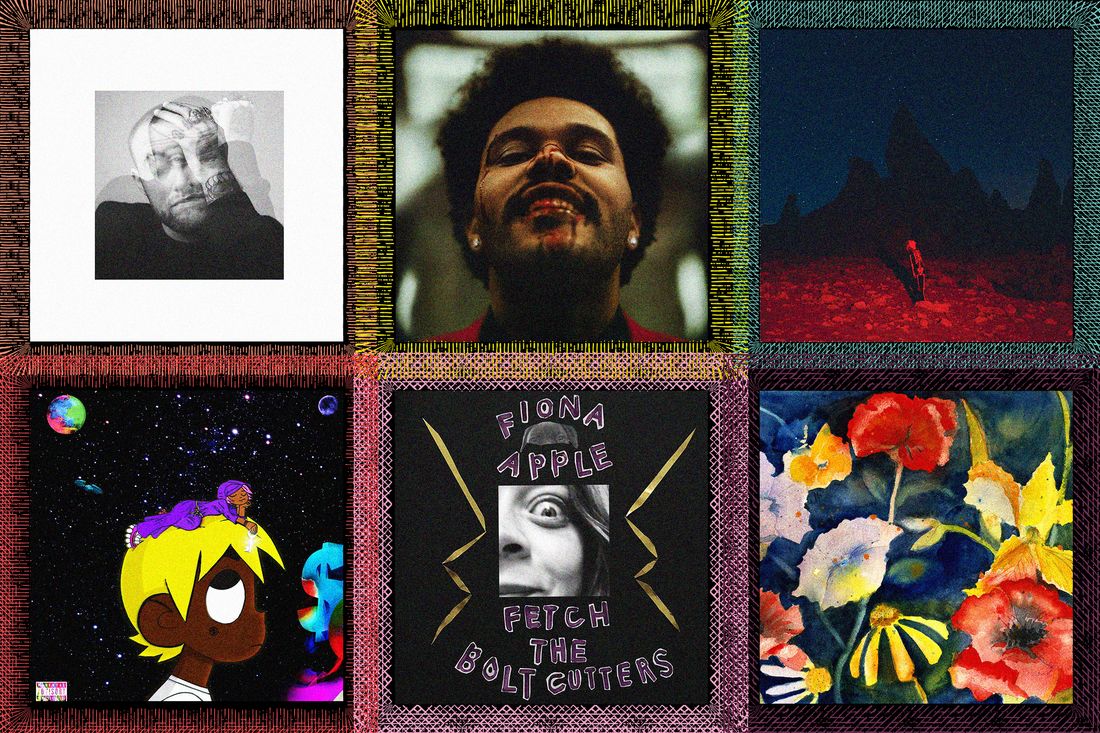 Photo-Illustration: Vulture and Courtesy of the label
It's been a long and terrible year, and everyone is coming out of it with a little less than what they came in with. In music, we lost legendary artists and dedicated alt-weeklies and beloved nightlife venues and the very ability to commune together at live shows. Yet, stuck inside indefinitely, musicians did what they do best: make art to help get us through the day, at a time when each day has felt more endless than the one before it. Below, a list of the highlights in music, from a year in which there were frankly too many to count, just when it looked like the whole industry might shut down.
10. Roc Marciano, Mt. Marci
Hempstead, Long Island, producer and rhymer Roc Marciano makes lurid action flicks in miniature, using compact story songs to concoct elaborate and bloody drug-trafficking narratives. "These feel like scenes written by Guy Ritchie," he says on "Wicked Days," a compelling cut from November's Mt. Marci, his ninth album in just ten years. Mt. Marci's really more of an Italian giallo film, obsessed with violence, color, and excess, seedy and sexy. At the end of a flurry of powerful threats in the Schoolboy Q collaboration "Covid Cough," Roc finds himself "in the pussy doing the Stanky Leg." Work hard, play hard.
9. TIE: Lil Uzi Vert, Eternal Atake / LUV vs. the World 2 and Gunna, Wunna
Eternal Atake, the long-awaited sophomore album from Philly rapper Lil Uzi Vert, was one of the year's best rap albums out the gate. In flawless rhyme workouts like "POP" and emotional moments like "Bust Me" and "Chrome Heart Tags," Uzi proved he contained multitudes as a rapper and as a writer. The deluxe edition, which came out a week after the original Atake release in March, piled a whole new album on top of that: Lil Uzi Vert vs. the World 2. Where Atake is mostly a solo affair, Lil Uzi Vert vs. the World 2 showcases Uzi's incredible chemistry with peers. "Yessirskiii" features a shockingly animated 21 Savage; on "Strawberry Peels," Uzi, Gunna, and Young Thug show out. There are also batshit-brilliant solo songs like "Moon Relate" and haughty swag raps like "Come This Way." The result is the sound of a rapper spitballing and almost always hitting the mark.
The same is true of Atlanta rapper Gunna's Wunna. The breakout star of Young Thug's YSL Records has a great ear for beats, cadences, and melodies. His sophomore album is an effortless glide between short, moody cuts, produced in large part by Tennessee trap maestro Wheezy. The deluxe edition haphazardly dumps eight more into the mix and jumbles the original sequencing without destroying the flow or diminishing quality. It's a trick a lot of anxious artists will try — and fail — to repeat next year.
8. Thundercat, It Is What It Is
Thundercat is a trickster. The first thing that strikes you in songs like "Them Changes" or "Hard Times" is the unique and beautiful chord progression. Lean in and catch the lyrics and you realize he is often using these gorgeous instrumentals to work out intense feelings of fear and anxiety. The juxtaposition of playful music and much darker messaging is the cornerstone of the Los Angeles singer–songwriter and session player's -catalogue — particularly on It Is What It Is, his fourth album, which is full of heady love songs and peppered by moments like "Black Qualls," "Existential Dread," and "Unrequited Love," where he's coming to terms with feeling like the life he wants maybe isn't quite the life he has. The quest to get to a place of comfort is at the root of these songs; his elegant, jazzy, psychedelic compositions wear this message sweetly.
7. Chris Stapleton, Starting Over
On his first new album in three years, country superstar Chris Stapleton cycles through life's phases and stages, stressing out about turning 40 in "When I'm With You," celebrating lifelong companionship in "Joy of My Life," and memorializing the family dog in "Maggie's Song." In the album's more personal moments, there is the sense that, having made it to the top of the mountain, he's committed now to protecting and appreciating the people and the places that he loves. Because Stapleton is a songwriter's songwriter, literally a graduate from the Nashville songwriting circuit, these personal reflections are offset by intense story songs about hard living and well-chosen covers. Holding Starting Over together is the sense that we're all now weathering changes we didn't plan on. Stapleton's pained vocals and expressive guitar playing are every bit as potent as his pen.
6. Mac Miller, Circles
Circles, the last piece (for now?) of Mac Miller's increasingly accomplished catalogue, is a daring creative left turn that answers some questions about where the late Pittsburgh singer-songwriter, multi-instrumentalist, and producer was headed musically before his death in 2018 as well as raising a few more. Mac's growing taste for classic rock bears fruit in the lush, inviting orchestral pop of the title track and "Everybody," his cover of a song by Arthur Lee of the Los Angeles psych-rock outfit Love. His rap skills show up in the tight rhyme schemes of "I Can See" and "Blue World." Songs like "Complicated" and "Woods" suggest that the disparate musical ideas he'd been batting around in the years before his death — his dabbling in R&B on 2016's The Divine Feminine and disco and funk on 2018's Swimming — were merely waiting to be threaded together in a more concise body of work. Was this a detour or the beginning of a bold new era? It hurts to have it end here, but it's comforting to see that he was approaching the heights of the legendary songwriters he looked up to.
5. Phoebe Bridgers, Punisher
Los Angeles singer-songwriter Phoebe Bridgers writes winsome, quiet songs that harken back to the tail end of second-wave emo, when artists like Conor Oberst (Bright Eyes), David Bazan (Pedro the Lion), and Chris Carrabba (Dashboard Confessional) built sturdy careers blurring the lines between rock and folk, diary entries and song lyrics. Bridgers's sophomore solo album, Punisher, is a millennial answer to the classics that shares their penchant for seeking profundity in the seemingly mundane and understanding through oversharing. The title track imagines getting to meet the late Elliott Smith and catastrophically failing to play it cool; "Kyoto" is about how you can't lose your problems by changing time zones. The dark cloud following the protagonists of Bridgers's songs in spite of their attempts to change up routines and scenery makes Punisher one of the year's best and most relatable depression albums.
4. The Weeknd, After Hours
The Weeknd's career is a long tug of war between the thick, syrupy sound of his mixtape trilogy and the sleek dance-pop he pursues in singles like "Starboy" and "I Can't Feel My Face." The imbalance between the hits and the deep cuts could throw an album like Starboy out of whack, but on the 2018 EP My Dear Melancholy, Weeknd realized that with the right mix of hip-hop and electronic producers, he could play both sounds off each other within the confines of the same song. That breakthrough is the foundation on which this year's After Hours is built: Longtime collaborators Illangelo and DaHeala stick around to keep production layered and weird, while Max Martin and Oneohtrix Point Never bring stark, icy synth textures. The mix brings the best out of the singer, who shines through big ballads, '80s New Wave exercises, dance-floor killers, and trap bangers. This is the music Abel Tesfaye was born to make.
3. Bob Dylan, Rough and Rowdy Ways
Bob Dylan spent the last decade touring extensively and fixating on the music of the early-20th century, so much so that it seemed he had gone the way of Michael McDonald and Rod Stewart — notable rock singers whose 21st-century output focused more on heartwarming karaoke than flexing their considerable skills as writers. Rough and Rowdy Ways, Dylan's first collection of original material in nearly eight years, tells another story, zipping around tight spots in history and giving the listener hope that we'll make it through this one. Rowdy is a timely rumination on death and doom and facing uncertainty bravely, the fruit of all the wisdom the 79-year-old has picked up through his travels (and his lifelong studies of world history and American music), as well as a function of maintaining a well-trained backing band. The arrangements are airy and delicate, grooves swaying like trees in a breeze — the better to spotlight Dylan's weathered voice and perspective, which was old beyond its years in his 1960s and '70s heyday and, this year, feels right on time.
2. Adrianne Lenker, songs/instrumentals
When the early spread of COVID-19 cut touring short for Brooklyn indie rock quartet Big Thief in the spring, lead singer Adrianne Lenker retreated to a one-room cabin in western Massachusetts. She intended to take a much-needed break from music after a recent breakup and six years of juggling band engagements and solo projects. Instead, she found inspiration in her rustic solitude and began to channel her feelings and the wooded ambience into two new albums. songs is born out of both pain and newfound repose, a batch of impossibly pretty acoustic ruminations on passing darkness made all the more intimate by the nature sounds that bleed into the mix: the pitter-patter of a light rain in "come," the chirping birds and shimmering wind chimes of "zombie girl." instrumentals, its companion album, retreats even further into atmospherics, delivering two long guitar improvisations that harken back to American primitive guitarists of the 1960s and '70s such as Leo Kottke and Robbie Basho, whereas songs takes after the darker, sadder wing of folk-rock heroes such as Neil Young and Bob Dylan. Like magic, songs and instrumentals feel both effortless and painstakingly thought through, a little bit cast-off yet also very refined.
1. Fiona Apple, Fetch the Bolt Cutters
Fiona Apple labors at a sculptor's pace, having crafted only five studio albums since unveiling her debut, Tidal, in 1996. That amounts to a rate of one, or maybe two, fully realized works per decade. There's footage of her testing out "I Want You to Love Me" — the stunning opener to Fetch the Bolt Cutters, album No. 5 — at live shows as early as 2013. Recording began in earnest in 2015. It would take time for Apple and her band to realize that her raw songs about managing mental illness and navigating stuffy, patriarchal social circles didn't need a formal studio. Much of Bolt Cutters was recorded in the singer's Los Angeles home, which makes the autobiographical elements of songs like "Shameika," "Heavy Balloon," and the title track all the more personal; a particularly excited stretch of music might get her friend's dog to bark, and a random household item might get repurposed as a percussion instrument. Apple's classical training and creative playing make this a tour de force. The further she strays from the pop-oriented sound of Tidal, the more she comes into focus as one of one. No one else would think to make this album. No one else could.
Other 2020 Album Highlights
Throughout 2020, Craig Jenkins maintained a "Best Albums of the Year (So Far)" list. Many of those selections appear above in his top 10 picks. Below are the rest of the albums that stood out to Jenkins this year, in alphabetical order:
Big Sean, Detroit 2
Big Sean was a punch-line rapper for so long that a lot of people started to take him for a joke, but his art has gotten a little smarter and tighter every year. Albums that had a few highlights slowly became albums full of highlights. This summer's Detroit 2, the sequel to the Motor City rapper's 2012 ode to his hometown, is the result of time spent improving himself as a rapper and as a human being. His timing is better, and his verses are more personal. He might give you a trap jam extolling the virtues of Zen philosophy; he might tell a story about the heart condition that almost took him out before he turned 20. Sean is far from perfect, but Detroit 2 is about coming to peace with his strengths and limitations. His next album will be even better.
Bill Fay, Countless Branches
British singer-songwriter Bill Fay wrote a chillingly great but criminally underappreciated folk-rock concept album about the New Testament apocalypse in 1971's Time of the Last Persecution that summarily got him dropped from his label, ushering in a long period of recording music he didn't release until a critical reappraisal happened in the 21st century, thanks in part to famous admirers like Wilco's Jeff Tweedy. Bill Fay is still a force in his 70s. This year's Countless Branches is a selection of brief but breathtaking piano ballads and stark folk songs about appreciating small joys and remembering forgotten people, feelings he knows too well as a tremendous talent who waited 30 years for the rest of the world to catch up with him.
Charli XCX, How I'm Feeling Now
Faced with an unexpected abundance of time at home as COVID-19 forced people into quarantine from L.A. to London, pop futurist Charli XCX took matters into her own hands. How I'm Feeling Now is the first major label studio album completely conceived in quarantine and an open-arm embrace of the noisy, glitchy electronics of Charli's pals in PC Music and 100 gecs. It's both sweet and abrasive, a little bit rosy and a little bit thorny. When the other pop girls get here in a few years' time, as many glommed onto the sleek synthpop of her 2014 album True Romance across the mid-2010s, remember who was first at bat.
Chloe x Halle, Ungodly Hour
As breakout stars of Beyoncé's Parkwood Entertainment collective, Atlanta sisters Chloe and Halle Bailey enjoy fantastic beats, videos, and promotion the same way signees to artists' imprints like John Legend have always made the most of resources trickling down from talented benefactors. Chloe x Halle deserve it; they're great performers and solid actresses, as anyone who listened to 2018's The Kids Are Alright or watches Grownish can attest. On the surface, this year's Ungodly Hour is a textbook "all grown up now" sophomore album from an act we met when they were teenagers. But that tag undersells the effortless smoothness of the album and the buoyancy of the grooves, which carry a whiff of Yonce's progressive, often operatic approach to soul and otherwise evoke great forward-thinking groups through R&B history.
The Deftones, Ohms
Sacramento metal vets the Deftones march into each new decade with batteries fully charged. 2000 was the year of White Pony, a crowning achievement of the rap-rock era. 2010's Diamond Eyes fused metal and shoegaze sounds into an exquisite attack. Ohms repeats the trick with bright and catchy hooks, but its guitars are thick and crunchy. Songs are snaking, unpredictable beasts; a ripping math-metal riff might explode into a perfect alt-rock chorus. A loud song might shock you by winding down to a moment of unexpected quiet. Twenty-five years after their 1995 debut, Adrenaline, it seems this band is still finding new tricks.
Drive-By Truckers, The Unraveling
Georgia country-rockers the Drive-By Truckers are poets of American disorder, from 2001's Southern Rock Opera, which used the rise and fall of Lynyrd Skynyrd in the '70s as a window into a difficult time in the history of the South, to 2016's American Band, which spoke similarly to modern ills. This year's The Unraveling catches us four years later, still trying to put the pieces back together. Scathing political commentary from chief songwriters Patterson Hood and Mike Cooley is whittled to a sharp point on the rock tunes and bolstered by emotive musicianship on the folk and blues tunes. "Heroin Again" is a rock historian's furious realization that the bad drugs that killed the legends are back in circulation. "Thoughts and Prayers" rages against the gun lobby, while "Babies in Cages" presents the nightmare at the nation's southern border as a betrayal of our stated ideals. This band was born ready for this moment in history.
Fleet Foxes, Shore
Seattle's Fleet Foxes make gorgeous, rustic folk designed to lift the listener up out of whatever place and time they're settled in and drop them off in a world of misty mountains and windy plains. Announced and released abruptly at September's autumn equinox, Shore, the fourth Fleet Foxes album, is feel-good music for feel-bad times, from the sunny opening invocation of "Wading in Waist-Deep Water" on through the bustling rock and roll of "Can I Believe You," all of it guided by singer-songwriter and principal studio musician Robin Pecknold, whose lyrics strike a delicate balance between poetry and mystery, and whose vast skill set imbues each Fleet Foxes release with the awe-struck excitement of a trip to a new country.
Flo Milli, Ho, Why Is You Here?
Alabama rapper Flo Milli grew up watching stars like Nicki Minaj on TV and dreaming of a rap career of her own. The 20-year-old's debut mixtape, Ho, Why Is You Here?, is a strong start and a half-hour blast of youthful exuberance and white-hot trash talk, from the role-reversed love song "Weak," which samples the SWV hit of the same name as Milli runs through a list of emotional suitors nagging her for attention, to "Scuse Me," which sounds like a fight in a crowded club set to music. Ho, Why's gift is minimalism. Beats get by on sparse drum patterns and a sliver of melody, and the flows are tight but never stuffy or showy.
Fontaines D.C., A Hero's Death
Irish post-punk quintet Fontaines D.C.'s sophomore album A Hero's Death lifts its title from The Hostage, a play by Dublin author Brendan Behan about an IRA unit's plot to free a jailed compatriot by kidnapping a British solider. Like Behan, Fontaines is trying to make the most out of a sticky situation in songs like "I Was Not Born" and "I Don't Belong," both rejections of the weight of others' expectations, or "Televised Mind," which seems to poke fun at a world too glued to phone, TV, and computer screens to feel anything. Fontaines' sound is slippery, all catchy grooves that reference '70s punk, '90s lad rock, aughts post-punk revivalism, and modern indie-rock without ever coming across as unoriginal.
Freddie Gibbs, Alfredo
Freddie Gibbs raps are hearty and sinewy, tough chunks of protein best served alongside something light and hydrous. His best work links him with producers that let his perfect timing play metronome, focusing on luxurious melodies instead of crowding him with loud drums. Following last year's exquisite Bandana, his second team-up with West Coast beat legend Madlib, Gibbs dropped Alfredo, a ten-song collaboration with boom bap icon the Alchemist, king of quiet drums and elaborate sample loops. Like the pasta dish on the cover art, Alfredo is a satisfying no-brainer of a pairing; guest appearances from Rick Ross, Tyler, the Creator, and members of Griselda Records add flavor without overpowering the main ingredients.
Haim, Women in Music Pt. III
Haim's sticky, anachronistic guitar-pop pulls inspiration from disparate corners of rock and roll history and reassembles the pieces into new structures that are referential but rarely unoriginal. The trio's 2013 debut album Days Are Gone drew comparisons to pop-rock acts like Fleetwood Mac and Pat Benatar; the 2017 followup Something to Tell You brought more of the same. This summer's new Women in Music, Pt. III is a wistful batch of versatile tunes. "The Steps" imagines what might've gone down if George Harrison had played slide on Sheryl Crow's roots-pop bangers, while "Up from a Dream" tries on the guttural glam-rock grooves of T. Rex's "Jeepster. "3 AM" dabbles in '90s R&B; "I Know Alone" is a perfect indietronica throwback. With help from Rostam Batmanglij and Ariel Rechtshaid, the Haim sisters have crafted the breakthrough album they've been headed toward all along. Like Vampire Weekend's Father of the Bride, Women in Music, Pt. III lures you into a world of prickly, intense feelings with big, carefree hooks.
Hayley Williams, Petals for Armor
Paramore vocalist Hayley Williams's debut solo album Petals for Armor is a break from the slick, tropical pop-rock the Tennessee band discovered with 2013's self-titled album and 2017's After Laughter. Petals is, by turns, brooding, quiet, sunny, and celebratory in its chronicle of the singer-songwriter's journey out of a bad headspace in the wake of the end of her marriage. The range it displays shatters the listener's sense of what Hayley's capable of, the same way Paramore did. Petals is an adventurous gumbo piling funk, disco, indie rock, and easy listening sounds into the same bowl, serving a surprise in every bite.
Jason Isbell and the 400 Unit, Reunions
Jason Isbell and the 400 Unit's Reunions is an album about growing pains and the many different strains of heartbreak you encounter along the pathway to adulthood. From the jarring juxtaposition of childhood innocence and family turmoil in "Dreamsicle" to the heartbreaking loss of a friend to drug use detailed in "Only Children" to the father-daughter powwow of "Letting You Go" and the relationship ups and downs of "Running with Our Eyes Closed," the Alabama singer-songwriter and guitarist and his band explore life's sharp turns and disorienting twists through lush, emotive Americana tunes and tender folk-rock ballads.
Jay Electronica, A Written Testimony
Over a decade after the first promise of a Jay Electronica studio album, it finally materialized, not with the big splash we envisioned a decade ago, but with a suitably biblical early February announcement that the man had holed up for 40 days and nights since December and finished his long-awaited debut. A Written Testimony is the best-case scenario for a work people have been waiting a decade to hear. The marquee artist's skills haven't rusted since "Exhibit C" first called its shot. He's aided by Jay-Z, who appears in the same capacity Ghostface Killah did on Raekwon's Only Built 4 Cuban Linx, as an elite lyricist who provides support and occasionally steals the show. Much has been made of the quality of Jay-Z's raps here, for good reason. He's back on the wise, bemused, conceited bars that helped put his Beyoncé collaboration Everything Is Love over the top, this time with a spiritual twist. You don't get him in philosopher mode without a push; Elec is the rare rap scribe and mystic sharp enough to get the Roc Nation titan out of his comfort zone.
Ka, Descendants of Cain
Like a real life hip-hop superhero, Brooklyn rapper Ka is a firefighter by day and a talented rhymer and producer by night. He works wonders with a dearth of sounds; every note and every word is charged with purpose. Songs unfold like mythic poems. His last release, 2018's Orpheus vs. the Sirens, was a concept album that drew parallels between Greek mythology and New York City street life. This spring's surprise album Descendants of Cain uses minimalist beats and terse, expressive lines to trace the roots of modern inner-city violence back to the biblical story of Cain and Abel, asking why we always hurt the ones closest to us.
KeiyaA, Forever, Ya Girl
KeiyaA is a singer and producer from Brooklyn via Chicago whose debut album, Forever, Ya Girl, deals in deep introspection, abstract melodies, and soulful grooves that split the difference between the fractious sampling of modern independent rap and the syrupy instrumentation and vocalization of neo-soul. The blend is versatile. On "Hvnli," she soars over lowly braying synths; her cover of Prince's darkly peppy '80s B-side "Do Yourself a Favor" serves the breakup tune over soothing keys and bass. There's a homespun, personal feel thanks in part to the fact that Forever, Ya Girl is in large part a solo effort, with KeiyaA writing, singing, playing, and producing everything with a few assists from Bronx rapper/producer MIKE. The album feels like a world unto itself where the dominant sounds of this one don't necessarily exist.
The Killers, Imploding the Mirage
The Killers broke through among the early aughts dance-rock wave and the overarching post-punk revival, but the Las Vegas quartet always seemed like a band out of time, particularly on records like 2006's Sam's Town, which carried more than a hint of the bombast of Bruce Springsteen. On Imploding the Mirage, the Killers' sixth album, lead singer Brandon Flowers & Co. stand strongly in their time-displaced rock-and-roll excellence, penning tunes that pull from new wave, synth-pop, and heartland rock alongside a list of esteemed guests that includes former Fleetwood Mac guitarist Lindsey Buckingham, the War on Drugs' Adam Granduciel, pop and country hybridist k.d. lang, and indie folk luminary Weyes Blood. Mirage is the strongest batch of Killers tunes in many moons; it's a delight to see the group's nostalgic interests buttressed by writing as consistently strong as the band's sound is stylish.
King Krule, Man Alive!
As King Krule, British singer-songwriter, producer, and guitarist Archy Marshall makes songs about love and danger and the infinite possibilities of cities, where it's possible to walk down a street and find either death or lifetime companionship and not know which until it meets you. Man Alive!, the third Krule album, carries this duality in its title; it's an exclamation we use when we're mortified and a word about Marshall finding new joy in life as a father. The music lives along the same fault line. There's coarse punk rock and gritty sludge on one end and weightless songs about drifting and flying on the other. Life, it seems to say, is the time we spend between the gutter and the stars.
The Microphones, Microphones in 2020
Microphones in 2020, Seattle singer-songwriter and Mount Eerie ringleader Phil Elverum's first album under the moniker since the 2003 Microphones album called Mount Eerie — confusing, yes — is a long, winding memoir taking the form of a single 45-minute song. There's a lot of ground to cover. Elverum is a Northwest indie-rock legend who had a rough couple of years after his first wife and longtime collaborator Geneviève Castrée succumbed to cancer, and he split with his second wife, actress Michelle Williams, last spring. Like the recent Eerie albums, Microphones in 2020 is honest to an almost unnerving degree; like the Microphones classics, breezy acoustic passages are punctuated by unexpected blasts of electric guitar. The constant is Elverum's plaintive vocal and diaristic lyrics about perseverance: "I will never stop singing this song / It goes on forever / I started when I was a kid, and I still want to hold it lightly."
Run the Jewels, RTJ4
Run the Jewels is like if the Alien sequels kept getting slowly and progressively better instead of going the other way around. The Brooklyn/Atlanta duo's quadrilogy of self-titled full lengths starts out smart, grim, and ultraviolent and continues at each turn to get a little purer in its expression of the original idea. RTJ4 opens to the same scene as RTJs 1-3: America's selling people a dream of prosperity 80 percent of them can't attain, and former Def Jux founder El-P and Dungeon Family alum Killer Mike are here to protest the lie with chilly, post-genre, post-generational boom bap. Love is the message; haters can snack on grenades. Come for El and Mike's advice for these divided times and stay for 2 Chainz, Zack De La Rocha, Gangsta Boo, and Pharrell.
Sam Hunt, Southside
People treat country and hip-hop like water and sodium metal, a mixture liable to reward your efforts to combine the two with a hot plume of fire to the face. Really, they're more like pretzels and chocolate, different flavors that complement each other in the hands of the right auteur. Sam Hunt is that guy. His debut album Montevallo, along with Lil Nas X's "Old Town Road," is one of the high-water marks of the dalliance between pop-country and rap music in the 2010s. This spring's Southside raises the stakes a little, introducing trap drums to "Let It Down" and "Hard to Forget," tightening up pure country foundations on "2016," and blending both sides beautifully on "Kinfolks," "Young Once," and "Drinking Too Much."
Soccer Mommy, Color Theory
On her brilliant second studio full-length as Soccer Mommy, singer-songwriter Sophia Allison traverses stress and family illness, closely capturing the bleak hollowness of depression through weaponized slacker rock. Color Theory is both impossibly catchy and deceptively downcast. "Bloodstream" and "Circle the Drain" are summery tunes about the elusiveness of happiness and the knuckle-busting difficulty of putting up a strong front in the face of adversity. At 22, Allison is sort of like the alt-rock songbook made flesh. You hear shades of the neat, autumnal sadness of early Death Cab for Cutie, the rawness of peak Lou Barlow, and the fearless adventurousness of Blur, but even though the touchstones can feel familiar, the writing is always original, personal, and tuneful. This isn't rock and roll revivalism; it's proof the real thing can never die.
Tame Impala, The Slow Rush
In the five years following 2015's Currents, Tame Impala's Kevin Parker became a festival headliner and a husband. This year's The Slow Rush imparts wisdom learned in both endeavors. The music retools Tame's kitchen-sink psych-rock as booming dance music, leaning confidently into the sprightly step of Currents opener "Let It Happen" without coming off like an artist trying to bottle lightning in trippy tracks like "One More Year" and "Breathe Deep." On "Instant Destiny" and "It Might Be Time," Parker speaks to aging gracefully and shacking up, to knowing exactly when to duck out of the party and head home. It's the rare album about maturity that doesn't make it sound like giving up, the rare follow-up to a commercial breakthrough structured to bowl over stadium crowds at no cost to what made the band a blast before the masses came around.
Taylor Swift, folklore
In her pure pop phase, Taylor Swift made brash, cluttered songs that seemed anxious to close the gap between hip-hop, R&B, dance music, and mainstream pop, once daring to schedule Ed Sheeran and Future for the same track and succeeding against everyone's better judgment. But busier tunes crowded her natural abilities as a melodicist and a writer of biting lyrics. This summer's surprise-released folklore strips away the gloss and the chipper mood of last year's Lover and, taking inspiration from Swift's '90s alt-pop precursors, nods graciously to Hope Sandoval and the Cranberries in its gossamer unpacking of bad times and moods. A wealth of great music has been made during quarantine, but the wistful, sighing sadness of folklore actually feels like it.
Teyana Taylor, The Album
Harlem singer-songwriter, dancer, mom, wife, and sometime reality TV star Teyana Taylor's 2018 album K.T.S.E. released in the overwhelming rush of G.O.O.D. Music albums made during Kanye's Wyoming sessions and perhaps got overlooked in the fray, which is unfortunate, since it telegraphed the current old school revivalism in new R&B, a trend Taylor embraces on her excellent followup, matter-of-factly titled The Album. The Album breathes in ways the Wyoming experiment's constrictive seven-song limit didn't allow. It's brimming with ideas, melodies, guests, and familiar samples. "Lowkey" samples a Baduizm cut, then summons Queen Erykah herself. "Boomin" invokes Blaque's "808," calling Future and Missy Elliott in to bounce vocals off Taylor's lead. The Album invites and invokes the legends, and these introspective hooks and verses are more than worth it.