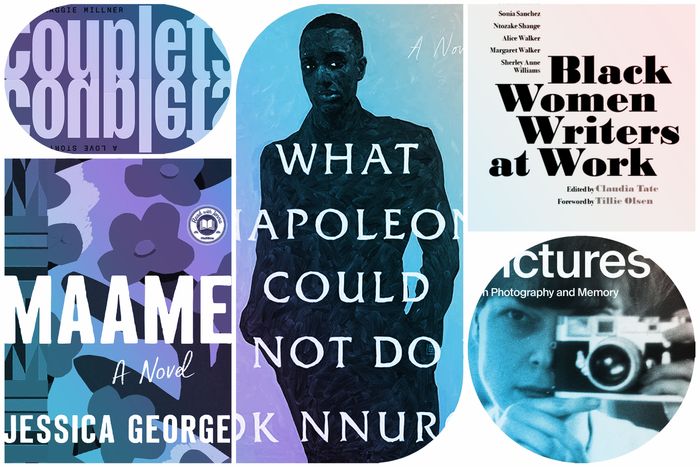 Photo-Illustration: Vulture; Photos: Farrar, Straus and Giroux, Haymarket Books, macmillan, Riverhead Books, St. Martin's Press
When the glories of spring are still on the far-off horizon and the doldrums of late winter take hold, there's an escape within your grasp no matter your travel budget: a great new book. While the conversation in early 2023 was dominated by a certain prince turned memoirist, readers who looked beyond the big displays could be rewarded with an exciting debut novel, a memoir from a celebrated late journalist, and an exhilarating romance told in verse. We still have many books to look forward to this year, but for now, here are the best, picked by our critics.
All titles are listed by U.S. publishing date with the newest releases up top.
Couplets: A Love Story, by Maggie Millner
Maggie Millner's Couplets: A Love Story is so many things: a love triangle, a novel in verse, a coming-out story, a meditation on our obsession with coupledom. Most importantly, though, it grapples confidently and tenderly with the uneasy parts of being alive and in love. In Couplets, a young woman for whom "love / has been, above all things, the engine of / self-knowledge in my life" leaves a stable relationship with a man to begin her first relationship with a woman. What follows is a reflective and thrilling portrait of a person coming to terms with her queerness. Millner's book wanders through the wreckage and exhilaration, the guilt and self-discovery, of lost partnership and doomed love affairs. Who do we become in pursuit of defining relationships? And who might we need to abandon? — Isle McElroy
What Napoleon Could Not Do, by DK Nnuro
DK Nnuro's debut begins with an ending: a failed arranged marriage between Jacob and the wife he's never met in person, Patricia. It's a tense scene, and it sets the stage for the rest of the book's course. It is yet another way that Jacob has fallen short. He hasn't been able to make it to America like his sister, Belinda, and he has had trouble finding a suitable wife in his hometown like his brother. He's drifting in a family that prizes achievement. On the surface, it seems he has all the pieces to be successful (he's tall, handsome, and intelligent), but for some reason, things aren't working out. Jacob spends much of the book trying to reach his potential and attain his father's approval while resenting Belinda, who seems to do all these things (and more) with ease. She was able to move to America, go to college, and marry rich. The book is divided into three points of view: Jacob, Belinda, and her American husband, Wilder, who deals with post–Vietnam War trauma. It's both a gripping story about a family and their expectations and an interrogation of the American Dream — who gets to live it and whether it's everything it's cracked up to be. —Tembe Denton-Hurst
Maame, by Jessica George
Maddie wants to be someone new. She's spent much of her early adulthood caring for her father, who has Parkinson's, forced to grow up fast and live up to her nickname, Maame, which means "woman" in Twi, while her brother chases his dreams and her mother is mostly in Ghana. When her mother returns from her latest stint overseas and urges Maddie to move out, she's determined to make the most of it and be the kind of person she's always hoped to be. She wants to go out more and date and let loose, but tragedy strikes while she's on this quest of self-discovery, and she's forced to navigate a world that's totally unlike the one she imagined. Maame is a quick, satisfying read with characters you'll want to spend a few hundred pages with and a page-turning plot that leaves you rooting for Maddie. — T.D.H
Black Women Writers At Work, by Claudia Tate
This compilation of interviews with literary legends like Toni Morrison, Alice Walker, and Audre Lorde is a crucial resource for any person trying to be creative in our current moment of political and economic chaos. Originally published in 1983, the book feels surprisingly timely: Each woman's discussions of struggles to balance their craft, families, friends, and political visions mirrors the commonly discussed difficulties of work-life balance today. That the innermost thoughts of these literary giants have been collected in one place already makes this book a critical cultural artifact. But perhaps its most striking quality is the way each woman defined and redefined the idea of work itself. As anti-work sentiments and "quiet quitting" discourse rises across the country, these interviews are a useful guidebook for separating work as labor under capitalism and work as a dedication to your craft, a commitment to representing your community through art, and a desire to share your political visions with the world. — Mary Retta
Still Pictures: On Photography and Memory, by Janet Malcolm
When the journalist and critic Janet Malcolm died in 2021, she had published about a dozen books of nonfiction, none of them autobiographical. In fact, she was opposed to the idea of "life writing," which she thought of as hopelessly self-forgiving and, presumably, unsuited to the clear-eyed approach she took toward her subjects. So it's not surprising that Still Pictures: On Photography and Memory, structured around snapshots of Malcolm, her family, and other figures in her life, builds that hesitation in. "I would rather flunk a writing test than expose the pathetic secrets of my heart," she says at the end of a chapter about an affair she had with a married man who would become her husband. In writing about her childhood and her Czech émigré family, too, she admits every lapse of memory — though she remembers a lot, about her "grotesque" after-school teacher and her faux-suave high-school boyfriend and her touchingly middle-brow parents, who had narrowly escaped the Holocaust. The result is something lucid and honest, as much about the nature of memory as her own life. "The past is a country that issues no visas," she writes. "We can only enter it illegally." —Emma Alpern