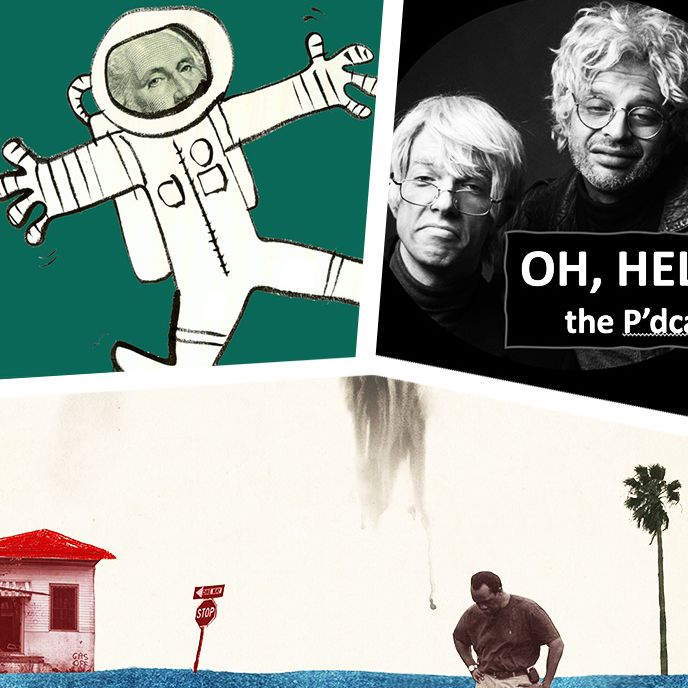 It's been a strange and harrowing year, and the podcasts have mostly followed suit.
Photo-Illustration: Vulture
The podcast universe was having a relatively quiet start to the year before, well, the coronavirus threw everything into a tizzy. Before then, the one ambiguous head-turner was a viral standalone episode from an already popular podcast about a song that may or may not exist. Since then, after the lockdowns started kicking in, a good deal of podcast output reorganized itself around that reality — there were a great many podcasts about, inspired, or catalyzed by COVID-19, and then there was everyone else, who had to figure out how to push through and get by somehow.
As of this writing, it feels like podcasting is leveling back out a bit, even as the actual pandemic is far from resolved. The next few weeks will see the releases of a number of new non-COVID-19-related big swings, and the return of some heavy-hitters, back to do their business. For now, though, let's take a look at some of the year's best podcasts (arranged alphabetically) that have come out so far across this strange and harrowing time.
Around the turn of the millennium, Connor Ratliff was cast on the critically acclaimed HBO drama Band of Brothers. It was a small role, but for a working actor, all roles are valuable. But before Ratliff could make it to the set, he was called back to re-audition for Tom Hanks, who was an executive producer on the project. He ended up losing the part — later, he would be told Hanks thought he had "dead eyes." Decades later, Ratliff would create a podcast about the experience. He had pulled together a decent performing career by then, and in the podcast, which he calls Dead Eyes, he sets out to revisit, unpack, and explore that early-career incident, which had left a big impression. The podcast is fascinating and excellent, essentially functioning as a vessel that explores the emotional experience of building a life in show business. Part interview show, part memoir, Dead Eyes is an innovative take on a familiar genre.
Written and hosted by Vann R. Newkirk II, The Atlantic's revisiting of Hurricane Katrina and the botched federal response that followed is a genuinely illuminating piece that holds extra weight and resonance in the current pandemic context. Beautifully written, deeply reported, and further elevated by outstanding music and sound design, Floodlines is the best audio documentary to come out this year so far, hands down. It can be a really hard time for many to pick up this particular story, but it remains a worthwhile exercise, if one is able, to stare into the abyss, as it can serve as a guide for what's to come.
When life gives you lemons (or pandemic-induced quarantine), make lemonade (or a podcast about quarantine cooking). Life under lockdown has predictably inspired a considerable number of new COVID-19-related podcasts. Many are news-oriented, dedicated to keeping you up to date on the latest developments. Some, meanwhile, are more unexpected … and perhaps, more welcome. One of the finest from this latter batch is Home Cooking, a quarantine-cooking advice show hosted by Samin Nosrat, the chef and famed food writer, and Hrishikesh Hirway, indie-podcast-producer extraordinaire. Breezy, playful, and rich with puns, Home Cooking is a delightful companion to figure out the puzzle of your pantry. It's really short, though, playing out across four hour-long episodes that wrapped up in early May, but it's jammed packed with genuinely helpful tips and ideas that are evergreen.
Gil Faizon and George St. Geegland continue to be at large. Nick Kroll and John Mulaney's geriatric testaments to failed New York creative ambition reached true heights with its Broadway iteration a few years ago, which was also distributed as a Netflix special. Now, under quarantine, they've reprised the characters for a new podcast that gives you basically everything you'd want from the act: mis-emphasized pronunciations, delusions of grandeur, dense rapid-fire joke delivery, tuna — and then some. It's exponentially more enjoyable for podcast fans, since, as with the Broadway show, the duo mischievously plays with some of the medium's most common tropes.
Planet Money has many distinctions: arguably the first "true" NPR podcast, longtime stalwart of accessible stories about complex economies, a truly sustainable operation that's been able to maintain a consistently high quality level even as its actual stable of talent has changed over the years. It also has fascinating roots, originally coming into being off a joint This American Life–NPR reporting venture that covered the 2008 economic crisis. These days, of course, we found ourselves in the depths of another economic calamity — quite possibly the worst ever experienced by this country. And Planet Money has stepped up to cover this new crisis with reliable gusto, in result producing some of the best work that the show's ever done, almost twelve years into its existence.
Obsession runs rampant in this instantly legendary episode of Reply All, already a show with quite a few of them. In "The Case of the Missing Hit," the team is contacted by a filmmaker looking for help to track down a song that may or may not exist. That song is thought to be a distinct artifact of the late '90s and early 2000s, a sugary mix of U2 and the Barenaked Ladies, but it simply couldn't be found in the infinite repositories of the internet. What transpires is a glorious and unexpectedly thrilling caper, one that brings listeners along a wild ride as the filmmaker, supported by Reply All co-host P.J. Vogt, tries their very best to figure out the truth behind the spectral single … all as the song turns into an earworm that deepens its hold in their brains.
Staying In is kind of a classic hangout podcast, albeit one with added gravity given how we're all mostly forced to keep indoors as much as possible under quarantine conditions. All that said, Emily V. Gordon and Kumail Nanjiani are lovely hangs, and the podcast is a pure pleasure. As they note at the outset, Gordon and Nanjiani are no strangers to isolation, or the feeling of being trapped and helpless. You might know this already if you've seen The Big Sick, the semi-autobiographical 2017 film that the couple wrote and Nanjiani starred in, which is in part based on Gordon's experience with a rare disease that nearly killed her and left her immunocompromised. The situation is such that they've occasionally had to self-isolate for her health, even before all this. All that background is baked into the feel of Staying In, which comes with a relaxed semi-diaristic quality — there's a lot of processing in real time — that's reminiscent of older styles of podcasting. Indeed, it's actually a return to podcast form for Gordon and Nanjiani, as the two had previously hosted a video game–ish podcast called The Indoor Kids. Some things have carried over. Like The Indoor Kids, Staying In is charming and funny, and it's reminds us that we're all in this together.