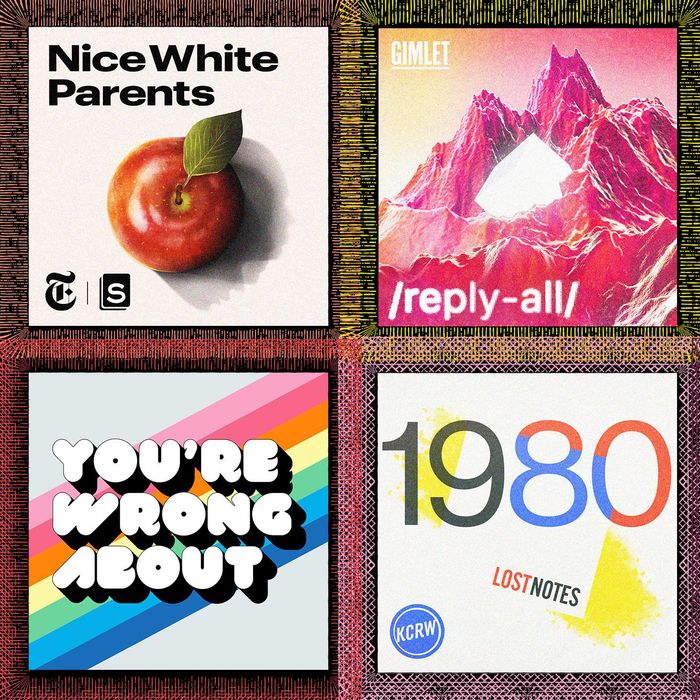 Photo-Illustration: Vulture and Studios
2020 might be coming to a close, but its utter suckage will stay with us for a very long time. Here in podcast-land, the year brought intense change to the community, much of it centered on an accelerated pace of consolidation that has fundamentally reshaped the scene. The true effects of this change are subject to further debate, though assessments on whether it's all good or all bad on aggregate will likely depend on where you stand in your relationship with capitalism — and whether you stand to benefit.
From a programming perspective, it was an eventful year. (I mean, obviously.) As the world drifted into a pandemic, we saw a furious cluster of COVID-19 podcasts emerge as people sought to inhale as much information as they could about the new world. This surge didn't end up lasting, and, before long, attention around most of these shows seems to have largely dissipated. What pandemic shows did persist tended to be driven by a sense of light, creative experimentation. Later, in the summer, the Black Lives Matter movement also drove programming effects: Several podcasts about race would bubble up to the top of various charts, and many more shows stood up to tackle the moment in their own ways. (See About Race With Reni Eddo-Lodge and NPR's Code Switch.) Some newly launched shows gained greater resonance in this political context. And, as usual, the year also saw many, many other shows that either came out or gained prominence that didn't fall neatly into these trend lines.
There was a lot of good work in 2020, too many to fit onto one list, so below are ten shows that stuck with me the most this year. Here's to 2021 being a better year, with even more good podcasts.
10. Field Recordings (Independent)
The global pandemic has made many of our worlds feel painfully small, spiritually and literally. Thank goodness, then, for Field Recordings, an experimental little gem for which audio producers send in brief, raw, environmental recordings from around the world for your listening pleasure. Each recording is a postcard from another time and place, a window into another parallel life. At a moment when everything feels so uncertain, it's nice to be reminded that the greater world certainly continues to exist.
9. Appearances (Mermaid Palace/Radiotopia)
Sharon Mashihi's confessional podcast series has a head-scratcher of a premise: Appearances tells the story of a semi-fictional version of herself as she makes a choice toward single motherhood while navigating her relationship with an equally semi-fictional version of her family, all members of which are played by Mashihi herself. The result is a thoroughly compelling listen with flashes of sharp insight tucked into some really smart writing. It can get pretty uneven at times, and it's prone to distracting postmodern flourishes, but you can't beat its boldness or its ability to deliver some truly powerful moments.
8. You Must Remember This: "Polly Platt, The Invisible Woman" (Independent)
In many ways, this is the ultimate You Must Remember This season. This most recent effort of the Hollywood-history podcast sees Karina Longworth training her attention on the late Polly Platt, the wildly accomplished screenwriter, production designer, and film producer whose influence stretched far and wide but who never really got her due. Gender had something to do with this, but so did the broader ways in which showbiz generally thinks about notions of authority and achievement. Legacy looms large in Longworth's study of Platt's life, which involves her trying to complete the threads laid in Platt's unfinished and unpublished memoir. The result is a feat of historiography and a compelling critique of auteur theory.
7. Home Cooking (Radiotopia)
The lockdown in the early days of the pandemic catalyzed a spurt of COVID-related podcasts, many of which were news-oriented and some of which were made for fun, comfort, and creative experimentation. Home Cooking belongs in that second bucket, but it's also the finest creation to come out of the subgenre and might even be the most effective new food podcast to pop up in a long time. Hosted by Samin Nosrat, the chef and food writer, and indie-podcast producer Hrishikesh Hirway, Home Cooking is essentially a call-in show, with Nosrat and Hirway responding to listener questions about dealing with food through the pandemic. Breezy, playful, and gloriously rich with puns, it never fails to put a smile on your face. Given the circumstances, that can be a very hard thing to do.
6. You're Wrong About (Independent)
You're Wrong About is a sneaky phenomenon. It's a show that you keep around as a sort of secret, only to look up not long after to hear everybody else positively humming about it. Hosted by Michael Hobbes and Sarah Marshall, You're Wrong About can be broadly sorted within the well-populated "let's take a well known thing and challenge your perspective on it" genre of podcast, but what makes it stand out is its distinct combination of fluid chemistry and a fiercely empathetic point of view. Whether it's the 2000 election, the saga of Princess Diana, or the D.C. sniper, each subject is tackled by Marshall and Hobbes with remarkable thoughtfulness and a sharp eye on the critical structures that harm us. You're Wrong About has been around since 2018, but it's become a thing over the past year and deservedly so: It's the kind of podcast that people who love podcasts can't get enough of.
5. Reply All (Gimlet Media)
Another year, another superb run from Reply All. Despite 2020 being a completely garbage period of time, it nevertheless gave us the instantly legendary "The Case of the Missing Hit," which features an odyssey to track down a pop song that may or may not exist; "The Least You Could Do," a fascinating look at a peculiar expression of white guilt from newly installed co-host Emmanuel Dzotsi; "Candidate One," a dive into a wild -election-fraud story in one California high school that contains some truly unforgettable characters; and "Country of Liars," which brings intense clarity to the machinations of QAnon. If Reply All hasn't already been cemented as one of the greatest creations of the podcast era, this year should do the trick.
4. Nice White Parents (Serial Productions)
Serial Productions' first new original release since S-Town, and its first as a New York Times company, is pretty much what you'd expect from the hardest hitter in all podcasting: smart, complicated, excellent. Chana Joffe-Walt's Nice White Parents poses an argument that's both provocative and completely intuitive: white parents, including the well–meaning ones, are the primary force holding back school integration and a more equitable distribution of educational resources. The series is a considered study of race and inequity in the New York -public-school system, and in a move that pulls from the third season of Serial a little bit, it runs the analysis through the story of a single school in Brooklyn, I.S. 293, unspooling its sociological and historical layers to get at a notion of how power works in this structure. I have my quibbles with Nice White Parents, which starts as a documentation of an intractable problem and ends as a rather specific story about (white?) activism and political mobilization, but that itself is an expression of the show's effectiveness—rare is the podcast that makes you want to take a scalpel to it.
3. My Year in Mensa (Independent)
A semi-adaptation of her sporadic column series, My Year in Mensa is comedian Jamie Loftus's indie audio project retelling her experience of jokingly gaining entry into Mensa, the largest "high-IQ society" in the world, and skeptically moving through its community. The journey is a fun, sardonic caper propelled by a skewering soul, quickly revealing itself to be a sustained critique of "intellectual supremacy," in-group dynamics, and the human thirst for hierarchies. My Year in Mensa is a thoroughly entertaining affair, and part of its distinctiveness is its lo-fi nature: It's basically a one-woman show structured as a short serialized podcast. That approach, scrappy and free, allows Loftus's singular vision to fully come through. Unburdened by conventions, the podcast breaks all sorts of rules for the better.
2. Lost Notes: "1980" (KCRW)
Many podcasts can claim to be well made; very few can claim to be genuinely beautiful. The poet, essayist, and critic Hanif Abdurraqib wrote and hosted the entirety of Lost Notes: 1980, the third installment of KCRW's excellent music-documentary podcast, and it is a stunner. As the subtitle indicates, the season is made up of a collection of stories from the year that kicked off a wild decade for American pop music. What makes Lost Notes: 1980 exceptional is Abdurraqib's approach to the form: He uses an economy of language to cut the distance between interpretation and feeling, building intimacy with the listener. Abdurraqib's strength as a writer has always been grounded in making you feel how he feels. He does the same as an audio documentarian.
1. Floodlines (The Atlantic)
Vann R. Newkirk II's gorgeous documentary revisiting Hurricane Katrina and the botched federal response that followed is only partly an examination of institutional failure exacerbated by systemic racism. It's also a meditation on what it means to recover and what kinds of restitutions are needed to make a deeply traumatized society whole again—if, indeed, that's even possible. Excellently reported, written, and composed, Floodlines is also one of the best-sounding audio productions you'll ever hear.
Other 2020 Podcast Highlights
Throughout 2020, Nicholas Quah maintained a "Best Podcasts of the Year (So Far)" list. Many of those selections appear above in his top 10 picks. Below are the rest of the podcasts that stood out to Quah this year:
Avery Trufelman's deep dive into fashion returns, and her trademark genuinely loving but interrogative approach has never been sharper. This season trains its focus on objects of luxury — perfume, high fashion, diamonds, suits — subjects that sit squarely within the force that seems to most drive Trufelman's critical eye: the tension between beauty and capitalism. The episodes are fun, curious, and filled with fascinating detail, but they also carry the burden of a melancholic question: how do you love something that can be hard to love?
A sports documentary that's well worth your time. Cam Newton, the former Carolina Panther quarterback and newly minted Patriot, is an almost mythologically interesting star athlete. He's prodigiously talented, but has never won a championship. He aspires to be an icon, but repeatedly courts controversy. The Cam Chronicles is a shrewd and empathetic account of Newton's legend, closely tracking the QB's journey from his Atlanta roots to his murky present, ultimately telling a story about the burdens of being an intensely public, wealthy, and prominent Black athlete in America. The series is also noteworthy for the talents of its host, Tyler R. Tynes, who breathes electric life into the work of narration. Energetic, opinionated, funny, and free, Tynes' approach offers an appealing window into what podcast narration can, and should, be.
Around the turn of the millennium, Connor Ratliff was cast on the critically acclaimed HBO drama Band of Brothers. It was a small role, but for a working actor, all roles are valuable. But before Ratliff could make it to the set, he was called back to re-audition for Tom Hanks, who was an executive producer on the project. He ended up losing the part — later, he would be told Hanks thought he had "dead eyes." Decades later, Ratliff would create a podcast about the experience. He had pulled together a decent performing career by then, and in the podcast, which he calls Dead Eyes, he sets out to revisit, unpack, and explore that early-career incident, which had left a big impression. The podcast is fascinating and excellent, essentially functioning as a vessel that explores the emotional experience of building a life in show business. Part interview show, part memoir, Dead Eyes is an innovative take on a familiar genre.
Gil Faizon and George St. Geegland continue to be at large. Nick Kroll and John Mulaney's geriatric testaments to failed New York creative ambition reached true heights with its Broadway iteration a few years ago, which was also distributed as a Netflix special. Now, under quarantine, they've reprised the characters for a new podcast that gives you basically everything you'd want from the act: mis-emphasized pronunciations, delusions of grandeur, dense rapid-fire joke delivery, tuna — and then some. It's exponentially more enjoyable for podcast fans, since, as with the Broadway show, the duo mischievously plays with some of the medium's most common tropes.
Planet Money has many distinctions: arguably the first "true" NPR podcast, longtime stalwart of accessible stories about complex economies, a truly sustainable operation that's been able to maintain a consistently high quality level even as its actual stable of talent has changed over the years. It also has fascinating roots, originally coming into being off a joint This American Life–NPR reporting venture that covered the 2008 economic crisis. These days, of course, we found ourselves in the depths of another economic calamity — quite possibly the worst ever experienced by this country. And Planet Money has stepped up to cover this new crisis with reliable gusto, in result producing some of the best work that the show's ever done, almost twelve years into its existence.
Reveal: American Rehab (The Center for Investigative Reporting and PRX)
There is an insidious system sitting in plain sight that preys on the extremely vulnerable, stripping them of their humanity and forcing them into indentured servitude. American Rehab is the first serialized production from Reveal, the investigative journalism stalwart, and it digs deep into a shadowy system of rehab facilities that takes advantage of those seeking treatment for addiction and exploits them as free labor under the guise of "work therapy." Rooted in a cult, forged by capitalism, and promoted by corrupt politicians, the organization at the heart of this story — Cenikor — is a maximalist product of runaway American capitalism, and one walks away from each episode of American Rehab with a sense of grotesque, surreal horror. Perhaps the most unsettling and infuriating listen in a long while.
Staying In is kind of a classic hangout podcast, albeit one with added gravity given how we're all mostly forced to keep indoors as much as possible under quarantine conditions. All that said, Emily V. Gordon and Kumail Nanjiani are lovely hangs, and the podcast is a pure pleasure. As they note at the outset, Gordon and Nanjiani are no strangers to isolation, or the feeling of being trapped and helpless. You might know this already if you've seen The Big Sick, the semi-autobiographical 2017 film that the couple wrote and Nanjiani starred in, which is in part based on Gordon's experience with a rare disease that nearly killed her and left her immunocompromised. The situation is such that they've occasionally had to self-isolate for her health, even before all this. All that background is baked into the feel of Staying In, which comes with a relaxed semi-diaristic quality — there's a lot of processing in real time — that's reminiscent of older styles of podcasting. Indeed, it's actually a return to podcast form for Gordon and Nanjiani, as the two had previously hosted a video game–ish podcast called The Indoor Kids. Some things have carried over. Like The Indoor Kids, Staying In is charming and funny, and it's reminds us that we're all in this together.
Slow Burn season 4
I'll be honest: I was a little disappointed when I heard that Slow Burn was heading back to politics for its fourth season, after the podcast successfully expanded the idea of what it could be with Joel Anderson's fantastic revisiting of the Biggie-Tupac saga. And yet, the return to politics has been nothing short of an absolute scorcher. Hosted by Josh Levin, this season traces the political rise of David Duke, the former Klansman, in the late '80s and early '90s, and the result is an eerie, robust, and constantly surprising documentary. It's piercing in its resonance, committed to a fundamental truth: White supremacy continues to find purchase in these United States and, given enough oxygen, it will always come roaring back.
What if "Wind of Change," the sorta corny but kinda great 1990 power ballad by the Scorpions, was actually written by the CIA? And what if the creation of that song was secretly part of a covert campaign by the West to expand its soft power against the Soviet Union during the Cold War? That's the divinely sticky premise of this narrative podcast by the journalist Patrick Radden Keefe, which goes on to be a fun house romp that's especially compelling for folks already into stories of spycraft. It's a solid dive into Cold War history that's well worth the price of admission.
This Is Not a Drake Podcast (CBC)
Drake is one of the most well-known musicians in the world right now, so why would you want to tell a story that's already been told a million times over? That's the kindle that lights this CBC production, which uses Drake as a lens to explore the broader history of hip-hop. This Is Not a Drake Podcast's effectiveness lies in its construction. Each installment is built around a big idea: One focuses on the role of Toronto as a hip-hop city, one is about rap's relationship to R&B, another grapples with gender and the genre. Led and hosted by Ty Harper, a storyteller who has chronicled the Toronto hip-hop scene for decades, this podcast is a work of love and art.
Welcome to LA
I can't overstate how much I love this show. Written and produced by David Weinberg, Welcome to LA is essentially a series of love letters to the City of Angels, with each story — some reported, some as memoir — capturing something fundamental about the nature and feeling of that place. There's an episode set in an old restaurant that stretches out across time and space. Another weaves together a few different lives across time to tell a story about redlining in Southern California. One is simply about the thrill of Friday nights. There's something deeply traditional about Welcome to LA, whose classically composed stories are reminiscent of much older stuff in the KCRW/late-night L.A.-radio tradition. And yet it feels gloriously modern, like the podcast has figured out how to extract fresh new sounds from an age-old instrument. This is a miracle of a show, and I hope it keeps going forever.