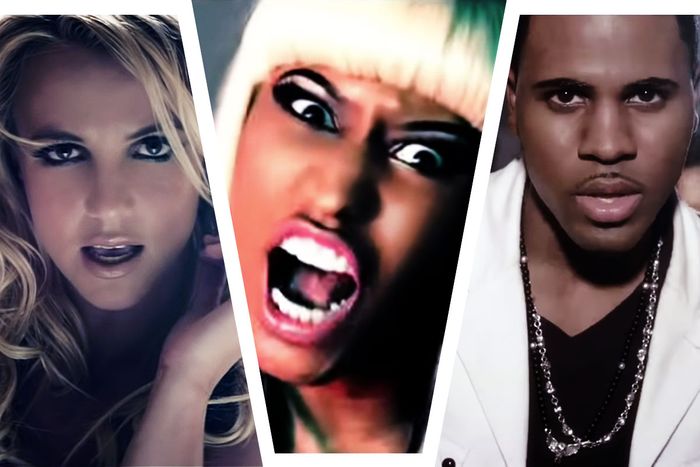 The teens have taste.
Photo-Illustration: Vulture, Britney Spears/YouTube, Trey Songz/YouTube and Jason Durelo/YouTube
Teens can make anything cool. Their social-media superiority launched songs like "Toosie Slide," "Old Town Road" and "The Box" to No. 1 on the Billboard charts, and every day, pop songs like Dua Lipa's "Don't Start Now" become templates for teens to dance, lip-sync, or act to. But the creative geniuses on TikTok are also discovering (and popularizing) indie songs, international songs, and songs no one has thought of in years, if ever. TikTok has deep cuts — they just have nothing to do with vinyl records. Now, you can listen to the entire thing instead of 60 seconds or less. Here are some of the songs that TikTokkers have taken from the underground and turned into global memes.
April 16, 2020
Britney Spears is a TikTok star in her own right, but her 2011 song "Criminal" pretty much took over the app with the "Mugshot Challenge," where users recorded themselves applying makeup to look roughed up and then posed for a mugshot. It pretty quickly flamed out after YouTuber James Charles posted his pics with a fake bloody nose and black eye on Twitter with no caption. He was immediately called out for glamorizing abuse, and it led to a larger conversation about the trend diminishing the harsh reality of mass incarceration. The power of Britney, however, has kept "Criminal" out of the controversy. In fact, the song hit a new peak in daily streams, with just over 100,000 listens on April 12. Femme Fatale will never die!
"Bottoms Up" by Trey Songz feat. Nicki Minaj
This very specific Nicki Minaj verse has become a double-threat on TikTok, with stars posting both dance routines and #relatable lip-syncs to it. What do we have to say other than "Bottoms Up" is a bop that should live forever in the hearts and minds of the children?
"Ridin' Solo" by Jason Derulo
Post-Cats Jason Derulo is loving his newfound TikTok fame. He's already fitting in with Hype House member Addison Rae, as evidenced by their lip-sync to "Ridin' Solo" that has over 3.6 million likes on her page alone. Outside of TikTok royalty, the lyrics "I'm puttin' on my shades to cover up my eyes / I'm jumpin' in my ride, I'm heading out tonight / I'm solo, I'm ridin' solo, I'm ridin' solo, I'm ridin' solo, solo" have become every single person's anthem. Did we have "#mood" in 2010? Because it's still a #mood.
The True Jackson VP theme song ("Change It Up" performed by Keke Palmer)
Millennial-Gen Z cusps, where you at? The theme song to True Jackson VP, a 2008 Nickelodeon show starring Keke Palmer, has changed meme format a few times on TikTok. Most recently, @natalieeab paired it with "purple flame" camera effect, which kinda looks like the effects from the show's intro, to make a joke about her mom dismissing her depression. Now it's a template for ironically venting about people getting mad at things you can't change or for any intangible attribute kindly "leaving your body" on command.
March 12, 2020
It's not hard for Drake to get people dancing. I lost a whole summer to "One Dance." But it was kind of random for a snippet of his 2018 song "Nonstop" to go Elizabeth Warren-on-SNL viral.
"Medicine" by Queen Naija
YouTuber turned singer-songwriter Queen Naija self-released her song "Medicine" in 2017, and suffice it to say, it blew up, currently amassing over 100 million views on YouTube. Three years later, the internet is still bumping "Medicine," this time to relatable memes.
"Walked In" by Ultradiox
There are over 700,000 TikToks with millions of views set to Ultradiox's song "Walked In." Lizzo's done the dance, James Charles has done the dance, and TikTok star Addison Rae did the dance on Entertainment Tonight (that TikTok alone has 3.2 million likes). Meanwhile, the SoundCloud rapper only has 3,000 followers on Instagram.
"Romeo and Juliet" by Hobo Johnson and the LoveMakers
This ode to Timothée Chalamet is set to "Romeo and Juliet" by 2018 Tiny Desk Concert winners Hobo Johnson and the LoveMakers. Lead singer Hobo Johnson (Frank Lopes) kicks off the song with a huge scream of relief, and I think we all understand that feeling. #relatable
"Pressure" by Yungster Jack ft. David Shawty
Aptly described as "trash and fire at the same time" by a YouTube commenter, Yungster Jack's "Pressure" is a genre-bending track with a MySpace feel that somehow became the soundtrack for "I'm shy" memes on TikTok.
"Supalonely" by Benee ft. Gus Dapperton
Here's how to make a teen banger. First, bass line (see Dua Lipa's "Don't Start Now"). Next, relatable, self-deprecating, love-struck lyrics. Big "hiding under the covers eating ice cream" energy. For guaranteed virality, add an indie darling like Clairo or Gus Dapperton. Congrats, you've probably made the bop "Supalonely" by Benee. The teens will be dancing in no time.
February 13, 2020
This leaked and unreleased Lana Del Rey song from 2013 has been the backdrop for many a TikTok, from "Get Ready With Me" vlogs to POVs. The current trend is to make yourself over into a Disney princess, but just a few weeks ago, users were playing it in the background of hot mom checks. Lana would approve.
The Teenagers, a self-aware band from France, blew up in the mid-2000s, thanks to their breakout hit "Homecoming." Now, their cult fan base includes TikTokkers, like dancer Haley Sharpe (the inventor of the "Say So" by Doja Cat dance — bow in her presence), who lip-sync to it. For fun, NME named "Homecoming" the fourth-best song of the year in 2007 … when Haley was only four or five.
"Walk4Me" by Robbie Tronco
A remixed '90s club hit, "Walk4Me" is a perfect song for mini lip-synced sketches or for hitting the gym. Wherever you're at in life.
So, "Pillow Talking" isn't that old (2017), but it's also not a song you really listen to every day. Unless you're like me and have also had it stuck in your head since TikTok decided to revive it.
This is the sound for when you are Hustlers-level scamming. Teens use it to make fun of their parents and their significant others, but it also sounds really good next to FloMilli, Kash Doll, and Doja Cat on a playlist.
"Oops" by Lawrence Welk and his Champagne Music Makers
There are so many versions of this "Oops" sound, changing up the ending to fit whatever scenario. The song has been sung by Doris Day, Louie Armstrong, and Ella Fitzgerald, but the TikTok version is from big band leader Lawrence Welk.
"Opaul" by Freddie Dredd
This song got its start on TikTok through users who would lip-sync "No, I know" or "Love, I know" over the actual lyrics "Não vai não." Canadian producer Freddie Dredd sampled the lyrics from Portuguese song "David (Odavi)" by Brazilian singer Célia. It became a whole separate trend to dunk on people who were saying "No, I know," then, it became a trend to not care. Meanwhile, Charlie D'Amelio, the most popular user on TikTok, just danced to it.
"No Idea" by Don Toliver
Just last month, Houston rapper Don Toliver topped the Billboard Emerging Artists chart. This week, his 2019 song "No Idea" peaked at No. 43 after just three weeks on the Hot 100. It probably helps that there are millions of dancing, walking, and couples TikToks set to "No Idea" or a remix, some of those with millions of views alone.
"Prom Queen" is an angsty teen anthem critiquing beauty standards and one of the first indie songs to blow up because of TikTok. Alone, teens lip-sync to the song, pointing out their mom jeans. But a remixed sound uploaded by @maybemarzey cuts "I Look Good" by Texas rapper Chalie Boy (a song from 2009!) in. People of color use the remix to document how they've changed since no longer conforming to white standards of beauty; now, it's about hyping yourself up instead of comparing flaws.