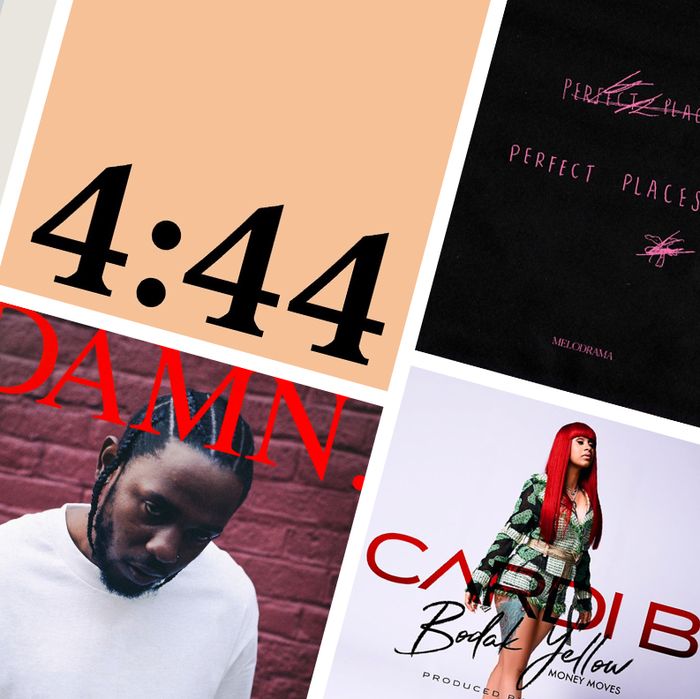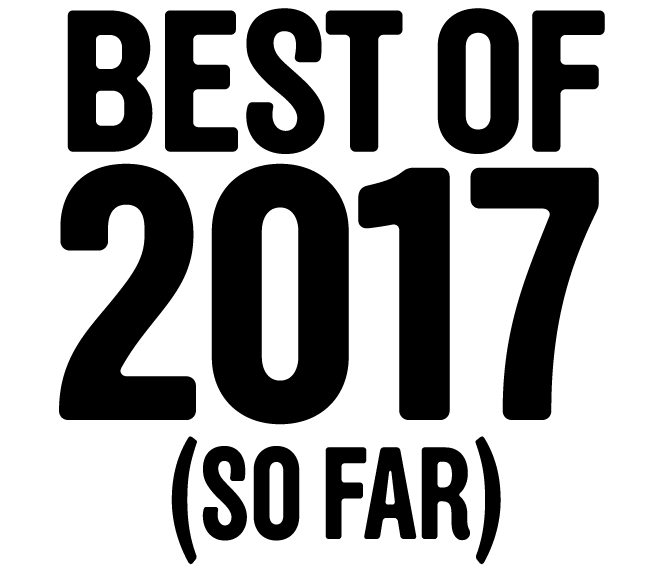 Vulture is looking back at the best releases so far in 2017. This list has been updated to include October releases.
What is a single supposed to do? Can one song really change an entire worldview? Now that all music is easily available whenever we want it, how do we decide what we listen to? There's plenty of discussion about how streaming services have changed the way we consume albums, but the conversation around single songs is a little more discrete. So: This list is not meant to be comprehensive — it couldn't be. How could we reckon with every single great song released this year? Instead, it's a list of great songs that do what great songs have always done: illustrate the way we feel about the world and how we move through it. There's joy here, but there's bitterness and introspection and sadness too — taken together, it says something about what it feels like to live in the world in 2017.
"A Report to the Shareholders / Kill Your Masters," Run the Jewels
Released on Christmas Eve of 2016, El-P and Killer Mike's third joint collection under the Run the Jewels moniker arrived too late to be included on publications' best-of-2016 lists. An unfortunate circumstance. RTJ3 may or may not be the dynamic duo's best album, but it's a gleaming monster regardless, never more so than on a closing track with two sections and three tongues: After sober talk from El and Mike about solidarity and fear in a chilly, dire political environment in part one, and invocations of bitter, desperate aggression in part two, Zack de la Rocha leaps in at the finish with a Children of Men and Charlie Mingus–citing verse fit to melt ice caps or kick off a nuclear winter. De la Rocha's been futzing around with an unfinished solo project for years, but if this track is any indication, he might be better off turning Run the Jewels into a permanent trio instead. —Frank Guan
"American Dream," LCD Soundsystem
A central point of the DFA-focused chapters of Meet Me in the Bathroom: Rebirth and Rock and Roll in New York City 2001–2011 is that label head and LCD Soundsystem front man James Murphy is hard on other people. He demands a specific type of perfection — and usually that perfection closely follows his own personal preference: In the early days, everyone went to the same Murphy-approved therapist and wrote songs on the same Murphy-approved equipment. You can hear this dedication to structure in the music he made with LCD Soundsystem, which was a melancholy, joyful, and often brilliantly calculated career-length study on what it means to grow older while attempting to control your own destiny. The ending of the project — a series of sold out shows at Madison Square Garden in 2011 — felt like the right way to go out. So when they came back just a couple years later, announcing a full tour and even a new album, some fans belt betrayed, like their experience at MSG had somehow been diminished. "American Dream," one of that album's singles should erase all that bad will, though. It's a self-lacerating examination of getting older, shirking personal connection, and navigating the bad days when you look around and realize music and culture and art is going to keep moving, and you might not get to come along — at least not in the way you imagined. —Sam Hockley-Smith
"Bad Liar," Selena Gomez
Picture Selena Gomez being a David Byrne fan, and the feeling being mutual. That is essentially the story of "Bad Liar," one of the most intoxicating pop singles of 2017, which takes Tina Weymouth's funky bass line from Talking Heads' "Psycho Killer," and gives it a sultry filter. Byrne might've given Gomez his blessing to coo suggestively about sexual attraction and temptation all over his classic, but we're the ones who are truly blessed. —Dee Lockett
"Bank Account," 21 Savage
As his debut album Issa proved, there's more to Shayaa Joseph, the Atlanta rapper best known as 21 Savage, than listeners too eager to identify the artist with the grim-faced tales of assassination that made his name would have thought. Love songs, fame songs, and even trenchant social commentary ensured that Issa, though a less focused collection than last year's Metro Boomin–produced Savage Mode, was also less one-dimensional. It seems that Savage has untapped capacities when it comes to producing, as well: "Bank Account," Issa's hit single, is produced entirely by Savage. With its rainy-day guitar line stretched out over thumping 808s, the economical, elegant instrumental provides the perfect setting for his calm enumeration of new money. You get the clear sense that he knows how to present himself and enrich himself: Each feeds into the other as the beat strides on. —FG
"Big Fish," Vince Staples
The second lead single from Staples's recently launched Big Fish Theory resembles the rest of the album in sounding like nothing else: bright, colorful, hi-res digital chimes; globular synthetic bass; and a Juicy J hook frame the Long Beach rapper as he anchors himself in a world he barely managed to leave alive: "Should have been dead broke, should have been chalked out," he notes calmly, then adds, "But it didn't happen, now it's time to get it cracking." The song, like the album, is as futuristic as its rapturous reviews have made it out to be, but Staples is too sharp and too honorable to pretend that the future doesn't contain the past in it: His last words hearken back to lines from Snoop Dogg and the hook on "Norf Norf," the classic track from Staples's 2015 debut, Summertime '06. Free of illusions, he's nothing like Gatsby, but all the same Vince beats on, Big Fish against the current, borne back ceaselessly into the past. —FG
"Blem," Drake
In the weeks between its release and its unfortunate upstreaming by Kendrick Lamar's DAMN., Drake's More Life "playlist" was the subject of much conversation, the gist of which was that unlike its unloved predecessor Views but like all of Drake's other collections, the playlist was good enough to overrate. "Blem," with its frosted Caribbean production (courtesy of T-Minus) and its spare, wistful lyrics about a part-time relationship, is a representative highlight. Drake is intoxicated and he might just say how he feels. He's not saying much, but at least he's recalled, partially anyway (More Life is 82 minutes long), how less can be more. —FG
"Bodak Yellow," Cardi B
The reason why this particular banger has become New York City's highest-charting single is fairly easy to sum up: Contempt can be exhilarating. Bronx-raised and Bronx-tough, the woman born as Belcalis Almanzar crowns herself the queen of disdain. Her voice, drizzled over a simple yet luxurious trap beat, is poised in supremacy and rich with pride. Patiently and slowly, as if her foe was mentally defective, Cardi spells out the fact of their inferior status; contrarily, she looks upon her own accomplishments with a jeweler's calm discernment. This is the song for everyone who needs to look down on someone; in other words, this is the song for everyone. —FG
"Carry Fire," Robert Plant
The title track from the Zeppelin singer's umpteenth solo album layers a tale of conscience, hurt, and absence over Middle Eastern scales to create an improbably soulful hybrid. After nearly half a century, Plant's voice, though its pitch has shifted lower, still retains its power to move all who hear it. —FG
"Cut to the Feeling," Carly Rae Jepsen
Before our eyes, Carly Rae Jepsen has become a pop phenom twice over. She's 31 and enjoying wild late-career success thought to be impossible. "Call Me Maybe" made her a hit and Emotion made her a bona fide smash (especially among critics). When Jepsen feeds her fans a crumb these days — even a song for an animated film — they eat it up. "Cut to the Feeling" is a boisterous synth-flavored pop confection leftover from her Emotion B-sides. There are handclaps, drum stomps, and a chorus so light and sugary that you will float to the dance floor and wonder how you got there. —DL
"Desafio," Arca
No one could say Arca was aiming for large-scale pop success when he made his self-titled Arca — an album that welded unsettling electronic drones, gurgles, and lurches to his never-before-heard, gorgeous singing voice. But if you'll permit some wishful thinking, that's exactly what he has on his hands with "Desafio," an epic-in-scope track that layers sirens on top of fractured trance synths that, in a perfect world, would be dominating pop radio. Maybe it's better that it feels more like a dark secret. —SH-S
"Dirt," Deem Spencer
Is it ridiculous to put a track that sounds like a demo on a list that includes some of the best songs of the year? Maybe so — but "Dirt," a frustratingly brief slice of bedroom soul from Queens-based artist Deem Spencer, is gorgeous enough to warrant inclusion. Part meditation on the positives and negatives of loneliness, part showcase for a beat that would possibly be ruined if you upped the fidelity at all, "Dirt" sounds like the most genuine, intimate, and honest 96 seconds of music you could hope for. —SH-S
"Drew Barrymore," SZA
"Am I woman enough for ya?" is a misheard lyric I can't help but wish was real so it could put a bow on SZA's debut album, Ctrl. But nothing actually wraps up that neatly, least of all an album weighted by the complex, contradictory interpretations of femininity. SZA's actually singing, "Is it warm enough for ya?" which is a better way of asking for unnecessary approval without being specific. "Drew Barrymore" interrogates gendered pressures within certain relationships — shave your legs, exceed the women who came before you — then asks the listener to forgive SZA for not being secure enough to resist said pressures. It's a quietly brave admission from a singer who's stronger than she thinks. —DL
"Dum Surfer," King Krule
As King Krule, Archy Marshall's music has moved from bummer dub, to vintage rock, and touched on blunted hip-hop as well — all of it is united by the fact that his songs sound like they were written in the back of a weirdly damp pub at dawn. His ability to find common ground in disparate sounds should not be overlooked, and on "Dum Surfer," he unites all his interests in an unexpectedly catchy, venom-filled few minutes that manage to evoke a hangover without actually making you feel like you have a hangover.
"FEAR.," Kendrick Lamar
It feels a little ridiculous trying to write a short blurb about Kendrick Lamar's most conceptually ambitious track to date, but, hey, it's Kendrick Lamar's most conceptually ambitious track to date, how could we not include it? Part origin story, part meditation on the way fear never really leaves you, but just mutates, "FEAR." is the sound of Kendrick Lamar reckoning with his own life: Being scared is not just being scared, and being famous comes with its own pitfalls. In music, it's sometimes better to just cut to the chase and attack a complicated feeling from a simple perspective. It's more universal that way. But Kendrick is such a skilled artist that this highly specific track achieves new weight through its specificity. It's often unrelatable — most of us will never have to grapple with the pain that fame brings — but that doesn't make it any less brilliant. —SH-S
"4:44," Jay-Z
Jay-Z's new album should be regarded as the start of a new chapter for hip-hop, one in which the still fairly young genre has now molded a space where its elders have room to breathe new life into their craft. Shawn Carter got into rap late in the game (he was almost 30 when he dropped Reasonable Doubt), and now, approaching 50, the wisdom he's collected over the years has finally caught up to his rap persona. "4:44" is the cracked, sideways portrait of a man who had a shot at marital bliss and blew it. Failing at love weighs heavy on the conscience, but failing at love with one of the most almighty women on the planet — especially when so many expected you to fail — is enough to sink the spirit. Infidelity and having to answer for your sins one day to your offspring should keep a man up at night; it's no wonder Jay-Z recorded this song on Beyoncé's microphone at 4:44 in the morning, using a sample from a song about cheating that No. I.D. chose specifically to trick Hov into baring his soul. Who could sleep next to the woman they love knowing you broke every vow and she forgave you regardless? At some point, in the middle of the night, you must awaken to forgive yourself and repent. At last, that moment is "4:44." —DL
"From the Dining Table," Harry Styles
You wouldn't expect a song that opens with the lyric "played with myself, where were you?" to evolve into a rumination on loss and maturity, but underestimation is the underlying theme of Harry Styles's solo self-titled debut. As the lead of One Direction, he wasn't supposed to have the foundation to make singer-songwriter quality work. But this song, an acoustic meditation on the internal war of missing someone you also accept you can't get back, sounds like the best tortured Jack Johnson or Ryan Adams ballads. Another happy surprise: Styles, when given the microphone all to himself, has a damn fine falsetto. —DL
"Gwan," Rostam
What's the aural equivalent of an epic novel that spans a whole life? Would it have to be some 45-minute song? Is it that Magnetic Fields album that came out this year that's about Stephin Merritt's entire life to date? Okay, yeah, it's actually that. But what about the epic novel as individual song? Is it even possible to distill all that hard-won insight into just a few minutes? Rostam's "Gwan," does exactly that. It finds the former Vampire Weekend member drifting through soft-focus New York, mumble-singing about dreams and life over cello reminiscent of World of Echo–era Arthur Russell. It's a beautiful track, but more than that, it sounds well-earned. —SH-S
"Holding On," The War on Drugs
I feel confident saying that the War on Drugs neither asked nor planned on becoming the Last Bastion of Great American Rock — but here we are. America is crumbling, and the War on Drugs are making tracks like "Holding On," which sounds like love, loss, and the golden age of American highways. In other words, this band writes music that acts as a soundtrack to an America that we're just now realizing we've lost, and maybe this is the calm sound of our collective acceptance. —SH-S
"Incredible," Future
If Future's been famous for anything in 2017, it's been on account of "Mask Off," a memetically friendly collage of mantras hitched to a heavenly flute sample that's been perched in the middle of the top ten for weeks, and rightfully so! "Mask Off" is great. The only problem is that HNDRXX, the album released a week after Future — on which "Mask Off" appears — is even greater, not to mention more innovative. "Incredible" is just one of a dozen stellar tracks which seamlessly merge the drug-inflected gravity of trap with R&B's romantic grace and light. "I was having trust issues, but I've been having way better luck since you," Future's low voice begins, lifted up by an ebullient, solid Dre Moon beat so giddy that it's infectious — they call it "falling" in love, but this song is positively buoyant. Chalk it up to Vicodin or to Venus: It doesn't matter! Here, they're the same thing. When you feel up to break out all the exclamation points, that's when you know "Incredible" is on. —FG
"LMK," Kelela
As someone who's barely dated, I find myself easily agitated by the modern politics of the game. No one says what they mean or does what they say because, ultimately, no one knows what they want. But someone always wants something. If it's sex, we'll front like it's like love to get more. If it's love, we'll pretend it's anything but. Kelela's tremendous, thumping Jam City-produced return "LMK" is about just that — cutting the bullshit and setting boundaries that can't be compromised. She's out for the night with her girls, not with the intention of finding a sexual partner, but should the opportunity arise, so be it. And that's it, that's all she wants. "It ain't that deep, baby / No one's trying to settle down," she makes plain. We'd all do well to be this respectful of people's emotional space and communicative about what it is we're doing with them. Just let! them! know! —DL
"Magnolia" Playboi Carti
There are Soundcloud loopers and there are Soundcloud loopers, but the second track off Playboy Carti's self-titled mixtape is a category unto itself. Like many young trap artists, Carti's carved out a reputation as an adept of fashion: "Magnolia," less a song than a salad of ad-libs, calibrated dishevelment, in medias res lyrics, and magnetism, is the proof that he's found the sweet spot where the logic of high fashion and black music intersect: Keep it moving. To paraphrase my colleague Dee, the song has the power to convert any listener into a model and transform the ground on which they walk into a runway. Only time will tell if Carti has what it takes to become a great artist. For now, it's enough for "Magnolia" to remind the world that great art is inseparable from founding a style of one's own. —FG
"(No One Knows Me) Like the Piano," Sampha
As one of the most vocally emotive singers of his generation, it should come as no surprise that Sampha has written the year's most devastating ballad. His debut album, Process, was largely about mourning the loss of his mother to cancer two years ago, but "Piano" is the purest elegy. It's a good-bye letter to both Sampha's childhood and to his mother, who was the only one who predicted and financially supported — she purchased the family piano heard on this song — his musical genius. In the companion film for the album, Sampha revealed he played "Piano" at her funeral, as if this song needed any further reason to elicit hysterical sobbing. —DL
"Only Once Away My Son," Kevin Shields and Brian Eno
How much has been said about the healing power of music? So much that it's not worth repeating here. Similarly, how much can be said about the state of the world and how we choose to interact with it? It's been done, and a list of fire songs is probably not the place to do so. That said, this collaboration between My Bloody Valentine's Kevin Shields and ambient master of the universe Brian Eno — such a natural, obvious collaboration that you're probably wondering why they didn't do this sooner — is pure, hypnotic bliss. Put it on when you're doing anything, and whatever you're doing that is not listening to this song will fall away until it's over. It's basically a sound bath. —SH-S
"Perfect Places," Lorde
"Perfect Places" ends with Lorde asking a question that she never properly answers: "What the fuck are perfect places anyway?" This comes at the end of a song about partying while young and directionless. But, as it has been mentioned, Lorde is preternaturally insightful, and "Perfect Places" is the moment when she wields all that insight, funnels it through the weird, sad optimism of youth, and spits it back out as the kind of existential question that should only be appealing to her peers. That it sounds so universal is a testament to her ability as a songwriter. —SH-S
"Performance," The xx
Released in winter, I See You, the third xx album, saw the British trio venturing out of the spare, clear moods of their sophomore and debut LPs with mixed results. Though the band's sound is clearly influenced by Sade, that ultimate singer of romantic love, the fact remains that the xx work best when making songs about familial (or at least familiar) care, which is something quite different, as "Performance" demonstrates. Written in the wake of the death of lead singer Romy Madley Croft's parents, the song plays out a slow, gripping duel between a sense of shattering grief and the need to maintain one's composure. Some songs can be described as moving; this one stops everything around it. —FG
"Powerful Man," (Sandy) Alex G
Rocket, the latest album by the extremely prolific (Sandy) Alex G, is sonically all over the map, but its unifying force is Alex Giannascoli, who writes about fragile, intimate moments and widens their scope so that even the most mundane interior thoughts have emotional heft. On "Powerful Man" he sings, "Mom's in a mood this week, cause she thinks her family is going crazy / guess it started with the baby, she went in for a hug, then it bit her on the cheek / that was pretty funny to me, but I guess I should have more sympathy / I ain't never raised a kid, but I'll bet I'd do a good job if I did," and it feels like the most important thought in the world. —SH-S
Sky's Grey," Destroyer
Destroyer's Dan Bejar is cursed with a sense of melody that makes even the bleakest lyrics seem like wistful memories. On "Sky's Grey," the genuinely pretty first single from his upcoming album, ken, he drops ominous lines like, "should have seen it coming" and "I've been working on the new Oliver Twist," and, uh, "bombs in the city, plays in the sticks." Bejar is not the most literal guy, but it doesn't take much imagination to hear a song that exists as a means of grappling with the state of things. But even when he's coming at problems as grand and inscrutable as the way the world is, Bejar's got an easy swing, like an academic who really knows his shit and can explain it to anyone in an appealing way — sort of like Neil deGrasse Tyson before he overdid it and got annoying. —SH-S
"Soup," Girlpool
Sure, "Soup" would fit in fine in some alt-rock obscurity compilation from the early '90s, but that's not a bad thing. At their best, Girlpool is a band that uses familiar rock tropes — in this case, a slouchy bass line and a wall of laconic guitar fuzz — to back devastating lyrics that could change your life if they came at the right time. Imagine hearing a line like "Why are you so stuck, kid? Look up from the ground" exactly when you needed to. Sometimes revelation comes quietly. —SH-S
"Summer Bummer," Lana Del Rey ft. A$AP Rocky and Playboy Carti
Euphoria and despondency are hard to tell apart in Lana Del Rey's music, and few songs exemplify this double-sided nature more than "Summer Bummer," the dark star at the center of the constellation known as Lust for Life, Del Rey's fourth studio album. Mirroring the brooding luxuriance of the Boi-1da beat they're laid over, Del Rey's lyrics spin out the story of a desperate romance carried out at great expense and over great distances. Framed by Playboy Carti's ad libs and A$AP Rocky's finely tailored celebration of feminine glamour, her images exude a kind of radiant doom that suits summer 2017 just about perfectly. —FG
"Turn Out the Lights," Julien Baker
It must be exhausting being Julien Baker, carrying the weight of a thousand emotions with you wherever you go, never quite knowing when catharsis will come. I suspect that's why we hear from her so often, because such baggage can't be bottled without constant cleanse. A lot of singers write about their own mental health; few are doing it quite so effectively as Julien is right now. If "Appointments" was the spiral into the darkness — that suffocating inhale — "Turn Out the Lights," her new album's title track, is sort of like being swallowed by a black hole. You start to feel so detached from yourself, from reality, and betrayed by the mind. "I can't tell the difference when I'm all alone / Said you're either a dream, which is worse," she starts to wonder. "Can you help me?" All this confusion has to come to a head and, for Julien, that's at minute 2:30 when she gets to drown out the noise with her own. There's peace in that darkness — by regaining trust that she hasn't totally lost herself without light, she's found it. —DL
"Wait for Signal," Tricky ft. Asia Argento
Fans of the trip-hop pioneer Tricky have long wished that the mercurial artist would return to the sound of Maxinquaye, a 1995 debut LP so dense and smoke-engulfed that listeners could practically smell the sound. Twenty-two years later, their wish has finally been granted: Ununiform, the Bristol artist's 13th album, revisits the low, stressed, tender sonics of the original, particularly on "Wait for Signal." There's a sense of warmth that extends beyond the production (done, as usual, by the artist himself). Tricky's spoken mantras and verses are uncommonly companionable, particularly when doubled with vocals from Italian actress Asia Argento. Sometimes a relationship, against all odds, goes right, and that contented vibe of coupling is precisely what the song expresses. —FG
"What Happens," ASAP Rocky, ASAP Ferg, Joey Badass, Kirk Knight, Nyck Caution, Meechy Darko, Zombie Juice
Though there's plenty to celebrate about DJ Khaled, he maybe ruined the posse cut as a concept, too. Though he doesn't have anything to do with "What Happens," we'd forgive you if just looking at an endless parade of names was exhausting — then we'd tell you to listen to it, because it features a parade of New York rappers trading verses (if they weren't all in the studio together, they did a great job of faking it) over a jittery RZA beat that ranks among one of the best productions he's made in years. —SH-S
"Where This Flower Blooms," Tyler the Creator ft. Frank Ocean
Have you heard Tyler the Creator's new album is phenomenal? Because it is. One of the best of the year, actually. It raises the ceiling on what many thought Tyler was capable of — the album is mature, beautiful, and deeply honest. "Where This Flower Blooms" seems aimed directly at those who doubted his creative potential by telling them a story about what happens when you stop telling young dark-skinned boys what they can't do. It traces Tyler's history from days sleeping on his grandmother's floor to being able to fill multiple houses with beds, fancy cars, and whatever frills he wants. He's thriving and wants kids who look like him to fully believe this life is possible for them, too. His best advice comes in one very effective analogy for taking care of yourself because no one else will: "Water your garden my nigga and stunt." —DL
"Winter in the South," A. Savage
As part of Parquet Courts, Andrew Savage makes brittle, literate post-punk, but his solo venture, "Winter in the South," is a stoned country breakup song that sees Savage moving from exhausted deadpan to, uh, delicate deadpan. It's clear that he's being sincere, though, and that push-pull heightens the impact of plainspoken lyrics like "I'll be 31 next month, and I only want you by my side as I wait." I'm not trying to say Savage is running from his problems or anything, but this is the kind of song you put on when you're driving away from a life you already half regret leaving behind. —SH-S
"XO Tour Llif3," Lil Uzi Vert
It's a matter of some embarrassment to everyone who has ever spoken English that, although the words "all," "my," "friends," "are," "dead," "push," "me," "to," "the," and "edge" have existed since the birth of the language centuries ago, the poetic genius needed to recite those ten words in a couplet to music only emerged this year, when a 22-year-old Philadelphia rapper slash fashion icon touring in Europe with the Weeknd discovered them shortly after parting ways with his pink-haired girlfriend. It's not just the rest of the year which will have a tough time topping "XO Tour Llif3," but Lil Uzi Vert himself as well: It's the kind of song into which an entire life is poured, and as far as lives go, we're only given one. Dead people of color, frantic capital accumulation, the imperative to be more fashionable than anyone else, cuckolding as insult: If this song isn't 2017 collapsed into three minutes, I don't know what is. —FG
"Young, Dumb & Broke," Khalid
At 19, being a teenager feels infinite — a phase that once seemed so freeing now suffocates. Khalid, a singer from Texas who turned 19 in February, has provided an anti-anthem for the exact moment when being young starts to get old. "Young Dumb & Broke" releases all that resentment over opportunity and promise being dangled in a teenager's face, when most are still too disadvantaged — stifled by lack of funds, wisdom, and, yes, age — to snatch what's seemingly in front of them. Khalid's smoker's croon would probably sound more bitter, but he's already too jaded to care. —DL