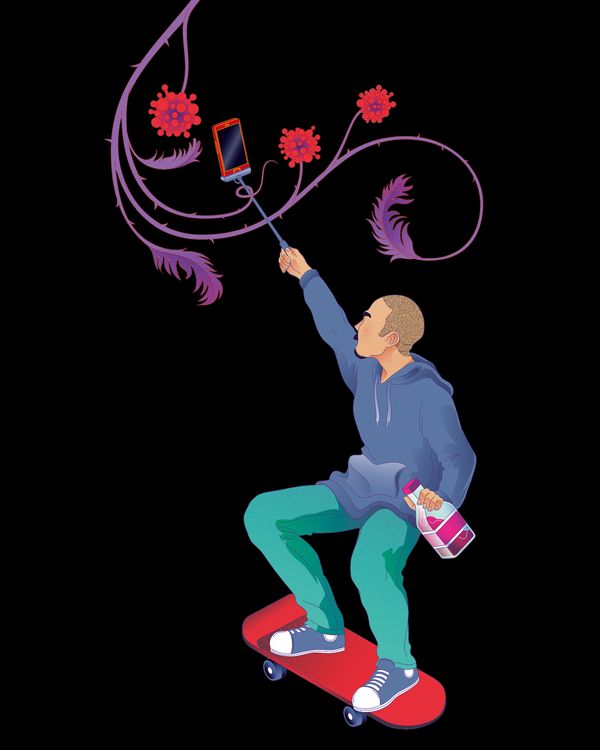 Straight vibing.
Illustration: Ari Liloan
This year, we're recognizing the defining culture of our locked-down lives with the Quarries, our first (and hopefully last) quarantine awards. See our full list of winners here.
If the planet is still around in a thousand years and those who inhabit it seek to understand the time immediately preceding our global climate crisis, hopefully they can transfer the data to their iPhone 400s and gain access to our TikToks. What other medium truly nailed the essence of 2020's mania? No sanitized, COVID-bubble production set could capture the vibrating anxiety, unrelenting boredom, and contagious creativity that quarantine bred, which is why TikTok wins our Quarry for Best Medium for Our Absurdist Present. All the messiness of 2020 — politics, the breakdown of social structures, our increasingly soft brains — converged on the app, and did a little dance.
When TikTokers weren't coming together to body a new dance, uplift Black creators, or ruin a Trump rally, they were influencing the Billboard charts, finessing Super Bowl commercials, and … starting a weird subsection dedicated to beans. (We won't talk about that.) Here are ten of the most memorable TikTok trends of 2020.
"Renegade" ("Lottery" by K. Camp) Challenge
The only pre-quarantine TikTok on this list, the "Renegade" challenge, set to "Lottery" by K. Camp, was the first dance of the year to go mainstream viral. As in, Fortnite dance-level, Super Bowl commercial viral. "Renegade" is what propelled Charli D'Amelio, TikTok's biggest creator, to her massive stardom. It was soon apparent that all the "Renegade" clout should've been going to Jalaiah Harmon, the 14-year-old who actually choreographed the dance. Following backlash for not including the creator of the dance, she joined several big TikTokers, including D'Amelio and Addison Rae, at the NBA All-Star game for a performance of "Renegade" on February 16. Her fight to get the credit she deserved brought awareness to the plagiarism plaguing the app, which seemed to disproportionately affect Black creators.
"Blinding Lights" by the Weeknd Challenge
The Weeknd's extravagant After Hours era will forever be associated with quarantine and this challenge. Soon after the artist dropped the song in March, the choreography to "Blinding Lights," by Greg Dahl (@macdaddyz) and friends, inspired bored parents to start getting into TikTok too. Moms and dads across the country went viral attempting the bouncy dance while stuck in the house with their restless teens. On March 30, the song hit No. 1 on the Billboard Hot 100, where it would stay in the top five for a record-breaking 28 weeks. All because we had too much energy in early quarantine.
"Bored in the House" by Curtis Roach
Shakespeare, plague, King Lear—you've heard it. "Bored in the House," by Roach (@curtistoofunny), is our masterpiece. The repetitive sound dropped on March 4 and became inescapable after Tyga remixed it later that month, capturing our collective mood. TikTok talent was just starting to be taken seriously by the music industry, and this coronavirus instant classic paved the way for collaborations like "Savage Love (Laxed—Siren Beat)," by Jason Derulo and Jawsh 685, over the summer.
"Savage" by Megan Thee Stallion
If anyone can claim this year, it's Megan. The "Savage" challenge popped off in early March with Keara Wilson's (@keke.janajah) addictive choreography. In April, Caleb Jaxin (@calebjaxin) gave it an even more memorable Carole Baskin remix at the height of Tiger King's reign. Another remix swapped in lyrics from some of Kim Kardashian's best moments in Keeping Up With the Kardashians. And then, of course, Beyoncé herself hopped on the song and gave us the official "Savage" remix. As of this writing, the original "Savage" has been used in over 29 million videos. By the end of the summer, TikTok had brought that energy to the app's newest obsession, "wap," by Cardi B, featuring Megan. Multiple dances—from Brian Esperon's (@besperon) booty-popping choreography to lyrical interpretations—went viral, spawning innumerable remixes. "Bohemian wapsody" and "wap x You Belong With Me" are just two incredible examples.
Ana Coto Skating to "Jenny From the Block" by Jennifer Lopez
The roller-skate industry will never be the same. Following the surge in popularity of TikTok skaters like Coto (@anaocto), Coco Franklin (@gypsetcity), and Temptest Nicole (@temptestnicole), roller skates sold out across the world, and production was overwhelmed by the demand. Thirty-year-old Coto's April 28 video of herself skating to Jennifer Lopez's cool-girl anthem "Jenny From the Block" also helped popularize the "sexy walk" style of skating. With more people finding time to skate during social distancing and a desperate need to get off the couch, this trend was more like a boom. Gliding down a palm-tree-lined street while jamming to disco is the dream, but even TikToks of shaky fails in grocery-store parking lots have gone viral.
"Main Character"
First, a gentle reminder that we are all humans with value, before we dive into the teens' favorite meme of the summer. "Main Character" can't be credited to one particular person, but a May video by comedian Ramsey Shindell (@lexaprolesbian), in which she walks around outside "to remind everyone in my neighborhood that I'm the main character in this neighborhood," inspired a popular way to make fun of yourself. Another sound, by lifestyle TikToker Ashley Ward (@ashlaward), seemed to take being the main character very seriously, so naturally TikTokers started to troll. Ward's insistence that "you have to start romanticizing your life. You have to start thinking of yourself as the main character" became things like "You have to stop romanticizing escaping the United States to Canada." The trend is closely related to the obsession with "Heather" by Conan Gray and "Sofia" by Clairo, two songs about girls who are most definitely the main characters.
#ImBlackMovement
The TikTok community has very few moments it can be proud of, but this is one of them. In late spring, Black TikTokers who were concerned that the app's algorithm was keeping Black creators from reaching as many people as non-Black creators and were fed up with the way TikTok sorts -videos—which often pushes down the original content made by a Black person so that popular re-creations by white users show first—decided to start boosting themselves. Lex Scott (@lethallex), the founder of Black Lives Matter Utah, kicked off the movement with the help of TikTokers like Iman (@theeemuse) and gained traction with some of the app's biggest creators. On May 19, they scheduled a #blackout in honor of Malcolm X's birthday and committed to following at least one Black TikToker each, liking only content from Black creators and spreading awareness of the issues facing Black creators on TikTok. Social justice has become just as integral to the app as dance challenges and, well, racism.
Meteor/Meatier
While the summer was filled with deliciously distracting dances and memes, this fall, even the simplest things felt monumental. The success of September's Twitter-inspired comedic bit between God and an angel has everything to do with the emotions that come across Eliza Petersen's (@lizemopetey) face as the angel realizes God didn't ask her to make the dinosaurs "a meteor": "I told you to make them meatier?" God tries to clarify, but we all know it's too late. The regret in the angel's heart and the sinking feeling that we could be wiped out by a ridiculous pun made this one of the best TikToks of the year. The fact that Petersen is actually a paleontology enthusiast—she volunteers in that department at a natural-history museum—makes it even better. This TikTok had a resurgence during the election, with people swapping "meteor" and "meatier" for "Four Seasons" and "Four Seasons Total Landscaping."
"Dreams" by Fleetwood Mac
On September 25, Apodaca (@420doggface208) rode straight into viral success with his TikTok of himself drinking Cran-Raspberry juice and skateboarding to Fleetwood Mac's "Dreams." When he made the video, he was only trying to get to his job at an Idaho potato-processing plant. But it looks like the embodiment of the carefree bliss we aren't feeling as a society, and fans rallying around Apodaca and his video helped bring some good into the world. Celebrities such as Fleetwood Mac's Stevie Nicks and Mick Fleetwood, Shakira, and Jimmy Fallon were all inspired to re-create his cruise. Donations poured in and reportedly allowed Apodaca to purchase a home. Meanwhile, "Dreams" reentered the charts and gave Fleetwood Mac its best streaming week ever. TikTok has proved its ability to boost a new song. Now it's proving it can keep dreams alive, too.
Claudia Conway Ratting Out Her Mom
The whistle-blower moment that wasn't: Conway's vlog exposing her mother Kellyanne's COVID-19 diagnosis is significant for adults' embarrassingly earnest reactions to it. "Update my mom has covid," Claudia wrote on October 2, adding in another post, "i'm furious. wear your masks. dont listen to our idiot fucking president piece of shit. protect yourself and those around you." Her video took one of the app's many uses (spying on celebrities through their children) and made it a matter of national importance. Some news media and certain millennials declared the 16-year-old a "savior" and their "Katniss," oversimplifying a family situation that Claudia herself has alleged is abusive. Still, it might be the ultimate example of how TikTok influenced everything from entertainment to politics this year, as teens like Conway demanded to be heard.