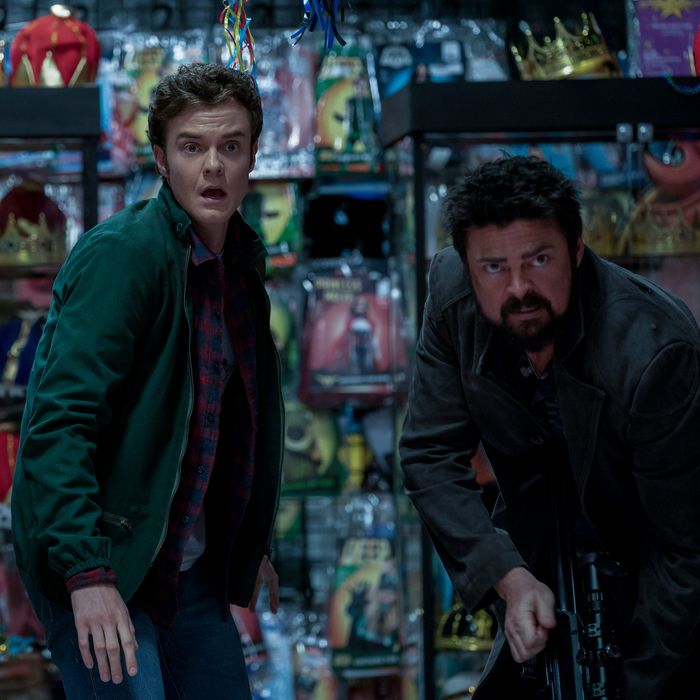 The Boys
Proper Preparation and Planning
Photo: Courtesy of Amazon Studios
"Fuck this world for confusing nice with good."
And there it is, the main operating theme of The Boys, coming from the mouth of its newest character, Stormfront. Heroes can be nice in public but far from good behind the scenes, and the perceived bad guys, like Billy Butcher and the Boys, can actually be the heroes fighting for real justice. This season of The Boys already seems more willing to unpack some of the gender elements in this dynamic, captured both in Stormfront's arc with Annie and Queen Maeve's at the hospital, where she tells her ex about how a jealous Homelander committed murder to control her. The Boys seems to be increasingly interested in how toxic masculinity would be amplified in a world with superpowers designed to feed it.
But "Proper Preparation and Planning" is really an episode about relationships — between Maeve and her ex, between Becca/Homelander and their son, between A-Train and Annie, Stormfront and Annie, Kimiko and her brother, the Deep and his gills. In an era when shows often sag because they have to stretch things out to meet a predetermined episode count, Eric Kripke and the team behind The Boys have arguably the opposite problem, cramming so much exposition and storytelling into an hour of television that it all gets a bit exhausting. The Annie/Stormfront dynamic, the bit with the Deep and his talking gills, and Kimiko's reunion with her brother — any of these could have been multiple episodes of a Netflix Marvel show. Yet here they are, all relatively well defined, so let's discuss them one at a time instead of bouncing back and forth.
We'll start with the episode's goofy comic relief: The Deep is going through some therapy/programming/whatever with Eagle the Archer and Carol that leads to an event in which his gills literally start talking to him, and, of course, they have the voice of Patton Oswalt. Chace Crawford is funny here, but a season highlight will be Oswalt singing "You Are So Beautiful" through the gills of what is basically a spoof of Aquaman. Can the Deep find enough confidence in his own body to stop using it to abuse others? Will Oswalt return? Can other people hear him now? Let's make that happen.
Speaking of images, Starlight and Queen Maeve have been sent on a press tour to promote Stormfront's addition to the Seven. There's something funny going on with Stormfront narratively; she was promoted without Homelander's input, and Raynor mentioned last episode that there's an internal coup happening at Vought. Doesn't Stormfront have to be a part of that unrest? Why would Edgar or other Powers That Be put someone seemingly intent on dismantling the bullshit public image of the Seven on the team unless that's exactly what they wanted?
However she got there, Stormfront is taking no prisoners. Sure, she plays along with the junket at first but goes off script after Maeve gets an emergency call and has to leave. As Stormfront and Starlight are being asked the same inane questions over and over ("Tell us how fun it is to have all this girl power"), she finally gives up. Later, she's giving her action figure a hard time when Annie tries to bond over common ground. Stormfront doesn't trust her and even suggests she's a Vought spy. She tells Annie that the best superhero of all time was one who "never cared about being polite or cute": Pippi Longstocking. Annie wants to reveal how much she's doing to dismantle Vought but can't do so … yet.
First she has to deal with a returned A-Train (Jessie T. Usher), who does not seem to care that Annie saved his life at the end of the first season. At the close of the episode, A-Train discovers the sample of Compound-V given to Annie by Gecko and threatens to turn him in. Annie finally fights back, perhaps inspired by the Pippi pep talk, and threatens to tell everyone the truth about the death of A-Train's girlfriend. She wins the war of blackmail. Or at least it's a stalemate.
It's interesting that Homelander spends most of the episode tormenting Becca Butcher and their son. Remember, he flew there after learning where he stood in the power structure at Vought via a talking-down from Stan Edgar. As the definitive toxic male, Homelander always needs power. And he thinks he's got it with Becca and his son, encouraging the boy to use his biological superpowers and join him. This sociopathic Batman needs a Robin, and he tellingly reveals his mind-set to his son: "Gods should not have to feel that kind of pain." Homelander meets any criticism or perception of pain with his god complex, revealed even further in a line that illustrates how he's driven by the super-dopamine of his abilities: "We can do anything we want and no one can stop us. Now that, that's a good feeling, a really good feeling." Becca fights back hard, threatening to reveal the truth about Homelander, but he claims he won't be going anywhere soon. He lost power with the Seven, he needs to reclaim it with his son.
Finally, there's the arc of Billy and the Boys tracking down the super-terrorist who was smuggled into the country. Billy makes a deal: Bring him in and the government will lead Butcher to his wife. They track the terrorist to a party store, where Kimiko jumps in and takes over the action, starting by ripping a dude's head clean off. It turns out she knows these guys, who kept her prisoner back at home. And the terrorist? It's her brother Kenji (Abraham Lim). The two reunite but begin super-fighting when he wants her to join his cause. He wants to burn down the Americans and is willing to toss his sister through a brick wall to make that happen. Kimiko gets the jump on him and chokes him out, throwing him in Butcher's van. Billy is pissed that Hughie stopped him from shooting the guy in the first place and sucker-punches him. "You come between me and my missus again, I'll fucking kill you." That sounds like some important foreshadowing to me.
Extra Frames
• "This country is an enemy to the whole world now" sounds a little different in 2020, when Americans literally can't travel to most of the planet.
• The Deep listens to the Goo Goo Dolls singing "Iris" while Hughie watches the video for "You're Only Human (Second Wind)" on the toilet — both choices so perfectly in tune with these characters. The episode ends with "Psycho Killer," by the Talking Heads, which could be used to describe four or five characters this season.
• The party store has some great background details, including a dog costume for a hero called Homedefender. Give me more of this content. Was there a superpet in the past? Could there be in the future?
• Tony Cicero's, the family restaurant where Billy finds himself, after waking up in the parking lot, harassing the host, does not appear to be a real chain, but that doesn't mean they don't have merch.