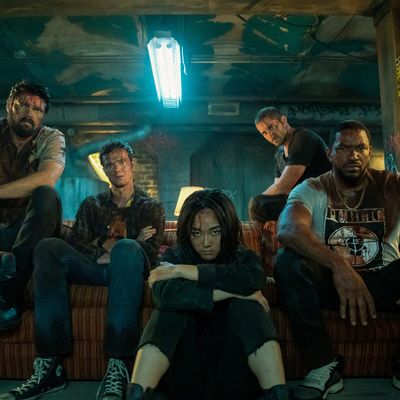 The Boys
Over the Hill with the Swords of a Thousand Men
Photo: Courtesy of Amazon Studios
An episode of The Boys that feels somewhat transitional in terms of pacing ends up being actually pretty momentous in terms of this season's narrative arc. It's clear now that Stormfront, the newest member of the Seven, is not going to be the tough-talking anti-hero that everyone loves because she speaks the truth. In fact, she's going to vie with Homelander for the title of most sociopathic character on the show. After she kills Kimiko's brother, Kenji, in a brutal way that includes a racist epithet, even Homelander seems to realize there's a new lunatic in the big chair of his version of the Justice League. It's hard to say who's shooting more daggers at Stormfront in the episode's final scenes, Homelander at the event or Kimiko at home? Odds are that one of them is going to end up killing our newest hero.
As for that transitional feeling, part of it is because the writing this episode is so focused on a single narrative, bringing in previously separate plot threads like Annie and Hughie's quest to expose the truth about Compound V with the Deep's plan for a career revival and the smuggling into the country of Kimiko's powerful brother, Kenji. A lot of what has been set up this season, including the emergence of Stormfront, literally collides in this episode, closing some loops left open since last season and setting the stage for what's to come over the next five episodes (which will be premiering weekly on Fridays going forward).
It starts with Hughie on a ship where the Boys are hiding Kenji, preparing to deliver him in exchange for information on the location of Becca and Ryan Butcher. Hughie is having a bit of an existential moment, hoping he can have a second wind like the kid in the Billy Joel video he's watching. Butcher tries his version of an apology, which Hughie greets with his version of a punch. The physical acting here is great, as Jack Quaid seems to hurt himself more than he does Karl Urban, who responds with quizzical wonder more than anything else.
While Kimiko tries to talk her brother into the protection of the government, the Seven are being pitched the script for an awful new movie project called Dawn of the Seven. Queen Maeve notices that A-Train looks like he's on the verge of passing out, something that comes up repeatedly in this episode. Is it still his recovery? Something else causing what looks like panic attacks? Stormfront berates the screenwriter for reducing all the female roles to "unknowable Hitchcock bitches or Michael Bay fuck-dolls," which is a great line.
Everyone at Vought and in the Seven is going to have more to worry about than a rewrite: The news about Compound V breaks. Superheroes aren't born, they're made in a lab, and their parents were often paid so their children could become experiments. Everyone at Vought seems to panic as the stock plummets and lawsuits are threatened, but Stan Edgar has a plan. It seems clear now that Edgar was behind smuggling in Kenji, a "super-terrorist" designed to give his team of superheroes a villain to defeat. Edgar implanting chaos in the streets and causing literal violence in order to be the only one who can clean it up feels a bit like modern political commentary; read what you will into any similarities to current 2020 campaigns.
Away from all of this drama, for now, Homelander continues to play his power games with Becca and Ryan. First, he literally pushes Ryan off the roof, trying to encourage him to use his power to fly. It doesn't work, although Ryan gets up without an injury. What does get Homelander Jr. to express his powers is much more emotional: when Dad grabs Mom's wrist. Defending his mother, Ryan pushes Captain Unamerica to the ground and his eyes flash red. It's kind of exactly what Homelander wanted all along. He's so vile.
Meanwhile, the Deep, after talking about how he could hear goldfish begging to be saved and can't go near a Red Lobster, is encouraged to make his move back to the Seven. Carol and Eagle the Archer tell him it's time to talk to the leader of the Church of the Collective and then "get out there and be a hero."
After a brutal encounter with an NYPD helicopter, Butcher and the gang flee for the shore only to be attacked by sharks. It's the Deep! This is his hero moment! How did he know where they were? Is there a connection between Grace, Billy's contact, and the church? There's no time for that as Deep hurls animals of the ocean at his target, planting a giant whale in between them and the storm drain to which they're fleeing. Butcher drives his boat right through the whale in a scene with questionable physics (wouldn't the boat take some damage?) but the kind of gnarly effects that fans of this show love. It allows Quaid to literally sit dazed inside the guts of a whale and for Urban to call him Pinocchio. After all, doesn't Hughie wish he was a real boy too?
The gang flees into the storm drain just before the rest of the Seven arrive on the scene. Annie confronts the Deep, saying what he did was unforgivable. He talks about "renewing his light," but Annie says she will never let him back in. The scene ends with Homelander calling the Deep's gill disgusting, and one has to wonder if there's a path for this Aquaman Lite back into the group. What if he ends up selling out the Seven instead of joining them? Or sides with Billy and the Boys?
The bulk of the action moves to the drain tunnels, where A-Train still looks on the verge of passing out and Starlight comes upon Hughie. She blasts him back as Homelander emerges from the shadows. He orders Annie to kill him, but Billy intervenes. It's a nice reunion of major characters who typically are segmented into their own arcs. The show doesn't often put Homelander, Annie, Hughie, and Billy in the same space, so it's kind of neat to have that this early in the season. It ends with Kenji saving Hughie and then fleeing through the hole he just created above them.
And that's where Stormfront comes in and finally gets to show off her powers. She blasts Kimiko and Kenji around some apartments (collateral damage must be high), and the chase moves to the roof. At first, Kenji has escaped, but he returns to save his sister. That's when Stormfront literally rips his hands in half and then makes him open his eyes so she can "see the light go out" as she brutally kills him. And anyone who thought Stormfront could be a good guy who dismantles the Seven from within learns she most definitely is not.
Back in calmer spaces, Stan Edgar is giving a press conference denying any knowledge of Compound V and throwing Stillwell under the bus. Like a politician, he shifts focus to the attack by Kenji, the "super-terrorist." He helped instill the fear and then sent in his new hero to fix it. And finally Stormfront takes the stage. She is the new face of the Seven. God help us all.
Extra Frames
• The long title of the episode is also the name of an issue of the source material, as well as a line from this song by Tenpole Tudor, "Swords of a Thousand Men."
• The name of the boat that Billy Butcher stole to transport Kenji to safety was My Big Wet Dream, because of course it was.
• The screenwriter of Dawn of the Seven is wearing a trendy Fassbinder shirt, which is just a perfect detail for a show that often gets the little things like that right.