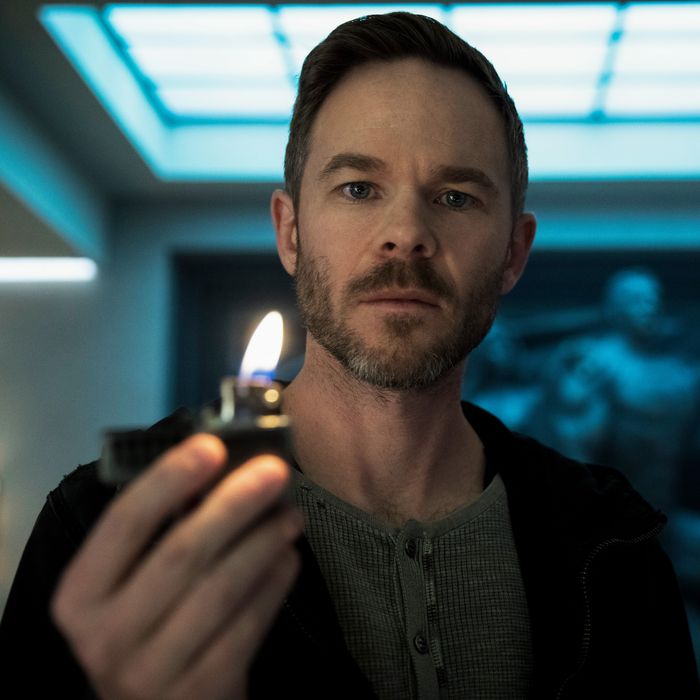 Photo: Jasper Savage/Amazon Studios
This week's The Boys is about the cost of human connection, and how it can be both a strength and a weakness. It's reflected in the origin story for Frenchie, who left his post one night to save a friend who was overdosing, but then lost that friend again when he returned to his job watching the watchmen. It's in the devastated face of Elena when she realizes her super-girlfriend has been witness to super-war crimes. It's definitely there in the makeshift family formed by Billy and Annie when they save Hughie, bringing all three of these very different people closer together. And the end implies that Homelander and Stormfront are forming a new kind of family, a power couple hellbent on destroying everyone who doesn't look like them.
In terms of momentum, some of what was lost last week is regained, even if it doesn't make a whole lot of sense to be doing heavy backstory and flashbacks six episodes into an eight-episode season. Right now, this show should be all buildup to a climax, and it still feels like the stage is being set even though there are only two episodes left. Is this going to be looked back on as a transitional season? Or will the writers rush through to a climactic showdown involving Stormfront that eliminates her in time for a new "big bad" next year?
There may have been Golden Girls references this week, but the show isn't resting on its comedy. Most of the action takes place at a facility that Annie discovered on Stormfront's laptop called Sage Grove, where Billy, Hughie, Annie, Mother's Milk, Frenchie, and Kimiko — the whole gang, really — end up in an effort to figure out what Stormfront and Vought are up to. They discover that it's basically a testing ground for super terrorists, injecting mental patients with Compound V and just seeing what happens next. Of course, the most charismatic Nazi, Stormfront, is guiding the experimentation straight out of a playbook from her buddies in World War II — it's later revealed she literally danced with Himmler. And she's using the formerly famous superhero Lamplighter (Shawn Ashmore) as her Nurse Ratched, burning patients who get out of line.
Lamplighter and the Boys have a dark history. He used to be under the thumb of Grace Mallory and her team, blackmailed into reporting on what was going down with the Seven and Vought, but tragedy struck one night, a night that Frenchie wasn't paying attention. It led to some serious bad blood, but that's cast aside when the patients at Sage Grove break out and start, well, experimenting with their powers. While Mother's Milk, Frenchie, Kimiko, and Lamplighter seek safety from the new mutants, Hughie, Billy, and Annie encounter one of them outside the facility fences and it nearly ends in tragedy. When the super-weirdo blasts them with enough telekinetic power to flip their Mystery Machine, Hughie ends up with a big piece of shrapnel in his gut. It's a relatively clever way to bond Annie and Billy over how much they care about the dumb kid.
The action in Sage Grove is a little more intense. One new superperson that we'll call the Human Popper can just look at people, squeeze her hand, and pop them like a bloody balloon. That's a heck of a power. Another one spits acid à la Alien but ends up spitting up all over himself. It's not pretty. Finally, a character literally called "Love Sausage" in the credits stretches his member down his pant leg through his window and around the neck of Mother's Milk, nearly killing him. It's gross and likely something that he will be mocked for as long as the show is on.
The chaos at Sage Grove is really a tool to get some more history on Frenchie and introduce Lamplighter into the narrative (and maybe to get Human Popper into the story, as she's seen hitchhiking away in the final beats). It's well-done action television, as is the conjoined subplot about Annie and Billy saving Hughie's life. Annie even starts to realize that she's becoming more like Billy: willing to do whatever it takes to save those she loves.
The subplot that doesn't really fit this week is the Church of the Collective arc, which has felt inert for a couple of episodes now. What started as a promising skewering of Scientology has kind of meandered since then. This week, A-Train wanders into that subplot. He's about to be replaced in the Seven, so the Deep brings him into the fold, promising to help him out more than Lil Nas X probably could with his new anthem. What first felt like a new direction for the Deep now feels a little underdeveloped, and one of those arcs that may actually be setting up to pay off in the third season.
Finally, let's talk about Homelander. Having no idea that Queen Maeve now has access to the footage of the plane they let go down last season (courtesy of the Deep), he's being needy and whiny with his new girlfriend, Stormfront. The immaturity of Homelander has always been a fascinating throughline in The Boys, presenting Captain America as someone who needs constant affirmation from everyone around him. And so, of course, Homelander is a jealous boyfriend, following Stormfront when she says she's going to Vought to catch her in a lie, and blowing up his trailer when she doesn't come home in time. Almost as if she's dealt with a few power-hungry babies in her days in the SS, Stormfront tells him what he needs to hear, revealing that she was born in 1919 and was really the first superhero, injected by none other than Frederick Vought himself. Now, after a century, she has finally found her perfect mate. Who can possibly stop them?
Extra Frames
• The credit "Andrew Jackson as Love Sausage" is really kind of special.
• Shawn Ashmore (Lamplighter) kind of represents the first literal connection to a major super-franchise in that he played Iceman in the original X-Men movies and X-Men: Days of Future Past. Neat.
• Tomer Capon did strong work this week in his most intense episode, giving some emotional insight into why he's so concerned about Kimiko. I think he's been directed to whisper a bit too often in serious moments, but he sells the arc of salvation for one sin by saving someone else. Again, I wish this kind of backstory happened earlier or there were more episodes left this season, but it was still well done.
• Brave Maeve Pride Bars ("Because you can't be proud on an empty stomach") is a perfect bit of gross corporate branding for this world.
• I realized on Twitter this week that maybe not everyone knows Jack Quaid's lineage. There was a bit of a viral moment when it dawned on some people on Twitter that his mother is Meg Ryan and his father is Dennis Quaid. You can so perfectly see both of them in him, too. And now you know. And that's half the battle.