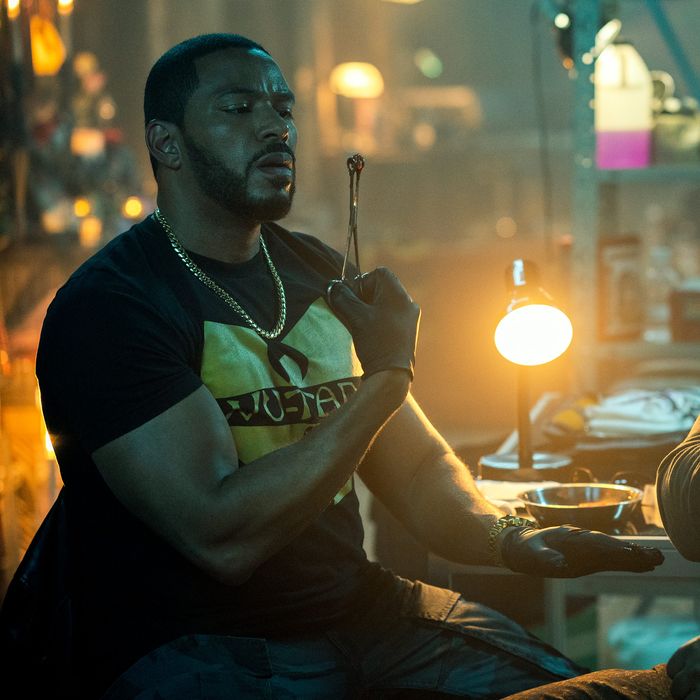 Photo: Courtesy of Amazon Studios
The Boys returns for its eight-episode second season with all the confidence of a show bolstered by both critical acclaim and a growing fan base. Granted, it was never a show that really lacked in the confidence department, but the start of the Amazon Prime series' sophomore outing feels even more certain about its tone and narrative ambition, serving the dual purposes of resolving hanging plot threads from last season while knitting a few new ones at the same time. The season premiere introduces new cast members without losing focus of what worked about the first year, and just about all of it bodes well for where the next seven episodes could be going. Strap in.
Naturally, a show as narratively dense as this one needs a long "previously on" recap — especially given how epic the year since this show has been on the air has felt to most of the world — and The Boys obliges by tracing the arc of the entire first season, starting with the death of Hughie's (Jack Quaid) girlfriend and the assault on Annie/Starlight (Erin Moriarty) by superhero the Deep (Chace Crawford). Most important to the start of season two, viewers are reminded that Annie and Hughie discovered that a drug called Compound V is the reason there are superheroes in the world and that the iconic Homelander (Antony Starr) is really a total sociopath. He's Patrick Bateman with Superman's powers, and he killed Madelyn Stillwell (Elisabeth Shue) in the season-one finale, blaming it on Billy Butcher (Karl Urban). Billy has gone entirely off the radar, and the rest of his squad are fugitives in hiding. Also important to remember: With the death of Translucent (by Hughie) and the shunning of the Deep, the Seven are down to only five.
Much of "The Big Ride" is about who's actually in power over at Vought International, the company that ostensibly manages people with super-abilities, and how they manage optics more than anything else. The death of Stillwell is being used to garner sympathy for their company and the Seven, while Homelander thinks he's now basically stepping into her role in the organization. He assaults a proposed candidate for the group named Blindspot and informs Ashley (Colby Minifie) that he will handle his own "agenda and marketing." She will be his liaison to figures like Stan Edgar (Giancarlo Esposito), but he's taking more control. Or so he thinks.
Homelander actually makes his first appearance of the season at Translucent's funeral, an event watched worldwide that, again, is about optics more than actual emotion. The most interesting subtext of The Boys is in how it addresses image versus reality and the increasing manipulation of the former. It can sometimes be done for satirical laughs — see: Annie singing "Although we could see through you, it seems we hardly knew you" at Translucent's funeral — but also really drives the show thematically. Much of this episode is about trying to define character traits through marketing — superhero, super-terrorist, supervillain, etc. And, of course, the entire show is about how the word "superhero" means nothing if the people with superpowers don't embody its perceived definition.
Back to the actual story for a minute: Despite being on the run, Hughie is still in touch with Annie. He worries they're being tracked while on a train and gives her a hard time for going to the Teen Choice Awards with Alden Ehrenreich, but he clearly still has feelings for her and hopes that everything can be fixed if she gets her hands on Compound V, the drug that makes babies into future superheroes. Annie tracks down a supe named Gecko (David Thompson) who literally allows people to chop off his limbs for cash and who happens to have a side hustle as a twisted S&M escort. (Of course, his power is that the limbs grow back.) She blackmails Gecko into breaking into the lab and getting a sample of Compound V.
Meanwhile, the Deep is wallowing in his misery in Columbus, Ohio, getting drunk during Translucent's televised memorial service and later going on a public bender at a kiddie water park. He's approached by a local supe named Eagle the Archer (Langston Kerman), who brings him to a woman named Carol (Jessica Hecht). At first, it seems like Eagle and Carol are kind of staging an intervention, but the end of the scene reveals they're pushing something called the Church of the Collective and claim that they can help get the Deep back into the Seven. The Deep is going to be an interesting character to watch this season, given how much fun it is to watch him being eternally punished, and given the tricky tonal balance required to rehabilitate someone as awful as he is.
While the Deep works his way through the bars of Ohio, Hughie, Mother's Milk (Laz Alonso), Frenchie (Tomer Capon), and Kimiko (Karen Fukuhara) are trying to figure out their next step when they discover that they're in cahoots with a potential human-trafficking organization. A CCTV tape reveals that the group they're with smuggled in a super-terrorist the night before, someone who has the power to lift an entire boat with his powers and throw it at someone. Kimiko seems to know more about what's going on, but her inability to speak means she can't communicate it. After finding a piece of origami, she writes BOY on a piece of paper, but it gets her nowhere.
Hughie and the boys go to meet Deputy Director Raynor (Jennifer Esposito) and tell her about the super-terrorist and what they've learned. Just as she has finally put the pieces together — saying that it's a Vought coup from the inside — her head explodes à la Scanners. Did Vought just assassinate the deputy director of the CIA? Mother's Milk has no idea who even has the power to do that.
Speaking of power, Homelander learns that he doesn't have as much as he first thought when a new member unexpectedly livestreams her arrival on his team. Welcome, Stormfront (Aya Cash)! Of course, Homelander is furious that someone new is on the Seven without his approval, but what's interesting here, in terms of the show, is how she's introduced: dismantling the Seven's façade of image manipulation by livestreaming a commercial being filmed by Homelander and Queen Maeve (Dominique McElligott). Homelander can't maintain his public persona with a livestream revealing his secrets. He rushes to Stan Edgar to complain, arguing that he is Vought. Stan reminds him that he's just a pawn in this game, and even he can be replaced. It's the drug that matters. Homelander ends the episode by zipping off to Becca (Shantel VanSanten) and his son (Cameron Crovetti). What's his play there?
In the final scene, Hughie and Annie seem to be drifting apart again. She excitedly tells him about the Gecko dynamic and that they'll have a sample of Compound V that they can reveal to the public, but he's cautious after what happened to Raynor. She can tell he's being withholding again. Just then, Butcher finally comes home to clean up the mess. And, oh, what a mess it is already.
Extra Frames
• The first season was thick with great music cues, and I'll track them again here this season. Two biggies in episode one: "Sympathy for the Devil," by the Rolling Stones, and "Pressure," by Billy Joel.
• The scene after Black Noir kills a super-terrorist and then encounters his son may be the most tonally definitive for the show to date. A superhero holding the head of another superhero does a cute little dance with a stuffed animal while the Rolling Stones play on the soundtrack. Just excellent.
• She doesn't have much to do here yet, but keep an eye on Cash, who was just phenomenal on You're the Worst. She's a great actress with perfect timing and underrated range. Can't wait to see how she fits in here. Other new additions, like Kerman and Thompson, seem promising too. And then you add in Jim Beaver and Giancarlo Esposito — as I said in season one, this show really knows how to cast an extended ensemble.
• The trivia drop that the founder of the biggest superhero organization in the world, a symbol of hope and courage, is a former Nazi who refined the formula for Compound V on people at Dachau is one of the darkest ideas in a show full of deconstructions of superhero mythology.