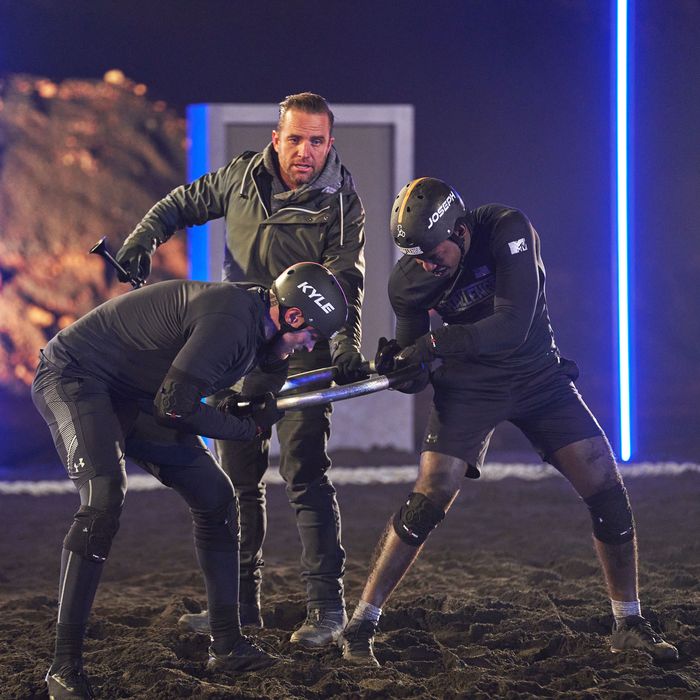 Photo: Tyler Richardson/MTV
This week's episode of The Challenge was quite the Christopher Nolan movie. I saw Inception for my birthday when I was 15, and I'm not sure I was nearly as perplexed following the narrative of that film as I was trying to keep up with everyone's respective plotting, bargaining, and backstabbing throughout this episode. Last week, I said that the producers were preparing us for some mess, but it's clear that this season will contain more cerebral, game-related mess than "people hooking up in bathrooms" mess. Even so, I found myself coming away from this rather dense episode with one very basic but urgent thought on my mind: Is Fessy … a himbo?
Last week's episode ended with TJ introducing a game-changing option to Natalie after winning her first elimination and receiving her gold skull. She could swap out her partner Wes for any other male competitor except Fessy, who was that week's winner, and including CT, whose partner Ashley got sent home. Natalie makes the mistake of keeping Wes. Lolo accurately points out in a confessional that the only reason she was nominated for elimination in the first place is "because of Wes." It's clear that Wes has a way of taking rookies under his wing and making them feel special, like the Challenge Daddy Warbucks. And yet his newly adopted orphans think he needs to feel that love from them in return, like he won't dispose of them at any moment if it means winning.
As for CT, he's now a rogue agent, which means he has to wait until the next elimination to get a new partner. For a second, I imagined TJ telling him he would have to go home to his beloved BAH-ston, and my heart sank. But nope! He's back in the house apologizing to Kam for dismissing her request to be partners, which is a wise choice on CT's part. Josh says he's worried that someone will steal Kam from him because she's such a hot commodity. In another room, Kyle jokingly warns CT not to steal Nany from him, and CT eagerly shakes his hand and says "deal!" Everyone laughs. We'll get to the Great Nany Paradox later in this episode.
The next day, everyone's hanging out in the dining room area, and Joseph is doing rapid crunches and other weird floor exercises all while wearing jeans. Big T is embarrassed. Leroy seems especially bothered by Joseph's tomfoolery. It's important to note that Joseph is a former America's Got Talent contestant. What his talent is and where he placed doesn't feel important or worth Googling. All I know is he has VERY strong theater/music department energy. And coming into a Challenge house with that kind of collegiate vibe from a show that's mostly watched by grandparents (no offense to grandparents!) and features people doing magic tricks with their pet chickens, the guy's got a lot to prove. But mostly to Leroy, who very sweetly calls him a "weak ass" at the end of this scene.
We see Nany talking to Nicole and Kam about the option to switch partners, and she really wants to dump Kyle all of a sudden?? She says he's more about the social game while she actually "likes to compete." Um, okay. Like I said, we'll get to the Nany Gonzalez of it all later on. In other house news, everyone thinks that Nam is really hot, which he is, but especially his partner Lolo, who admits she has a crush on him. Lolo, who's a self-declared celibate, makes a joke (or not) about needing to go get her Bible to resist temptation. We're at the end of the world, girl! Do whatever you want!
Now it's challenge time, and the way the contestants are notified in the house with sirens, blinking lights, and a "challenge activated" light on the wall feels like everyone's getting ready to play laser tag. This week's challenge is called "Ice Spy." The teams have to jump into freezing glacier water and swim to a boat that contains blocks of ice that they have to swim back to shore with. Inside the block of ice is a kill (a red cylinder). Once on land, the teams have to break their blocks of ice with Yukon Cornelius' ice pick and place their kill in another team's station, which contains three kill slots. Once all the slots are full, you're out. The last team standing, a.k.a. the team everyone's the most afraid of, wins. CT can't compete since he's a rogue agent.
Swimming in this water for more than three seconds seems excruciating, but everyone seems okay. At first. The swim doesn't seem too long, and almost everyone appears to be moving quickly. Once most of the competitors are back on land, multiple teams line up to put their kills in Wes and Natalie's stations, and they're the first ones out. No surprise here. Mechie's body cramps up while he's swimming and has to be looked at by the medics, so he and Liv are eliminated.
The kills seem to be evenly distributed throughout the game, except that Fessy and Aneesa have none in their station. Either Fessy and Aneesa are making deals with everyone, or people are scared of them. I think it's the former. At one point, the teams that are left just stand in front of their stations and pretend to look confused about what to do next. Kyle calls everyone pussies in a way that feels very British. Eventually, Fessy puts his last kill in Leroy and Kaycee's station despite Leroy's protests. "I'm trying to win," Fessy responds bluntly. Who can argue with that? And he does once again. Fessy and Aneesa are the double agents two weeks in a row, and everyone looks like they hate their guts!
Back at the house, Joseph tells some of the guys that he wants to volunteer for elimination and go against Wes to prove himself. We've seen this soooo many times throughout Challenge history, and it never goes well. But, boy, does it make for a good show. So, of course, no one is discouraging Joseph from making the dumbest decision ever. Meanwhile, Fessy tells Cory that he'll only volunteer for an elimination if it's purely physical. He also wants the house to vote for Wes, so he can throw in his ally Devin. Wes walks up to the guys begging for some form of alliance with Fessy. The breakneck speed at which Fessy has somehow become the king  of The Challenge after only one season is wild and also never happens to women. Speaking of women, where is Aneesa, you know, who also won?
Before the challengers head out to Club COVID, we get a brief moment of Fessy unbuttoning his shirt and dancing in front of the women. Theresa says this is the only display of Fessy's personality. Ouch. He's getting a rough edit this season, and I'm honestly living for it. Once we're at the club, Nany practically asks Fessy to be her partner instead of Kyle because allegedly she's more competitive than him, but she also needs a partner who will "motivate" and "push" her? Nany, why do you need someone to motivate you to win a million dollars in an economic crisis? Every season, we get the same spiel about how much you really want to win after only making it to one final your entire Challenge career, but do you actually want to win?? You spent all of last season cuddling with Kaycee when you should've been running on a treadmill and eating beef patties! Also, Kyle is, like, a much better competitor than you?
Ugh! Anyway, it's almost time to deliberate, and this is where I had to keep pausing and rewinding to understand everyone clearly. Kyle and Devin want the house to vote for Joseph, so Fessy AND Aneesa (they only mention Fessy) can throw Wes into the elimination, and he can beat Joseph. Big T will go to CT, who they apparently have on their side. Kyle plans to tell Fessy he's going to vote Wes because he thinks the votes are secret. Meanwhile, Big T is frustrated that Joseph wants to volunteer for an elimination. His decisions don't really affect her considering the eliminations are split between men and women, but she's still very stressed out for reasons I don't understand. Also, Big T will inevitably get sent into an elimination herself because no one takes her seriously. Joseph tells her during their little argument that she reminds him of his ex-girlfriend, which is a straight man's favorite slur.
Finally, we're at the deliberation, and Joseph kicks it off by saying he wants to go against Wes and send him back home to "tend to his money" because Wes is  allegedly wealthy. Wes smugly agrees (Darrell and Kam are not amused by this deeply inappropriate comment) and says he's fine with the house voting Joseph in so that Fessy can vote him in, and his only enemy moving forward would be Fessy. Then Joseph says that the house should actually vote in Wes instead of him so Wes doesn't have the advantage of knowing who he's going against. I can't tell if Joseph chickened out or if he just likes to hear himself talk. Either way, we find out that Joseph and Big T get the most votes (Nany, Kyle, CT,  Natalie, Josh, Devin, Amber M., Amber B., Nam and Darrell). He asked for it!
So we get to the Crater, and this is when I become fully concerned for Fessy. At the bottom of the arena, which Fessy has a full view of, we see a pit that's empty save for a metal ring on the ground and three short poles on each side. I'm not sure what Fessy believes this elimination entails other than some combination of wrestling and running, but he tells TJ that the setup looks "janky," and that he won't be volunteering. Does he think it's a tossing game? What does "janky" even mean in this context? Everyone knows that one stick or ring in the middle of the sand is a wrestling match, something he says multiple times in this episode! Whew. Anyway, Fessy and Aneesa vote for Kyle because he lied about voting for Wes, and Kyle looks like he's about to cry.
There's not much to say about this elimination other than that it is, indeed, just a wrestling match that ends with putting the ring on a pole. Kyle lives up to being a self-proclaimed workhorse by beating Joseph. Fessy looks like a fool. I got to say, the way everyone is cheering so aggressively for Joseph's loss, including Big T, feels like they kind of want him dead?? Anyway, Big T becomes CT's partner, which means the vets will probably dispose of her soon.
All in all, this episode was, um, a lot. I kind of want to go back to the days when an argument over a house prank took up half an episode.