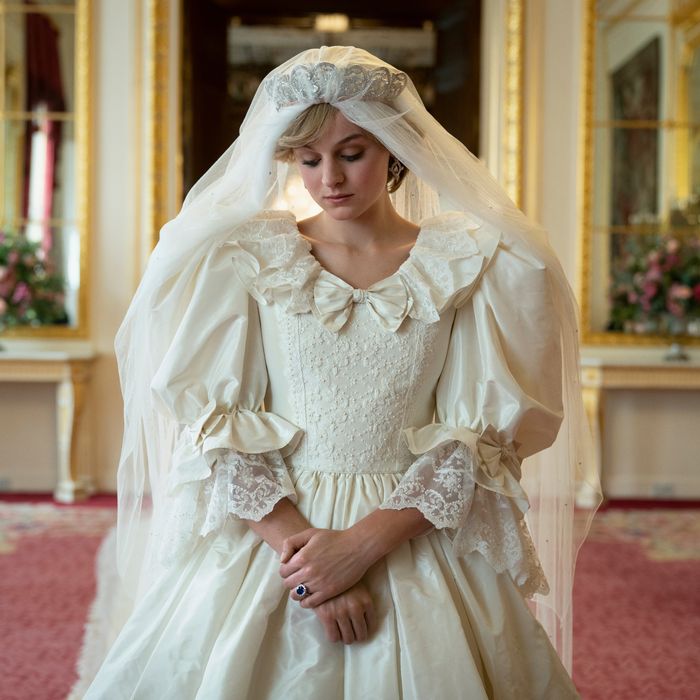 Photo: Des Willie/Netflix
When you think about how nightmarish an episode "Fairytale" is, the title is an apt description. After all, before Snow White and Cinderella were Disney-fied, they leaned closer to traditional horror stories than the instantly recognizable "Happily Ever After" formula.
This is a story that's been told multiple times already, via tell-all books, documentaries, and soapy TV movies — all of which had clear villains and victims. But in The Crown's version, everybody is just a victim. Victims of a system that destroys the individual for the sake of duty. This unbending way of life has been force-fed to these people for so long, that when a person whose life has been irrevocably damaged by these rules dares to speak out, her cries are met with silence.
Thanks to Princess Margaret, we already know royal life causes deep levels of despair, even for those born into it. But for the merely blue-blooded Lady Diana Spencer, the insurmountable pressure manifested in the self-destructive form of bulimia, which began shortly after her engagement to the Prince of Wales. The Crown, to its credit, doesn't shy away from portraying how the eating disorder slowly creeps up on the lonely bride.
Whatever celebratory mood there is in "Fairytale," it doesn't last beyond the cold open, because while the public saw the greatest royal romance of the 20th century, in reality, the bride and groom were practically strangers. The first several minutes brilliantly capture the abysmal chasm between Charles and Diana on that fateful day in February 1981, with Charles somberly telephoning the queen to inform her, "It's done," as if he had sacked a member of his staff, not proposed marriage. A besotted Diana, on the other hand, is off dancing the night away with her equally giddy girlfriends, while Stevie Nicks's unmistakable ode to youth, "Edge of Seventeen," provides the soundtrack.
From then on, a growing sense of dread consumes "Fairytale": Diana's arrival at Clarence House for dinner is a royal protocol trial by fire, and the princess-to-be finds herself woefully unprepared. Diana not only almost forgets to curtsy to the queen first, she then has to be directed by a stern Princess Anne in the greeting procedure. Charles, dickhead that he is, is GIGGLING THE WHOLE TIME. Diana hasn't spent one night in Buckingham Palace yet, and after an evening like this, it's no wonder this is when her mental health problems began.
The Crown then expertly recreates Charles and Diana's awkward engagement interview, allowing Emma Corrin a more visibly disappointed expression than the real Diana gave after Charles makes the infamous "whatever 'in love' means" comment. As soon as that formality is out of the way, maybe Charles and Diana can spend some quality time together?
LOLZ. The second the cameras are turned off, Charles bolts to his Gloucestershire estate, Highgrove, before heading out on a six-week tour of Australia. Not to worry, Di, Charles has a fabulous idea. He's asked his BFF, Camilla Parker Bowles, to look in on you: "She's the best company!" Even Diana's like, WTF, Chuck?
Life at Buckingham Palace is no Genovia, that's for sure. Diana's grandmother and longtime lady-in-waiting to the Queen Mother, Lady Fermoy, gives her granddaughter "princess lessons" that are a far cry from those Julie Andrews gave Anne Hathaway. (Can you imagine Queen Clarisse telling Mia Thermopolis, "I will work you hard, because you cannot be allowed to fail"?)
Diana entertains herself by roller skating through the palace halls — listening to "Girls on Film" on her Walkman, natch — and keeping up with her fan mail. But none of that adoration matters when your fiancé never gets in touch. One night, Diana finds herself staring down the rows of creamy desserts in the palace refrigerator, soon indulging in the comfort she is so desperately lacking — and retching it all back up.
If Diana didn't have doubts about her wedding by now, she certainly does after Camilla takes her to lunch and marks her territory as Charles's preferred gal pal. According to Diana: Her True Story — In Her Own Words, by Andrew Morton, this super-weird luncheon did happen, including Camilla's suspicious "Are you gonna live out in the country?" line of questioning. Camilla manages to be both super-friendly and catty at the same time (a tour de force performance by Emerald Fennell). She immediately lets on that she's Charles's wife behind closed doors, prattling on about the Prince of Wales' fussy eating habits and tendency to "surround himself with dreary old men and daddy substitutes." Then she drops the real bombshell, triggering Diana to shove large spoonfuls of food into her mouth: Charles and Camilla have pet names for each other, Fred and Gladys. But don't worry, Duch, Camilla says she's "all for sharing"!
Things only get worse for Diana once she finds out Charles not only came back from Australia a day early to bone Camilla, but he also designed a bracelet engraved with the initials F & G. Between Corrin's tear-filled demands to the queen's private secretary that the wedding be canceled, and her increasingly primal dancing, I started to feel my own chest tighten. To see this well-trodden story finally played out the way it most likely did, culminating in a complete mental breakdown, is both agonizing and, strangely enough, a relief.
By the time Charles returns to London for the wedding rehearsal, Diana has resigned herself to her fate. But you know who also isn't buying Charles's weak excuses about the bracelet and why he lied about his return date? Princess Margaret — because it takes a trained eye to notice a specific kind of misery in a couple. That night, Margaret valiantly attempts to stop the wedding, pointing out two basic facts that her sister and mother refuse to acknowledge: (1) Charles loves someone else. (2) The family is about to make the same matrimonial mistake for the umpteenth time.
Unfortunately, it's going to take a few more mistakes for the queen to wise up, because after hearing Margaret out, she instead gives Charles a pep talk straight out of the Edwardian era: She advises her son to be like his great-grandmother, Queen Mary, who married her dead fiancé's younger brother (the future King George V) out of duty, even though George V was more "Prince Charmless" than "Prince Charming."
Sigh. I know it's natural to lash out at the queen's archaic guidance when we're watching in the year 2020, but as heartbreaking as it is, Charles and Diana had to be the sacrificial lambs in order for there to even be a William and Kate — or a Harry and Meghan.
That's why The Crown doesn't recreate the July 29, 1981 wedding. To do so would defeat the message of "Fairytale." Charles and Diana weren't starting a new life together — they were just securing the future of the monarchy. Love and affection need not apply.
Crown Jewels
• For funsies, feel free to check out the 1982 suds-fest The Royal Romance of Charles and Diana. This now-nonsensical adaptation of the Charles and Diana courtship (tons of making out! Secret surprise dates in the streets of London!) stars anti-NXIVM crusader Catherine Oxenberg as Diana, Holland Taylor as Diana's mother, Frances Shand Kydd, and, in a crowning achievement of stunt casting, Olivia de Havilland as Queen Elizabeth, the Queen Mother.
• Maybe there's something to it? Both The Princess Diaries' Queen Clarisse and The Crown's Lady Fermoy believe in restraints to achieve proper royal posture.
• The starters-and-desserts restaurant where Camilla and Diana have their strained lunch, Ménage à Trois (!!!), was a real place.