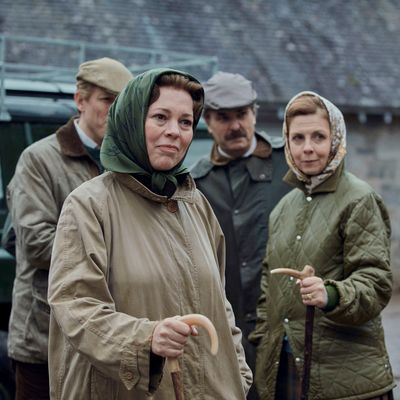 Photo: Sophie Mutevelian/Netflix
You want larger-than-life figures to look relatable? The Crown has you covered in "Favourites," because there is no greater equalizer than parenthood.
It's understandable that The Crown spends a considerable amount of time on the similarities between Queen Elizabeth and Margaret Thatcher this season. Both women, who are six months apart in age, adhere to a strong work ethic and sit in high-powered positions commonly held by men. But, as "The Balmoral Test" proved, they are like oil and water when it comes to anything else. Dovetailing off that theme, "Favourites" shows how, despite contrasting parenting styles, both the queen and Thatcher ended up with hot messes for children.
The storyline is set against two historical events from 1982: the disappearance of Thatcher's son, Mark, during a Paris-to-Dakar, Senegal, car race, and the start of the Falklands War. A bit of dramatic license is taken in this episode, which suggests some of Thatcher's questionable decisions concerning the Falklands were due to stress over her missing child — even though Mark Thatcher was both lost and found within the space of a week in January, and the troubles in the Falklands didn't begin until March.
During one of her weekly audiences with the queen, Thatcher inexplicably breaks down crying. But it's not because Her Majesty ripped her a new one for the high levels of unemployment and inflation sweeping the country: Thatcher's "favorite" child, Mark, is missing somewhere in the Sahara Desert. The queen leaves the meeting less concerned over the safety of Thatcher's son and more astonished that the prime minister puts the love of one child over another (though that could just be because Olivia Colman portrayed the unfavored Thatcher twin, Carol, in The Iron Lady). Even more shocking (to the queen, that is) is when Prince Philip says, without hesitation, that Princess Anne is his favorite. Elizabeth, insistent that she loves her children equally, is then challenged by her husband to figure out who her favorite child is. Prepare the dossiers!
Her youngest, 18-year-old Prince Edward (Angus Imrie!!!!), kicks things off by revealing he's become a narc at Gordonstoun to cope with being bullied. Thirty-two-year-old Anne confides in her mother that she's jealous of the young and glamorous Diana, and her only source of happiness is an affair with her bodyguard. Still unable to read the room at all, Elizabeth advises Anne with empty platitudes after her daughter says her emotions are spiraling out of control. Leave it to Anne to call the queen out on her inaction: "Is doing nothing your solution to everything?"
Well, yes, because Elizabeth was groomed to be queen, and she's succeeded in her role by remaining detached. All. The. Time. Apparently, she never got the memo that the job of sovereign and the job of mother require two very different approaches.
By comparison, "Favourites" also demonstrates what happens when a mother pays too much attention to her children, and how that can be just as damaging. As the search for her son continues, Thatcher projects her fear about Mark onto the Falklands situation. Against the advice of her foreign policy ministers, Thatcher prepares to go to war — even after Mark returns home safe.
We only need a single scene to understand how harmful Thatcher's favoritism has been. Mark (Freddie Fox) is an arrogant scumbag, while his twin sister, Carol (Rebecca Humphries), is a silent wallflower. Later in the episode, Carol confronts her mother about how often she's overlooked in favor of her rakish brother. But Thatcher is nothing if not an attentive mother, so she gives her daughter some straight talk: She prefers strong people. Mark is strong. Carol is not. Mark has potential. Carol is "limited," capable of little more than housewife-esque duties like serving dinner to her mother and her colleagues. Ouch.
As for the rest of the queen's children, Princes Charles and Andrew do absolutely nothing to reassure Elizabeth that she did a good job raising them, either. Now, even though the Duke of York has denied all allegations of sex with underage women and has not been charged with any crime, The Crown has no qualms about painting pedophile Jeffrey Epstein's future pal as an insufferable creep with some disturbingly prophetic viewpoints — and I am so here for it.
Twenty-two-year-old Andrew (Tom Byrne) is a brash Royal Navy man who doesn't think it's at all obnoxious to arrive at Windsor Castle for lunch in his helicopter. But what he really wants to talk to Mummy about is his girlfriend, American actress Koo Stark, and her film The Awakening of Emily. The queen listens in horror as her son animatedly discusses how Stark plays a "vulnerable, helpless" teenager who "meets several twisted and perverted older predators." (More dramatic license here; Andrew didn't start seeing Stark until after he returned from the Falklands.)
Then, in case you somehow needed more proof that Andrew is the most deplorable of the queen's children, The Crown implies that he harbored a wish to become king himself. So much so that he joked with his own mother about killing not just his brother Charles, but any sons Charles might have. Suddenly, Charles's verbal abuse toward Diana doesn't look so terrible anymore.
When the queen meets with 33-year-old Charles at Highgrove, it doesn't take long for her to grasp how bad things have gotten between her eldest son and his wife since they were married the year before. Over lunch, Charles whines to his mother about Diana's "intellectually incurious" personality, and how he needs Camilla Parker Bowles to "cheer him up." Did I mention that Diana also prefers to hide out in her bedroom watching escapist children's television rather than spend time with her fuddy-duddy husband and mother-in-law?
In a rare moment of support for Diana, the queen slams her pompous son for turning Highgrove "into the living embodiment of [his] soul," and gives him a single piece of advice: Get your head out of your ass and pay more attention to your heavily pregnant wife.
So, what has Elizabeth learned? (1) Her children are adrift. (2) None of them are her favorite. (3) Mom Guilt is real. But is she really to blame for their unhappiness? Not entirely. We have to remember that her job doesn't allow much time for bonding with the kids. Also, children of her generation and status weren't raised with a hands-on approach. However, from The Crown's perspective, some of the fault does lie with Elizabeth. When she admits to Philip that she feels like a failure as a parent, she reveals more about her difficulty with affection — something that was touched upon last season in "Aberfan." She wanted to be the one who bathed her children, but this intimate gesture between mother and child was ultimately carried out by nannies, with an aloof Elizabeth watching nearby.
In true Philip form, the Duke of Edinburgh says it's now up to their adult children to get their own lives straightened out. But it doesn't take a parenting expert to know that's a bunch of rubbish. If anything, I feel for Elizabeth when she makes her gloomy, prescient observations about Andrew: "If he doesn't change …" she laments to Philip, trailing off before her darkest thoughts get the better of her.
At least we can take comfort in the knowledge that Charles, Anne, and Edward do eventually find happiness, even if it takes a couple of decades.