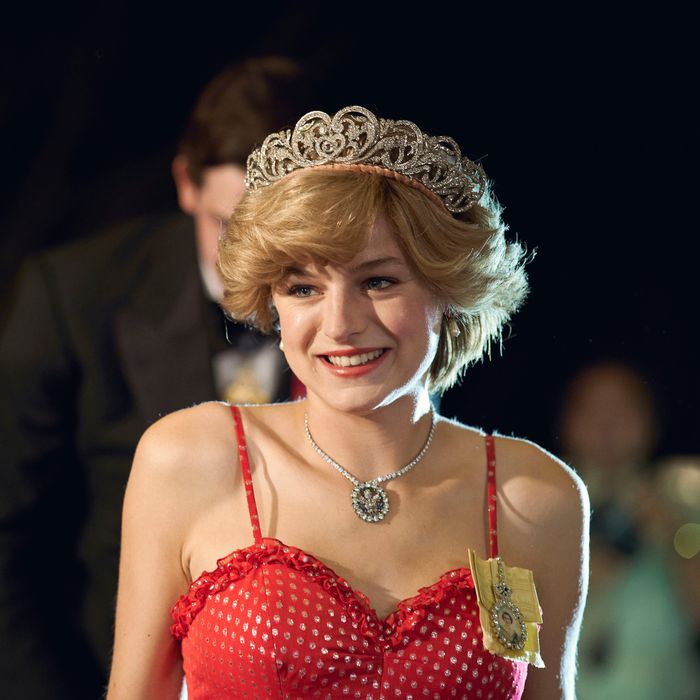 Photo: Des Willie/Netflix
It's not easy being a princess. Certainly not when you're a 21-year-old first-time mother. Certainly not when your husband co-hosts house parties with his mistress. Certainly not when you're a global superstar. Certainly not when you're battling a debilitating eating disorder. And certainly not when your in-laws ice you out for wanting a hug.
Two years into her marriage, Princess Diana is adored by the public, but at home in Kensington Palace, she's floundering. We've seen the buildup to this in "Fairytale" and "Favourites," but it hasn't been until this episode that The Crown could truly explore Diana's deep layers of anguish. Look, we know she got herself into this mess by being young, naive, and without proper guidance, but that doesn't mean she's completely to blame. "Terra Nullius" makes it quite clear how little effort Prince Charles has put into the marriage, and how the people who should've been offering support (like, um, the Queen?) give Diana the cold shoulder instead.
The episode takes place in early 1983, when the Prince and Princess of Wales traveled to Australia and New Zealand for six weeks. The title, "Terra Nullius," refers mainly to The Crown's contrived storyline involving newly elected Australian prime minister Bob Hawke (Richard Roxburgh). A republican, Hawke spends the episode hoping for a disastrous royal visit, which in turn would prompt the Australian people to leave the Commonwealth. But the one thing Hawke hadn't counted on was the effervescent princess. When the prime minister lets it slip that Diana, not Charles, is responsible for Australia's reaffirmed loyalty to the Crown, it's the final nail in the coffin for the Wales marriage.
At the start of "Terra Nullius," the wretchedness of Diana's existence is firmly established via royal lunchtime gossip. The Queen, Princess Margaret, Princess Anne, and the Queen Mother (Marion Bailey) sit in judgment of both Diana's bulimia and her controversial decision to take the infant Prince William on the trip. But when the Queen laughably tries to normalize long-term abandonment of young kids, like when she and Prince Philip left Charles and Anne behind for five months when they went to Australia in 1954, Margaret, keeping up with her new role as voice of reason, delivers this sick burn: "And do you suppose that might have had consequences?"
Like it or not, Windsors, Diana is a fully hands-on mother, and she's not going to bend on that. Ever. The Crown illustrates this superbly when Diana asserts her position as William's mother to Charles' private secretary, and the camera stays on a pained Charles, who probably wishes his own mother had exhibited some semblance of this mama bear mentality when he was a child. Diana is not having it when she finds out the baby is being dumped at a sheep station for the first two weeks of the tour (which did happen), and makes it known that William is her priority, not her husband.
The first few days of the tour – with Spain doubling for both Australia and New Zealand – suggest that Hawke might just get his wish after all. A jet-lagged Diana comes off like a dolt during her first press conference with Charles. Then, when they climb Ayers Rock, the extreme heat and the effects of her bulimia get the better of her. Instead of encouraging his wife to rest, an annoyed Charles demands she get with the program. He's also calling Camilla on a daily basis to complain about his unstable wife.
The turning point comes when Diana brings the tour to a screeching halt, insisting upon an emergency visit with William. Amid the peace and quiet of their gorgeous, Thorn Birds-esque setting, she and Charles have a long-overdue heart-to-heart. The bulimia, Camilla, the lack of common interests, the fact that they're both fragile messes, Charles being a square peg and Diana being a round hole – it all comes pouring out. If this had been any other couple, this scene probably would've concluded with a decision to separate. Instead, the prince and princess foolishly stick a Band-Aid on the gaping wound that is their marriage.
For a few fleeting moments, it feels like Charles and Diana have worked through their differences. A romantic spin around the dance floor to "Can't Take My Eyes Off You" has them not just glowing, but actually wanting to sleep in the same bedroom. Plus, Charles is refusing to return Camilla's calls! The besotted couple is on top of the world – that is, until Diana gives an interview where she presents herself not as royalty, but a wife and mother. Suddenly, the Australian public is clamoring to see the charming, relatable Diana on her walkabouts. The dry and drab Charles, not so much. And Diana can't deny she likes the attention.
As spectators bemoan Diana's absence at Charles' polo match, and a news report sings his wife's praises as an approachable royal, Charles feels like his thunder has been stolen. Soon afterward, he's making snide jokes about Diana during a black-tie dinner and sleeping in a separate bedroom again; punishing her for the crime of being herself. And by the time the couple arrives in New Zealand, Diana's dangerous binge-and-purge habits have resumed.
Faced with an untenable situation, Diana makes an appointment to see the Queen once she's returned to London. From Diana's point of view, the meeting was a catastrophe: The Queen dismisses her daughter-in-law's marital difficulties like, "Hey, you can't possibly be unhappy! Look at how many newspapers and magazines put you on their cover!" Her Majesty is also not in the mood to hear about how awful her son is, because she's already spent enough time licking her shitty-parenting wounds. Instead, she coolly suggests that Diana keep her ego in check.
Diana counters her mother-in-law's comment with a level of self-confidence that throws the Queen for a loop. She tells her, in essence, "You're damn right I'm loving my superstardom, because it's not like you lot have welcomed me with open arms."
But when I say this meeting wasn't a total catastrophe, it's in the sense that the Queen did acknowledge her mistakes. Eventually. By the time Kate Middleton and Meghan Markle came along, Her Majesty was much more willing to teach her grandsons' brides the ropes. Sadly, Diana had to walk so the Duchesses of Cambridge and Sussex could run. When Elizabeth curtly ends their meeting, Diana, through tears, throws her arms around the Queen and begs her not to push her away. I don't doubt she's in dire need of therapy, but the upside of this protocol breach is it's spurred Elizabeth to rethink how the royal family treats outsiders.
Over dinner with her mother, sister and daughter, Elizabeth raises the possibility that Diana has a point: "We are rather a tough bunch in this family. We don't give out much praise or love or thanks." She then floats the idea of making Diana the liaison between the Windsors and the modern world, rationalizing it's how the Crown can stay relevant.
Aaand then the Queen Mother opens her mouth, predictably quashing her daughter's treacherously progressive thoughts. Putting her traditionalist foot down, the Queen Mother calls Diana "an immature little girl," who, in time, will bend to the family's will. Margaret, on the other hand, predicts a far more foreboding outcome. Instead of bending, "she will break." That is, if she hasn't already.
I know that I can't expect any of the royals to shut down someone as eminent as the Queen Mother. But, at the same time, the woman is 83, and a relic of another era. The more Elizabeth continues to listen to her mother, the more the monarchy will go backward, not forward. At least we know from history that major changes to the royal family's long-standing customs are possible, they just take several generations to happen. Yes, there is still a lot of work to be done, but remember, there never would've been a Meghan if there hadn't been a Diana.