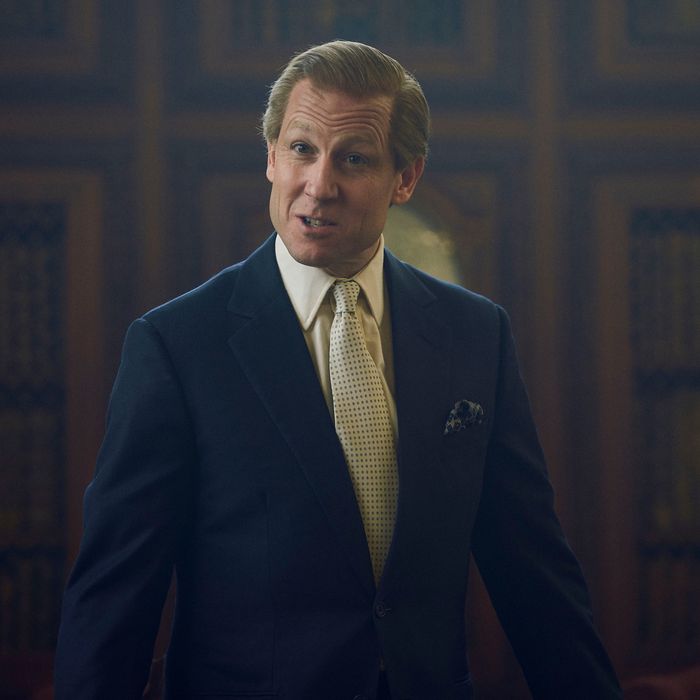 Photo: Des Willie/Netflix
It's been a minute since The Crown has checked in on the tumultuous Wales marriage, and needless to say, things have seriously deteriorated in the years following Prince Charles and Princess Diana's Australia/New Zealand tour. We know they managed to procreate one more time, resulting in the birth of Prince Harry, but that joyous day in September 1984 was also marred by the fact that, according to Diana: Her True Story – In Her Own Words, by Andrew Morton (and Princess Anne in this episode), it marked the end of their relationship.
When we first catch up with the unhappy couple in the cold open for "Avalanche," they're attending a 37th birthday gala for Charles at the Royal Opera House, placing the events back in 1985. Shortly after Diana excuses herself, she shocks the audience by joining dancer Wayne Sleep onstage for a duet to Billy Joe-EL's "Uptown Girl." (Sadly, no video exists of this performance, but there are photos.) While everyone goes wild for Princess Pop Star, the priggish Charles ineptly tries to hide his embarrassment. In the car ride back to Kensington Palace, Charles angrily throws his wife's birthday gift back in her face, accusing her of using her celebrity to her advantage. (The Morton book does confirm that Charles disapproved of Diana's surprise performance.)
Up until now, Charles' behavior toward Diana has been more apathetic than cruel. But spending several years stuck with someone he doesn't love has now made the guy rather bitter. Diana, too, has been hardened, but somehow remains optimistic, continuing to believe these cutesy spectacles won't ultimately end in grief. Don't get me wrong, I love that she took the stage, considering how few outlets she had to express herself. It's just a shame she wasn't able to lower her expectations.
The episode then jumps to March 10, 1988. Charles, while skiing in the Swiss Alps, is caught in a fatal avalanche that kills one of his friends. As soon as Martin Charteris confirms to the Queen that her son survived, he brings up a more delicate topic: With Charles and Diana landing on the front pages again, Elizabeth should brace herself for more speculation about their relationship.
Having turned her back to the truth so long, the Queen visits the one person who will not only be honest, but do so without any sugarcoating: Princess Anne. Watching this fantastic scene between Olivia Colman and Erin Doherty, I turned into this overused GIF every time Anne opened her mouth. The way she plainly describes how bad things have gotten between Charles and Diana, it really had me thinking, "Lillibet is gonna get it now, right?
I mean, what else is there to explain? Charles was already in love with a married Camilla when Diana came along. End of story. The age difference, the lack of common interests, the mutual infidelity – those factors certainly didn't help, but the Wales marriage has failed because Charles and Diana were never on the same page to begin with.
The Queen summons the Prince and Princess of Wales for a meeting, and this time, Charles is going in with a solid plan: His near-death experience on the ski slopes has convinced him it's time to marry Camilla. Armed with several pages of notes, he arrives to the meeting raring to go. Elizabeth begins the proceedings by telling her son and daughter-in-law for the umpteenth time that the marriage of the future monarch "cannot be allowed to fail."
However, she also can't ignore the past seven years, so she puts the onus on Charles and Diana, asking outright if they no longer want their marriage to work. Just as Charles pulls out his handwritten notes, Diana seizes the only power she has left, and insists she does want to make amends. If there's one thing she has learned in her seven years as a royal, it's how to play the room to her advantage. She confesses to cheating on Charles because she didn't realize how much she loved him until he was almost killed, and takes full responsibility for all the pain she's inflicted on her husband.
Forget dancing to "Uptown Girl," this is her royal command performance. Diana's act of self-flagellation in front of her in-laws has destroyed any hope Charles had of escaping this farce of a marriage. But the saddest takeaway of this scene isn't that Charles was precluded from speaking, it's that Diana still thinks there's hope for reconciliation.
That night, Charles seeks solace from Camilla, but even she's freaked out by his new plan to play dirty: Having his protection officers tell him if Diana is messing around again – because now he's out for revenge.
It is absolutely agonizing to watch Diana enthusiastically inform her therapist (per the Morton book, she did start therapy around this time) that she's ended things with lover Major James Hewitt (Daniel Donskoy), and how much better she feels now that she's putting her marriage first. She doesn't seem to understand that barring Hewitt from Kensington Palace and inserting herself into a Phantom of the Opera performance doesn't make an ounce of difference if your husband is attempting a getaway with his mistress on your anniversary.
Diana assumed that by removing the public element of her performances, Charles would suddenly fall madly in love with her the second she showed off her inner Christine Daaé. For their seventh wedding anniversary, she presents Charles with a VHS tape featuring her, in full costume, standing on the West End Phantom stage, singing "All I Ask of You." A completely private performance, for her husband's eyes only. And because it's private, The Crown gets around the veracity of this scene – there is no documentation that Diana ever went to the West End to re-create this Phantom ballad, or that she was a singer.
Charles hated it.
But who would've thought that he'd end up The Crown's romantic hero? Undeterred by Diana's delusions about their relationship and his sister's Debbie Downer advice to leave the Parker Bowles marriage alone, Charles goes to Camilla to ask her to promise him that they will have a future together. Ironically, without the use of an orchestra or flowery lyrics, he's the one playing out the "All I Ask of You" scene from Phantom.
Camilla's sensible response about what they want and what they can do being two different things is really the only answer she can give him. In 1988, the concept of Charles divorcing Diana, marrying Camilla (who would herself be divorced), and still becoming king was an impossible dream. But for the hottest of hot minutes, Camilla allows the fantasy to overtake her, giving her word that in the event of a miracle, she would divorce her husband and become Charles' wife.
Camilla's declaration of love is like a drug for Charles, prompting another dark period in his marriage: He starts ignoring Diana's calls, leading to a return of the princess' depression. Soon enough, she's immersing herself in manic dance lessons and solo public appearances, where even loud, cheering crowds can't drown out her sorrows. Unable to cope with such oppressive loneliness, Diana rekindles her affair with James Hewitt – and my G-d, what took her so long?
If there was ever an episode that, to quote Diana, makes me "properly loathe" the royal family (and, oh, there are many), it's "Avalanche." The rules, the protocol, the demands of duty over the individual – they're obliterating the soul of a woman who keeps looking for love in all the wrong places.
Crown Jewels
• "Because if memory serves, you had your own ballerinas for that." 1. BURN! 2. Good on Elizabeth for never letting Philip forget his alleged indiscretions.
• Charles has been sleeping with Camilla for almost 20 years, and she still has to call him "sir"? Ew, Charles!