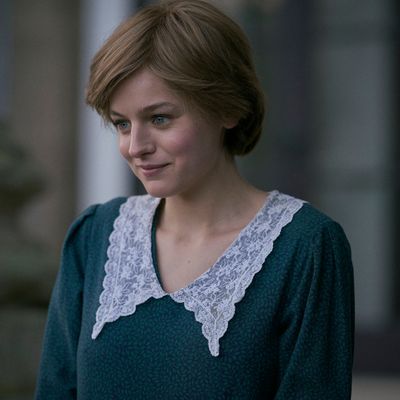 Photo: Des Willie/Netflix
The cold open of The Crown's fourth-season premiere is a fitting one for 2020, because it's resoundingly bleak. Sure, on the surface, the first eight minutes of the episode tease us with sumptuous pageantry and a romantic Meet Cute, but it almost doesn't need that glaringly ominous warning from a faceless Irish Republican Army member to set the depressing tone. No, the royal family does an excellent job of that on its own, remaining blissfully ignorant of the Troubles while concentrating efforts on getting the hovering-at-30 Prince Charles (Josh O'Connor, continuing to make sexy-bashful a thing) married. Never mind he's still pining away for Camilla Parker Bowles.
This season of The Crown, even more so than the previous ones, is all about the repercussions of the repressive system that powers the royal family. Queen Elizabeth II (the always-exquisite Olivia Colman), remains steadfast as the head of state and of the Windsor family, but also demonstrates that she's learned very little when it comes to matters of the heart. Through the queen's children, we're starting to see the real cracks in the façade — as many of us who are of a certain age did when these royal family dramas played out in real time.
Since it shouldn't come as a surprise to anyone that this season places the most disastrous royal marriage in history at the forefront, I'd like to think we as Crown fans are steeled for the drama before us. But then again, production on this season wrapped before COVID-19 turned the world into a dumpster fire, so I can't be too angry at that ridiculous Midsummer Night's Dream–meets–Baz Luhrmann's Romeo + Juliet first meeting between Charles and a 16-year-old Lady Diana Spencer (Emma Corrin).
Fact-checking side note: While the majority of "Gold Stick" takes place in 1979, the cold open seems to be set in 1977, in order to get the Charles/Diana meeting out of the way. According to Andrew Morton's book, Diana: Her True Story — In Her Own Words, the Prince of Wales met his future wife while he was dating Diana's older sister, Sarah — which is depicted in the episode — in late 1977. But it was during a shooting party at the Spencer family estate, and Diana was decked out in boring old hunting attire, rather than a whimsical woodland costume.
The first post-credits scene in "Gold Stick" wastes no time in introducing the other pivotal female character of the season, Margaret Thatcher (Gillian Anderson, doing a better Iron Lady than, gasp! Meryl). It's now the May 1979 general election, and the imperious Conservative Party leader has become the first woman to serve as the United Kingdom's prime minister. Although Elizabeth is initially excited to work with Thatcher, the ever-reliably chauvinistic Prince Philip (Tobias Menzies) throws a large bucket of cold water on his wife's feminist spark.
"That's the last thing this country needs — two women running the show," he sniffs, before dismissing Thatcher as a "shopkeeper's daughter" with a "self-opinionated attitude."
Elizabeth is all, "Pot calling the kettle black, much, Phil?"
Thing is, as you'll undoubtedly see this season (or if you've read any books on British history), he's not wrong in his assessment of the new prime minister, especially when he mentions that her approach could prove "dangerous." After Thatcher arrives at Buckingham Palace to kiss hands with the queen, she solidifies her unlikability not just with the sovereign, but the entire Crown audience by stating her overall contempt for the members of her gender. She informs the queen that she has "found women in general not to be suited to high office," before delivering what may be the most groan-worthy reference of the season: "They become too emotional."
(I am in no way saying I'm a Thatcher fan here, but what I wouldn't give to see her put Donald Trump in his place.)
"Gold Stick" then jumps ahead a few months to the major historical event that would rock the royal family — and, as The Crown tells it, guilt Charles into doing his princely duty as heir to the throne once and for all. The Windsors are summering at Balmoral Castle, where Princess Anne (Erin Doherty, expertly breathing three dimensions into someone who was relegated to the back rows early on) isn't even bothering to conceal her tattered marriage to first husband Captain Mark Phillips; meanwhile, Charles is off salmon fishing in Iceland. Lord Louis Mountbatten, a.k.a. "Uncle Dickie" (Charles Dance), himself on holiday in County Sligo, Ireland, phones his grandnephew to catch up, but quickly shifts to shaming Charles once he gets wind of the prince's continued adultery with Camilla. Dickie, however, doesn't have a leg to stand on with that argument, with Charles calling his great-uncle out on his hypocrisy. (Dickie and his wife, Edwina, had a famously open marriage.)
Following their heated phone call, Dickie writes a note to Charles before heading out on a leisurely boat ride that would prove fatal. On August 27, 1979, Lord Mountbatten and two others were killed off the coast of Ireland by an IRA-planted bomb. But The Crown doesn't care that you probably already Googled this event and read up on the details. Dickie's assassination is ideal for a tension-filled montage leading up to the harrowing explosion, where melancholy music accompanies a nondescript car driving through winding roads, Charles fishing quietly, and Anne and Elizabeth stalking deer. Philip's game shooting periodically makes the audience jump as it punctuates the eerie silence.
Funny thing about death, though: It doesn't necessarily stop a person from controlling the marionette strings. As Charles flies back to Britain for Dickie's funeral, he's presented with his great-uncle's Chekhovian note, in which Lord Mountbatten chastises the Prince of Wales for falling short of his royal expectations. He then twists the knife further by suggesting Charles is on a fast track to repeating the 1936 abdication crisis if he continues sleeping with Camilla. In short, it is now Charles's obligation to find a "sweet and well-tempered girl, with no past."
Forty years later, knowing the tragic outcome of this atrocious advice, it's hard not to scream at the screen the way Charles did at the River Hofsá upon learning of Dickie's death.
But Charles's anguish is only just beginning: He's also got to deal with Philip's raging jealousy over Lord Mountbatten's funeral wishes, which include having the higher-ranking Charles give the reading (which he did, IRL), instead of the man who loved Dickie like a father. Let me put it this way: anytime Tobias Menzies has to do a dark, fire-lit scene, you know a masterclass in terrifying audiences isn't far behind.
Shortly after Dickie's funeral, Charles is undeniably depressed, which makes it easy for him to fall hook, line, and sinker for an 18-year-old Diana during their country-fair chance meeting. Her comforting, sympathetic nature is everything he's been missing from his own family — so he calls Diana's sister Sarah (now engaged to someone else) to do some vetting.
Sarah's snide appraisal of her younger sibling may have set off huge alarm bells for anyone living in 2020, but in 1979 Britain, Diana had "future queen" written all over her. Despite her childhood nickname "Duch" (short for "Duchess"), Lady Diana Spencer wasn't exactly the ambitious type. Her London-based career consists of working as her sister's cleaning lady and helping out at a kindergarten. From where Charles stands, a virginal earl's daughter with limited professional aspirations checks all the boxes befitting a Princess of Wales.
When Charles arrives at Althorp, the Spencer family's estate, at the end of the episode, it's almost a shot-for-shot remake of an earlier scene. The only difference is Diana has replaced Sarah as the giddy, curtsying object of his desire. Since we already know how this story ends, it's hard to be taken in by Diana's girlish excitement. She's the damsel in distress, all right — except I wish someone could tell her the handsome prince has no intention of coming to her rescue.
Crown Jewels
• Creative license alert: In real life, Martin Charteris (Charles Edwards), retired in 1977. However, The Crown keeps the loyal Charteris character on as the queen's private secretary for the whole of the fourth season.
• The episode title "Gold Stick" comes from one of Lord Mountbatten's numerous honorary positions: Colonel of the Life Guards and Gold Stick in Waiting; a fancy title for ceremonial bodyguard to the queen.
• Who else thinks The Crown has usurped Emily in Paris as the ultimate in international travel FOMO? An even more impressive achievement considering Scotland also doubles for Ireland and Iceland in this episode.