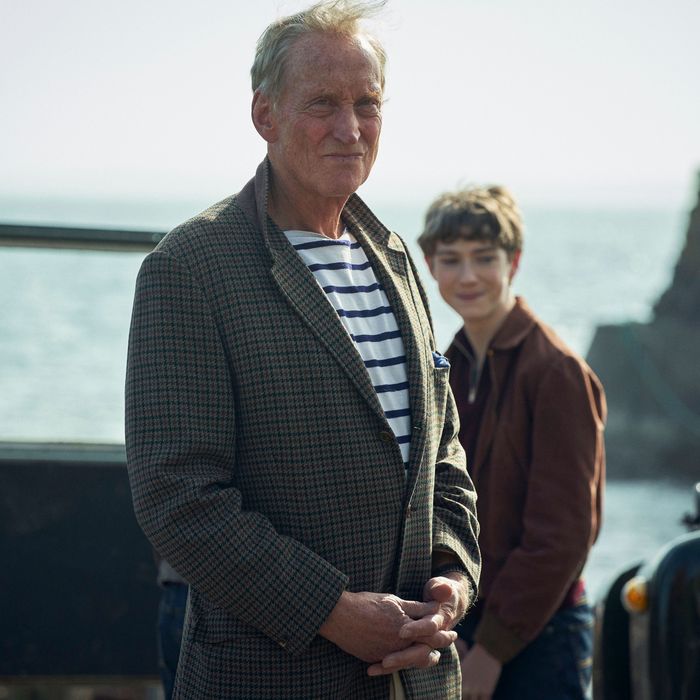 They got 18 and Mountbatten.
Photo: Des Willie/Netflix
The new fourth season of The Crown answers my singular and oft-repeated complaint about last season: "When is something, anything going to happen?," I asked my television screen episode after episode. (Of course, I could have stopped watching, but I wasn't that bored.) In season four, so much happens. We get episode after episode of deliciously detailed historical vignettes of lesser-known moments in royal history. (And some better known ones, too, obviously.) While watching, I found myself pausing during several episodes to read up on the events unfolding, so allow me to save you some searching and provide some already aggregated answers. This list is by no means exhaustive, but it is in chronological order!
Whoa, did the IRA really murder Lord Mountbatten? (Episode 1, "Gold Stick") 
Yes, the Irish Republican Army murdered the Queen's cousin, Lord Mountbatten, by rigging a bomb to his boat. Mountbatten was on vacation at a family castle in Classiebawn and was cruising off the Irish coast on August 27, 1979, when the bombing occurred. Other fatalities included Mountbatten's son-in-law's mother, Dowager Lady Brabourne, and two teenagers: one of his twin grandsons, Nicholas Knatchbull, and Paul Maxwell, a local boy who was working on the boat that day. Nicholas's brother, Timmy, and his parents, Patricia and John Brabourne, were both injured in the bombing but lived.
"It was a God almighty explosion and I knew from the direction of the explosion that that would be where the boat was — they took the same boat trip each day," Maxwell's father told BBC about the day. "I thought it must be the boat. I rushed out, got into the car and drove where I thought the boat would have been. I stopped and looked over the cliff edge, but all I could see were bits of wood floating out from the centrepiece, the remains of the boat. I knew that nobody could have survived that."
Who are the other 18 people in the "we got 18 and Mountbatten" chant? Also what's "Bloody Sunday?" (Episode 1, "Gold Stick") 
The IRA also claimed responsibility for another attack on August 27, 1979. Known as the Warrenpoint massacre, the IRA detonated two bombs on a British army convoy in Northern Ireland. Eighteen were killed. "Graffiti referencing Bloody Sunday later appeared in Belfast saying: "13 dead but not forgotten — we got 18 and Mountbatten," BBC reports. Seven years earlier, 13 unarmed people protesting British internment of suspected Irish nationalists were killed by the British Army in Londonderry, Northern Ireland, on January 30, 1972, a day of violence that became known as "Bloody Sunday."
Does Prince Charles actually not eat lunch? (Episode 1, "Gold Stick") 
Uhhhh, maybe. At least not while he's traveling on royal tours if one palace insider is to be believed.
Did Margaret Thatcher really fire her entire cabinet? (Episode 2, "The Balmoral Test")
In 1981, well into her first term as prime minister, Thatcher fired three members of her cabinet as part of what was described at the time as a "reshuffling." She also, the Washington Post reports, transferred a fourth member to Northern Ireland.
Was that line from Prince Charles about "whatever in love means" something he actually said? (Episode 3, "Fairytale")
Yes. And you can watch him say it.
What's the deal with Margaret Thatcher's son and this car race thing? (Episode 4, "Favourites")
Mark Thatcher did in fact go missing during the Paris-Dakar rally in 1982. Thatcher got into car racing after entering the Le Mans 24 Hours, the world's oldest still-running endurance car race, in 1980. After competing there, he was asked if he might like to race in the Paris-Dakar, two years later. (Vice points out that in another interview, Thatcher claimed to have been asked about the event only four months out. Which is perhaps a good way to give you a sense of who you're dealing with here.) Thatcher agreed, and according Thatcher himself , promptly forgot about the race for a year and a half. Which is not a great way to prepare for a rigorous multi-day event that requires driving from France to Senegal in extreme conditions across rugged terrain. (People regularly die competing in this race and the course has claimed lives as recently as this year.)
"The biggest story of 1982 was the Falklands war," Thatcher later wrote in The Guardian. "The second biggest also involved my mother … and me. On January 9, I got stranded in the heart of the world's biggest desert while competing in the Paris-Dakar rally." Thatcher said the competitors who saw him and his broken down car — he was with two other people — mistakenly reported their location to race organizers, saying they were 25 miles in the wrong direction from the last place they'd been spotted. A distressed prime minister eventually called up the Algerian government and a military rescue operation ultimately found Thatcher and his crewmates after six days in the desert. Thatcher, it was eventually revealed, paid for the search efforts herself. Her son would later write he was never actually worried for his life and spent the days rereading a book he had on hand multiple times through.
He sounds like a, well, um, let's say … character? 
Just wait until you hear about the failed coup he helped stage in Equatorial Guinea in 2004.
A person just snuck into Buckingham Palace undetected? And talked to the Queen from her bed? Whaaaaaat? (Episode 5, "Fagan")
Yes — well, mostly yes. On July 9 1982, Michael Fagan, a 34-year-old unemployed painter and decorator, broke into Buckingham Palace by climbing up a drain pipe and entered the Queen's bedroom at 7:15 in the morning. (Fun fact: He was reportedly barefoot by the time he reached Her Majesty.) "I was scareder than I'd ever been in my life," Fagan told The Independent years later, widening his eyes theatrically as he recalls the moment he pulled back the curtains to see the Queen staring up at him. (He also described the Queen's pajamas as a knee-length nightgown in a "Liberty print.") The Queen pressed an alarm to signal for help, but the police guard usually stationed outside her door was already away from his post for the day. Fagan was carrying a shard of a glass ashtray he'd broken, which, according to some accounts, he intended to use to injure the Queen.
Fagan has said the Queen was terrified, but reports at the time and since have praised her calm in the face of danger. "In the official report it says while waiting for the police to arrive Her Majesty managed to attract the attention of the maid, and together they ushered Fagan into a nearby pantry on the pretext of supplying him with a cigarette," The Independent reports. "They were joined by a footman before the police arrived" Fagan also claims the footman, Paul Whybrew, offered him a glass of whiskey.
And he did this twice? 
Reportedly, yes. Fagan claimed before his unscheduled audience with the Queen he broke into the palace and left undetected. Specifically, he claimed that he entered Prince Charles's room and drank some wine, as well as wandering into a room full of presents for Princess Diana's soon-to-be born baby and sitting on the Queen's throne. "I found rooms saying 'Diana's room,' 'Charles's room;' they all had names on them," Fagan told The Independent. "But I couldn't find a door which said 'WC,' All I found were some bins with 'corgi food' written on them. I was breaking my neck to go to the toilet. What do I do? Pee on the carpet? So I had to pee on the corgi food."
And he wasn't punished?
Nope, the laws have since been changed, but back then trespassing wasn't considered a criminal offense. Fagan was charged for stealing wine, which he described "cheap" and "Californian," but the theft charges were ultimately dropped. Fagan, however, did spend a brief stint — a few months — at Park Lane psychiatric hospital in Liverpool for "unrelated offenses of taking a car and assault." Fagan revealed the car theft during his police investigation, according to The Sun.
Did Princess Margaret really discover her family had faked the deaths of two of her cousins because of their disabilities? (Episode 7, "The Hereditary Principle")
Yes and no/maybe. The cousins did exist. Katherine and Nerissa Bowes-Lyon were daughters of John Herbert Bowes-Lyon and his wife, Fenella. Herbert was the queen mother's brother, which made Katherine and Nerissa Elizabeth and Margaret's cousins. After their father died, they were institutionalized at Royal Earlswood Hospital in 1941, as were three of their cousins, Idonea, Etheldreda and Rosemary, all on the same day. (These were Fenella's sister Harriet's children. All five of them reportedly suffered from the same intellectual disability reportedly passed down from their maternal grandfather.) Formal records of the royal family marked Nerissa and Katherine as dead in 1940. Nerissa lived the rest of her life at the hospital until she died at age 66 in 1986. News of the royal cousins' existence did not break until 1987, after her death.
Katherine, The Independent reports, was later transferred to a different establishment in 1977 when Royal Earlswood closed amid abuse allegations. (She died in 2014.) "A spokesman at Buckingham Palace said earlier that the queen was aware of the confinement of cousins Katherine and Nerissa Bowes-Lyon but that it was "a matter for the immediate (Bowes-Lyon) family," the L.A. Times reported at the time. There are no reports of Princess Margaret uncovering their existence and calling out her mother for the family's cruel treatment of the women.
Uhhhh, avalanche? Prince Charles? (Episode 9, "Avalanche")
While skiing in March of 1988 on Mt. Gotschnagrat in Switzerland, Prince Charles was swept away in an avalanche. He survived, but Hugh Lindsay, a former aide to the Queen, died, and another skier in their group, Patricia Palmer-Tomkinson, injured her leg. A criminal inquiry was later dropped, after an investigation found that he was not personally at fault for causing the slide. "However, the Grisons canton prosecutor's office said the entire party of six skiers, including the prince, did collectively cause the avalanche above the Klosters resort," the LA Times reported.