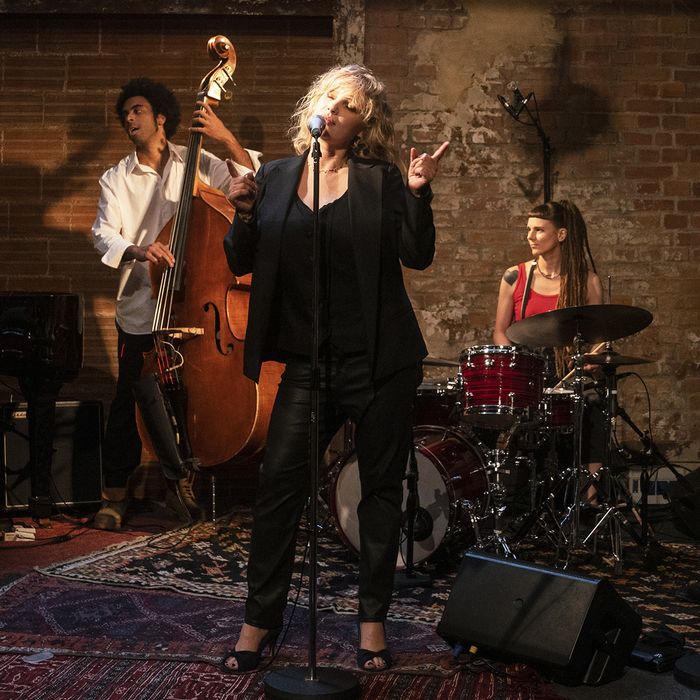 The Eddy performing in
The Eddy.
Photo: Lou Faulon/Netflix
The opening moments of The Eddy waste no time in letting viewers know where they are and what the place is all about. Using an unbroken, handheld shot, director Damien Chazelle follows a server at the eponymous jazz club from a back-room ice machine to the main floor, where the band, also named the Eddy, is performing a poppy jazz number. The camera moves from the trumpeter and the saxophonist, to the rhythm section, to the pianist and lingers on the charismatic singer, Maja (Joanna Kulig), on both the way there and the way back. The band sounds great, but when the shot arrives at the co-owner of the club and the band's mastermind, Elliot (André Holland), his face makes one thing clear: It's not good enough. The Eddy is a place where only the best will do.
Yet this club didn't start out as a vividly realized TV setting that was only later filled with music. In fact, nothing about the series' genesis proceeded along traditional lines. The Eddy began as a dream of a 21st-century jazz club. From that dream came a suite of songs. From those songs came a band formed to play them. Only then, over the course of several years, did the project evolve into a TV series filled with characters whose lives revolve around a bustling, diverse, far-from-the-tourist-sites Parisian musical oasis. And it all began over a decade ago.
"I wrote the first songs for The Eddy in 2008," Glen Ballard says by phone from Paris. "I had this fantasy about having a jazz band in Paris in the current day [and] writing a bunch of new songs for it." To Ballard, the city always shaped the music, but not the Paris of faded postcards and French New Wave movies. "It started simply [with] my love of jazz and Paris," the songwriter continues, "but also recognizing that Paris is a different place than most of our fantasies are. I'm so enamored by the reality of real-time Paris that, for me, my mission was to create this mythical club someplace on the outskirts of Paris — someplace where you have this multicultural kind of foment happening — but jazz still becomes a place where, if you're a musician and you're good enough, you can be an individual."
Reflecting that creative tension, the music keeps one foot in the tradition of the Great American Songbook and the other in the swirl of diverse elements of contemporary France. For Ballard, simply paying tribute to the past wasn't an option. "It was always an homage to what jazz used to be, but in no way could this show be a look back at what jazz was. For me, that was like death because I think that's where jazz is going wrong," Ballard says. "All the songs are brand-new. There's a lot of young people in the band. It was about demonstrating what jazz could mean in this moment."
Ballard kept writing over the next few years, working with the trumpeter Christian Scott aTunde Adjuah (who left the project due to other commitments) and the pianist and frequent Ballard collaborator Randy Kerber, a writing partner who became part of the Eddy Band's first incarnation. "It just went like wildfire," Kerber recalls. "Our writing process was very streamlined, and we got a lot of work done in a very short amount of time. I mean, we found ourselves writing a song in two or three hours! Glen is so prolific as a lyricist also. It was just … I start playing, he starts writing on a pad of paper or a computer keyboard, and — boom — we have a song."
By 2013, Ballard had around 50 songs banked when he met with veteran producer Alan Poul, who would serve as one of the series' executive producers and direct two of its eight episodes. What he didn't have was a story to go with the songs. "The only story was, It's probably an American. He's probably African-American, he's in Paris, and he's trying to reengineer what jazz could be, but he's a little bit lost. That's all I had," Ballard says. Poul thought it was enough to get started, however. "'This is some rich DNA. I'm not exactly sure how we do this, but stay tuned,'" Ballard remembers him saying.
Poul confirms being wowed by the raw material. "Glen started talking about his idea to do a show based in contemporary, multicultural Paris," he recalls. "And he said he had written a suite of songs, and he gave me a CD. I listened to the songs; I was very taken with them." Seeing the first incarnation of the Eddy Band in action at the No Name bar in Los Angeles deepened his interest. "I felt there was something so strong in the music and in Glen's attempt to reinstate jazz at the heart of the Great American Songbook," he says. "But we really didn't have a story."
As a first step in creating that story and pushing the project toward reality, Ballard and Poul sought out an up-and-coming director with a strong interest in jazz: Damien Chazelle. "I felt I needed a collaborator to try to develop this idea," Poul says. "I approached Damien and took him to see the band, and he came onboard. It's a very unorthodox beginning." At the time, Chazelle had yet to become the Oscar-winning filmmaker he is today; he had only one feature to his credit, the 2009 romantic musical Guy and Madeline on a Park Bench. But Ballard recalls Poul's enthusiasm for him at this unproven point in Chazelle's career. "'I met a young director named Damien Chazelle,'" Ballard remembers Poul telling him. "'He just did a short film that's going to be a feature called Whiplash. He gets music. He gets storytelling. We should invest in him.'"
Chazelle joined the project in 2014, the same year he found success with Whiplash, which was inspired by his own experiences as a student drummer. Both La La Land and First Man lay ahead, destined to keep Chazelle busy. But the director remained onboard, ultimately helming the first two episodes and setting a stylistic template for subsequent directors to follow. "Initially, Damien and I had been talking about a range of stylistic influences," Poul says, "but when he started thinking about Paris and thinking about Elliot and about the show, he was driven more towards a vérité, semi-documentary style. Damien kind of shot that way on his first film, but it was drastically different from the much more formalized style of Whiplash and La La Land. For him, it was a really interesting challenge to let go of the formalism and the shot list and the preplanned edits and just let the camera follow the music."
Style and songs alone don't make a series, however. "We had the Elliot and Farid [Elliot's business partner] characters sketched out," Poul says, "but Damien didn't have the time to fully develop a script, because he was going off to shoot La La Land." For that, the team turned to Jack Thorne, an English writer whose work stretches from the acclaimed TV series This Is England to the play Harry Potter and the Cursed Child. "We gave him a page-and-a-half document that was as much as we had managed to put together," Poul says. "It roughly etched out that this was contemporary Paris, outside of the city center — multicultural, multilingual, multi-faith Paris. Jack took it, and he ran with it. We were always working, the four of us together. Jack took the lead in terms of breaking it down, the number of episodes, building out the cast of characters, but he was actually the fourth guy to join the band."
He wasn't the last. Feeling it important for a series dealing with characters from diverse backgrounds to have creators reflecting those backgrounds, Thorne worked with a writing staff that included Hamid Hlioua (creator of the series Cannabis) and playwrights Phillip Howze, Rebecca Lenkiewicz, and Rachel De-Lahay. On the directing front, Chazelle and Poul were joined by Houda Benyamina (Divines) and Laïla Marrakchi (Marock).
Yet even as The Eddy took shape into a TV series, its musical roots continued to influence the direction thanks to the decision to make live music a central element. That meant hiring a cast that could bring the music to life, which required a new incarnation of the Eddy Band.
Trumpeter Ludovic Louis remained onboard from the version of the band that had impressed Poul and Chazelle years earlier, taking leave from a steady job with Lenny Kravitz to play the part. So did Kerber, whose pianist character brings moments of lightness and wry humor to an often heavy show. Kerber's no stranger to combining music and drama, with his extensive soundtrack work as an orchestrator and a musician (that's his piano accompanying the floating feather in Forrest Gump, for starters). Kerber didn't find his new role to be that great a challenge. "My character in the show is not far away from my character in real life," he says. "So as far as that goes, it wasn't a big stretch for me. I'm playing a pianist in a band, in a club. There may be some personality quirks with the character that are different than me in real life, but I could draw from myself."
Poul, Ballard, and Kerber concur that it's easier to find a musician who can act than an actor who can play. "We found that, absolutely, they had to be musicians," Kerber says. "There was a case of one person where he was doing his best to learn the instrument, but it was just impossible. It was too big a hurdle to jump in that small amount of time."
They also agree that they were lucky to find musicians who were up to the task of fleshing out their characters. Joining Kerber and Louis were saxophonist Jowee Omicil, drummer Lada Obradovic, and bassist Damian Nueva Cortes, who, together, convincingly convey the camaraderie that comes with playing in a band, a chemistry achieved the hard way. "They would play music ten or 12 hours a day on set, usually all night," Ballard says. "We'd usually start at seven o'clock at night and we'd stop at four, so they became a real band while being filmed the entire time."
Ballard notes that the musicians' roles kept expanding as the series progressed. ("Jack kept adding stuff for them to do," he says.) Some had more to do than others: Cortes, the last to join the cast, and Obradovic have focus episodes that require them to hold their own against Holland and other professional actors. Both rise to the occasion, Cortes as an addict struggling with the urge to use again, and the Croatian-born Obradovic playing a character that only sounds as if it were written specifically for her. "With Lada, we hit the mother lode," Ballard says, "because Jack had written a relatively difficult casting part, an Eastern-European female jazz drummer who's incredible, and we found her."
For the part of Maja, they got a ringer: Polish-born Joanna Kulig is primarily known as an actress, thanks to projects like the Amazon series Hanna and several Paweł Pawlikowski films, but she has worked as a singer as well (and was no stranger to singing on film, as evidenced by Pawlikowski's Cold War). Not that the part of Maja didn't present challenges for her. "We met her in January of last year; she was nine months pregnant," Ballard recalls. "She had to learn 19 new jazz songs. English is, like, her fourth language, but she committed to it right then at my studio in Hollywood."
With the band completed, all the elements for the series clicked into place — just in an unusual order. "It basically was a little bit backwards from the normal way of developing a piece of television," Poul says, "because it started with the music."
An even more apt comparison may be forming a circle, one that looped back to Ballard's original fantasy. When Americans can visit Paris again, we won't be able to visit the Eddy, but for the length of the production, it became a real place, home to a working band — one originally scheduled to tour this year, another plan most likely undone by the pandemic. "This is about people playing music at the highest level with such passion and such energy. I just wanted to show that," Ballard says. And though a second season remains an open question, Ballard sounds satisfied with what The Eddy has accomplished so far. A dozen years ago he had a dream of a band, and now, in his words, "I had the dream band."