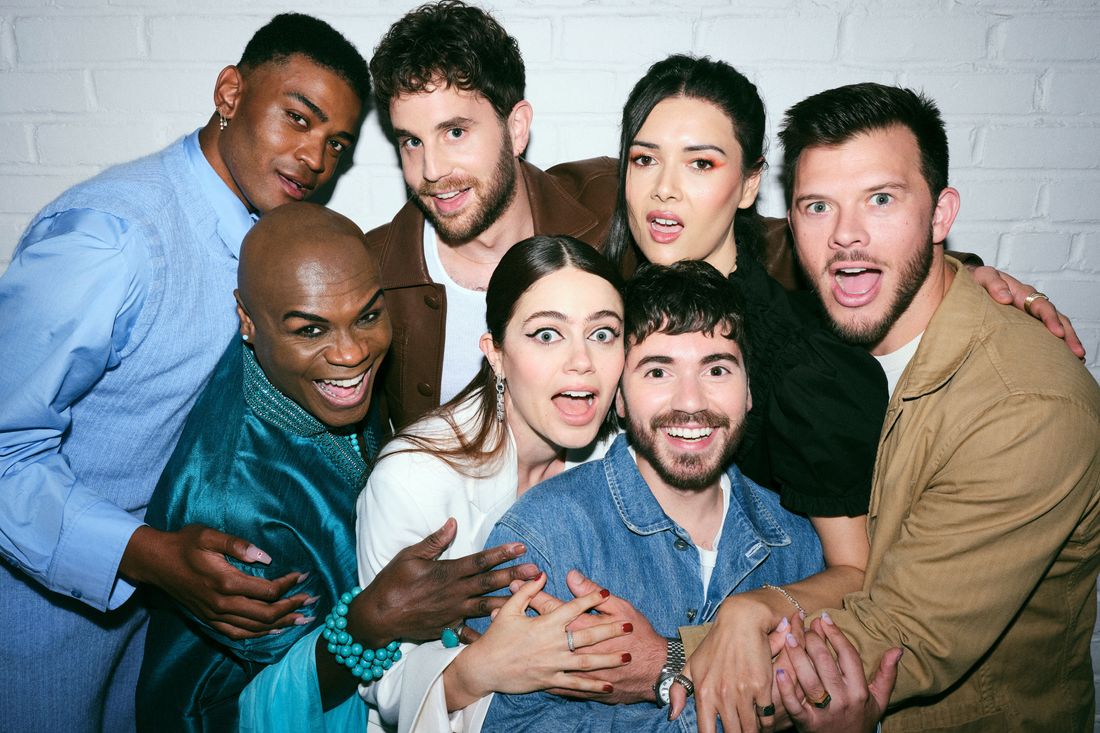 The cast of
Theater Camp
. (L-R: Owen Thiele, Nathan Lee Graham, Ben Platt, Molly Gordon, Noah Galvin, Patti Harrison, and Jimmy Tatro.)
Photo: Tommy Agriodimas/
Hanging out with the cast of Theater Camp is an immersive theater experience in and of itself. An hour before the New York premiere of their movie at Dimes Square arthouse theater the Metrograph — which has been decked out in campcore for the occasion; there are pine cones, fake grass, and miniature bunk beds — the actors pile on top of each other for a photoshoot. Laughing and hugging and doing impromptu vocal riffs to The Idol soundtrack, they appear not unlike the hopelessly devoted theater-camp kids they portray in the film. The photographer describes his vision to them as, "Vanity Fair group portrait, but take the piss out of it." Molly Gordon, who co-directs, co-writes, and stars in the film, ponders this concept as her co-star and co-writer Noah Galvin grabs her foot and holds it lovingly in his hands. "So like Breakfast Club, but fucked up," she says, looking cheerfully down at Galvin. "I'm giving WikiFeet something really intense right now."
Theater Camp is a mockumentary-style ode to this sort of hammy intimacy, which the cast has been developing on and offscreen for decades in various capacities: Gordon and co-star/co-writer Ben Platt have known and starred in theater productions with each other since childhood; Platt and Galvin met doing a web series with Gordon and her co-director, Nick Lieberman, and are now engaged. Shot like Waiting for Guffman and vibrating on the same frequency as Wet Hot American Summer, the movie is a love letter to the theater world that raised the actors, centered on the machinations of a ramshackle upstate summer camp run by a woman named Joan (Amy Sedaris). When Joan falls into a coma, her cryptobro son, Troy (Jimmy Tatro), takes over in an attempt to save the institution from being absorbed and destroyed by a seductive financier (Patti Harrison). To do so, he must earn the trust of its eccentric lifelong inhabitants, including codependent kooks and directors Rebecca-Diane (Gordon) and Amos (Platt), bitchy costumer Gigi (Owen Thiele), unassuming production manager Glenn (Galvin), melancholy dance teacher Clive (Nathan Lee Graham), a scammer named Janet who has zero stage experience but shows up to teach stage combat anyway (Ayo Edebiri), and a group of preternaturally talented little kids.
Post-fucked-up-Breakfast-Club photo shoot, Gordon, Platt, Galvin, Thiele, Graham, Lieberman, Harrison, and Tatro squeeze into a corner of the Metrograph's upstairs bar to engage in a spirited, appropriately dramatic discussion of their love of the theater. Downstairs, their premiere audience awaits them, including the kind of theater people (Lin-Manuel Miranda, Rapps both Anthony and Reneé, Sara Bareilles, Shoshanna Bean, etc.) whose mere presence would cause each of their Theater Camp characters to fall instantly into a coma.
So this group is sort of like Alice's chart on The L Word where everyone has a million connections to each other. Can you please L Word Chart yourselves?
Ben Platt: Molly and I met when we were 4 and 5 years old, doing theater at the Adderley School, playing opposite each other a bunch. We were best friends growing up in L.A. Owen and Molly met when they were what, 11?
Molly: 6 or 7.
BP: They grew up and went to Crossroads School together and their families are all close in L.A.
Noah Galvin: Molly and I met doing a workshop of a musical when we were 19. And we sort of fell in love and wrote a web series together that Nick directed. That's when I met Nick. And we cast Ben as our weird roommate.
Nick Lieberman: Ben and I were really close since we were 13-14, did theater together in high school, and were always making things. He introduced me to Molly, and we've always been extremely close creative partners, twin souls. And then I developed and directed this web series.
BP: And that's when I first met Noah.
MG: And they didn't like each other. But secretly, there was something else going on.
Why didn't you like each other?
NG: We were will-they, won't-they for a very long time.
BP: It was mostly my fault.
NL: I remember Noah seeing Ben come in, and Ben was doing The Book of Mormon, and Noah already had this angle of, "I gotta meet Ben." I can still see a vision of Noah shoving me out of the way to go meet Ben. Which is so beautiful and sweet when you think, He's going to meet his future husband. Shove me!
MG: And I met Patti through a beautiful collection of different friends: Rachel Sennott, Ayo Edebiri, Mitra Jouhari. The first time I really met her, we went on a trip together.
Patti Harrison: It was in the pandemic. We went with Ayo.
Where did you guys go?
PH: We got an Airbnb in West Hollywood.
NG: You did a staycation in Los Angeles?
PH: Listen! It wasn't that simple. We were like, "We're all gonna get COVID-tested and isolate."
Owen Thiele: … in West Hollywood.
PH: We were vaccinated. It wasn't as fucked up as it sounds. It seemed like we were really far away.
MG: We all were in dark places and it was nice to have a couple of days to be together.
Nathan, what was your familiarity with all of these guys when they reached out to you, if any?
Nathan Lee Graham: I admire people's work … when it's good. That was the prerequisite for me. I was and am a theater kid, so the Theater Camp story itself was endearing to me. I was terrified that it wouldn't be any good because we all enjoyed it so much. It was like, "Are we just laughing at ourselves because we're so fucking brilliant?"
NG: We had all the confidence in the world in everyone, but there were some wild cards. We were nervous to ask these people to live in the woods with a bunch of children. There was a scheduling mishap one day where we had to throw Nathan into a room with 40 kids and just told him to go, and it turned out some of the funniest material in the movie.
NLG: You know, this movie has its own culture. On a gay level, a Jewish level, a generational level, a passion level — young people being able to be their full selves. This movie is really sort of subversive.
Molly, Ben, and Noah wrote everyone's part with them in mind, so I want to hear from each of you why you think your part was written for you specifically.
MG: First I just want to say, because she isn't here, Ayo is an amazing part of this cast and we love her so much. Sydney in The Bear is such a driven, smart, amazing character, and I love the juxtaposition of Ayo playing a complete fucking buffoon. She's so intelligent, so it was so fun to watch her be a fucking liar.
OT: Oh, Gigi. I think you guys wrote him for me because he says what he's feeling and kind of bitchy and snarky and mean. But also has a huge heart. And I think that's me! No, I think that they wrote great one-liners and that's something that I can deliver.
Jimmy Tatro: My character, Troy, is really a fish out of water. I think physically, when you look at me, I don't scream "theater guy." Troy is …
All, emphatically: Tell us about Troy!!!
JT: Troy is a guy who, on paper, is very easy to dislike. This crypto-vlogger-podcast bro who thinks he knows a lot and wants to give business advice when he has no business experience. I think I do a good job of playing up the heart of a bro-type character because I have so many built-in natural bro qualities. I just look and sound naturally bro-y. A lot of my life has been about combating that, and that's what makes it easier for me to play these types of guys who you'd otherwise not really want to root for.
MG: We wrote this part for Jimmy and hoped he'd want to be in it. Nick and I got rosé with him one afternoon and I was shaking. I was so nervous that he wouldn't want to do it. And then he slapped me!
JT: I said don't talk about that!
This is like therapy.
NG: This is gorgeous!
NLG: Okay, so Clive DeWitt. He's very broad. He's very elegant. But also, there's something melancholy about him. I won't say sadness. I think that he was a good dancer, and not a great one, but he wants to inspire others to be great. And he lives for the summer-camp experiences because he's really lonely in the winter. He's melancholy beneath the veneer, and it was beautiful to be in that space.
PH: My character, Caroline, made sense for me to play because she is really into money and I love money. I think money is going to be huge this year. She also has really complex cryptic sexual undertones and goals that we all know she'll never achieve. That's very similar to me. And has a briefcase, and that's something I do so much.
NG: Something in the movie you won't necessarily clock that Patti did was that every single time you see Caroline, her bag gets smaller and smaller. We did want to give people some parts that might feel not as natural for them. Like, Patti playing a corporate ice queen.
PH: I don't know why you say that's unnatural for me. I love working at a bank and I do a great job.
What about the parts you wrote for yourselves?
NG: I didn't want my character to feel similar to the lane that Molly and Ben's characters inhabit. I wanted to give him a transformation and also give voice to the people behind the scenes who we don't give voice to: the stage manager, the props people. Those are the people that I often butt heads with, as someone who is not punctual and sort of freewheeling. They're type A, and take their jobs just as seriously as any actor, but in a different way. So it was sort of an empathy exercise for myself.
BP: I feel that Amos is an incarnation of an intensity and a darkness that's always been within me.
NG: Ben leaned into every bad quality of himself.
BP: But my favorite thing about my theater teachers is that belief that it really is life or death. There's such a desire to show up and do well for them, and then suddenly it becomes showing up for yourself. I loved leaning into the intense, abrasive, thankless, overly passionate unlikability, the unhealthy modes of communication he uses to get there. But for me the greatest opportunity was to finally do something as a pair with Molly. We've been making up songs and doing comedy together our whole lives. Getting to have the sort of romantic comedy arc being between me and Molly was special — that's a special relationship, the gay best friend and girl growing up together and finding each other. It's beautiful to let that be complex and sad and meaningful without the constant snark and bitchiness.
MG: My gay best friends here — three of them, no, four of them; Nathan is gay, he came out! — are the great loves of my life. I love that the central relationship of our movie is that. It's so profound and it pushes you forward. You don't have to fuck everyone that pushes you forward. But I'll still keep trying with you, Ben. And I just loved playing someone completely crazy. Filming in the summer and being Jewish, my frizzy hair and lack of sleep from directing were perfectly encapsulating the character.
NG: You've played a lot of cool girls, a lot of calm and collected girls. You really got to lean into your Judaism here.
What kind of summer camps did everyone here go to and what kind of theatrical experiences were involved?
MG: We all went to our community theater at the Adderley School and did so many plays from age 6 on. What did you do at Adderley summer? You were Conrad Birdie, Owen. I was Winthrop in Music Man, and I fell off the stage. I'd do a wild bow and I fell off the stage because I was so intense and drunk.
OT: Drunk?!
BP: On power.
MG: On passion.
BP: Molly and I did Tracy and Link in Hairspray. We were Roxy and Billy Flynn in Chicago. Joe and Lola in Damn Yankees.
NG: They were too young for the sexual prowess on display in these.
BP: But I also went to Jewish sleepaway camp. I wanted to go to Stage Door, but I was doing theater all year round, so my parents made me go to Rama. A very binary, straight place that I didn't totally fit into, but there were theater-adjacent things that I liked, and in the oldest age group you can finally do the musical. So I did Guys and Dolls. But it's in Hebrew.
JT: I did a lot of talent shows at camp. I performed a dance to "Bye, Bye, Bye" with my friend Dakota. I also memorized the Napoleon Dynamite dance and performed that. I'm not a dancer, but I do dance. 
All, in unison: Wow.
PH: I never went to a formal sleepaway camp. I worked as a counselor at something that was billed as a summer camp, but it was more of a latchkey school for kids in the summer. It was more just like, "Clap once if you hear my voice," at lunch.
NLG: The first summer camp I did was before anyone here was born, in the '70s. I was part of a pilot program at Watts Tower Art Center for youth that were disadvantaged. I was doing extra work at the time on Sanford and Son and What's Happening, and I was a munchkin in the touring company of The Wiz. After that I always did summer camps, like one at Webster University, where we put on plays and did experimental things and animal work. Which I hated back then.
What animal were you?
NLG: I always chose a black panther. I was very vain. The first time I ever used animal work, actually, is now, playing Hermes in Hadestown. I'm a different bird in each scene. So I'm finally using the fucking animal work.
Okay, it's time for the Patti LuPone Lightning Round, which is something I just made up.
All: [Gasps.]
NG: The gayest gasp of all time.
What is the most humiliating theatrical moment you've ever had?
BP: In Book of Mormon, my pants ripped from top of crotch to back of ass after a big knee slide. I was 19. It turned empowering like four minutes in but I started really scared.
NLG: Okay, I played the Ship's Purser in Anything Goes in Duluth, Minnesota. I'm a freshman in college. You're supposed to burst through the swinging doors on the ship, but I fell asleep before my entrance. Right behind the doors! They were like, "Get the fuck up." And I burst through the door and I couldn't say my lines. So I started crying! But I was asleep!
JT: In seventh grade I did a play called The Lady Pirates of Captain Brie. It was a scene with me and one other guy. I thought he forgot his line, so we were in this stalemate where neither of us were saying anything. I'm looking at him like, "You're blowing this!" I realized after what felt like five minutes it was my line. Everyone was like, "That was so funny." I was like, "It's not funny at all. There could have been scouts here."
NL: I peed onstage when I was 7 during a production of Oliver. I was playing the Artful Dodger and listening to "I'll Do Anything," and I was just so in it that I peed. They whisked me offstage. I was double-cast with Beanie Feldstein, so they had to quickly dry-clean the costume before she played it the next night.
NG: My opening night of the national tour of Les Mis. I was 10 years old. I was in Milwaukee, playing Gavroche. And there's this last line that I sang before I get murdered — shot in the head. He climbs over a barricade, he's stealing bullets from the people and singing a cappella to himself. And it's like, gunshot, gunshot, he hides from it, then just accepts his fate, and sings the last line right to the gunmen — and I completely forgot the words. I was just like, "Habadahah, sa … ba!"
MG: When I did Alice by Heart, on one of the lifts, I farted a little bit and everyone heard it in the theater. Then I had to do two hours onstage without leaving, in a shame spiral.
OT: I think I was 11, and I petitioned to play Tracy Turnblad in Hairspray. I got the part, and it all worked until everyone came up to me afterwards and said, "It's about segregation. It totally doesn't work. I'm confused about the plot." Then I gave my part away and I played Seaweed. Which made sense. I should have just gone with that.
PH: I've never been in a play, but I did a comedy festival in Melbourne a few months ago. I bombed harder than I ever have in my life. It was an American Headliner showcase show with four other really hard-in-the-paint stand-ups: the Lucas Bros, Shalewa Sharpe, and Sheng Wang. My show is more meandering and … not that. I bombed every single show, but one particular show, there were really loud literal crickets. I walked out and I was like, "So the crickets are really loud tonight!" And everyone was like, hahaha. And then it turned to complete silence for 15 minutes, except for the only laughs were when the crickets would make noise, and people would laugh at them.
What's the role you think you were born to play?
BP: George from Sunday in the Park With George.
NLG: I wanted to play the Leading Player in Pippin but my good girlfriend Patina Miller already played it. But I could still do it. I would love to do that before I [mimics death].
NG: The Emcee in Cabaret.
NL: I'm obsessed with Long Day's Journey Into Night. So any role in that.
JT: I think the role I was born to play is the voice that says, "Only on Fox" or "Tuesdays at nine." Or "Do the Dew." But the thing I'd want to do the most is if they do a You Got Served–type movie, to be in a dance crew and really let loose.
OT: An animated dog. Who sings gorgeously.
PH: It's not a character yet, but you know Babu Frik in Star Wars? The mechanic? I want to play his wife. She's a nonbinary she/they, and she's like [squeals unintelligibly] and the subtitles are like: "They're codependent." The woman who plays Babu Frik [Shirley Henderson] is actually Moaning Myrtle in Harry Potter. Another role snatched from underneath me.
MG: Wow, I don't know the role I was born to play!
All: Carole King, Joni Mitchell.
MG: A Fiona Apple dog-bone drummer, if that ever becomes a character.
Broadway Diva you'd want to temporarily swap bodies with?
BP: Kelli O'Hara.
NL: Bernadette Peters has an amazing body. Is that what you …?
NG: Audra McDonald. I want to feel what it feels like in my body to be able to sing that way.
MG: Brian d'Arcy James. I want to experience his grounded-father roles.
PH: I don't really know anyone. Nicole Scherzinger. As Grizabella.
OT: Who's that Broadway star I love? She starts with an S? Shoshanna Bean!
BP: She's coming tonight!
OT: Oh my God, well, I'll swap with her.
NLG: Does the person have to be alive? My dear friend and mentor Eartha Kitt. The control. To learn how to do nothing and do so much at the same time. That's fucking amazing.
NG: Jimmy, I see an Elaine Stritch for you.
JT: I'm so happy you said that.
Marry, fuck, kill: singing, dancing, acting.
OT: Kill dancing. Sorry.
BP: I'd marry acting, because you can do it no matter what state you're in. I would fuck singing, because if it's good it's good and if not it's torturous. And I would kill dancing.
BP: Would anybody not kill dancing?
OT: Patti would marry dancing.
PH: I don't believe in marriage because it's outdated and sexist. I don't believe in sex because I'm Christian. And I don't believe in killing because … I'm Christian.