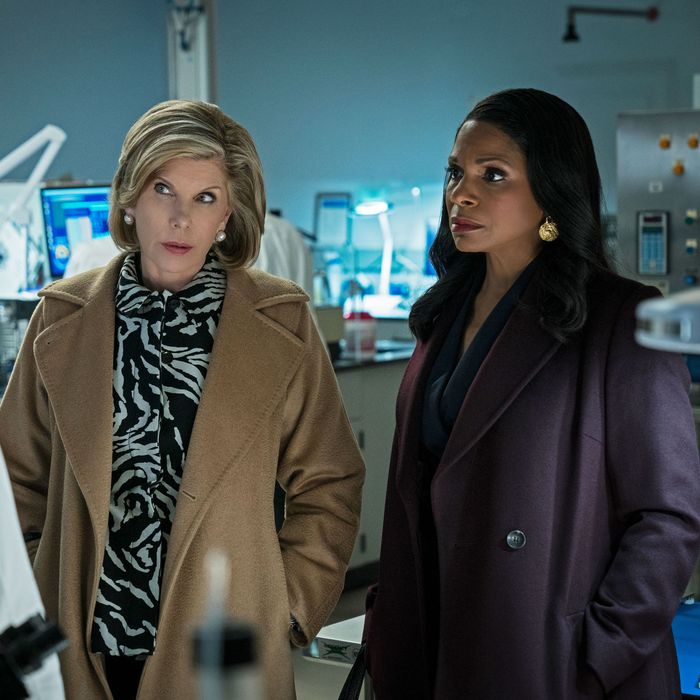 Photo: Elizabeth Fisher/CBS
And so the fourth season ends three episodes early, with an hour that feels like a question mark and an exclamation point — a question mark because certain story lines are unresolved, like the future of the firm under STR Laurie, and an exclamation point because the Jeffrey Epstein case, which "the gang" investigates, exposes the systemic inequities at the heart of Memo 618. The Good Fight may not have been able to address coronavirus outside the opening-credits music — this week pays tribute to John Prine with "My Old Kentucky Home" — but it's not like these fault lines haven't been exposed in the past few months. America works extremely well for the few, significantly less well for the many.
The Epstein plotline dominates the episode, entertaining conspiracies that held the country in thrall in the months after he reportedly hanged himself in his prison cell on August 10, 2019, which in pandemic time feels like a small eternity ago. Though Epstein's life and death remain an important study in the decadence, corruption, and outright evil of the ultra-elite, there's something sinfully indulgent now about picking over theories about whether he really died by suicide or some mysterious cabal got to him in prison. It's a little like a headline from The Onion the week after its famous 9/11 issue: A Shattered Nation Longs to Care About Stupid Bullshit Again.
But the Epstein case was not stupid bullshit when the writers of The Good Fight decided to take it on — in fact, it's probably less stupid to wait the better part of a year after Epstein's death to do it, just to get some distance from more frivolous conspiracy-mongers. Then again, "The Gang Discovers Who Killed Jeffrey Epstein" occasionally adopts the tone of a campy Da Vinci Code, with the various lawyers and associates at Reddick, Boseman cracking ciphers, chasing leads down blind alleys, and speculating wildly over which Bill, Barr or Clinton, might be responsible for snuffing out Epstein. But as with most subplots of wackiness or whimsy on The Good Fight, there's a hidden seriousness behind it.
The opening scene is a tracking shot through the Metropolitan Correctional Center in New York, leading to the cell where Epstein was found dead. At the behest of a U.S. Attorney, who promises more business should they do well with this assignment, Liz and Marissa are asked to look into the case and see if they can resolve the disputes surrounding it. From the start, nearly everyone at Reddick, Boseman scoffs at the notion that it was a suicide, noting the weird series of coincidences that made it possible: Epstein taken off suicide watch days before and left alone his own cell, a busted security camera, and guards sleeping on the job. But beyond that, coming to any kind of consensus is next to impossible.
The best original lead the gang discovers is Andreas, "hairdresser to the stars," whom Lucca is able to access through her connection to Bianca Skye. With standard disclaimers out of the way — all the people who spent time around Epstein and surely knew rumors of his unsavory behavior all express their regrets — Andreas hands over a sealed envelope that Epstein shuffled over to him in the moments before his arrest. The envelope includes a mysterious key, a cryptic note referencing a person (or acronym) named "BUD," and a series of numbers on the inside of the envelope itself related to something called "Lady M.S." This information sends various parties on wild-goose chases involving one of Epstein's lawyers (initially BUD), the architect of his eccentric/evil-villain properties, and a science-fiction book written by Bill Barr's father.
It's all a big pile of delicious nonsense, giving The Good Fight a chance to dabble in a far-out procedural thriller. We won't know until next season if the writers had more in mind for Epstein or not, but it's the ultimate example of Memo 618 in action. And the injustice of the system worked on two fronts: first, in protecting Epstein for years as he preyed on underage girls while hobnobbing with the rich and connected, and then in a "suicide" so dubious that ordinary people of all political persuasions immediately rejected the official finding. If the suicide was indeed a murder, then whoever is responsible is currently getting away with it, because that's the way the system works. It's not a problem the great minds at Reddick, Boseman are going to solve.
Another problem they're going to have to solve is how to survive under STR Laurie, though that will have to get tabled for next season. At an ominous afternoon meeting, Firth sunnily announces that the firm will have to dump 20 percent of salary, leaving the partners scrambling to figure out whether it needs two investigators, and scanning billable hours stats to see which lawyers are the most disposable. Adrian comes up with a solution to raise money to buy back Reddick, Boseman from its new overseers that involves a bank loan secured by the partners' own personal properties, but the finest of the fine print on the merger forbids them from doing it. (It turns out Firth sticking Diane on pro bono cases was not about getting the best out of her, but about activating an odious clause in this agreement.)
But all that's a matter for another time. The challenge for The Good Fight next season will be to figure out how to merge the pre- and post-virus worlds coherently. The show will likely not toss the scripts for its last three unfilmed episodes into the garbage, but there's no chance that its up-to-the-minute engagement with the real world will be tabled to resolve an earlier timeline. The one certainty is that Memo 618 will survive (and thrive) in the post-virus world — systemic injustice is the most timeless of themes.
Hearsay:
• "Only when we are soft and pliable can we be hard and strong." The more powerful you are, the more Zen quotations you can get away with.
• Showing the stats (salaries, billable hours, etc.) above all the employees' heads is a pretty brilliant way of revealing the partners' thought process on layoffs. It also subtly underlines the racial disparities at this ostensibly progressive office: Marissa and Jay have the same job and the same salary, even though Jay has five years seniority on her.
• Diane mincing no words on Epstein and Memo 618: "It's a special fucking off-ramp for the well-connected."
• "Now if you don't mind, I'm designing an airport in Norway." New frontiers in deflection from Epstein's architect.
• Another big question mark heading into next season is what happens to Julius, who is arrested in conspicuously embarrassing fashion for resisting the powers that be over Memo 618. It will be a test of how steep a price he's willing to pay for integrity.
• The show sets up and knocks down an homage to Parasite in its final moments. I'll miss it terribly.
Want to stream The Good Fight? Sign up for CBS All Access here. (If you subscribe to a service through our links, Vulture may earn an affiliate commission.)