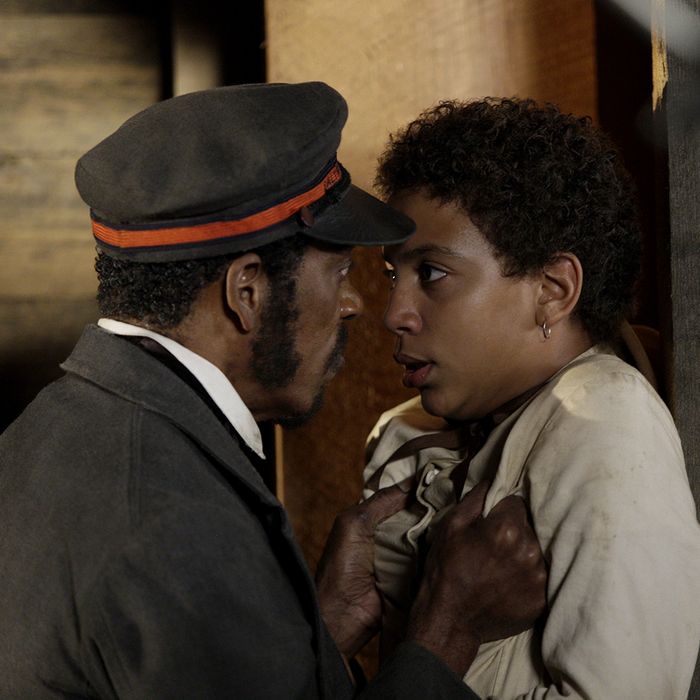 Photo: William Gray/SHOWTIME
Less than a month after John Brown's October 1859 raid on Harpers Ferry, Frederick Douglass sent a letter to a newspaper called the Rochester Democrat in which he wrote, "I may be asked why I did not join John Brown, the noble old hero. My answer to this has already been given, at least, impliedly given, 'the tools to those who can use them.' Let every man work for the abolition of slavery in his own way." It's essentially the argument we hear from him in "Hiving the Bees." When the two meet on a forested road to discuss Brown's plan, a horrified Douglass first tries to slowly back out of the arrangement but eventually yelps, "You are a fanatic, I am a realist." The great orator wants everyone to believe he merely had a different vision for abolition, not that he was too cowardly to join Brown's plan.
That may be true, but the full picture is a lot cloudier. If the authorities knew that Douglass brought Brown money (and we do know that they met in Pennsylvania in August of that year), that would implicate him in treason. Douglass later claimed in one of his autobiographies that Brown's plan had morphed into something illogically dangerous — an opinion I can definitely get behind — and he had never planned to join it. The evidence (letters found on Brown at his capture and various reports from eye witnesses) points to the contrary. Regardless, he had to know that no matter what, his friendship with Brown would tie him to the crimes at Harpers Ferry. So what did Douglass do? Well, in the first week of November he sailed for England on what he called a long-scheduled trip. Mmhm.
"Hiving the Bees" painstakingly recounts just how exquisitely Brown fumbled his planning for the raid at Harpers Ferry. (Douglass must have thought he'd made a wise choice to back out.) First he sends Cook — a man who, upon enrolling in Brown's army, specifically asked whether or not he'd be able to screw a lot of women — as his advance man. Cook (in reality a tiny man, only 5'4" and about 130 pounds, a fact that delights me for no reason) takes a house right on the road where all of Virginia can watch his comings and goings. Then he proceeds to begin (loudly) banging a local wife, Mary Huffmaster. Onion, a formerly enslaved boy with absolutely zero rabble-rousing skills, is sent to "hive the bees," i.e. convince other slaves and free Black people to join the rebellion, as if his own black skin will be enough to encourage thousands of people to risk their lives. John Brown, what the hell are you doing!
Brown needs to lay low, for sure, but Onion, for all his eagerness, is a terrible surrogate, not least because every Black person in a 50-mile radius can tell that he's a young boy wearing a dress, which immediately casts him as suspicious. First he meets the Coachman on the estate of Colonel Lewis Washington (yes, of that Washington family) who hilariously interrogates Onion in coded language that the boy cannot seem to understand. "What's the word? What's the song you singing," he asks. Onion breaks out in an old Dixie hymn. "Is you on the gospel train?" Onion looks confused. Finally he has to break it down and demand Onion tell him whether he's a part of the Underground Railroad, dammit.
Onion's ostracism and disorientation continue as he wanders Harpers Ferry, thrust into a bizarro middle ground where he can't get a hello from other Black people but can see himself as oddly privileged compared to the woman and child for sale in a cage (with a grotesque sign indicating they're good for breeding). "You're gonna get us all murdered," a woman rage-whispers at him, and she isn't wrong. Without quite realizing it, Onion has transformed into an acolyte of Brown's; he knows the man and believes in his mystical plans to the point that he'll walk through proverbial fire for him.
Onion's conversation with the Railman is a reminder of how tenuously Brown's plan hangs together — and how much that has to do with Brown's standing as a white man, a complete nutcase, a zealot who draws his gun before he stops to think. The Railman makes several excellent points: Harpers Ferry is a relative backwater, whereas a revolution in Baltimore or DC would call forth more informed and eager participants. And importing those rebels will be costly — $500 to a man who runs a popular numbers game to spread the word far and wide. But the deeper reaching aspect of their conversation is the desperate ambivalence that the Railman, like the Coachman and Douglass before him, can't escape. Three Black men, each with the power to substantively alter the outcome of Brown's nutty escapade, each of whom aren't sure if the great risk is worth the potentially miniscule reward. And not just for their own lives. To be enslaved or Black in 1859 America is to be trapped inside a swirling information machine, where every suggestion is laced with potential peril.
You could write an entire book about the mistakes Brown made leading up to October 16, and "Hiving the Bees" smartly condenses them into an anxiety-producing stew. Nosy Mrs. Huffmaster across the street, the consummate town gossip who eventually notifies the sheriff about the bevy of men holed up in one house, is certainly a direct hindrance. But it's Brown's own decision to move the date of the attacks up nearly a month — exactly what Tubman instructed him not to do — that will damn the mission. How can the Railman bring in that many rebels overnight? How can Tubman motivate them?
Among its abundant themes, The Good Lord Bird asks us to consider the possibility of a good life amidst madness and cruelty and bloodshed — certainly one of the novel's and the show's most appealing features In These Times. For Onion, that means adoring, eyelash-wiggling love for, of all people, Anne Brown (played with sweet vigor by Maya Hawke, not coincidentally Ethan Hawk's daughter). It's a sign of his personal growth, surely, that he's moved from lusty obsession with Pie to a charming bookish bond with Anne. (And that scene of Anne and her sister clambering into the tub is a thoughtful echo of Onion's first glimpse of female flesh in the tubs at the Pikesville Hotel.) The relationship appears star-crossed — Anne mentions in passing that she loves the name "Henry," which is, of course, Onion's real name. And the two hilariously pair up for a reading of As You Like It as two lovers, Rosalind and Orlando, one of whom just so happens to go about in drag. It looks like fate.
So it's confirmation of Onion's full indoctrination with Brown that, a good way down the road to safety, to long evenings by the fire and close readings of Thoreau with Anne, he sits straight up in the wagon, determined to go back to Brown and pass along the Railman's password: "Jesus is walkin'." And what an exit. He rips his shirt open, declares "I'm a man," kisses her full, and leaps out the back.
Like his newfound lord and savior, Onion presumably does the same thing. He walks. All the way back to Harpers Ferry. To stand by his man.