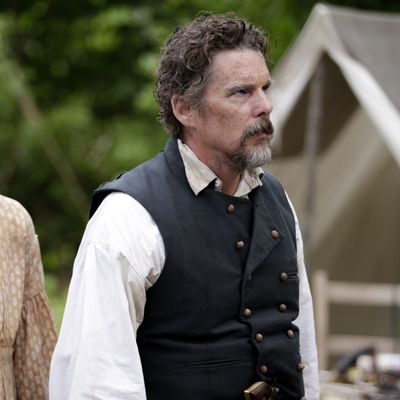 Photo: William Gray/SHOWTIME
Let's talk about Ethan Hawke's mouth. When he rises up from that barber's chair in the first few minutes of The Good Lord Bird with half a cheek still coated in white soap, the camera zooms in close on his cheek folds and piggledy, piss-colored teeth. Spit slides and flies toward Dutch Henry (David Morse), as Hawke, fully embodying abolitionist and storied wild man John Brown, heaves out a fiery speech. "My name," he declares, "is Osawatomie John Brown, captain of the Potawatomi Rifles, and I am here with the Lord's blessing to free every colored person in this territory and any man that stands against me will eat lead grape and powder!"
Even more than his gun, Brown's mouth was his surest weapon, and The Good Lord Bird — created by Hawke and Mark Richard, and closely based on James McBride's National Book Award–winning, spectacular runaway train of novel — leans in for every word that leaps out of it. Hawke's whole face is a wonder of dexterity and flexibility; I kept watching his cheeks as they slid over his teeth and wondering if he'd trained his nasolabial muscles to act against the instinct of every major Hollywood star, to let them sag and hang and give him the skin elasticity of a man a decade older.
And then there's his voice — booming and frantic and inspiring and absolutely unhinged all at once. I tried to mimic it, and it left me with a sore throat all day.
All of which is to say that from the second Hawke-as-Brown stands up in Dutch's Tavern, he becomes this series.
Even if high-school history failed you, we know from the first moments of The Good Lord Bird that Brown will hang for his role leading the 1859 raid on Harper's Ferry, that those events were a major catalyst for the beginning of the Civil War 18 months later, and that our viewpoint for watching all this happen — an enslaved boy named Henry, misgendered as Henrietta, and nicknamed Little Onion (15-year-old Joshua Caleb Johnson, as brilliantly quiet as Hawke is loud) — doesn't ascribe to any overly simplistic moral visions. "Some Black folks love him 'cause they think trouble needed to be stirred," Onion says, "Some Black folks hate him for thinking he was some kind of bullshit white savior." As Hawke told The New Yorker in a recent profile, "John Brown's a lightning rod. He forces the question of violence versus nonviolence, like Malcolm X. That's why we avoid talking about him. He fans the flames of white guilt."
Little Onion's narration makes this story a dual biopic, first of himself, a fictional enslaved boy accidentally entwined in the first moments of civil war, and of Brown, that real-life infamous rabble rouser and religious fanatic whose name is printed in millions of history books. Luckily, like the Onion of McBride's novel, he's bright and funny, often far more aware of the implications of Brown's actions than the man himself, and usually just far enough from the fray to give us a clear-eyed view of it.
As for fray, this first episode is full of it, jamming in more than 100 pages' worth of content in 57 minutes of television, beginning with the shootout at Dutch's Tavern that gets Onion's father killed. (To my great dismay, one detail the show's creators changed was to have Onion's father shot, when in the novel he is given a far more dada death: He's impaled by a splinter of wood that is torn away from the door when a bullet hits it.) The pile-on of skirmishes is a little overwhelming, especially since so many of the middle-aged white men blend together, but here's the basic course the story follows.
Taken under Brown's wing, Onion is brought back to their camp, where he meets Owen, John Jr., Salmon, and Frederick, four of Brown's sons, all of whom follow their dad around "Bleeding Kansas," none of whom seem to match his zeal for praising the lord. Kindly Frederick (Duke Davis Roberts), who is illiterate and seemingly intellectually disabled in some capacity, befriends Onion, teaching him to fish and hunt — and how to spot a fittingly black-and-white-feathered Good Lord Bird, which he claims as a good luck totem.
All at once, the Browns are fighting three foes: (1) The infernal institution of slavery, (2) the Reverend Martin, a former ally of Brown's group who turns against him after Frederick roars at his disdain for Black lives, and (3) Dutch Henry, whom Brown is now determined to kill. Brown's men go hunting for Dutch Henry, somewhat confusedly ambling through the countryside. They turn up late at night at the tiny cabin of one of Dutch Henry's associates and bash his head in to make a point that complicity in the slave trade is just as bad as participation. Onion runs off and meets Bob (Hubert Point-Du Jour), another enslaved man, who brings him back to Brown, assuring him that it's no use trying to return to slave life now. Brown's group eventually becomes embroiled in another battle, with Captain Pate (Grainger Hines) and his soldiers, who have taken two of Brown's sons hostage. With Pate as their prisoner, they run into Lieutenant J.E.B. Stuart (Wyatt Russell), a real-life officer in the U.S. Army, who agrees to conduct a prisoner exchange but wants Brown in return. Out hunting in the woods, Frederick accidentally kills a Good Lord Bird and seconds later is shot and killed by the Reverend, back for vengeance.
Whew. It's a lot — and had this episode pulled back just slightly and left things a little looser, it would hang together better. But still, The Good Lord Bird admirably strings together a morally complicated situation.
Brown has tunnel vision. He preaches fire and brimstone like an early Puritan but sees himself as the sole arbiter of God's justice. When his son Owen (Beau Knapp) argues that Dutch Henry's associate ought to be spared, that this man personally did no wrong, Brown's logic contorts to fit his needs. First, he says "consorting with slavers" is reason enough, then asks, "If this man walked into our home and stole your sister Ann, would you kill him?" and finally gets to his real purpose, bellowing, "Do we aim to start a war?" He sends his sons and ragtag soldiers into the field against Captain Pate for allegedly moral reasons, only revealing later that revenge may have been in mind: Pate burned their houses and crops, three times. And Brown sees hauling Little Onion out of his home and dropping him into a forest encampment with a bunch of white men as so inherently good that he can't recognize that the boy might resent having his life flipped inside out.
In fact, Onion thinks he's been kidnapped — he cannot conceive of a white man swooping him up and freeing him for no good reason. When Brown massacres Dutch Henry's accomplice, Little Onion sees a devilish monster who eagerly lops someone's head off and rightly runs for the hills. And in a wise upending of the traditional rescue narrative, Onion is granted insight far beyond Brown's. He crams into a dress because he knows to go along with whatever whimsical notions a white man dreams up. He doesn't dare offer an opinion when prompted: "No man or woman in bondage ever prospered stating they true thoughts to the boss. Much of colored life was an act. And the Negroes that did what they was told and kept they mouth shut lived the longest."
But what The Good Lord Bird does best is to ratchet up the absurd at vital moments. When Dutch Henry calls out, "You little thief, you owe me 1,200 dollars!" (meaning the price of Onion), Brown yodels back, "Charge it to the lord, heathen!" (Just before their face-off, one of the taverngoers whistles "dun dun dun dunnnnnn," the ominous first four notes of Beethoven's Fifth.) As he consoles Little Onion over his father's death, Brown equates the loss with the deaths of his own children and then, "I had a pet squirrel for 17 years and she died." As Onion explains to Bob that Brown is more reliable than he seems, it cuts to a shot of the man whispering to a baby bunny, "You have a fire in your heart for justice." When Brown's men finally advance on Pate's, a chorus of "Shake your moneymaker" plays over them.
It's hard to laugh in the midst of a story about bondage, but the uncomfortable rubbing is the point. All of this is absurd — that illiterate white dudes can bicker about which one of them can command a Black man. That a man had to ride around Kansas chopping off heads to make the point that slavery is a poison. How absolutely shambolic and untidy history is, despite its linear nature on the page.
America isn't the civilized place we've all pretended it is for 400 years. It's twisted and chaotic, with a few inscrutable bright lights like Brown. Good and bad are always colliding. Which is why in the flash to the future that opens The Good Lord Bird, when a bag and noose go over Brown's head as he looks out over a crowd of people aching for his death and sighs, "What a beautiful country," his sentiment makes perfect sense and none at all.