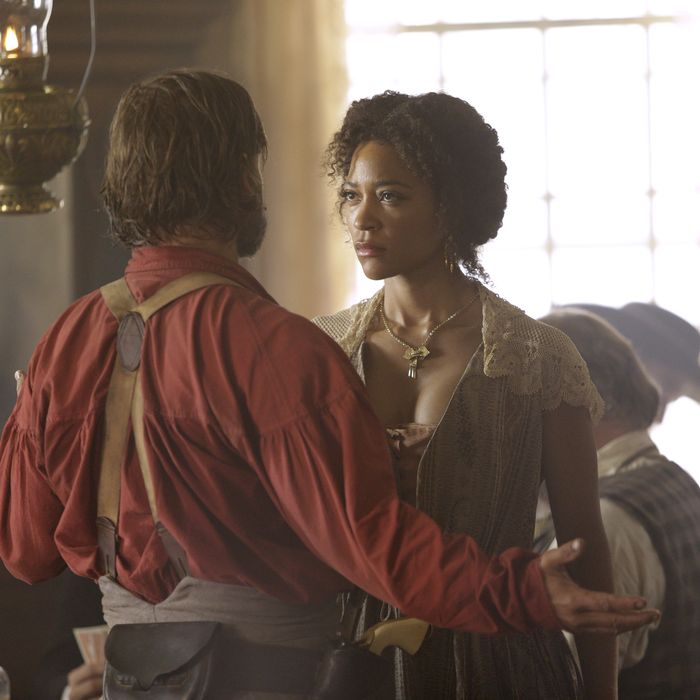 Photo: Courtesy of Showtime
Forty minutes into "A Wicked Plot," John Brown suddenly shows back up, grabs Onion by the shoulders, and asks him if it's true that the boy has been drinking rotgut, and cursing, and generally carrying on in a state of disgrace since the two parted. "It's true," Onion immediately owns up, as bullets fly past the wall of the little shed where the two are holed up. Brown's next worry is for his virginity: "Did you co-mingle with anyone in a fleshly way?" he yelps. Onion protests that he's as innocent as the day he was born. But Brown, equally committed to rooting out the most minor sins of the flesh and the infernal institution of slavery, starts demanding Bible verses from his sons, who are under heavy fire from the redshirts and can barely keep their heads up, let alone recite scripture. Eventually he commits to someday tell Onion the story of King Solomon, asked to cut a baby in two.
Seconds later, when a cannonball flies out and squarely hits the redshirt lech Chase (Steve Zahn, delightfully) in the gut, his limbs go flying in all different directions, like something out of a Tarantino movie. And Onion-as-narrator cracks a King Solomon joke of his own: "And in that moment, just like the rest of the country, Chase was divided in half."
"A Wicked Plot," which lacks Brown's scene-stealing hijinks for the most part, is a slower and darker affair than The Good Lord Bird's first episode, and that's not necessarily a bad thing. The tighter focus on Onion, and the other enslaved people at the Pikesville Hotel, switches the narrative from savior-focused to slave-focused. And it hints at all the ways that Onion is constantly ripping himself in half, trying to figure out how to situate himself to best save himself.
McBride's novel returns, time and again, to Onion's light skin — he's "high yellow," McBride writes over and over, and often better treated because of where he falls on that spectrum of skin color. When Chase first spots Onion trotting down the road with Bob (and away from the woods where Owen Brown asked him to stay and wait), the Free-Stater leans into his face and asks, "You part colored or a white girl with a dirty face?" And while Onion accidentally passes himself off as a blossoming young prostitute ("selling trim" does not mean what he thinks it means), he and Bob also engage in a little Lucy-and-Ricky style bickering about exactly what they should be performing for these white men. They go back and forth about whether they're married, or both slaves, finally landing on Onion calling himself a "mulatto" and claiming to own Bob. You can see in their faces that they know there's only one right answer, and if they don't land on it, the jig is up.
Pie (Natasha Marc), Good Lord Bird's hooker with a heart of stone, is lighter skinned as well, and willing to play any games she needs to in order to survive. Everything, absolutely everything, exchanged between the enslaved in this episode is part of a bartering system, one set up by white men to keep them from forming bonds with each other, to keep them fighting among themselves rather than against their white masters. Pie keeps Onion's secret ("those little grapes" between his legs) but in exchange Onion has to teach her how to read. Her survival instincts are understandable and reprehensible at once: Pie is beautiful and relatively coddled — she has her own room, a chance to earn (and horde) money, silky pajamas, an actual bed. She slaps a white man across the face. Of course, she works for what she has — and of course prostitution was not her choice of occupation — but her place high up in the hierarchy turns her against those further down it.
Pie's plan to save herself revolves around that bag of coins she keeps hidden under her bed. But Sibonia and Libby's plan would free every last person in that pen — and kill a few white Pikesville assholes in the meantime. Onion is pretending to be a girl, Pie is pretending to care about her patrons, and Sibonia (Crystal Lee Brown) is playing "feeble-minded," hurling dirt and muttering to herself to keep her masters in the dark about her fierce intellect. What "A Wicked Plot" does astonishingly well is to subtly relay how all their desires are at odds. A system that keeps Pie in a bedroom and Sibonia in a cage can keep going as long as it prevents these women from working in common cause. And Onion can't move freely and without consequence between the groups, promising his rare literacy skills to everyone and expecting to stay in all their good graces.
All of which puts Onion smack dab in the middle. Should he use his lighter skin (and adopted costume as a girl) to his advantage? Is his duty to help himself or to help his brothers and sisters? In McBride's novel, Onion claims that the work — emptying pisspots and scrubbing floors and picking up after the other prostitutes — is relatively easy. His position as Pie's little helpmate keeps him safe from everything besides pinches on the ass. But what he sees as keeping his head down is a dangerous kind of ignorance. He neglects his deal with Sibonia to write out "passes or bills of sale" and thus stymies her plan, which keeps her in that pen until Pie turns on her and the others. Onion learns that he's implicated no matter what — there can be no bystanders.
Sibonia's trial, giant goddamn sham that it is, is the highlight of the episode. She upends every expectation that her whiskey-tossing judge and the bloodthirsty crowd have. Sibonia readily admits that she planned an insurrection: "I am the woman." And then she lays out how gleefully she would have slaughtered the town's residents, that it would have left her miserable for her whole life to do such a thing, but that she really had no other option. It's a surprise to the town to hear her represent herself with all the intelligence and verve of a Harvard lawyer, to see that she won't bother denying it. But then again, Sibonia's plan wasn't just to flee and murder, it was to make a stand, to upend the story that white people have told themselves of feeble, caged people unable to think and act for themselves.
She's a heavy dose of foreshadowing for Brown himself, bent on making her war loud, aware that she's shaping a narrative larger than just one small stifled insurrection in a Kansas town. That's why she jumps from the scaffolding — this is her death and she's determined to maintain agency over it. And it's also why her able gutting of the preacher's hypocrisy is such a victorious moment. ("You have no problem with blood," she shouts, "unless it's the blood of white folks!") Like now, 170 years ago men were flaunting their memorization skills, showing off Bible verses burned in their brains from childhood, tossing them out as justifications for whatever action best suited their pocketbooks and predilections. Their access to the written word of their god was used, like it had long been used by church bureaucracies, to subjugate the people without paper and all the permanence it promises. Sibonia knows her verses, too. "Reverend, it was you and your wife who taught me that Jesus has no respecter of persons," she points out, and then prods him, "What does that mean?" His quiet response: "That in his eyes we're all equal."
Like Brown, people think she's mad. Like Brown, she sees that all the talk in the world isn't going to cast off the iron chain that keeps her and her sister in a pen. Like Brown, she sees violence as not just a path forward, but the one laid out for her. "I would have been miserable for the rest of my life," she says, "But, mmmm, in my heart, God told me I was right."