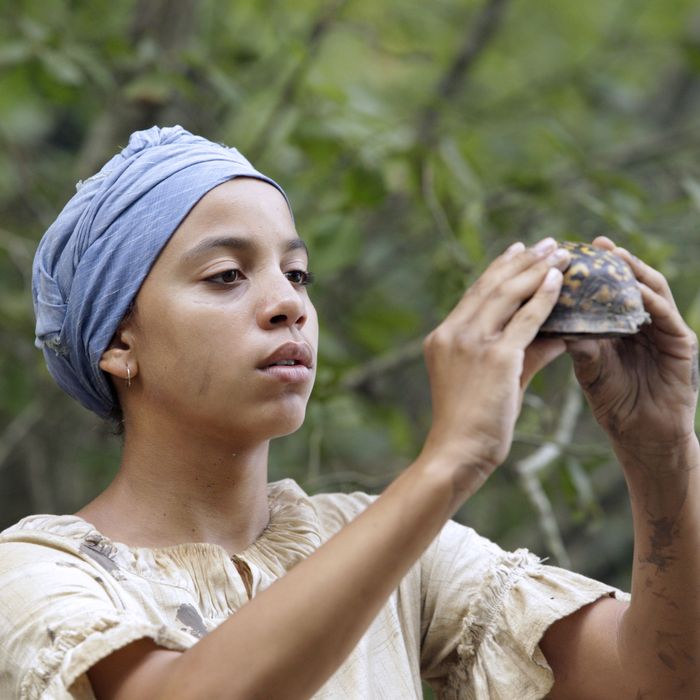 Photo: William Gray/SHOWTIME
What do we do with a not-entirely-flattering portrait of an American hero? The Frederick Douglass of our schoolbooks is a towering icon of strength and verve, a man who escaped slavery and then dedicated his substantial intellect and pluck to matters personal and political: escorting escaped enslaved people through the Underground Railroad and preaching and fundraising to overthrow the entire institution. The Frederick Douglass of James McBride's The Good Lord Bird is all of those things — and he's bombastic as hell, a groper who corners Onion and tries to put his hands on his "mechanicals" (thinking, of course, that he is a she), and so entirely full of himself that his pumped-up head practically floats away like a helium balloon.
The Douglass in Ethan Hawke's TV version (played brilliantly by Daveed Diggs, no stranger to ruffled collars and highfalutin speeches from his Hamilton days) slides somewhere along that spectrum. The show eases back on Douglass's lechery for Onion, but turns up the dial on his horniness for his wife, Anna (Tamberla Perry), and live-in paramour, Ottilie (Lex King), and stresses the great man's admiration of himself. This Douglass is enthralled with his own turns of phrase, pulling out a pencil whenever he hears himself say something that might play well with an audience. And his political convictions are more a matter of which wife has his ear than which argument might prove most helpful to the cause.
Douglass is set up in direct dichotomy to Brown. He lives in self-earned splendor, dressed in a brocade vest and silk cravat, while Brown and Onion stumble in the door stinking of days of travel and countrified cotton clothes. Brown and Onion got by on hunted squirrel and some boiled nuts out on the plains of Kansas, while Douglass presides over a table with cut-crystal glasses, with servants to usher in the various courses. Brown has to fly under the radar (and potentially hide in Douglass's entry to the Underground Railroad), while the great orator speechifies from the stage. Even their wild hair and bushy beards seem to be at odds. (Brown brushing his beard with his fork is a nice touch.) Propriety and presentation are paramount to Douglass — his head practically rolls off when Onion calls him "Mister Fred," and his first order of business is to ensure that Onion is put into attire befitting a young lady of his acquaintance. The silk and sirs matter, Douglass implies. Sure they pump him up, but they also affirm his inherent value: Why would a Black man be less worthy of a grand salutation than his white counterpart? Douglass's cause isn't to drag the white man down, it's to raise the Black man up.
McBride took apart history and reassembled it in his novel. A German journalist named Ottilie did live with the Douglasses for months on end (and did look uncannily like Lex King), but historians have argued that claims that the two were intimate were dredged up to cast aspersions on him. There's certainly nothing to suggest both women climbed on top of him in the presence of young children, let alone that a white woman and Black woman turned their domestic dispute into a battle royale over how the cause of abolition should best be achieved.
This is not, of course, an argument that narrative ought to abide perfectly by the diaries and primary sources of historians. Who the hell wants that? But it is a note that we are seeing Douglass first through the mind of a Black author and then through the vision of a white TV showrunner, and we ought to consider what to make of that. This isn't Frederick Douglass, this is Frederick Douglass On TV.
Then again, The Good Lord Bird is on a mission to make us uncomfortable. As Brown lays out in the declaration he encourages his band of merry rebels to sign, "We are to light a fuse that will start a great war to end slavery. It will go down in a tide of blood and carnage." Those words aren't just prophecy — thorough they do perfectly predict Brown's place in history — they're also a mission statement. Brown is fed up with the slow churn of peaceful, legal fighting. There aren't enough speeches in the world to convince slave-owning Senators to suddenly give up the financial benefits of free labor and the disgusting mindset that they deserve to own other humans. Brown wants funding from the mysterious "Secret Six" — some of whom I can assure you you'll meet later — for arms and supplies. He wants to build an army of enslaved people to rise up against their masters.
But Douglass, Brown's "king of the Negroes," bellows across the dinner table at him, "Oh now you know what the Negro slave needs!" Hindsight tells us that Brown was right — the route was a bloody one — but how was he to know that? And who was he to decide that he knew better than a former enslaved man who wrote one of the defining texts on the experiences of life as a piece of property?
All of which is to say that "Mister Fred" purposely pushes our buttons. Brown, who is almost certainly halfway around the bend, is more sympathetic than ever as he holds that widow's young baby in his arms and sinks to his knees, and as he tells Onion about his dead wife, dead children, financial ruin, and disgrace. "You know what I have in my pockets? Grief, that's my wealth." Here's a man who's just lost a son to the cause, begging for some money, some assistance, some faith, and he's sent packing. When he nudges Onion to stand up at the table and ask for cash, it's clearly manipulative, but it's also wise. Exactly nobody in The Good Lord Bird fits neatly with the persona that history has laid out for them.
The episode, however, is stretched out and distorted into a weird shape. The scenes in Douglass's library, with Anna and Ottilie climbing on top of him, are meant as a running gag, as if Douglass is just so charismatic that they can't help themselves. But both women were accomplished and intelligent, and the reduction of Anna Douglass — who made Frederick's life work possible — into a nagging wife rubs the wrong way. Anna and Ottilie's rivalry is a paragraph-long detail from the book that's embellished into a critical piece of historical infrastructure.
What this all amounts to is a little lumpy, as if the writers loved McBride's spin on Douglass so much they needed to amplify it out of proportion to its place in the story. When the show bounces with as much vigor as Douglass's speeches it hurtles us along on a surreal, absurd, revolutionary ride. But when it digs down too deep, it's like one of Brown's prayers — a little windy, a little silly, and better off when nipped in the bud.