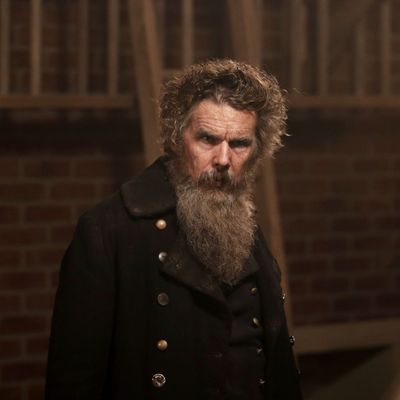 Photo: William Gray/SHOWTIME
This is normally the moment in a historical narrative come to life where the tide begins to turn towards triumph. Sure, there are a number of bumps along the way, but the arc is bending towards justice. We already know The Good Lord Bird won't offer that, which makes the series that much more tantalizing. The raid on Harpers Ferry didn't emancipate the enslaved people of America, just as the end of the Civil War didn't bring about equality, and the Civil Rights movement of the 1950s and '60s didn't end deep-rooted systemic racism. But The Good Lord Bird knows its place in history as a stepping stone instead of an endpoint. That's what makes it such great television. There's no fake treacly high inserted in the story to let American viewers pat ourselves on the back for all our country has accomplished. Instead, we have to face the fact that Brown's message of radical equality was so unpopular it got a bounty on his head from the U.S. government. That his (admittedly, extremely flawed) plan to help the enslaved free themselves spurred on a war but lost a major battle.
The first minutes of "Jesus is Walkin'" speaks to that idea. Little flickers of hope spring up and are then snuffed out. Brown's ragtag army is gathered together, cleaning their guns and prepping them for that night's assault, when his sons begin to talk about how last year their father gave them 17 slaves for Christmas. Every Black man in the room is in disbelief until Jason explains that they were white slaves, men who Brown intimidated into submission. "Anytime someone tells me they're for slavery," the boys crow, mimicking their father, "I think they should try it." A Black man chimes in, "Y'all are lunatics."
Owen, who has stayed behind to rally the supposed crew of hiving bees, is just as demoralized. Before we've even seen John Brown at the armory, his own son has anticipated his death. "Tell my father I'll bury him by the big rock," he tells Onion, sobbing. Brown is the only member of the posse who believes in the hiving, so sure that he has the Lord's backing that he neglects the need for a human plan. (Later, a sympathetic Virginian asks, "You fightin' for the coloreds? It's about time somebody did," and then offers, "we'll bring flowers to your funeral.")
The Good Lord Bird could have been a tragedy straight through, but Ethan Hawke wisely follows James McBride's lead and leans into the story as a comedy of errors. The breakdown in Brown's plans are all, on their own, laughable little idiocies. A forgotten password sends an entire train of armed Black fighters hightailing it back East. Brown readily marches out any hostage he has some pity on. He dons his best manners as those hostages are stacked in a corner: "Come in sir, make yourself at home."
In a truly Shakespearean way, everything begins to go wrong and nobody can get a handle on exactly how to stop it. Other versions of the Harpers Ferry raid — including every history book I've seen on the subject — view it as a battle like any other, and make note of how many forces assembled on each side, who held the high ground, etc. And while there are plenty of flying bullets in "Jesus is Walkin'" the comedy is what harnesses the humanity of the situation. There's nothing funny about the Railman's death, that in a fit of miscommunication Jason shot him and "the first man killed at Harper's Ferry was a colored." But his and Onion's inability to spill the beans on what they've done (and here I'd like to bestow all the accolades I can on Joshua Caleb Johnson and Jack Alcott for their most convincing nervous shuffling and sweating) sets off a cavalcade of hilarious moments when they're interrupted by a vigorous banging on the armory door.
To put it bluntly, Brown and his men are utter shit at this. Brown may have a quick draw and a history of successfully scaring the hell out of Kansans by putting the torch to their pro-slavery towns, but he doesn't know how to hold his ground, mostly because his compassion gets in the  way. He doesn't stick to the plan, and every time that tiny Wizard of Oz-esque window in the armory door swings open he blurts out whatever he's thinking. His open kindness to the hostages renders  them useless — everyone out there knows he won't hurt a single one.
Onion is the only entirely made up bit of The Good Lord Bird, and so far he's worked as a clever narrative device. We knew from minute one that he'd survive all this, and his retrospective voice serves as a reminder of how different history looks up close. But he's also a humanizing foil for Brown's wilder instincts. For the first few episodes Brown saw him as a symbol of the people he was hoping to free, but not really an independent creature. That all changed in Canada, when Onion finally protested that his apparent freedom wasn't very liberating if he had to follow around a different white man. Now he's more of a son (well, daughter) to Brown, and in this episode we can see  that not only does Brown adore Onion, but he's desperate to know that his adopted child  will be safe, that he's successfully freed and loved a Black person. Brown's own flesh and blood are in the line of fire, but he can't stand the idea of Onion running between bullets.
It doesn't help that whatever plan the abolitionists once had is now as full of bullet holes as that barn door they're hiding behind. Surrounded on all sides and with no apparent help on the way, the armory — chock full of guns and ammunition — becomes a trap. Brown sends John Jr. to hold their only escape route — the bridge that stands over the swirling, massive Potomac River. Cook, Bob, and Onion go out on a mission of their own, to find Owen and the alleged hiving bees. But when no such army is found, they end up the only place where Onion knows he can find some sympathetic help.
The scene at Colonel Lewis Washington's house is one of the series' best. How could you not laugh at that pathetic little man, quivering in his brocade chair, and surely reminiscing on the foul mistreatment he distributed that might be coming back at him tenfold. The colonel stresses that yes, he is absolutely one of those Washingtons and therefore demands respect. But there's nothing behind his fancy jacket (and nightshirt) but a rich white dude who's been riding his powerful ancestor's cardinal red coattails his whole life. The Coachman has already turned on him and threatens to thrash him, a winking exchange of roles. It turns out that without anyone around to maintain the appearance of oppression, this white man is absolutely petrified. As he should be.
Parading Washington into Harpers Ferry and marching him in the doors of the armory is a move of genius — notably, one that doesn't come from John Brown. But by the time he's arrived negotiations are falling apart. The militia is done biding its time and puts a bullet through Copeland's head just after telling him to come on out, to be a "sensible Negro," and go back to his parents. The exchange of a female prisoner goes awry when she tears herself away from Cook and Jason and leaves them exposed to the rifle fire. And when it feels like things can't get any worse, another of Brown's sons, there simply because they love him, dies in his arms.