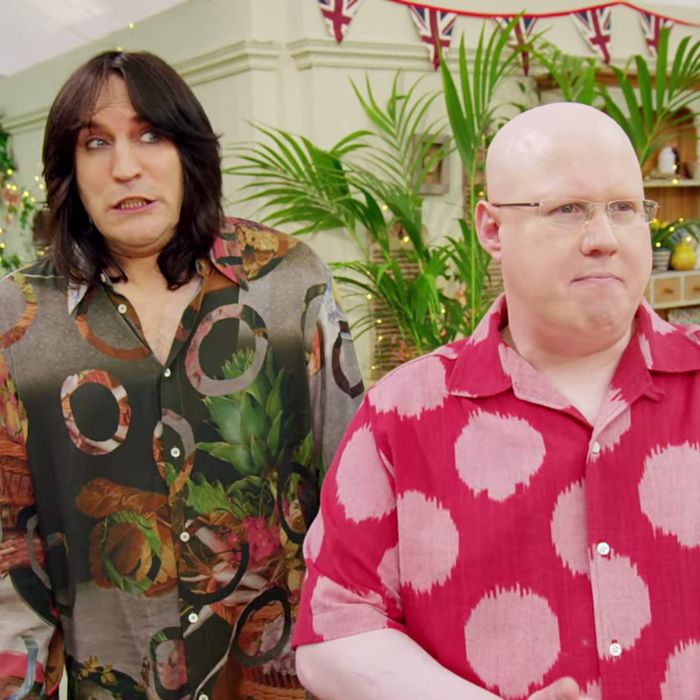 All sorts of new faces in the tent.
Photo: Netflix
In the interest of journalistic ethics, I must begin with a disclosure: I had not, until this week, ever seen The Great British Baking Show, mostly because I've been very busy watching old episodes of SVU.
Also, I worried it could not be that good. The only thing worse than the fetishization of the British is disappointment. Everybody loved this show. There were so many think pieces, and what they all thought was that it was spectacular. Bake Off, as it is called in the U.K., "is rapturous, it is agonizing, it is hilarious," according to the Guardian. It was gentle, but sharp. It was riveting, but kind. "It's a show of such … hope," raved NPR's Linda Holmes. Tom Whyman, in the New York Times, argued that, underneath its twee façade, the show was in fact "a battle for the very heart of Britain."
In response to these glowing recommendations, I avoided the show for many years.
But then the world began to collapse at an accelerating rate, and I ran out of sex crimes, all while British baking takes on new urgency. Fans not only want the show's eggy comforts; they also, somehow, need them.
The joy of being extremely late to a cultural phenomenon is that then there is so much of it available all at once. First I watched last season almost to the end, and then I worried I was getting too attached and jumped back to witness #bingate. I have done essentially nothing but watch lorry drivers bake Genoise sponges for several days now to prepare for this new season, which premiered last night in the U.S. on Netflix, after some COVID-induced delays in taping.
Surely, there will be objections that the show is not what it used to be; I also thought this, and I have only been invested in this universe for 96 hours. Sandi Toksvig, to whom I had already grown quite attached, is gone, replaced by sweetly dopey Matt Lucas. At first, this change is destabilizing, but then, like most things Baking Show–related, it turns out to be fine. If the show has taught us anything, it is that everybody has their charms.
The other big change this season is the ongoing global pandemic, but the show prefers not to dwell. The season opener is a rather wholesome parody of Boris Johnson's bumbling coronavirus response ("We are saying, with regards to baking, if you must bake in a tent, bake in a tent, but please don't bake in a tent," blusters Lucas-as-Johnson), and there is a brief explanation of the new competition protocol — the competitors all quarantined upon arrival and stayed on site for the duration — but after a close-up of gingerbread nurses wearing masks atop an NHS-themed cake, it's time for everyone to buck up and carry on.
In the tent, little has changed. All the usual contenders are here, the flighty and the serious and unsettlingly baby-faced, bakers of all shapes and colors and middle-class circumstances, gathered to kick off the season with a rousing Cake Week. The Signature Challenge is: Battenberg Cake, a classic sponge-and-marzipan surprise that reveals a mosaic pattern when you cut into it. To think, last week, I did not know Battenbergs existed! This is one of many ways that the show changes you. It is stunning, how many different kinds of desserts there are. It makes the world exciting: Yes of course everything is terrible, but on the other hand, at any moment, you might encounter a Battenberg!
Loriea, who is an NHS radiographer, has a vision for bubble gum and cream soda flavored sponges wrapped in neon-blue marzipan, which is nothing if not a choice. Dave (espresso martini Battenberg) is an armored security guard expecting a baby; Lottie (rhubarb custard) is a Viking metal-loving pantomime producer. Mak, who keeps bees in his spare time, doesn't like classic almond marzipan and is instead using pistachio, and Peter, an aspiring accountant from Edinburgh is going gluten-free. In the end, some cakes are moist and lovely and some are dry and messy and Loriea's flavors are alarming, and the world is suddenly back to feeling exactly as it should.
Recent Baking Show scholarship has focused largely on the increasing absurdity of the Technical Challenges, but at least for now, the ship has been righted. The challenge is: six miniature pineapple upside-down cakes, which Paul Hollywood warns will be a true test of "your timings and your consistency." To succeed, he advises that everyone read the recipe.
The best part of this show, I think, for an anxious person, is its real-time exploration of all the minute ways that so many different things can go wrong. Pineapple upside-down cakes are a minefield. It is the balance of the caramel that is the problem, and also, the logistics of getting them out of the tins. You can add too much syrup, or too little, or under-bake or over-bake, or run out of time and be forced to pipe your cream onto hot cake. And then there are the crises nobody sees coming: Sura, a kind-eyed hospital pharmacist with a leash-trained cat, happens to wave away a fly at the precise moment Dave approaches with his tray, and in an instant, his pineapple upside-down cakes are indeed a little too upside-down. And then, in true British Baking fashion, Sura cries and Dave is gracious and camp counselors Noel and Matt step in to offer comfort while Paul and Prue agree to judge Dave's cakes based on the two that remain unharmed.
It is just so reasonable! I am still reeling. Of course this is what should happen, and the jarring part, at this historical moment, is that it does.
Dave is not penalized for circumstances out of his control, and Sura is not further humiliated for her good-faith fly-swatting. He comes in ninth (his cakes were over-caramelized) and she comes in first (she still looks miserable), and everyone moves on to the Showstopper, which is making busts of celebrities out of cake.
In the tent, the world makes sense.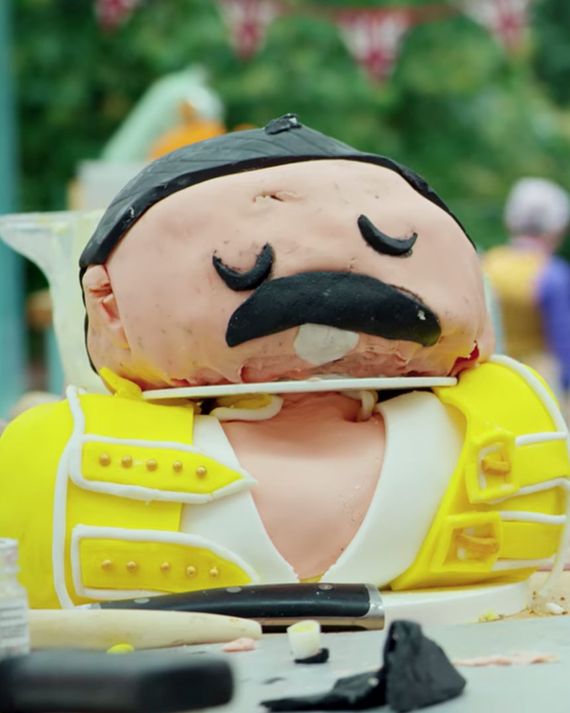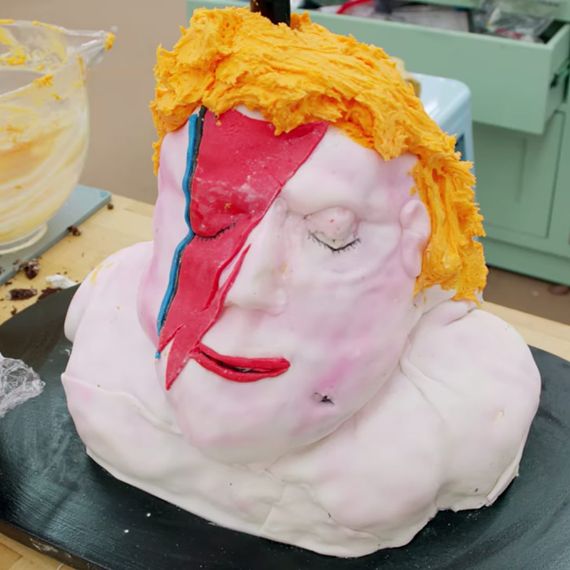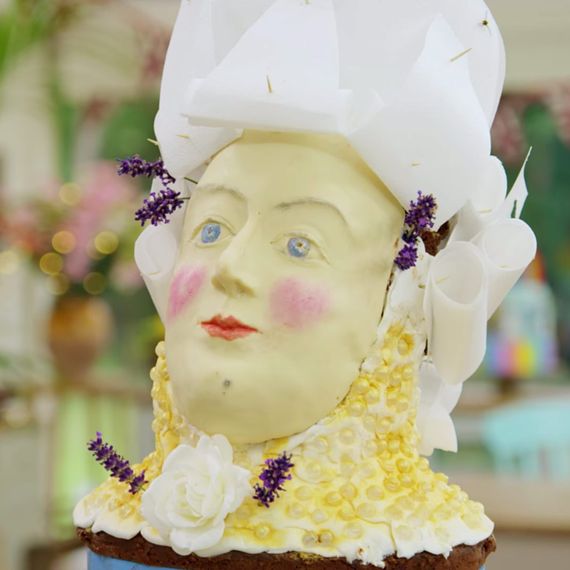 Celebrity-hero cake busts, it turns out, are an ideal get-to-know-you exercise: Linda, who works in supported housing and lives by the sea, builds a rainbow-colored Bob Marley, which in the end has no facial features but captures his tie-dyed spirit, while Loriea settles on a chili-chocolate incarnation of Jamaican poet Louise Bennet-Coverly. Yoga Viking Lottie does a rather accurate Louis Theroux, former geology major Mark goes with a spiced-ginger Charles Darwin, Hermine — an early front-runner with the Battenbergs — sculpts a chocolate-and-coffee Lupita Nyong'o, and Rowan, a music teacher from Worcestershire, constructs an ode to his personal hero, Marie Antoinette. (This decision is not explored further.)
They are spectacular, when they are done. These heads look both impossibly difficult and like the art projects of young children. Lemon-and-elderflower Freddie Mercury is show-stopping because his head exploded and he has no neck. ("I do think his jacket is lovely," Prue offers.) Paul Hollywood finds a lemon-madeira Bill Bryson "very disappointing," but Peter's Victoria sandwich rendition of cyclist Sir Chris Hoy is "clever." Here, nobody is perfect, but nobody is beyond redemption.
But even in this pastoral wax museum of cake busts there are winners and there are losers. This week's Star Baker is accountant Peter, and it is Loriea who shall return home, despite her talent. "It's really sad, actually," says Paul Hollywood, as the rain gently falls.
For another six days, it is back to real life for all of us until we can once again find refuge in the tent. Maybe it will be bread week!