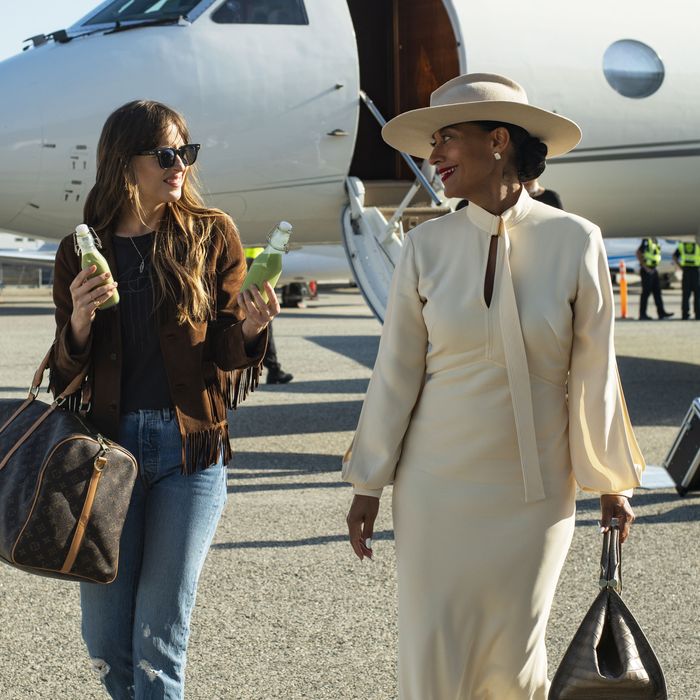 In the end, Tracee Ellis Ross's Grace Davis feels like a diva in search of real characterization.
Photo: Glen WIlson/Focus Features
"What becomes a legend most?" the ad campaign for Blackglama mink asks, featuring women draped in fur and marked by history. Bette Davis with her bobbed hair, cigarette in hand, those famous searchlight eyes trained upward. Shirley Maclaine with a stockinged leg kicking toward the sky. Lauren Bacall with a smoky, beckoning expression looking over her shoulder. Judy Garland, supine yet alert, as if in the middle of conversation. (In 1985, Andy Warhol would appropriate the image for a silk-screen series.) The cumulative effect of these ads is an understanding of the visual force of the diva — the glamour, the self-important postures, the mysterious expressions, are all immediate signifiers of exemplary careers and a hard-fought place in our culture.
The diva can be a valuable vehicle with which to study the nature of women's ambitions in the public sphere. The High Note, written by Flora Greeson and directed by Nisha Ganatra, who was behind last year's uneven Late Night, seeks in part to both complicate the diva and reveal her humanity, but it doesn't quite manage to see beyond the surface trappings of fame and fortune. Here, the diva arrives in the form of Los Angeles–based Grace Davis, played by Tracee Ellis Ross, a singer-songwriter decades into her monumental career that she worries is growing stagnant as her longtime manager (a frankly annoying Ice Cube, whose humor never hits the mark) pushes her to do a Vegas residency. Running along a parallel narrative track is the story of her dedicated assistant of three years, Maggie (played by a sprightly Dakota Johnson), who, between picking up meds, juggling itineraries, and attending to Grace's whims, nurses dreams of being a music producer — something she was only able to imagine after beginning to work for Grace.
The Los Angeles of The High Note is cast in a sun-kissed, serene light by cinematographer Jason McCormick. Indeed, the downside to creating a modern entertainment tale whose story scrutinizes its own industry, is that it is often rendered timidly. Here, the film is at once aiming to be a nostalgic fairy tale but also a nod to the contemporary limitations faced by black women like Grace in the public sphere. The result is a story of another time and place, one that lacks the context of today's music industry (despite a cameo by Diplo as a loathsome, uninspired producer) and refuses to thoughtfully consider how race and gender would shape Grace's career. The film is too afraid to look at thorny topics, like the class divide between Maggie and Grace, or the fight that Grace has to pitch every day to maintain her professional standing. The safer story it spins fails to distract from the realities that end up creeping in.
That story revolves around the pleasures of artistic creation — when you're so powerfully present in the moment and all your anxieties just melt away. The film is brimming with montages of Maggie doing just that: staying up late at night, furrowing her brows in concentration, creating in the studio. She continues to hustle on the side, even as Grace reprimands her, demanding she focus on her assistant duties and nothing else. (Which makes Maggie's consistent claims that she is Grace's friend as much as she is her subordinate ring all the more hollow; the film doesn't attempt to untangle the tendency of celebrities to "befriend" only the people who work for them.) In the process, we learn about Maggie's taste — Joni Mitchell, the Staple Sisters — and a few bare facts about her life (her late mother was a singer, her father, played by Bill Pullman, works in radio), but little more. Johnson is charismatic and easygoing, yet she brings no depth to the character, and doesn't help us to wish for her success in the face of many mistakes.
Similarly, Ross lacks the grandiosity to embody a diva of Grace's stature. Grace is confident, beloved, famous (Ariana Grande will open her greatest-hits live album party; Michael B. Jordan proposes to her offscreen). Her stardom and her own conception of it is summed up in an exchange with Maggie:
Grace: How many Grammys do I have?
Maggie: Eleven.
Grace: How many Grammys does Dave have?
Maggie: Eight.
Grace: Feel free to relay that to his assistant.
But the film struggles to provide context for Grace's career beyond the basics of her fame (great) and her riches (lavish). The fashion, brought together by costume designer Jenny Eagan, is a sight to behold, especially a canary-yellow Max Mara number. But fashion is only a part of embodying a character meant to be larger than life, and here, it feels gossamer thin. Scenes meant to feel revelatory about the interiority of her character only draw more questions. Consider when Grace attends a meeting with executives at her label alongside Jack (Ice Cube), with Maggie trailing along. Grace is wearing a striking red suit when she boldly admits she wants to record a new album. But that's not what her executives are interested in; they want her to do the Vegas residency. She wants change; they want more of the same. Maggie finds her in the bathroom later, flustered. Grace reveals her worry about becoming a sellout. "It's not the same as it used to be," Grace whispers at one point. Well, how did it used to be? How did Grace claw her way to the top? Who is she beyond the trappings of her wealth? "Only five women over 40 have a number one hit, only one was black," Grace tells Maggie. "Do you understand that?!" Does the film?
While Ross lacks the bite and Johnson lacks the depth, Kelvin Harrison Jr. feels like a revelation. He's bristling with warmth, intrigue, and mystery. He's sexy with a confident physicality that I found beguiling in the role of David Cliff Jr., a singer and musician Maggie happens upon in a grocery store, who prefers to play Bat Mitzvahs than live up to his talent. Their dynamic blossoms from a flirty rapport to genuine collaboration, where she finally gets to produce, albeit under subterfuge. Harrison Jr.'s strength isn't his just lightning-bright charm or the ease of his physicality, it's how he listens — actively and full-bodied. It's his warm gaze on Maggie that sells the love story. So when Maggie and David finally kiss — it's obvious they'll get together from the jump — my heart leapt. (But maybe that's because I am so hungry for human touch, that to see it onscreen is like brushing against the phantoms of a life rendered impossible.) But not even Harrison Jr. can make the movie's third-act twist work. In the end, Grace still feels like a diva in search of real characterization.