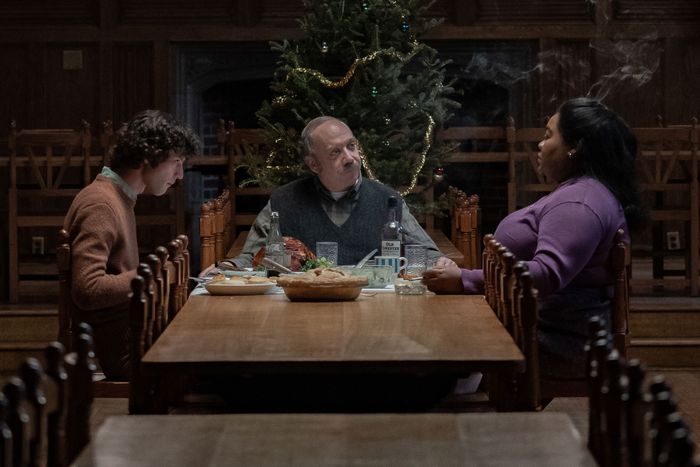 Prep school dramedy
The Holdovers
, the pair's first collaboration since
Sideways
, showcases Giamatti's capacity for the prickly and the heartbreaking.
Photo: Seacia Pavao/Focus Features
The Holdovers is a modest movie about people who don't share their feelings easily, so when it does decide to wallop its viewer with emotion, it can really catch you off guard. Paul Giamatti laid me out in the end with a gesture, a small callback that had me bawling right through to the credits. He plays Paul Hunham, a notorious hardass of a history adjunct at Barton Academy, a New England boarding school where the sons of the wealthy and powerful are fed and exercised until they're old enough to be sent off to the prestigious colleges their parents have been lavishing with donations. Paul is a Barton man himself, albeit one who attended on a scholarship, and while he claims to be a true believer in how the school aims to shape its young men, the truth is that these days he seems to genuinely loathe everyone who troops through his classroom. They, in turn, can't stand him, though, over the course of the film, Paul charms the hell out of the audience by revealing the vulnerabilities, as well as the compassion, beneath that irascible exterior.
The Holdovers is Alexander Payne's first film since his 2017 Matt Damon–led science fiction disaster Downsizing, and while it is his first period piece — it's set in the last days of 1970 — it otherwise feels like a retrenchment, a return to safer or at least more familiar territory. Like Election, it's set in a high school, and like Sideways, it's a film in which Giamatti plays a depressed teacher who likes to spout details about his passion — in Paul's case, the ancient Greeks and Romans — as both conversational filler and protective measure. This is Payne's first film with Giamatti since that 2004 wine country dramedy, and, more than anything, it's a reminder of just how suited they are to one another. Paul is a man teetering on the edge of pathetic. His job is a pity offer that he took, and never left, after his faith in meritocracy was crushed. And his array of minor disorders — excess sweating, fish odor syndrome, strabismus that's earned him the nickname "Walleye" from the students — seems designed by the universe to ensure he isn't taken as seriously as he'd like to be. He nevertheless exudes the stubborn dignity of someone at peace with himself, if also too comfortable in his solitary existence on the Barton campus, which he hardly ever leaves.
It's a hell of a performance from Giamatti, and it's bolstered by very fine turns from first-timer Dominic Sessa, as Angus Tully, one of Paul's students, and Da'Vine Joy Randolph as Mary Lamb, the school's chef. It's Christmas break at Barton, and Paul has to stay with the few kids unable to go home for the holidays. He's being punished for failing the son of a senator and major donor, but he also has nowhere else to go, whereas his charges range from international students to the children of Mormon missionaries to guys whose parents simply seem to have other priorities. Angus, who's both smart and a compulsive troublemaker, is one of the latter, and when circumstances leave him the only remaining holdover, he sets out to make life difficult for Paul. It seems clear we're headed toward reluctant bonding and life lessons from there, and while that's not an inaccurate summary, it also sells the film short. There are surprises to be found in The Holdovers, but they come from the characters, not the story — from the ways each of the three main figures reveals new depths and confounds expectations.
Mary is grieving the loss of her son, Curtis, who was able to attend Barton thanks to her job, but who died in Vietnam after being drafted — she didn't have the money to send him to college like his classmates, which would have meant a deferment. Randolph plays Mary as someone determinedly working through heartbreak while allergic to pity, from herself or from others. Angus's mother has a new husband and seems like she'd prefer to put her son behind her the way she did her last marriage. He's a rich little shit in a way that Paul resents, but he's also had a brutal adolescence, and one of the ways in which Paul bends is in accepting that a single teenager can't be the target of all his class rage. Contemporary times may lack the grandeur Paul projects onto the classical civilizations he so reveres — the film's version of early '70s New England is lived in and devoid of nostalgia — but it still has plenty to offer, even if Paul is bitter from having once bought into the myth of education as a great leveler. The world's been hard on these characters, but The Holdovers is generous to them without being sentimental.
More From the Toronto International Film Festival
See All