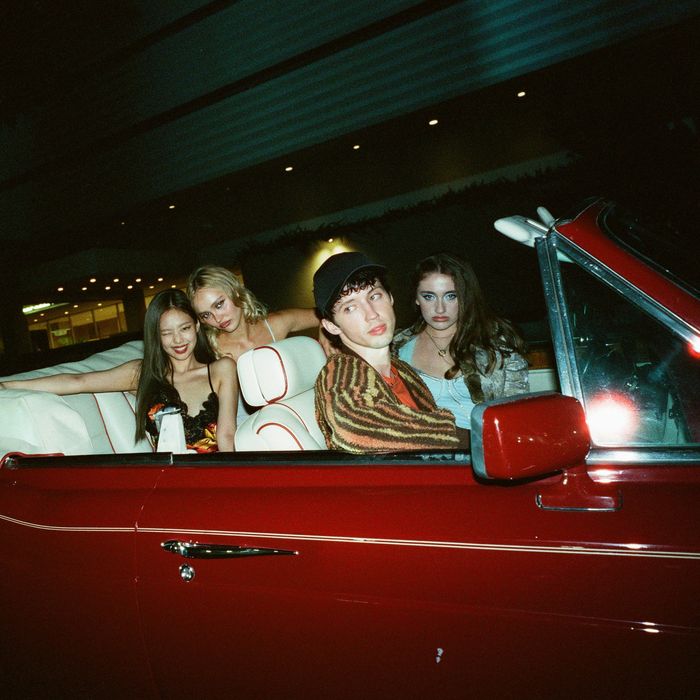 Get in, losers, we're going shopping (for our dignity).
Photo: MAX
On the one hand, The Idol so far is the story of a young woman who has a tough day at work and wants to blow off some steam, then invites a rando over for gross sex reasons. Relatable!
But really, The Idol, if you take its first episode at face value, is about young people trapped in a wasteland in which their parents' generation has abandoned them. Here's Jocelyn (Lily-Rose Depp), an extremely famous pop star, all alone and motherless, working full frontal in the ruins and castoffs of Gen-X culture.
The old people around this star, currently prepping her for her next hit, are disgusting and wrecked. They've stopped caring about anyone, and their opinion on the world is that they had to get fucked in the stairwell at work when they were coming up, and so everyone else should too. "Who among us has not had come on their face?" asks Nikki (Jane Adams), Jocelyn's record-label manager.
That's the prime Gen-X belief. Sooner or later, someone will use you in a gross way, and how will you manage the situation? You'll laugh and tell the story at parties. As a temporary coping mechanism, it works, and it does make the parties more lively, but it's not exactly interrupting the cycle of trauma, is it?!
So these young people — Jocelyn, her best friend/assistant Leia (Rachel Sennott), and Xander and Dyanne (Troye Sivan and Jennie Ruby Jane), her employees-friends, if these people are really her friends? — are living by these bad rules and kicking around Gen-X culture for sport. What do they have that's even theirs? They're dancing to '80s Madonna classics at the club, half-watching 1992's infamous Basic Instinct, getting photographed to the 1997 Fiona Apple classic "Criminal" and 1972 banger "Telegram Sam," leaving us at the end with 1984 Prince shocker "Darling Nikki."
The middle-age cast members (sorry, Dan Levy, we know you're an old millennial, but you're old-old here) are conducting themselves in a totally different world (or perhaps TV show) from the young people. (Jocelyn is surrounded by a crowd so big that HBO has even commissioned sponsored content explaining who's who.)
The show that the young people are in is about wanting to feel something, about wanting to make something meaningful. The show that the older people are in is a caustic ironic comedy in the classic HBO vein (you're not imagining the shades of Succession and The White Lotus). But the camp of their performance isn't really legible because the script keeps trying to tell us that we're watching a serious film about sexual degradation or something.
The lengthy set piece about the come-on-the-face photo that has just leaked of Jocelyn, which either is or is not a selfie, is directed as shtick. They can't identify the leaker or the ejaculator. "I know who goes into the room, but I don't know which of them came on her face," Leia says. Comedy gold! Or is it???
The ghost of Purple Rain — in which Prince, a seductive young genius, aggressively pursues a hot young star (Apollonia!) — and Madonna's "Like a Prayer" video haunt this episode pretty hard. If you weren't around in 1989, you were spared the endless cultural discourse that ensued after Madonna kissed Black Jesus's feet and danced in front of burning crosses in that video. Honestly, it was pretty funny, and you would probably cancel her today! (This was a time when Madonna had to actually do 15-minute segments on the evening news explaining her videos!) If only Jocelyn, or anyone, could be that famous.
Where is The Idol going from here? I would like for Jocelyn to fire everyone, make her own Sign o' the Times, do some weird sex stuff to work through her trauma, and then maybe go on vacation. The end! I do not think that is going to happen.
But … maybe? "Who do you answer to?" asks Talia, Hari Nef giving very good magazine reporter, in an interview with Jocelyn. "God," she replies, in the most Prince-like answer of all time and in the episode's one truly surprising moment. Where's that thread going? That's the good stuff.
Idol Thoughts
Acting!
Maybe Abel Tesfaye is doing a really sophisticated, non-showy, anti-charismatic piece of acting to prove some kind of point about Jocelyn's self-destruction. "See, she's throwing herself at this man who is completely devoid of any kind of charisma, whose hair is notably and aggressively unattractive, whose awful fashion is from a dimension even Portia on White Lotus couldn't envision." It's a bold gambit from the man with his name in the big-boy credits!
Insider Tips
The name Nick Bilton appears on the staff writers' list. Hmmm! A contributing writer at Vanity Fair, we're assuming he's the one who helped Hari Nef nail the journalist role: perfectly condescending while hunting manipulatively for gross emotional truths while also probably actually caring. Not since Marcia Gay Harden in The Morning Show!
One Thing That's Cool
Jennie from Blackpink, who plays the excellent dancer in the video choreography scene, is probably the most famous person in the whole show? That's one way in which having musicians populate the show seems to be working. There are other ways in which that's not yet …
Was That???
Yes, Moses Sumney, whose song "Me in 20 Years" accompanies Rue's diner emotional time on Euphoria, plays the guy in the club who asks the assistant to dance. Along with Troye Sivan, that makes two musicians who are important to queer communities in the show who are … doing we're not sure what and for why yet?
One Mean Tweet
Where Did the Budget Go?
Eli Roth's sunglasses? Does this show look like $75 million? It does not.
Is The Idol Good for Max, the Improbably Named Streaming Service for HBO Products??
When HBO became Max the other week, fully 30 percent of app users didn't make the switch within the first week. And that was timed to happen before some big TV events. They don't disclose their subscriber numbers, but that seems very bleak! Euphoria is returning "ideally in 2025" (how is that ideal for anyone? Y'all, my girl Maddie is going to be in her MID-30s!), The Penguin probably next year, a Harry Potter show that is just a twinkle in the eye of a writers' room with, I'm sure, some really uncomfortably gender-policed bathrooms, and the next Game of Thrones spinoff is still mist? Pretty much all Max has to show us for the foreseeable future is the Jodie Foster season of True Detective, a Hacks, plus And Just Like That … and not much else. Well, maybe we've gone cold too fast — HBO has had a busy year! — but this seems like the writers strike is going to really kick HBO right in the weekend.
Chances She Dies in the End
Having her record-label manager compare Jocelyn to Sharon Tate right out of the gate seems ominous. (For the young people: Tate was a young actress and the wife of director Roman Polanski; she was murdered by members of Charles Manson's cult.) So let's start this off at only a 20 percent chance that she dies in the end. But yeah. You have to think that our edgelord showrunners here are firmly more committed to cultural trolling than they are to season renewals. Besides, galaxy-brain thinking would be like, "Hey, man, the story of a young star's exploitation is eternal, let's True Detective this and we can do the next one starring Nico Parker or Gracie Abrams or (hold on, checking the Nepo Baby chart) … hey, aren't there any more Skarsgårds???"