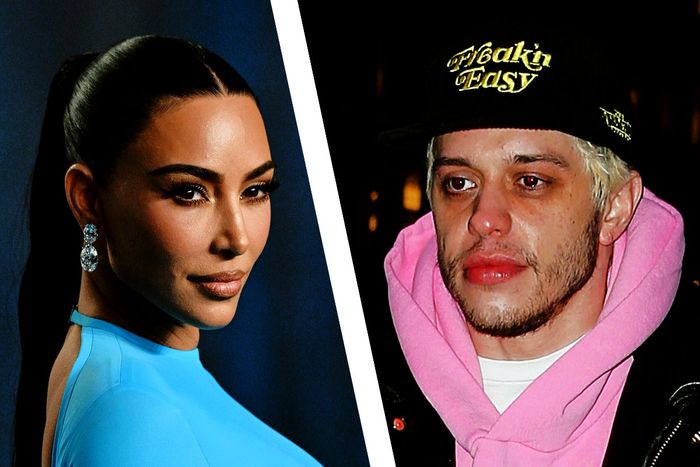 Photo: Lionel Hahn/Getty Images; Said ZapatA/MEGA/GC Images
He's the man whose name is on everybody's lips. Kim Kardashian wasn't dating current boyfriend Pete Davidson when The Kardashians first began filming in September 2021. He was merely Saturday Night Live star Pete Davidson, who had recently ended a relationship with Bridgerton star Phoebe Dynevor. Here in the future, we know that after Kim appears on Lorne Michaels's dating show — where they kissed as a joke — she and Davidson made it official amid her divorce from Kanye West. The family's new Hulu series begins with Kim focused on "working on law school, Skims, and being a mom." But they still manage to work a Pete reference in, teasing the arc that anyone who has been in a grocery-store-checkout lane knows is coming. Have we been following this couple since their first Staten Island date? Will we rewatch every moment, intently scanning for new information? Yes, and duh. Live from New York, we're Pete-spotting The Kardashians, with every mention from each episode below.
"I ran into Pete Davidson at the Met, and I was like, 'I am so scared, I don't know what I signed up for,'" Kim says, stressing over her gig hosting SNL, around 30 minutes in. "And he was like, 'Can you read cue cards? You're good.'" So that's why they say reading is fundamental.
As cute of a meet as it would be for Kim Kardashian and Pete Davidson to bump into each other as they backed up to gaze at pieces of art on the opposite wall, she means the Met Gala. It had just taken place on September 13, and everyone and Timothée Chalamet was there. Pretty BDE for Pete to be wearing a Thom Browne dress in his first public interaction with Kim Kardashian before dating. Just waiting on the Skims campaign.
Pete Davidsons Spotted: 1
There is exactly one shot of Kim Kardashian and Pete Davidson as Aladdin and Princess Jasmine during her SNL montage and it's not even the moment when they kiss. "He was the one cast member that — we were filming our show — he was the one cast member that wouldn't sign off to be filmed, and he wasn't there until the day of, so I didn't see him all week during rehearsals, nothing," she told Dear Media's Not Skinny But Not Fat podcast with Amanda Hirsch.
"When we kissed, I was just like 'Mmm!'" Kim added. "It was a stage kiss, but it was still a little zing." A feature film's worth of celebrities and comedians attend the after-party, including Colin Jost, Chris Rock, Lorne Michaels, Gayle King, and Amy Schumer, but as his girl later said on the podcast, Pete Davidson "doesn't really party." Something romantic has to go down between her October 9 hosting gig and their Knott's Scary Farm date on October 29. Until then, I guess let's not steal focus from Kravis's engagement.
Pete Davidsons Spotted: 1
By the time Kris Jenner's November 5 birthday rolls around, Kim is giggling like a schoolgirl. "Does his name rhyme with feet?" the producers ask regarding whom she's texting. She just chortles. At Kris's dinner, the messiest of the bunch, Scott Disick, asks about being replaced as the funny-in-law. Not in so many words, but. "Truly the sweetest, nicest human being on the planet," she says to him and Ellen DeGeneres. "I'll tell you guys later." Secrets don't make docuseries, Kim. And at this point, Kite has pretty much shouted it from the rooftop of a Staten Island Italian restaurant. Then, later in the evening, the family does the most sauceless rendition of Stevie Wonder's "Happy Birthday" that it might as well have been an SNL sketch.
Pete Davidsons Spotted: 2
Sure, Gwyneth Paltrow herself makes an appearance this episode, but the real celebrity encounter is going on between Kim K's sheets. Kardashian reestablishes the Kite origin story (which honestly should make you cautious about what was filmed when) and joins in on the objectification of Pete. "I wasn't even thinking, like, 'Oh my God. I'm gonna be in a relationship with him,'" she says. "I was just thinking, like, heard about this BDE, need to get out there … I was just basically DTF." You and every TheCut.com article, Kimmy.
Apparently while she was hounding an SNL producer (presumably Lindsay Shookus, of dating-a-guest-host fame) for his number, Pete was third-wheeling Megan Fox and Machine Gun Kelly, asking for Kim's. "After we got together and it was, like, a thing, Megan Fox texted me and was like, 'Is this shit for real? Because he asked me for your number months ago and like, I was like dude, you have a better shot of, like, me and MGK getting eaten by crocodiles than you ever getting her number,'" she recalled. Once again, Saturday Night Live plays the best wingman for its cast members.
Pete Davidsons Spotted: 1
Kim and Pete like having ice cream together. It feels on the nose for two hypersexualized figures, but they dedicate chunks of time to it in this episode, a move that only feels like more padding to remove Travis Scott references as Kylie Jenner prepares for baby No. 2. Pete apparently arranged for Kim to have the ice-cream-treat Dibs on a flight to the Dominican Republic for her Sports Illustrated shoot — inspired by what they snacked on at the movies in Staten Island. ("This is where I budge on being a vegan," she confesses.) A flight attendant literally brings the Dibs out on a tray, providing no information as to how Pete would've gotten this to them without Kim noticing. "Pete is such a good, good person. I can't even explain it. He just has the best heart and always thinks of the small things," Kim later said in a confessional. "One time, Pete was like, 'Babe, let's go get some ice cream at Thrifty.' And I was like, 'Oh my god, you are making me so fucking horny.' Rite Aid? Thrifty? It was literally one of the best nights of my life." When asked if this means love, Kim replies, "Um, I don't know if that's any of your business." Anything to keep us lapping it up.
Pete Davidsons Spotted: 2
Kim Kardashian begins the episode in lawyer mode, but she's certainly not coming to Tristan Thompson's defense. While everyone stresses over getting Thompson out of the family, Scott Disick is securing his position as the funny one post-Kravis engagement by becoming BFFs with Pete Davidson. "Kim found a guy who's a great guy," he tells Khloe, in lieu of comforting words about her cheating ex. "He's so sweet. Picked us up from the airport the other day, had the coffee she wanted, had a coffee for me. I didn't want to tell him it was the completely wrong one. He's just a great person. And you can tell he cares about people's feelings." "Oh my gosh, are you and Pete besties?" Khloe couldn't appear less disinterested, but the answer is yes. "Bunkbeds," he says to the phone in his hands. "The whole thing." Hulu, start the spin-off machine.
The Kardashians season one part one caps off with the culmination of their Disney-fication: a post-credits scene. Konfessional Kim introduces Pete to her audio person by saying "she's probably seen my vagina." "More than me?" he quips from off-camera, foreshadowing his appearance in the KCU.
"Not more than you," Kim says, smiling back.
Pete Davidsons Spotted: 2
Total Pete Davidsons Spotted: 9
More than Kylie, less than Scott. Maybe in part two of season one he'll be bumped from featured player to repertory.