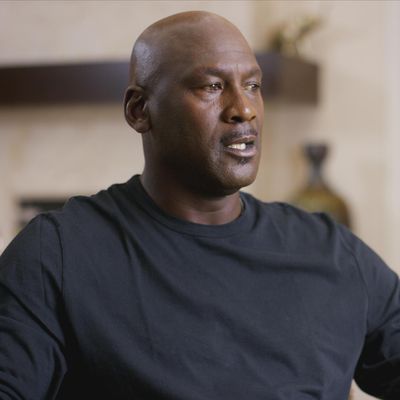 The Last Dance would have been a hit at any other cultural moment, but the extent to which it has blown up in this one feels auspicious. It surely helps that every other channel is either effectively stuck in a glitchy unflattering pause frame or some nauseous iteration of The News, whereas ESPN can deliver, for a couple of hours every Sunday, Michael Jordan. Only sometimes does The Last Dance offer the Jordan that dominated the NBA and popular culture alike, which is the Jordan that people revere and remember and miss, but even traces of him make for a pretty compelling reason to watch. The complicating factor with The Last Dance, and with Jordan himself, are the less graceful and gracious and admirable aspects of the man, all of which are equally as integral to who he is as the beautiful stuff.
Jordan was the most driven and the most brilliant athlete of his era, but he became a global brand thanks to a certain savvy cynicism and an absolute and unwavering appetite for control. That full-spectrum relentlessness made him great, but it also left him strange and restless and somehow unfinished. To a certain extent, The Last Dance is about that—about the way that Jordan's greatness and smallness worked together, sometimes in conflict and sometimes in concert. "Episode VII" focused explicitly on what an unyielding and often brutal person Jordan was to be around; his emotional but self-serving attempts to justify that behavior illustrated the extent to which his bottomless and unreasoning competitiveness left him no choice but to be that way. In "Episode VIII," we get to watch him put all that damage to work. In ways that may or may not have been intentional, the result is the most moving and most unsettling episode The Last Dance has delivered.
As in the rest of The Last Dance, Jordan's all-consuming strangeness is illustrated much more than it is illuminated or explained. There's a real and undeniable majesty to everything having to do with Michael Jordan, even in the grouchy khaki-eyed senescence in which director Jason Hehir finds him in his present-day interviews. Jordan was and clearly still is just different and somehow bigger than other people, in ways that are polarizing and undeniable and often not conventionally admirable. There's long been something stilted and artificial about him, a sense in which he is somehow not fully filled-in, and The Last Dance was advertised as the most revealing and in-depth look yet at a figure who has remained opaque despite being one of the single most-watched humans in history.
It seems safe to say, now, that it is not that. Jordan's central role in the production, which is underlined not just by his presence onscreen but the producer credits of people who have managed his image for decades, guarantees as much. Hehir, too, seems content to approach his inquiry first and foremost as a fan. Jordan is still not comfortable giving up anything like creative control. But while "Episode VIII" continues to tell Jordan's stories as Jordan likes them told, it manages to be revealing not despite that, but somehow because of it. Over the series' long sweep it has become tough to shake the suspicion that the reason The Last Dance hasn't shown much about Jordan that wasn't already known is because there isn't much new to know—that whatever Jordan is hiding is also hidden from him, and that the all-consuming pursuits that defined his career really did consume everything.
Time and again, we have seen Jordan take some miniscule slight or offense and then use it to fuel his vengeance. "Episode VIII" introduces what I've long considered the ultimate example of this: the case of Washington Bullets guard LaBradford Smith. A dynamic college scorer whose game didn't translate successfully to the NBA, Smith had the game of his life against Jordan. Embarrassed, Jordan simply made up a nonexistent taunt from Smith so that he'd be sufficiently motivated to destroy Smith the next night, which he did. Smith's 37 points against Jordan were a career-high; Jordan gave him 36 points in the first half of their rematch.
Not all of Jordan's motivating slights are imaginary, but they often are outwardly small things—rage at a former teammate seeming to enjoy a big day against his old team a bit too much; a stray bit of snark from a keyed-up opponent or some perceived bit of impertinence from a teammate; Seattle SuperSonics coach George Karl not taking a moment to shake Jordan's hand at a steakhouse. Jordan moves through The Last Dance like a shark, merciless and restless and always very hungry, but the way in which he instrumentalizes every loss and insult and slight to the same end more closely resembles an oyster turning a grain of sand into a very large, very hard pearl. Jordan turned the pursuit of vengeance into something like an autonomic process; it was just what he did, and any irritant would do.
With Major League Baseball stuck in a strike as the 1995 season began, Jordan found himself in a rare and vulnerable position. He had no nearby opponent to humiliate or broader task to complete, refused to cross the MLB Players Association's picket line, and so was lured—to the extent that anyone ever really gets Jordan to do anything he doesn't already want to do—back into practicing with the Bulls. The team had declined into mediocrity after owner Jerry Reinsdorf declined to re-sign cornerstone power forward Horace Grant, but surged when Jordan rejoined them with just 17 games left in the '94-95 regular season. Jordan wore number 45 instead of his familiar 23, and was both shockingly great and clearly not quite himself after a year and a half away from the game.
The Bulls couldn't get past the Finals-bound Orlando Magic in the second round of the playoffs that year. Grant, who had blossomed alongside Shaquille O'Neal in Orlando's frontcourt, sealed the series win with a dunk. After picking Jordan's pocket on a crucial possession in the first game of that series, the Chicago-born Orlando wing Nick Anderson told reporters that "Number 45 is not Number 23. I couldn't have done that to Number 23." Jordan changed his jersey back to 23 in the next game, but of course that wasn't the end of the story. Given how Jordan works, it was just the beginning of it.
During the offseason that followed, Jordan remade his body and refined his game even while shooting Space Jam; Hehir shows a little, but not nearly enough, of the legendary pickup games that Jordan hosted on the court that Warner Bros. built for him on set. "He was frothing at the mouth," Steve Kerr recalls of the Jordan that met his new teammates when the team began gearing up for the '95-96 season. "That's how angry he was from losing. So every day at training camp was just a war." Kerr himself became collateral damage when Jordan punched him in the eye during practice; the two fought and Kerr wound up receiving a rare Jordan apology and some grudging respect. The rebuilt '95-96 Bulls were the best team of Jordan's career and the most dominant in the league's history to that point, winning 72 of 82 regular season games and cruising through the playoffs. All along, Jordan turned and turned and turned that playoff loss against Orlando over in his mind, until it became hard enough for him to use. When Chicago finished dispatching Orlando in the Eastern Conference Finals, Jordan made sure to refer back to Anderson's "45 isn't 23" comment from the previous spring. The Bulls went to the NBA Finals and won it.
Because of who Michael Jordan is and how deservedly outsized his legend has become, it's entirely too easy to dismiss how remarkable this all was. Jordan didn't play basketball at a high level for most of two seasons, and then, at the age of 32, simply resumed being the best player in his sport. It helps to start out as Michael Jordan, of course, but in terms of appreciating what he achieved in '95-96, it paradoxically hurts. Jordan had already done enough improbable things by that point in his career that this last, latest impossibility seemed less astonishing than it was. Even Hehir, who has, let's say, not shown a tendency to undersell the significance of Jordan's achievements in The Last Dance, struggles to distinguish it from Jordan's previous triumphs.
This particular victory clearly meant a great deal to Jordan, who was playing in his first NBA Finals since the murder of his father after the Bulls won in 1993. Before the celebration began, television cameras found Jordan collapsed on the Bulls' locker room floor and still clinging to the game ball, his body heaving wildly with sobs. Hehir plays the moment straight, dialing up the music for maximum emotional impact, and it works well enough along those lines. But because of what The Last Dance has shown us about Jordan's process, and because of what Jordan himself has told us through his relentless running-down of every real and manufactured offense that ever motivated him, there's something stranger and more uneasy running under and through that exultation. In that moment Jordan is a champion and a wreck; we've seen that before, too, although the raw emotion of it all still lands heavily. What's uneasy about it owes to what this most cooperative of documentaries has let Jordan himself demonstrate over and over again, which is that even this will never really be enough. He has what he sought, again, but we've seen enough to know both how much it means and how paradoxically little it's worth. We've seen enough to know that tomorrow our hero will wake up hungry and once again begin hunting for some fresh vengeance.