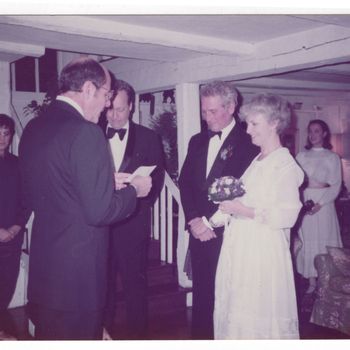 When Paul Newman found out he had terminal cancer and was going to go into the hospital, he climbed up to the attic, found the family Christmas stockings, and slipped his long-owned compass into Joanne's, so that she would have a present from him on her first Christmas without him.
Ethan Hawke decides to do the "show the process" thing. In between cuts of Paul and Joanne, he shares his conversations with his own children about what the docuseries is even about. His daughter, Maya, reminds him of the relationship advice he gave her: that in every relationship, there is a third person, and they are the relationship. So make the series about that third person.
While Hawke does do that much more successfully in these last two episodes than in the middle two, it remains challenging when you are primarily relying on film clips of the couple acting separately, plus interviews with, frequently, their children. Paul Newman becomes approachable and more seemingly knowable in these later years of his life, and his marriage with Joanne appears even more endearing.
You almost understand why someone bought his Rolex, which carries an engraved message from Joanne, at an auction for $15.5 million (a new record). Paul and Joanne's marriage symbolizes strength, commitment, and enduring love. Who wouldn't want such a tangible piece of it?
But even while this impression of their relationship lasts beyond the series, Hawke does the work of bringing this blessed-among-the-heavens dynamic back down to earth. While we previously heard glancing references to Paul's alcoholism, it is now front and center. Joanne mentions Paul directing a film and drinking six to eight martinis after looking at rushes. He would be so drunk that he'd fall out of bed. She finally got fed up, took the kids, and moved them to Malibu. When Paul showed up, she wouldn't let him in the house unless he quit drinking. Instead of doing that, he slept in the driveway for multiple nights. She agreed when he finally offered to quit hard alcohol but still drink beer. This is related almost as a funny anecdote, but it was clearly a very serious problem. Both Paul and Joanne demonstrated their commitment to their family by their behavior — her leaving and him making a change with his drinking. Neither action could be termed "easy."
Their daughter Melissa qualifies that while her father's alcoholism impacted his marriage and their family, Joanne was not a walk in the park either. Melissa describes her as difficult, mercurial, anxiety driven, charming, and fiercely loving. When Paul and Joanne fought, they fought dramatically, as one might expect of actors. They both had large egos to contend with, and Joanne had to deal with the fact that Paul was a much bigger star than she was, with more options for his roles, while she had taken a back seat despite her incredible talent.
There are multiple opinions about why their marriage, in the end, worked so well and lasted the 50 years that it did. Gore Vidal thinks it's because they had nothing in common and therefore didn't get in each other's way. Joanne speaks to them growing up together, solidly knowing that you are committed no matter what. Paul says, "I simply delight in her."
But a marriage impacts more than the two people in it. Paul and Joanne had their children and Paul's children from his first marriage; they gathered a group of young actors who would work with Joanne; and they gave hundreds of millions of dollars to charity, largely thanks to the Newman's Own brand.
Sally Field talks about trying to break out of situational comedies, how close to impossible it was, and how Joanne fought for her to get the role of Sybil in Sybil, which launched Field's career. While Paul's daughters speak of him with compassion for his mistakes and an understanding of his failures, these last episodes finally tell us more about Paul's son, Scott. Previously, allusions were made to Scott physically abusing his sisters and having ill-defined difficulties. As he grew up, his tension with his father rose. Scott did some acting (including in The Towering Inferno), and we see him jump three cars in something called Circus of the Stars, but his primary descriptor is "troubled." In 1978, Scott died of a drug overdose.
Paul tries to describe how the shock of Scott's death and his long expectation of it made it difficult to absorb and process fully. It had been a slow descent, and he had expected the call for so many years that it didn't feel real when it happened. This event is presented as a turning point for Paul, at least implicitly. His future behavior is more mature, more grounded, and more committed to improving the lives of others through his charity work.
The Scott Newman Center, founded in 1980 to educate the public about drug abuse, was most clearly related to these charitable endeavors. The center, which no longer appears to be in operation, provided this education for more than 30 years. In 1988, Paul opened the Hole in the Wall Gang Camp, creating an accessible and free camp experience for children living with serious illnesses. The camp serves over 20,000 children yearly through on- and off-site programming. (Side note: You can be a "Bandit Quilter" and make a quilt or pillowcase that a camper gets to keep!) Many things from the Newman-Woodward later years made me get up in my feelings, but the Hole in the Wall Gang Camp and its continued impact is high on the list.
Finally, of course, there is the Newman's Own Foundation, which has donated more than $500 million in the past 40 years. Hawke and David Letterman discuss Newman's Own and how Paul reformulated what a profitable company can be (namely, one that gives away all its profits). Amid all of these kindnesses to strangers, protégés, and family, Paul Newman and Joanne Woodward began, in their later years, to underline what a successful and loving relationship can be to a community.
But what about the films? I have seen none of these. Paul Newman primarily made what I will term "guy films," which does not mean women do not like them, but they are incredibly dominated by men. Joanne Woodward made challenging, emotional films, which I would also avoid, only because things are hard enough in the world at the moment. Hawke, however, provides more context now than in the prior two episodes, highlighting why some of these movies are worth watching (but, apparently, no one should watch The Towering Inferno).
Slap Shot was termed "a magical film" by Paul, and the main benefit seems to be he's having a great time while making it. This is a step up from the brooding Newman of the 1950s and '60s, in my opinion. There's a movie called The Life and Times of Judge Roy Bean, where Paul gets drunk with a bear and they yell at each other (Paul: "It was a very good review of the bear, and a rather poor, shabby review for myself"). But the most screen time goes to The Verdict, for which Newman was nominated for an Oscar (he lost to Ben Kingsley in Gandhi), and The Color of Money, a sequel to The Hustler.
Paul and Joanne's last film together was Mr. and Mrs. Bridge, a Merchant Ivory production. Before we wrap up, I need to address that this docuseries ends with a horrifying visual of an older woman trapped in her car on a snowy evening, with no one around to help her. This is Hawke showing that Paul passed away and Joanne is alone, but instead of thinking about their relationship, I was very, very worried about what would happen to Joanne Woodward in that car. It is the very end of Mr. and Mrs. Bridge, and this moment is followed by text saying, "Yes, Mr. Bridge arrived home in time to save Mrs. Bridge." So she is fine.
Joanne Woodward was diagnosed with Alzheimer's nine days before Paul was diagnosed with terminal cancer. She has lived with the disease for 15 years. When Hawke interviews her grandsons, they discuss the difficult loss of their grandfather and how, in one sense, they lost their grandmother a long time ago.
When renewing their vows and offering marriage advice to one of their daughters, Clea, Paul and Joanne state, "A good marriage must be created. It is standing together, facing the world. It is a common search for the good and the beautiful. It is not only marrying the right partner but being the right partner." If your relationship is right, they told Clea, you will wake up and realize you are committed to that person no matter what. Sometimes it will be awful, but ultimately it will be your greatest success.