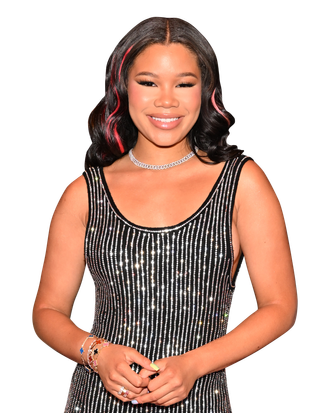 Photo: Derek White/Getty Images
Spoilers follow for episode seven of The Last of Us, "Left Behind," which premiered on HBO on February 26.
Every episode of The Last of Us thus far has been, to some extent, a two-hander. Most often, the two characters are Joel (Pedro Pascal) and Ellie (Bella Ramsey), bound together on a monthslong road trip to find the Fireflies out west. In episode three, "Long, Long Time," the series broke from that formula, focusing primarily on the love story between Bill (Nick Offerman) and Frank (Murray Bartlett). Episode seven, "Left Behind," is another departure episode, focusing on another queer relationship: the charged friendship between Ellie and Riley (Storm Reid), the best friend whom she lost before she ever met Joel.
On a plot level, the episode functions as an origin story for the bite that made Ellie discover her immunity to the Cordyceps fungus. More importantly, though, it's a window into Ellie's life the way it used to be when she lived at a boarding school run by FEDRA. Over the course of one beautiful but ultimately heartbreaking night, Riley sneaks Ellie out to introduce her to some simple capitalist pleasures of the old world: a video-game arcade, a carousel, a photo booth, and a Halloween store, all surprisingly intact and usable in a nearby abandoned shopping mall. In the end, both girls get bitten by an infected, and only one will survive. But Riley's presence clearly lingers in Ellie's mind months later, a painful reminder of the constant human toll of Cordyceps — and the love that makes losing her worth it. "They know that this might not end well," Reid said. "But as long as they're spending their last moments together, that's what means the most."
How did you and Bella Ramsey first meet?
We met on set. I was on the way to a fitting, and she was about to do rehearsal. It was perfect. We had a connection instantly. She's a brilliant talent, but also a brilliant person, and has the best personality. I'm glad we hit it off as soon as we met, because I think our rapport personally informed Ellie and Riley's relationship.
We spent a month together and saw each other, like, every day. You were kind of forced to create a relationship. Having those conversations, getting to know her, "What's your favorite color?" Those entry questions of getting to know a person. You get deeper and the connection starts to grow.
What is it about the Fireflies that appeals to Riley?
We see that Riley is super-duper optimistic, super-duper outspoken. She wants to make her mark somewhere before her time is up. Is joining the Fireflies the most ideal option? No, she'd rather be doing something else, like being a regular kid. But that's just not something she has the option to do. Her joining the Fireflies is a way to make a political statement, and make an impact, and have a purpose.
Did you draw at all from the game in your performance?
I tried to stay clear of it. I don't like to cloud my mind with things that have already been done before. I saw a little bit of the gameplay, for sure, and was aware of what the emotions were, what it looked like, how they interacted with each other. But I tried to go off of the script and the feelings of the scene.
What was it like shooting the mall scenes?
There was an actual abandoned mall, so we had free rein to go everywhere. They built the sets in the mall, and everybody made sure it looked visually appealing. They made sure it stayed true to the game, and I think they did an incredible job. The escalator scene was really fun, and the arcade scene. We had a lot of space and a lot of room to play around and explore.
What was your favorite scene to shoot?
The end scene was really fun: the stunt, and the dance, and the kiss before everything goes awry. We spent maybe a week filming that in different parts. It took a while, but we had the best time being together and doing the stunts and experiencing all the emotions that we had to during that scene.
This episode was adapted from Left Behind, an expansion that came out the year after the original game. It's been less than a decade since Left Behind came out, but a lot has changed already in the amount of LGBTQ representation we see onscreen, in both TV and video games. In 2014, critics highlighted the Ellie-Riley kiss as a breakthrough moment. What did it mean to bring that moment to life onscreen?
It meant a lot to be able to represent women in general, to represent Black women, and then furthermore to represent queer women and Black queer women. I always try to be part of projects that are purposeful, where people can feel empowered by the art that I choose to create. Bella and I had a great time filming the scene. We made sure each other was comfortable, and from there we had a blast.
At the end of the episode, both Riley and Ellie are bitten, and they agree to spend their final hours together rather than cutting their lives short. What do you think that decision represents?
It depicts unconditional and sacrificial love. They know that this might not end well, but as long as they're spending their last moments together, that's what means the most. I think it goes back to the core of the show, which is love, and being there for one another, and having a sense of community no matter what the world you're living in looks like. They're aware of the stakes of the position that they're in, but it doesn't matter because they're together.
Why do you think it's so important to see Ellie in this new environment from before she met Joel? What does that bring to the show and Ellie's story?
It brings more complexity to the show. The episodes that we've seen thus far, we've seen perspectives of the older characters. To now see Ellie's perspective from before she met Joel, you get to see how she moves through the world, how she takes up space. It gives audiences a little bit more backstory of who Ellie is. It's a fresh perspective.
This interview has been edited and condensed for clarity.