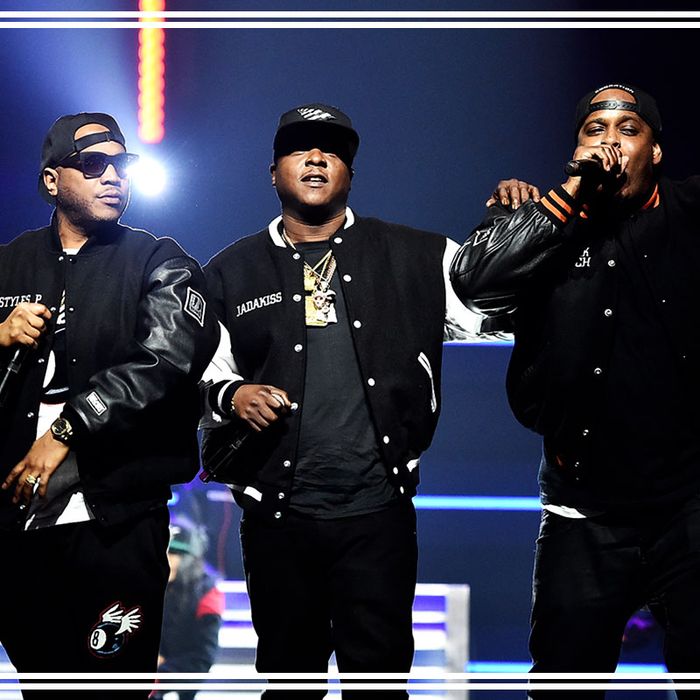 (L-R) Styles P, Jadakiss, and Sheek Louch.
Photo-Illustration: Vulture and Theo Wargo/Getty Images for TIDAL
One of New York rap's mainstays since the days of mid-to-late '90s DJ Clue tapes, the LOX have evolved seamlessly over the last 20 years from lesser-known street lyricists to elder statesmen of the game. Initially ushered in by Mary J. Blige, who would go on to ascend to R&B stardom, the LOX, along with future superstar DMX, represented a small-scale rap renaissance for Yonkers, a suburban Westchester County enclave neighboring the Bronx. Blessed with the good fortune of signing to Diddy's commercially rugged Bad Boy imprint, the trio's 1998 debut Money, Power & Respect was a polished release that gave them a platform while simultaneously strengthening their resolve to craft music on their own terms.
After Jadakiss, Styles P, and Sheek Louch — who'd formed the group in high school, originally under the name "the Bomb Squad" — publicly argued with their mogul boss, Sean Combs, to leave what most considered a dream label at the time, the group released what's perhaps their most acclaimed release, 2000's We Are the Streets. Their humorous personalities shined through comedically violent skits and (occasionally not-so) subliminal jabs at Puff, as cult-classic deep cuts driven by Swizz Beatz's keyboard wizardry helped satisfy their core audience, and the Timbaland-produced single "Ryde Or Die, Bitch" expanded their reach.
Refusing to become one-note, the LOX members branched out into respected, successful solo careers — notably, Jadakiss has given the culture timeless songs, including 2001's "We Gon Make It," among a deep list of accomplishments (even famously ghostwriting Diddy's "Victory" verse) that were celebrated this June in his Verzuz showcase with Fabolous. While Styles P once contributed the memorable stoner anthem "I Get High," nowadays he's taken an alternative holistic approach to health, co-running a local chain of juice bars with Jada, and owns a plant-based supplement line. On a recent call, the LOX reflected on their history and consistency, from their earliest days to their latest and fourth LP, August's Living Off Xperience.
I hear flexibility in the new album. You make sure to please diehard LOX fans while simultaneously reaching today's generation without sounding out of place. What do you consider when making a current LOX album?
Sheek Louch: We remain the LOX, but our ear is 100 percent to the streets. We got kids and we listen to them to see what's going on.
Jadakiss: It's our chemistry, and also not being grumpy old men and respecting our kids' opinion and embracing some of the new stuff. It helps us to know what's going on and to know what's lit. But we don't got nothing to prove. We got our stamp of approval on the Mount Rushmore of rap.
You've lived through multiple eras and phases of hip-hop at this point. What would you credit for the group's longevity for over two decades?
J: That's the beauty of being in a three-man group.
SL: Absolutely. We feed off of each other, we stay healthy by working out, and we keep our minds sharp.
Styles P: The internet has changed things. When we were coming up, you had to [gain a buzz] in your own way. The game has changed in a lot of ways, so we keep floating with it.
Before being able to reach your audience through social media, you took a radical approach to leave Bad Boy Records with the viral Free the LOX (Let the LOX Go) campaign. What was the thinking behind that strategy?
SP: We wanted off!
J: We used the streets because we didn't have the money to fight. We couldn't go litigation for litigation with [Diddy], so we used the streets. We knew that there was a possibility it could go all wrong or it could go the way it went. We put our hands in the oven and said we would win or lose together.
The group came from an era where record sales meant people going to stores to make purchases. How has it been adjusting to the changes that came with the digital era, where now everything is streamed?
J: I don't even understand and I'm not sure if my partners fully understand the whole streaming shit. I'm not sure if any artist understands the shit. You tell me [someone] got 40 billion streams, but what did it equal to, $4,000? If you got more streams than the Beatles, you should be good [financially].
SP: It's crazy.
J: I think they made it for you to not understand.
SP: 100 billion fucking streams [is how many] record sales?
J: There's no book in Barnes & Noble that tells you the meaning or rules of streaming.
SP: Because they can switch [the rules just like that].
J: [Today's newer] artists ain't even thinking about none of that shit.
SL: There's no Bible for the streaming world yet.
J: There's no Bible, no fucking law book, none of that.
How would you advise a younger artist entering this business then?
SL: Master your craft, pray, and keep your circle tight with no yes men around.
J: Learn the business as much as you can! As much as you're trying to be the best rapper or producer, learn about the business and what you're signing — percentages, splits, publishing, royalties, and all that shit. Don't let them tell you what they want you to know; know what you need to know.
Jada, did you feel like you were the underdog going into your Verzuz against Fabolous? What was your strategy for picking songs to play?
J: I was probably underrated to [unaware] people, but for whoever knew me, I didn't feel underrated. I was very well prepared and my strategy was to keep it to the streets. I could have went with girly R&B features, I have several of those, but I felt my strength was keeping it to the streets.
Having built up such a strong catalog, what would you each say is your favorite LOX album?
SL: This one [Living Off Xperience] for me. I got other songs that I like on other projects but this one showed incredible [growth], with us getting older and the topics at hand, plus the production was different. The feedback from the fans has been crazy.
J: Yeah, this one or We Are the Streets. I can actually listen to this one all the way through, and I think we made it a perfect length. You can listen to the whole album a few times on a nice ride out. It's not too long and the sequence is beautiful.
SP: The good sequencing was on the hands of Louch. I would say this one because it shows our maturity, growth, and evolution. You get to look at the whole picture [of who we are]. Plus, you're always measured by your latest body of work. For us to be from the golden era and making it through so many generations and eras of rap, to still be relevant and make an album that people love, that's heartfelt, authentic, and organic, I think that's pretty cool and special.
What has been the highlight of your careers, whether as solo acts or as a group?
SL: The highlight of everything is our kids. But, musically, the highlight is fan reaction. Especially with this new project, people from young to old are like, "This shit is amazing." [They're excited] like we're new artists, but we're OGs. I love that part of it and I can't wait for arenas to open back up so we can perform it.
SP: The highlight hasn't come yet. We work hard, we stick to the craft, we're proud of the work we've done as a group and as soloists, along with our side businesses. The motivation to keep going is to know that there's more land to be conquered. I could tell you a highlight in a couple more years when I'm retired. We're still at it. There will be more creativity. Period.
How do you want rap history to remember the LOX?
J: With loyalty and love.
SL: [As] standup guys. We're OGs, but with bars, dope songs, and content. We look great for our age, and we care about relevant things.
SP: Authentic.