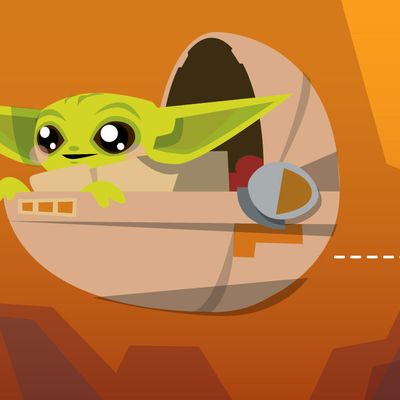 Editor's note: We got our GIFs back! For the latest updates on Baby Yoda's hijinks in The Mandalorian, we've republished our GIF recap here. This post won't be updated anymore, but we'll keep it up for posterity — and so everybody can enjoy Martin Gee's terrific Baby Yoda illustrations.
Once upon a time in a galaxy far, far away, Disney made a new streaming service called Disney+. In order to get everyone interested in Disney+, it made a new Star Wars TV show called The Mandalorian, featuring an unbearably adorable creature who does not yet have a name but whom everyone immediately called Baby Yoda.
The people embraced Baby Yoda, who was sweet and good and very tiny. But then Disney seemingly decided that GIFs of this beautiful being should be removed from the internet! In spite of this obstacle, a dedicated band of fans on the forest moon of Vulture joined forces with ace illustrator Martin Gee, intent on spreading the good news of Baby Yoda. So with no further ado, here is the story of the cutest li'l green baby to grace the galaxy in eons.
One day, a bounty hunter named the Mandalorian took a job to find a mysterious target. He found the target hidden in a small, floating ball. But when he opened the ball, Baby Yoda was inside!
The Mandalorian was surprised to find a baby, but he still had to take Baby Yoda back to his ship. Off they go!
Other bounty hunters tried to steal Baby Yoda, so the Mandalorian pushed him out of danger.
After the Mandalorian got hurt in the fight, Baby Yoda felt bad and tried to make him feel better with the Force. It didn't work. Poor Baby Yoda!
The Mandalorian took Baby Yoda back to his ship. The ship was broken, but Baby Yoda was still happy to be there.
Baby Yoda ate a frog!
Before the Mandalorian could fix his ship, he had to fight a big, mean monster. Baby Yoda got very worried.
Baby Yoda used the Force to save the Mandalorian from the mean monster. It was hard work, and it made him very, very tired.
Baby Yoda had to take a long nap after his adventure. Sleep well, Baby Yoda!
After waking up, Baby Yoda wanted to play with the levers in the Mandalorian's ship.
But when the Mandalorian brought Baby Yoda to the evil people who were hunting him, Baby Yoda started to feel scared.
A mean man named Werner Herzog paid the Mandalorian for capturing Baby Yoda, and then he took Baby Yoda away. Bad Werner Herzog!
Baby Yoda didn't understand why the Mandalorian was sending him away.
It made the Mandalorian sad to think about Baby Yoda getting hurt by Werner Herzog, so he decided to rescue Baby Yoda. When the Mandalorian found Baby Yoda, he was inside a scary machine that made him sleep.
The Mandalorian and Baby Yoda tried to escape, but the bad people wouldn't let them go … until the Mandalorian's friends came to help!
The Mandalorian and Baby Yoda fly off in the Mandalorian's ship. At last, Baby Yoda got to play with his favorite toy!